About a decade ago, my wife and I made a trip to Savannah, Ga. While there we toured the foodie scene and enjoyed a variety of delicacies. Our favorite, by far, was a small bakery called Back in the Day Bakery. Their chocolate chip cookie was simply blissful. They call this their "Most likely to cause a riot if we are out of it cookie."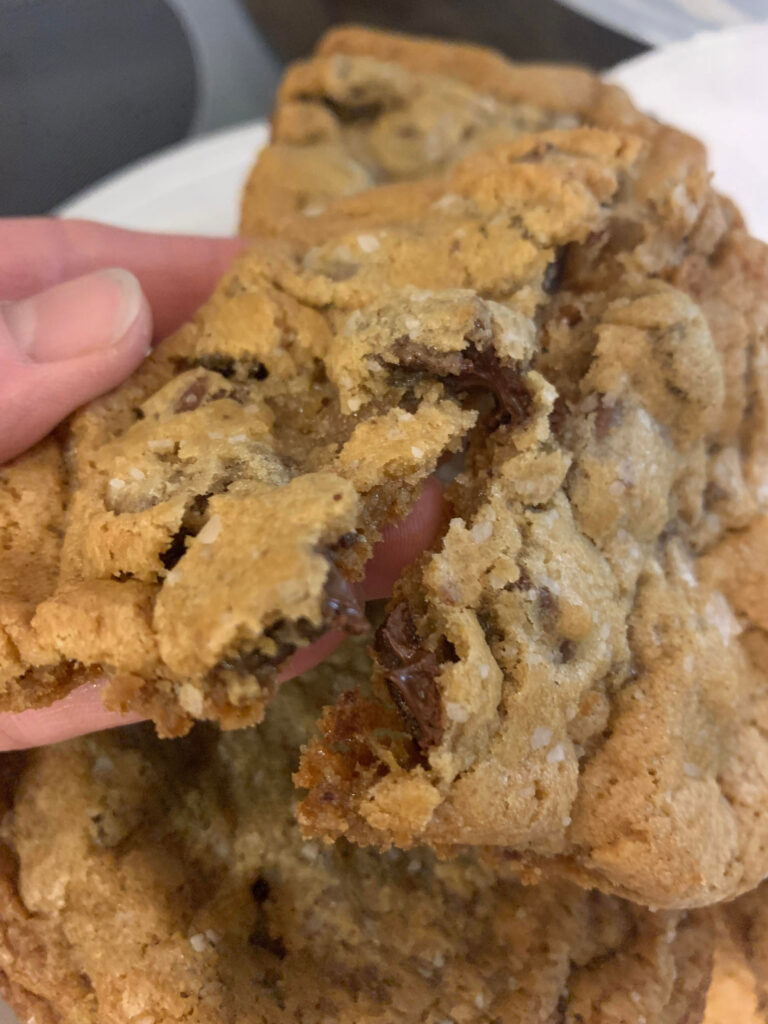 Ingredients:
2 1/2 cups all-purpose 
1 1/4 tsp baking soda
1 1/4 tsp fine sea salt
1/2 lb (2 sticks) unsalted room temperature butter 
1 tsp vanilla extract 
1 cup granulated sugar 
1 cup packed brown sugar
2 large eggs room temperature 
2 cups semi-sweet chocolate chunks
Coarse sea salt for sprinkling
Instructions:
Move a rack to the lower third of the oven and preheat to 350 degrees. Line two cookie sheets with parchment paper.
Sift together flour, fine salt and baking soda. Set aside.
In a large mixing bowl of a stand-up mixer, cream together butter, vanilla and both sugars on medium speed until light and fluffy, about 3-5 minutes. Stop and scrape down sides of the bowl a couple times. 
Add the eggs and mix for no more than 1 minute — just to mix in. Turn the speed down to low and add the dry ingredients in thirds (mixing thoroughly between each) until combined. Add chocolate chunks and stir until evenly incorporated. 
Use a large ice cream scoop (or 1/4 measuring cup) to form cookies and place two inches from each other. Lightly pat down the tops of the cookies and sprinkle a bit of coarse sea salt over them. 
Bake one sheet at a time 15-17 minutes, rotating the pan halfway through. 
Remove cookies when they lightly brown around the edges — they will be light brown in the center. Let the cookies cool for in the pan for 3-4 minutes, then remove and allow to cool completely on a rack. 
Enjoy!