Nearly two dozen smiling children experienced a shopping spree courtesy of the Pleasant Prairie Police Department Saturday morning.
The annual Shop with a Cop event was held at Meijer, 7701 Green Bay Road, during the first snowfall of the season.
Each child received $200 to spend however they wished. Their parents and guardians got a $50 certificate for Woodman's Market, 7145 120th Ave., to help with holiday dinner expenses. As the boys and girls shopped, their families munched on doughnuts and sipped coffee.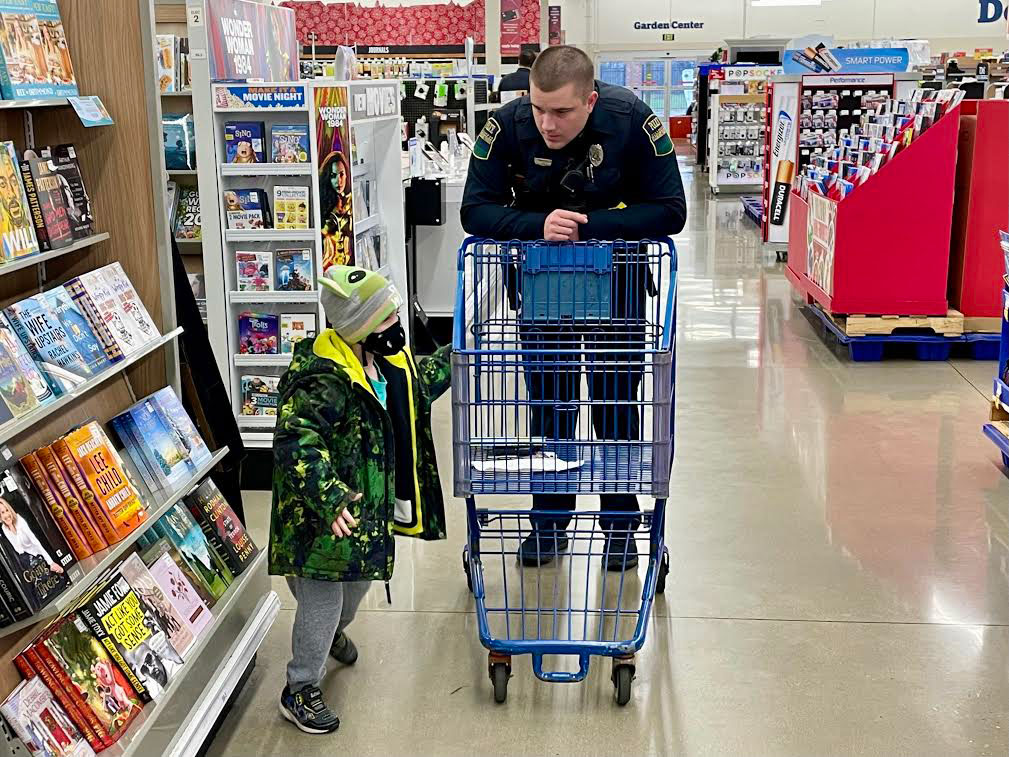 Officers Brianna Kraus and Sarai Anguiano organized the event. They recently took over event duties from Det. Andrea Brey.
"I just love Christmas and kids," Kraus said. "Their little lists were full of goodies for their brothers, sisters, moms and dads."
Kraus said law enforcement officers and emergency responders often only see children "on their worst days."
"It's huge to get that meet-and-greet and let them know we're friendly faces here to help," she added.
Anguiano thanked all the officers, donors and gift wrappers for helping make the event successful.
"We want this event to keep going and going and going," she said.
All funds were raised by members of the village's police and fire departments, local residents and Meijer. Area elementary schools helped suggest kids who could use a little Christmas magic. This is the fourth year the event has been held at Meijer. The store donated thousands to the effort.
Police Chief David Smetana and wife Anna Marie Smetana were dressed as Mr. and Mrs. Claus.
"This is an event the officer's association has put on for a long time. It really starts with the officers. It's not a top-down decision that I make and tell them to do. Everything is organized by the officers," he said. "These guys are on their time off. That's how much they enjoy it. Cops and firefighters get as much out of this as the kids."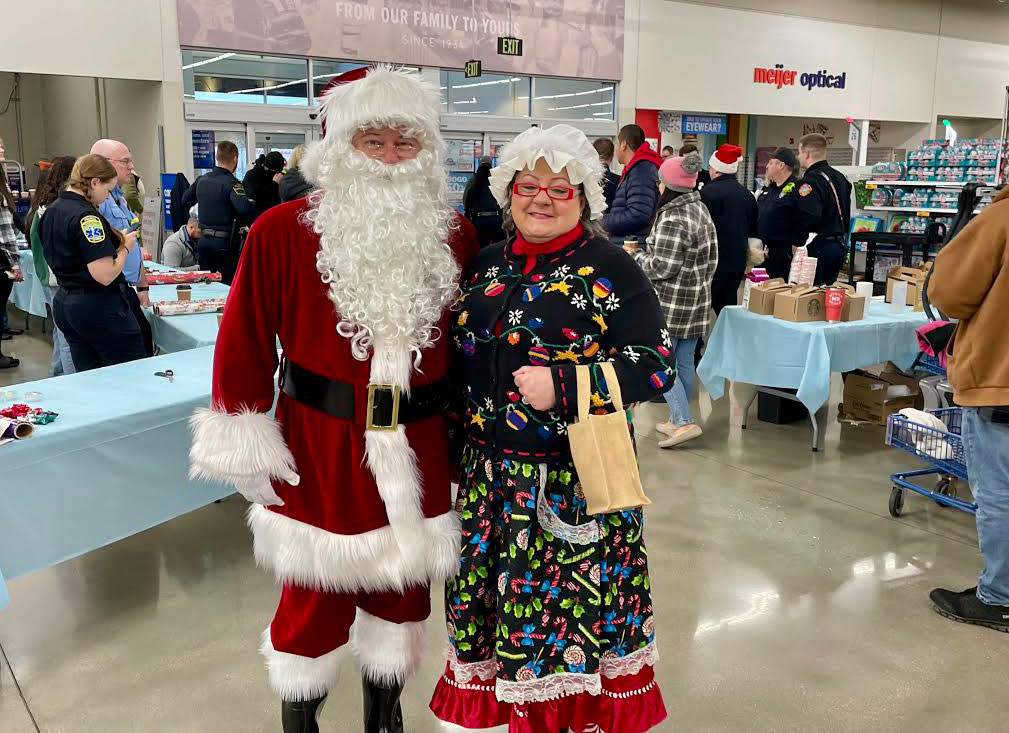 Parent Kristin Paulsen brought daughter Kali Hogan, 7, to the event.
"She's a bundle of energy," Paulsen said. "She's excited to buy a 'Jurassic Park' toy for her brother and an LOL Surprise toy for her sister. She hasn't even thought about herself."
Paulsen called the event "amazing" because it teaches young people that emergency responders "are good people."
Fire Lt. Joe Olszewski and dispatcher Brian Gildenstern shopped with Kali.
"I've been doing this for years. It's so fun to be with the kids," Olszewski said. "They're so excited. It's what the season's about."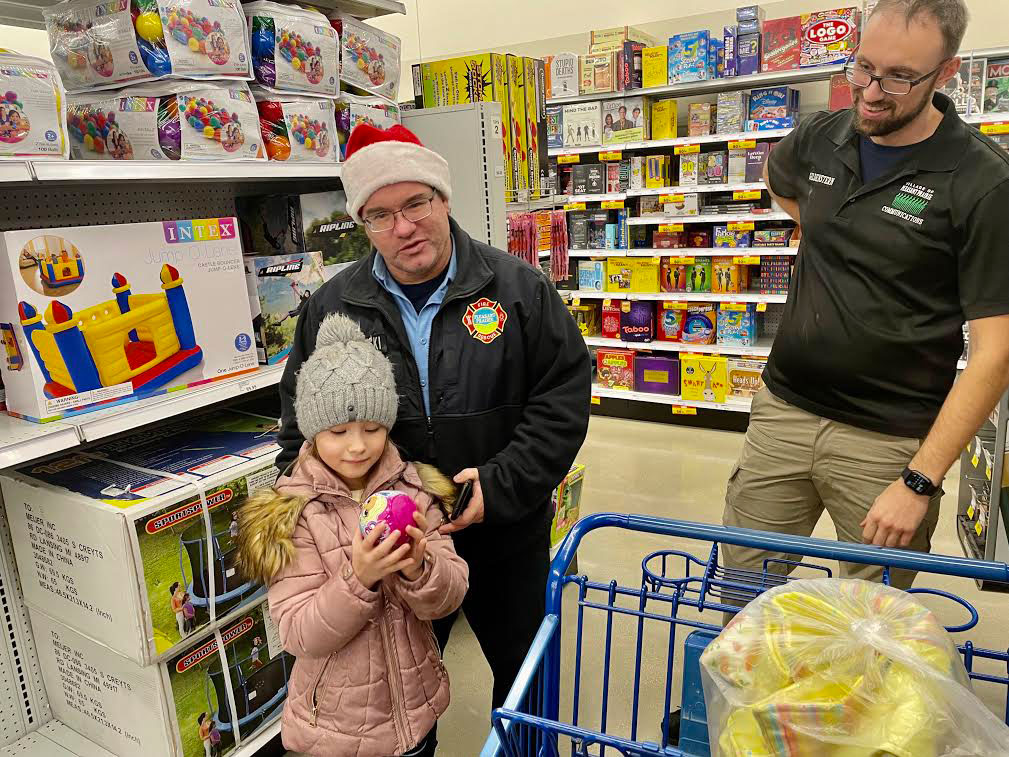 "Watch this!" Kali shouted as she pushed a song button on a My Little Pony figurine and started dancing to music.
Axel Rosales, 9, shopped with Sgt. Derek Andrews.
"It's wonderful," Andrews said. "Our little guy has a list for himself and family and friends."
Axel's mother, Anjelita Diaz, said he was "super excited" when he found out he was chosen to participate.
"He said 'Look how good God is,'" she recalled. "We made his list last night."
Axel told his mother "I picked out a lot of stuff" while leaving the store.