On this date (Dec. 10) in 1983, Cindy Czubakowski turned in a performance that has stood the test of time.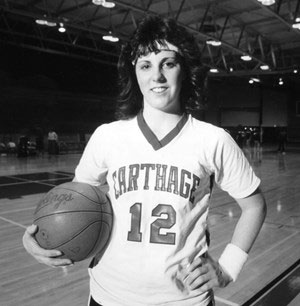 The freshman from South Milwaukee scored a school-record 40 points in Carthage College's 80-69 win over UW-Whitewater in a women's basketball game in Kenosha.
Since then, only two players have come within a basket of Czubakowski's record (Morgan Harris 38 points vs. Loras College on Nov. 11, 2016 and Michelle Wenzel 37 points vs. Elmhurst on Feb. 28, 2014).
The 5-foot-7 guard was 17-of-23 from the field in the pre-3-point era and 6-of-7 from the free-throw line as Carthage improved to 2-3 in handing Whitewater its first loss of the season.
Czubakowski broke the record of 37 set by Kathy Mucha against UW-Eau Claire on Jan. 31, 1976. Mucha had broken the record of Sandy Burkhardt, Czuabakowski's coach at the time, who scored 36 against UW-Parkside on Feb. 22, 1979.
Czubakowski's outburst was barely a blip in the next day's newspaper as women's athletics was fighting to gain acceptance and was a novel concept to some at the time.
The Kenosha News' report on the game was all of six paragraphs topped by a small headline on the fourth page of the section. In addition, there were no quotes and no details on the game.
The 40-point game came at the outset of arguably the greatest career in the history of the program.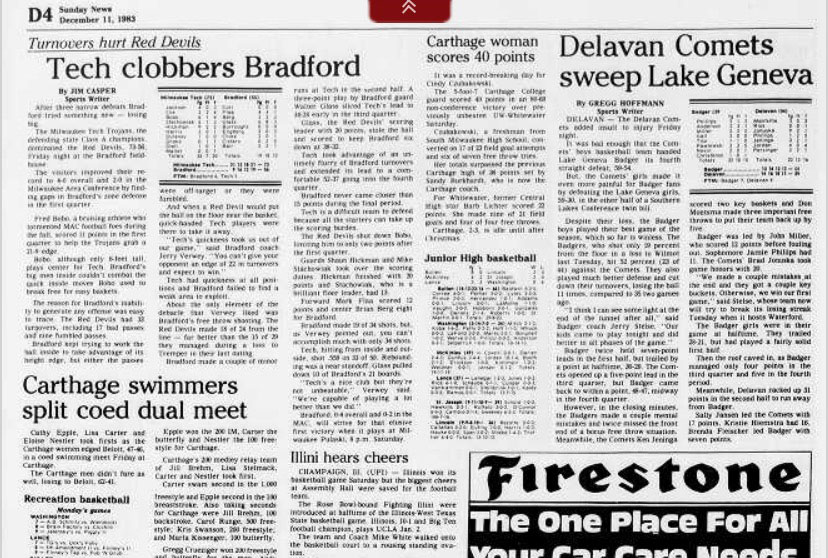 Czubakowski is Carthage's all-time leader in points (1,681), field goals (631) and field-goal attempts (1,601) and she set single-season records in points (475 in 1984, since broken, currently third) and free-throw percentage (.813 in 1985, since broken, currently 17th).
She was named American Women's Sports Federation NCAA Division III third-team All-American in 1987 and she was inducted in the Carthage Athletic Hall of Fame in 1998.
For more information or to comment on this feature, contact the author at dmarran359@aol.com