It takes a special individual to work 25 years for any employer, much less two and a half decades in the Kenosha County Jail.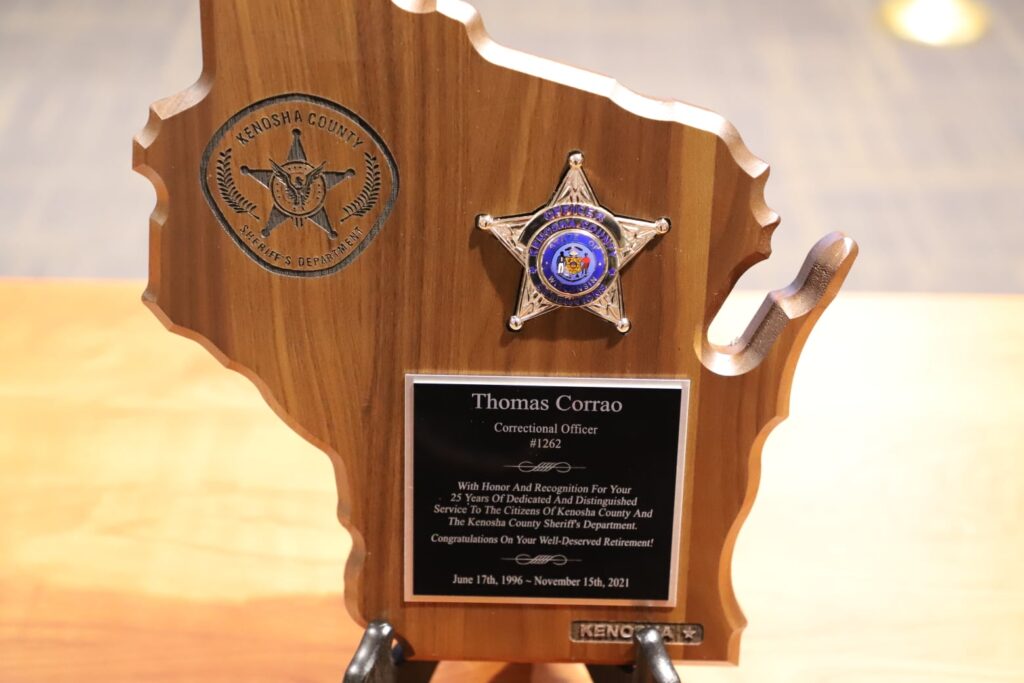 Through hard work, dedication and a newfound hobby, Kenosha's Thomas Corrao found a way to stay positive in one of the most negative environments imaginable.
Kenosha County Sheriff's Department honored Corrao for his 25 years of service and whisked him into retirement on Wednesday (Dec. 8) at the Public Safety Building, 1000 55th St. Corrao received a 25-year plaque, a congratulatory cake and a round of handshakes.
"Tom was always there for us," Kenosha County Sheriff David Beth said. "To be in one place for 25 years is almost unthinkable, especially for the younger generation.
"He was a positive role model for our employees. He was a positive influence on the department. He was well-liked by the inmates. That's not easy to do."
The 60-year-old native of Amarillo, Texas, spent 12 years in the United States Air Force after graduating from Tremper High School in 1979. He was hired by the Kenosha County Sheriff's Department as a correctional officer in 1996.
Corrao made it through the final years of his employment by clearing his mind each morning at the Kenosha lakefront. He bought a camera, learned how to use it and discovered the uncanny ability of being at the right place at the right time.
His breathtaking sunrise photos were soon shared by thousands on social media and have become a popular way for local residents to start their day.
At a time when people's minds are consumed with politics, crime and Covid, Corrao remains a calming force in the community as he quietly goes about his business.
For his 25 years of service and the impact he's made on so many, Corrao has been chosen as the Kenosha.com Kenoshan of the Week.
"I worked with Tom for many years," Chief Deputy Sheriff Marc Levin said. "And I can tell you they don't make them like they used to. To have a treasure like Tom Corrao working for the department, he'll definitely be missed."
Corrao curated a lobby art display at the Kenosha County Detention Center, 4777 88th Ave., and grew an employee vegetable garden for fresh produce at work.
"He was a man who wore many hats around here," Kenosha County Jail Booking Supervisor Andrew Orth said. "He was an officer, a supervisor. He helped me out many times over the years working in this crazy environment. He always stayed positive."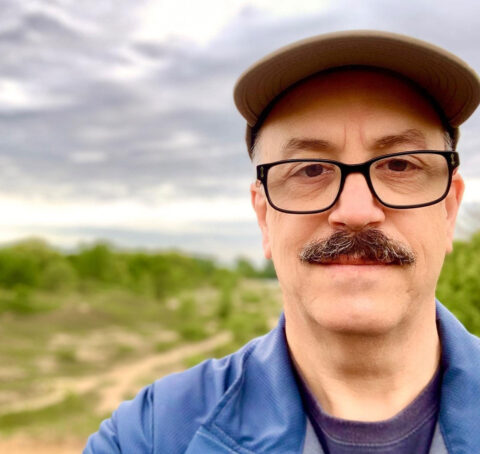 Married for 40 years to his wife Nozomi — who he met while stationed in Japan — Corrao plans to sell (or give away) most of their possessions, buy a luxury motorhome and travel North America.
For the past several years, the couple "pinned" cities, restaurants and other unique destinations throughout the country on Google Maps. Their goal is to visit all of them.
"I'll see something on YouTube or the Food Network and I'll put them in (Google Maps)," Corrao said. "Our plan is to travel for 10 years. We'll winter somewhere warm. We'll hit all the national parks. We'll go hiking together."
Corrao is the author of Kenosha.com's weekly column "Capturing Kenosha." Follow Corrao on Instagram (@straycompasslifeguy) or his YouTube channel (Stray Compass Life). Also, check out his website at StrayCompassLife.com.