"I think it's the best event we do."
That's what Kenosha Police officer Tyler Cochran called the department's Shop with a Cop event at Meijer, 7701 Green Bay Road, Saturday morning.
"It's so nice to see all the officers come out and all the families come out," said Cochran, the city's Officer Friendly.
Cochran said the event helps foster crucial relationships between law enforcement officers and young people, many of whom may only interact with police in times of crisis.
"The majority of the time an officer is called out for something that's wrong. This is a nice thing where we can connect with the community, and it's a positive thing. This is what we want to do," he said.
The event was cancelled last year because of the COVID-19 pandemic.
"It's nice to get back to a little bit of normalcy," Cochran added.
Cochran was joined by dozens of his colleagues at the event sponsored by the Kenosha Professional Police Association. About 50 area children received $200 each to spend as they wanted. Each child was accompanied by an officer or detective as they shopped. As the children shopped, parents and relatives enjoyed free coffee and doughnuts.
"We could tell you story after story of kids getting presents for their family rather than themselves," said KPPA president Pete Deates. He was accompanied by Iris, an electronics detecting Labrador retriever.
This marks the seventh year the event was held at Meijer, which also donated $5,000 to the cause.
"This is my favorite thing to do. It's super exciting. We get to see the smiles on the kids' faces and officers' faces. Everybody is volunteering their time here this morning," said event organizer officer Kim Voss.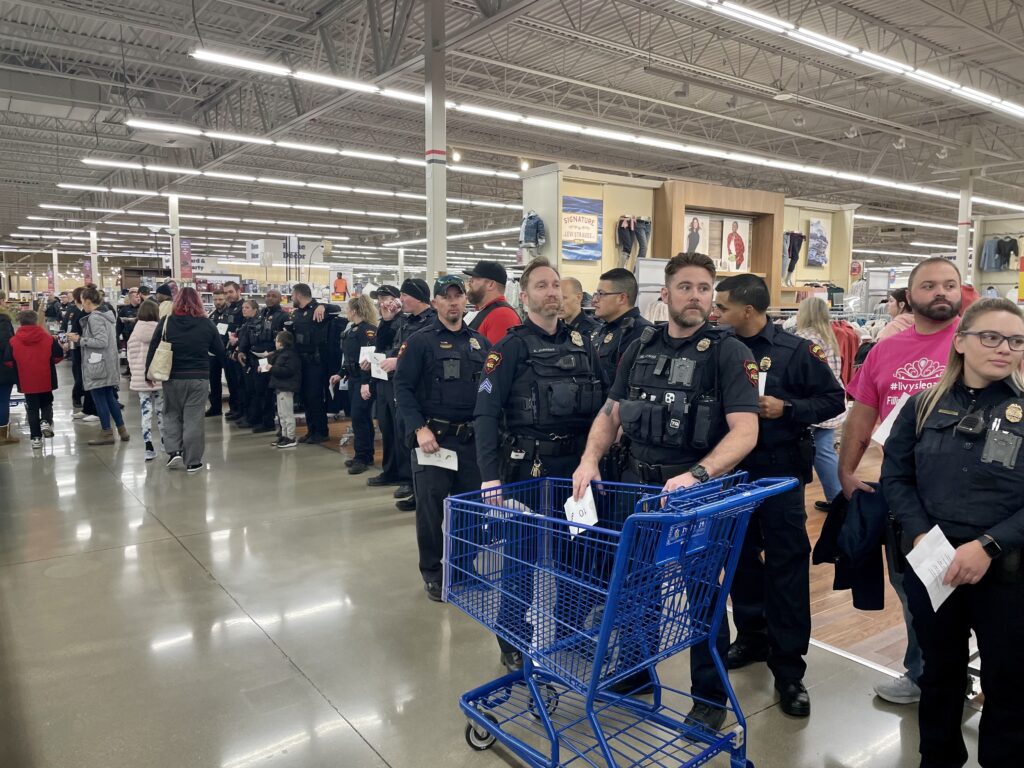 Voss said each area school nominated two or three students who are "good leaders" or "excel in their schoolwork." 
Katheryn Roche brought her daughter Priscilla Rodriguez, a 9-year-old Grewenow Elementary School student, to the event. She was happy to see Officer Cassie Botica there.
"My daughter and I were standing in the corner and we were talking about how there's not as many girl officers as there are boys. She saw (Botica) and said she's her favorite one and ran up to her and hugged her," Roche said.
"She picked me," Botica said. "This is my first year doing it and I'm very excited to see what she picks out."
Rodriguez chose a stuffed pig and a couple dolls.
Officer Javier Vega shopped with Jesriel Cruz-White.
"I like him," Cruz-White said. "I'm shopping for my brother, too."
She put a Superman figurine in her cart.
"I try to do this every year. It's one of the better things to do as a cop. It's unfiltered fun," Vega said.