The Perrine family is building its second location with an eye to the future — and in doing so making a more than $1 million investment on a critical corner on Kenosha's south side.
Lou Perrine's Gas & Grocery at 80th Street and 22nd Avenue will open by early 2022, replacing a long-abandoned former Mobil station with an approximately 4,000 square-foot store that reflects where owner Anthony Perrine thinks the industry is headed.

"You have got to evolve or die, especially in this industry," Perrine said recently, standing amid the ongoing construction at the new location.
For Perrine, that means adapting quickly to a couple of years that have been as challenging as any in the 67-year-old history of the business.
From the pandemic, to civil unrest, to rising costs and supply chain shortages, to hastening shifts in the convenience store industry, to cars barreling into their Sheridan Road store, it hasn't been easy for the Perrine family, as they began construction on their second location. But they now stand ready to open, a testament to perseverance that would make Grandpa Lou proud.
Lifting a neighborhood
The investment is long overdue. The site, once home to a Mobil station, was abandoned for more than a decade before the Perrines took ownership.
The previous owners, Perrine said, "had walked away."
"When we came in two and a half years ago, there were 'Happenings' magazines from 2009. The Kenosha News that was in the building had something in it about the Great Recession," he said, also noting the gas prices sat unchanged on the sign — not far off from today's prices.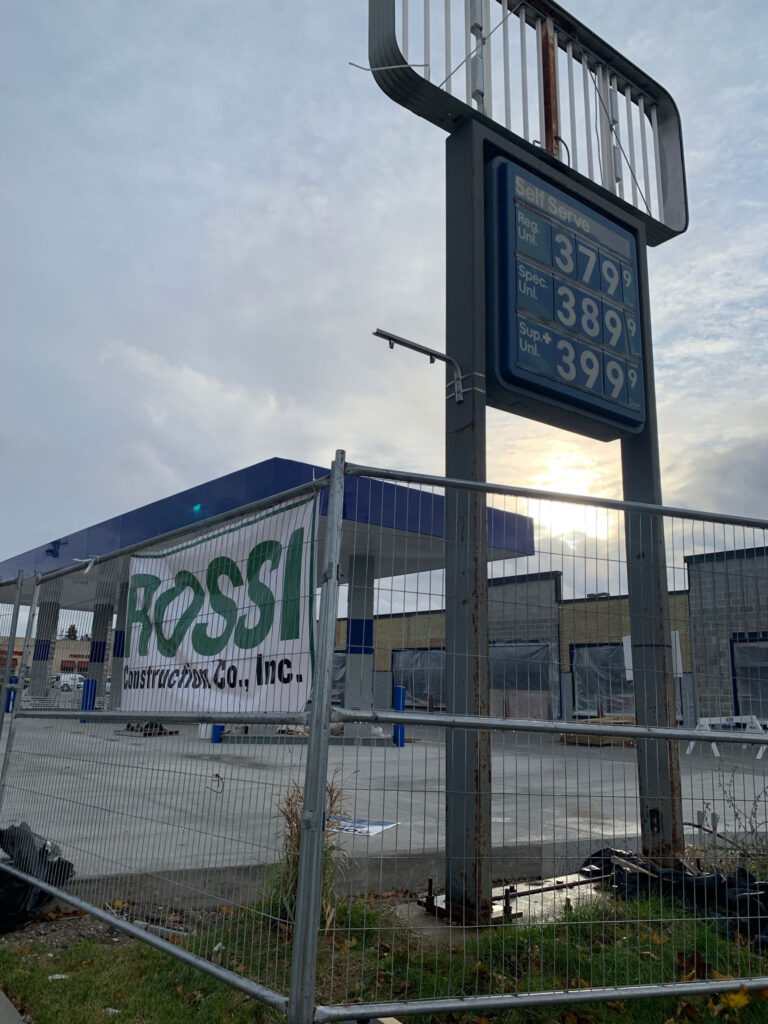 Kenosha Alderman Curt Wilson, whose 13th District includes the property, noted the "dilapidated" former gas station.
"It was terrible," he said. "I don't know how many complaints I filed with the city to get the grass mowed, the snow removed. It was just horrible. It was embarrassing to even go to that corner."
Wilson called the corner "a major focus point, a major intersection."
"It's really exciting to have his investment there," he said. "It really is a major uplift on that corner. The Perrines are known for being good business people as well, maintaining their business.
"Just the idea of having a Perrine's store there is really encouraging to all of the people who live around there. I have spoken to constituents around that area, and they just love it."
While the city didn't provide direct financing for the project, Perrine said city leaders have been "great partners," helping transfer a property "in limbo" and working with the Wisconsin Department of Natural Resources and other agencies on remediation and removal of liens.
"It was a whole project to try and just make this viable again into a gas station," Perrine said.
He added: "We saw it as an opportunity to try and expand and do something good, not just to help us grow, but for the community. This thing had sat empty and ugly for so long. You have Snap-on headquarters right down the road. Tremper is one of the largest high schools in the country right down the road. You don't want it sitting (vacant)."
Perrine is confident his investment will spur redevelopment of the adjacent shopping center, which recently came under new ownership.
Wilson said he has spoken with the investment firm that owns the shopping center, and they are looking at dividing the former Piggly Wiggly space into at least two smaller storefronts.
Another grocery store in the space is unlikely, with Perrine's opening and the opening of a Festival Foods store at 3207 80th St. They also plan to improve the center's parking area.
"They are all on board to bring in more tenants here — they are excited," Perrine said.
Plenty of challenges
Perrine said the new location is a year behind schedule — but you can forgive the delay. That year has been anything but typical.
"In 2019, I was like, 'Man, I can't wait for 2020.' In 2020, I was like, 'I can't wait for 2021.' At this point, I can't wait for 2022," Perrine said. "I just came into the business in 2008 … and that was scary. That was more valuable than any education I ever received. It was a blessing because as soon as the s— hit the fan here, it wasn't panic. It was, 'We've done this before, let's figure it out.'"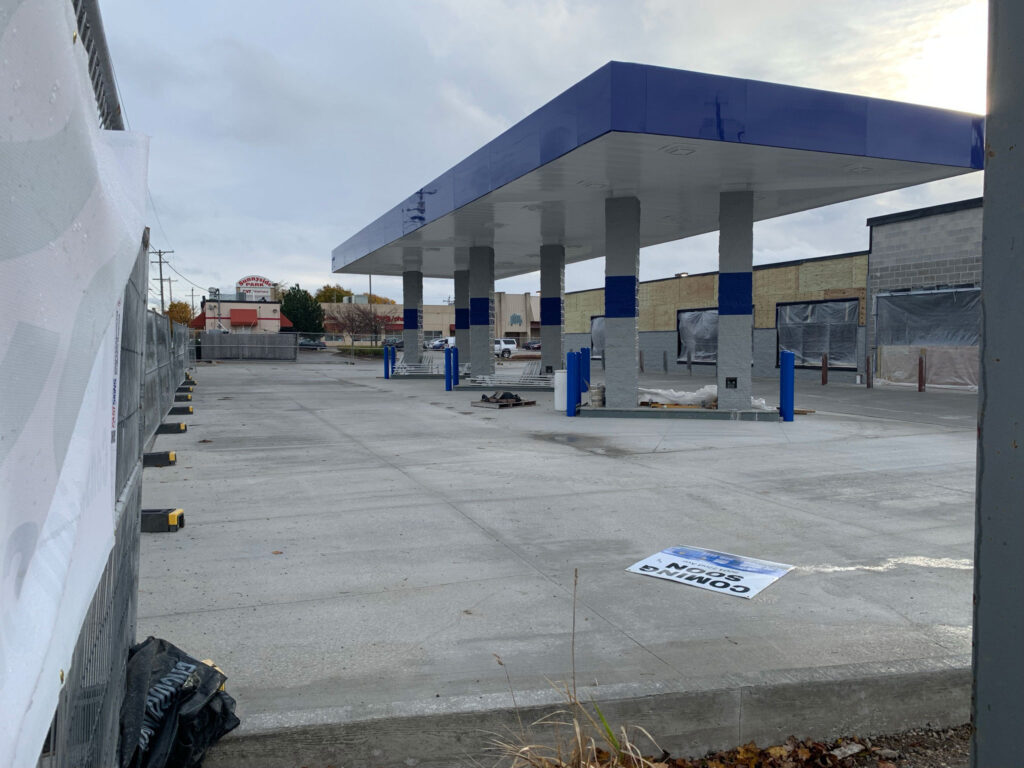 He added: "By far the hardest was the civil unrest. With COVID, we were all in it together. The civil unrest just created a whole dynamic for everybody. It just added more anxiety and stress. This is my city. This is where I'm from. And to see our city go through it, and then be represented a certain way in the media that is bulls–, it's just really disheartening."
The memories of August 2020 are still fresh for Perrine, who spent some of the time during the unrest directing armed security from the roof of his store. He and his team could hear the Kyle Rittenhouse gunshots down the street.
"I was there every night. I slept in the gas station," he said. "My dad was there. We were there to help, but we let everybody know we were there with a presence, with strength. There is no doubt we would have gotten hit if we were not there.
"We had people circling, and they saw the presence."
Thankfully, the only damage to Perrine's was a broken window caused when someone was caught trying to steal liquor during normal business hours.
"We had customers showing up (to help)," Perrine said. "The one night, we had this guy walking up and down 52nd Street with a sword. And he starts walking across 52nd Street, and I'm like, 'Guys, he's coming, he's coming!' He ends up being one of our regulars, lives across the street. And he said, 'Listen, this is my spot, no one is going to f— with you guys. I just want to be here to help keep the peace, and this is the only thing I had, so I brought it.'"
That's the type of connection the Perrine's have with their customers — a connection they will bring to the south side, too.
Still, the challenges didn't end with that week in August of 2020.
Like with most construction projects, inflation has been an issue. Perrine said project costs will be more than 20 percent higher than when construction planning began three years ago.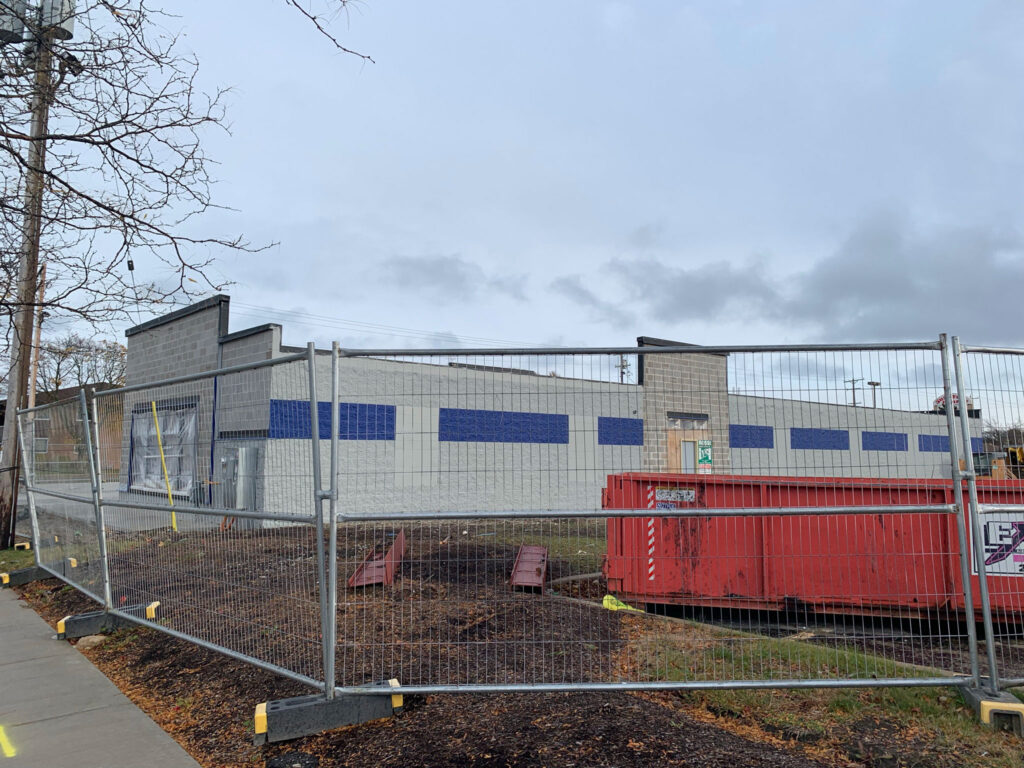 Supply chain challenges have also impacted the project.
"We were cruising for a minute. Then all of a sudden everything stopped," Perrine said. "To get coolers like the walk-in freezer for Einstein (Bagels) is like an eight- to 12-week delay. And we had to pay double what was originally planned so we could get it in time."
Add in the renovations of the Sheridan Road location due to the accidents — including one in October of 2020, where a car drove into the store and caused significant damage — and Perrine said he has a "big nut to cover."
Still, Perrine said, it's worth it.
He's proud of the jobs he is creating — the 22nd Avenue location will employ 15-18 full-time workers, in addition to about 20 at the Sheridan Road location — and in how he is helping transform a key property on the south side.
Perrine said the family tried to acquire property while it was still in business as a Mobil. Then, when Perrine's did acquire the property, initially they were going to remodel the Mobil.
But the family saw an opportunity to focus on new construction only, expanding its "grab and go grocery" items after the Stinebrink Piggly Wiggly, located across its parking lot, closed in 2019.
With the added space, Perrine's has decided to bring Einstein Bros. Bagels to the store; the Perrines will operate under a license from the company, as it seeks to increase its presence in convenience stores like Perrine's. They also added two coolers and retail space to house more traditional grocery items — not just gas station candy.
Perrine said he eventually wants his convenience stores to look more like Fresh2GO by Sendik's — which boldly claims its stores are "redefining convenience" — and less like the gas station stores popular for decades. Think fresh meat and deli items, a small bakery, combined with fresh fruit and vegetables (already available at the Sheridan Road location).
The flexible layout of the new building, with its open concept and high ceilings, will make the shift easier if and when Perrine's is ready to make it.
Industry shift
Complicating the planning of the project are shifting industry trends.
In addition to offering e85 fuel, Perrine is also hoping to add electric vehicle charging stations to both his 22nd Avenue and 52nd Street stores, reflecting the growth of electric vehicles. Active in the National Association of Convenience Stores, Perrine said electric vehicles will be a "game changer for our industry."
"It's redesigning a business plan based on if half the cars in the city are electric," said Perrine, who owns a Tesla.
The shift has come quickly and is accelerating.
GM, for instance, has committed to "an all-electric future" and has pledged to introduce 30 new global electric vehicles by 2035.
"You will see a 50-50 split by 2030, 2025 maybe," Perrine said. "It is coming now. Some of these old guys, they are still holding on to this idea that Joe 6-Pack is always going to drive his F-150, and he's always going to need gas. And I'm telling these guys, 'You have no idea.'"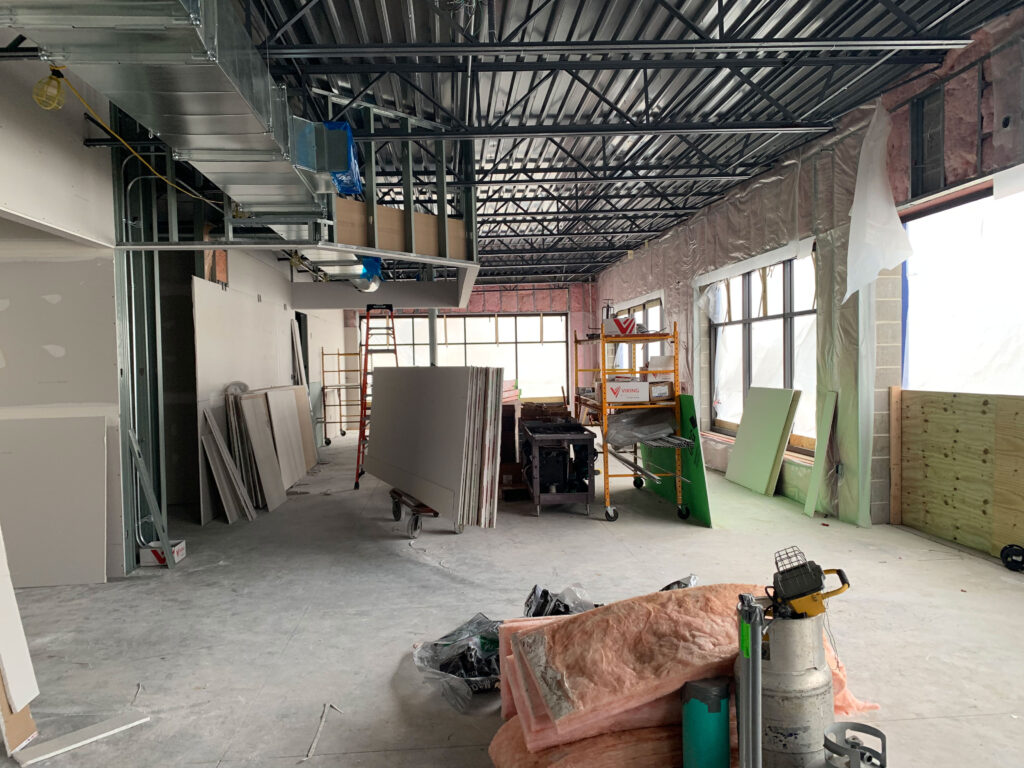 In that environment, one potential way forward for traditional gas stations and convenience stores is by offering quick-charge options. Perrine said companies are now refining five-minute charges, allowing someone to pull into a station, plug in their car, run into the store for coffee and a bagel (and maybe a loaf of bread or a Mama P's HoHo Cake), unplug and drive away.
Charging could also happen at home for many EV drivers, while others may have to stop for a charge while driving long distances or out for long periods.
Perrine thinks often about where that shift leaves the convenience store industry and his business, which relies on customers to make in-store purchases in addition to their fuel.
Only a small fraction of Perrine's profits come from gasoline sales — and it may be a money loser due to the expenses of putting in tanks and maintaining them.
"It's the majority of your revenue, but zero profit," he said. "Everything is driven by inside (sales). You are literally just turning over money and collecting tax for the government."
Indeed, soon enough, "the days of calling places 'gas stations' are going to be gone," Perrine said. "They are energy sources. So I'm just trying to provide the community with the energy they need, whether it's fuel, whether it's electric, whether it's higher ethanol, so the corner growers in the area get a piece of the pie, too, to keep people moving."
Stores like Amazon Go "contactless convenience stores" are the future, he said.
"That's also why we brought in Einstein's Bagels — to have something for people to take a little bit longer time with," Perrine said. "That's where you have to go now. If you don't go in that direction, you will be SOL."
Then there is Kwik Trip. The La Crosse-based company now has 11 stores in eastern Kenosha County, six of them within a few miles of the new Perrine's.
Perrine credited his competitor with figuring out the direction of the industry sooner than most — and then investing significantly behind it. The chain now has nearly 800 stores across Wisconsin, Iowa and Minnesota and plans to open 40 to 50 new stores annually for the next five years, according to comments an executive made at a BizTimes event this summer.
"They were the innovators," Perrine said. "Kwik Trip does it right. Their business model works. They saw the transition a lot earlier than most people, got a lot of grocery guys on their board, clean bathrooms. That is why I'm hoping people in Kenosha remember who has been here forever and who actually does sponsor the events and has given back."
Indeed, the Perrine name means something in Kenosha. "I hope," Perrine said. "We try to do right by the community. This community has been good to us."
What's next?
So, what's next for Perrine's?
Perrine sees potential in cannabis sales, and has personally partnered with other Wisconsin-based investors to start Transcend, a "craft cannabis" grower that recently opened in Michigan. At the same time, he understands the political realities in Wisconsin, making legalization of marijuana in this state unlikely for now.
"Eventually cannabis will be in convenience stores like liquor or beer is," he said.
With or without cannabis, Perrine isn't done growing. Just don't expect Kwik Trip-like speed.
The Perrine family is from the north side of Kenosha — and Anthony Perrine said he'd eventually like to open a store there, too.
"At one point, I wanted five stores in town … and I would do the west side of the city as the last one," Perrine said. "We dialed it back."
"I would love to be out west … but at the same time it's a lot more money to be out in those areas," Perrine said. "And there is a lot of competition out there. There is a lot of competition everywhere, but we've been here 68 years now, and I always consider myself and my family very blue collar. We are kind of the people and near the people.
"There is just something about these areas, these pockets. You'll see a lot of times, especially in growing cities, where as they progress, the downtowns and the old city becomes abandoned, and you get these sh***** little gas stations and these bodegas."
Added Perrine: "I believe that everybody should have access to high-quality food, everybody should have access to affordable products. I lose my a– on produce on 52nd and Sheridan … but where are they going to go to get bananas, apples, oranges? Most of the little corner stores, it's Mountain Dew and Hot Cheetos."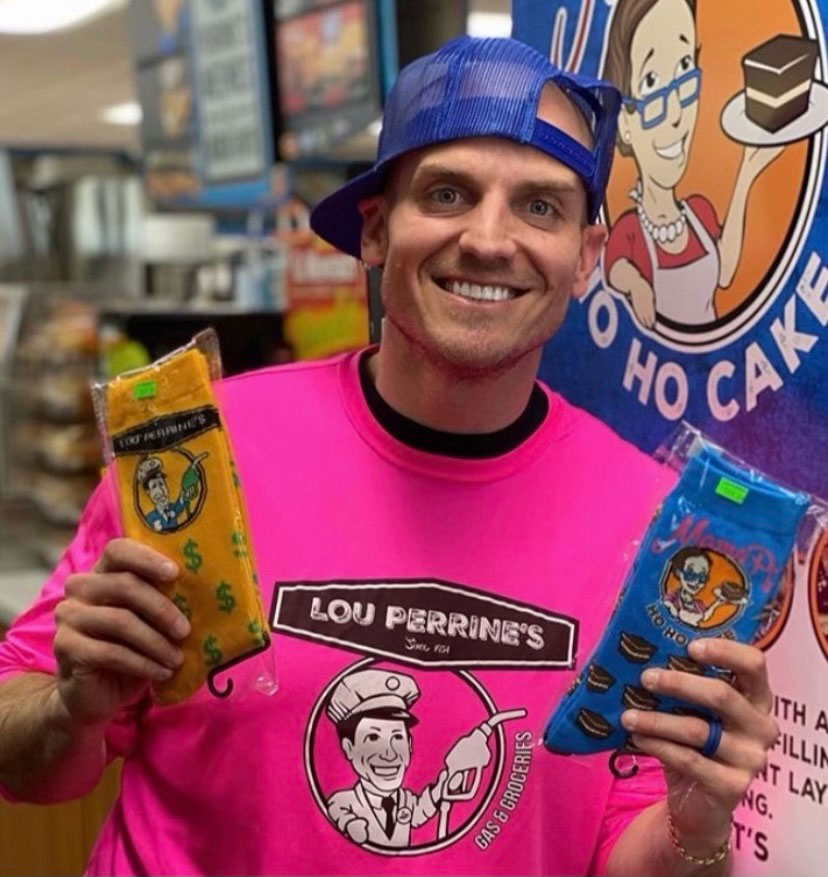 That is not how Perrine's has ever operated.
The company was founded in 1954 as a small full-service Clark station at 52nd Street and Sheridan Road, "back in the good ol' days when someone pumped your gas, checked your oil, and cleaned your windshield all at once. Grandpa Lou was known for his smiling face and outstanding customer service," according to Perrine's website.
"Lou Jr., entered the business during his high school years. While pumping gas for his father, Lou Jr. not only learned the business, but also met his future wife, Laurie. In 1985, the Perrine family lost Grandpa Lou to cancer. To honor his late father, Lou Jr. took over the business. Over time, he turned the small full service gas station into what you see today."
Anthony entered the business in 2008.
"My dad was ahead of the game back in the day because he had the grocery items before Kwik Trip was Kwik Trip," Anthony Perrine said. "He just didn't have the financial backing to take it to the next level. I always say, 'My grandpa started it. My dad built the business. I just make it cool.' That's all I've done, make it cool, put our name out there, bigger than just Kenosha."
And navigate constant change.
"If my grandpa saw this whole business, how it changed since he was around, he would lose his mind," Perrine said. "Some of the things I come up with and do, he's rolling in his grave right now."