'Tis the Season!
Once the turkey leftovers are put away and the football games are over, the holiday season is in full swing. Downtown Kenosha will soon be aglow with the official lighting of the city's tree, along with something for those who prefer to deck the halls indoors, as well as hearty souls who enjoy a winter wonderland outside.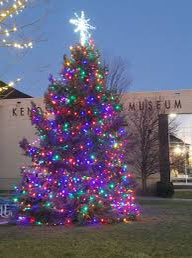 Lightin' Up Downtown begins at 3:45 p.m. Friday (Nov. 26) with Candy Eisenhauer and Ivy Ford performing holiday music west of the Kenosha Public Museum, 5500 1st Ave. The music sets the scene for the countdown to the official tree lighting by City Council President David Bogdala and Santa Claus himself at 5 p.m.
Following the tree lighting, spectators are invited to stroll past downtown storefronts decked out in holiday finery and vote for their favorites. During this time there will be a hot cocoa stand and live music by MGV Harmonia German Men's Chorus outside DayBreak Church, 5631 6th Ave. The Veterans Memorial Park ice rink adjacent to City Hall, 625 52nd St. will be open (weather permitting) with free skate rentals available.
Indoors, the Lakeside Players present the Rhode Christmas Extravaganza, Friday (Nov. 26) from 3-9 p.m. at the Rhode Center for the Arts, 514 56th St. Santa will visit from 5-8 p.m. following the tree lighting. Other attractions inside the Rhode include kids' crafts, a photo booth, holiday bazaar and concessions/bar open throughout the event. Admission is free.
Just up the street, Studio Moonfall, 5031 7th Ave. offers Free Book Friday from 10 a.m. to 7 p.m. visitors can stop in and get a freebie from thousands of used books.
Public Craft Brewing joins the evening's downtown celebration with crooner Tim Dollmeyer performing classics beginning at 7 p.m. Festivities include a coaster ornament making station.
Actors' Craft 7th Avenue Theater and Acting Studio teams up with Lightin' Up Downtown to give kids an opportunity to write letters to Santa, assisted by Mrs. Claus (who knows how to get them to the big guy!). The event runs from 5-8 p.m. Friday (Nov. 26). Coloring activities will also be available at the studio, 4900 7th Ave. Admission is free.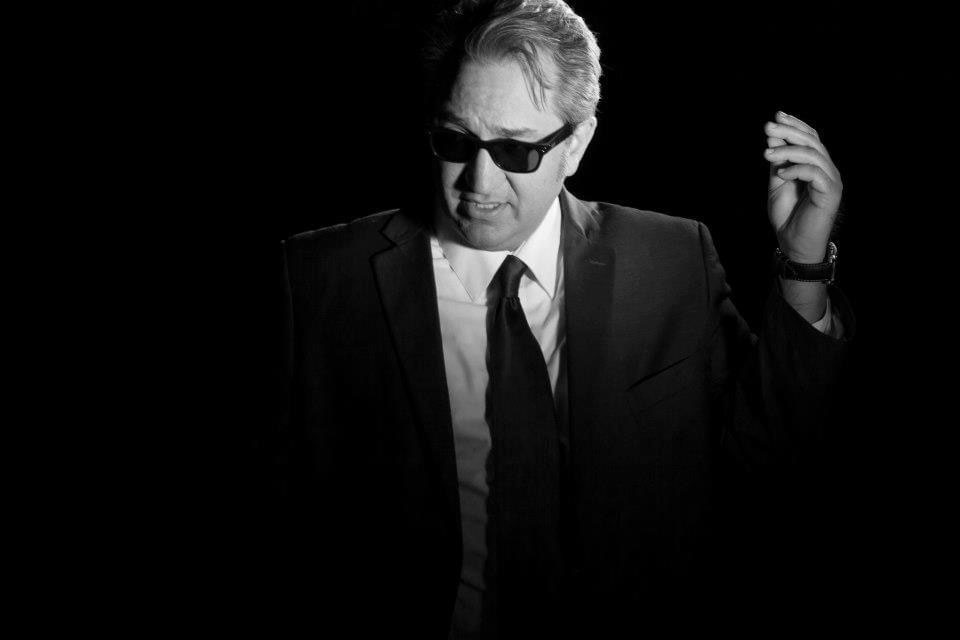 Earlier in the day, electric streetcar rides are available from 11 a.m. to 8:30 p.m., courtesy of Kenosha Firefighters C.A.R.E., a charitable organization. A second streetcar will run from 3:30-8:30 p.m. The Lakefront Trolley will also offer free rides from 3:30-8:30 p.m. along a special route from Library Park on the south to Union Park on the north, following 6th, 7th, and 8th Avenues.
All those great events are on the same day, but it's only the beginning; after the city's official holiday kickoff events, many iconic Kenosha locations will follow suit.
Christmas at Kemper
Kemper Center, also encompassing Anderson Arts Center, Durkee Mansion and Simmons Auditorium, will be dressed in its holiday best.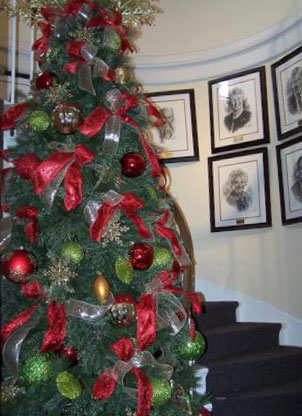 The annual Gallery of Trees display in the main Kemper building, 6501 3rd Ave., showcases 20 decked out Christmas trees ranging in size from 4 to 9 feet tall, along with mantelpieces, wreaths, and centerpieces covering a gamut of styles.
Embodying the spirit of the season, all displays are decorated by artistic volunteers and sponsored by local businesses and individuals/families. All trees and holiday decorations are auctioned or raffled off and are delivered to homes after the showcase ends on Dec. 5.
The Gallery of Trees is open Sunday (Nov. 28) from 1:30-4:30 p.m., Tuesday, Nov. 30-Friday Dec. 3 from 3-7 p.m. and Saturday Dec. 4 to Sunday, Dec. 5 from 1:30-4:30 p.m. Admission is free and self-guided tours of the Durkee Mansion are available to all visitors on these dates.
An elegant gala which serves as Kemper's largest fundraiser of the year kicks off the tree showcase. The Gallery of Trees Gala, held on two floors of the Kemper building, includes a silent auction, raffle, holiday gift shop, first look at the historically decorated Durkee Mansion, appetizers/desserts and a cash bar. Tickets are $25 and are available on the Kemper Center website, over the phone, or at the door.
The neighboring Durkee Mansion is a perennial favorite, and this year promises to be no exception. Durkee Mansion Historic Holiday Open House begins Sunday (Nov. 28), from 1:30 to 4:30 p.m. This year's theme is "Starry Woodland Nights." Each year creative volunteers incorporate period-accurate holiday décor from the 1860s, when the mansion was built. All decorations are handmade and/or antique.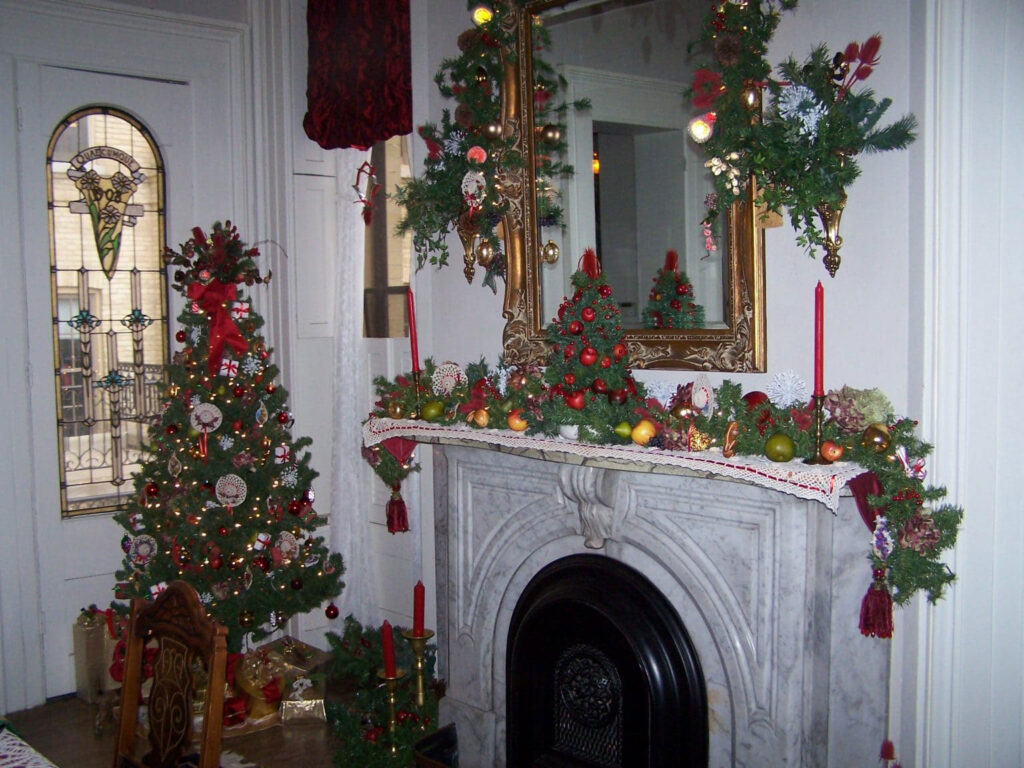 After opening weekend's self-guided tours offered in conjunction with the Gallery of Trees, the decorated Durkee Mansion will remain open on selected dates through the holiday season into the first week of the new year: Dec. 11-12, 18-19, Dec. 26, Jan. 2 and Jan 8-9. Hours are 1:30-4:30 p.m.
Christmas at Kemper also includes the Winter Wonderland Ball in Simmons Auditorium on Saturday, Dec. 11. Doors open at 7 p.m., with the Southport Sound Band playing from 7:30 to 10 p.m. Tickets are $20 per person and include a dessert buffet.
***
Museums: Traditions and today
Kenosha has a wealth of public museums, and all are getting into the holiday spirit with special offerings.
The Kenosha Public Museum, 5500 1st Ave., offers a bountiful list of holiday activities.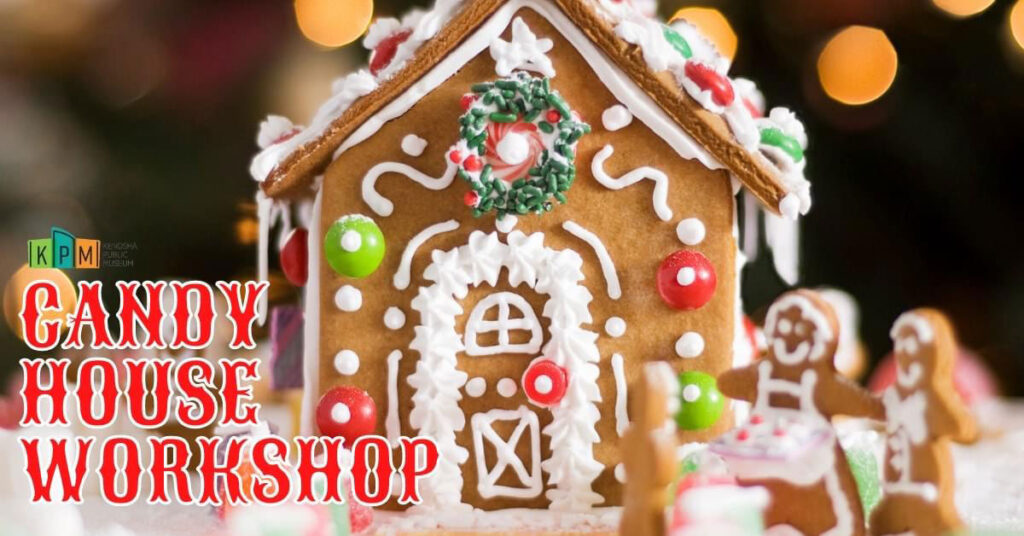 The museum will offer a Candy House Workshop for families at 10 a.m.-noon. or noon-2 p.m. Saturday (Nov. 27). Using graham crackers, pretzel rods, cookies, frosting, candy and imagination, families can design and construct a fantasy house fit for a fairytale. Cost is $25/($20 members) for one adult, $5 for children and each additional adult. All supplies included. Registration is required.
This one's for big kids (21+) only! KPM's Holiday Paint and Sip is set for 6-8 p.m. Thursday, Dec. 2. During this casual class, participants work from a festive still-life of packages, bows and oversized ornaments to create a painting, embellished with sparkling snowflakes. No prior painting experience necessary. All supplies, plus wine and beer are included in the $50 cost ($35 for members). Registration is required.
Other holiday workshops include Fused Glass Holiday Sun Catcher, Bell Basket, Mistletoe Felt Garland and Holiday Centerpiece in a Candy Cane Vase.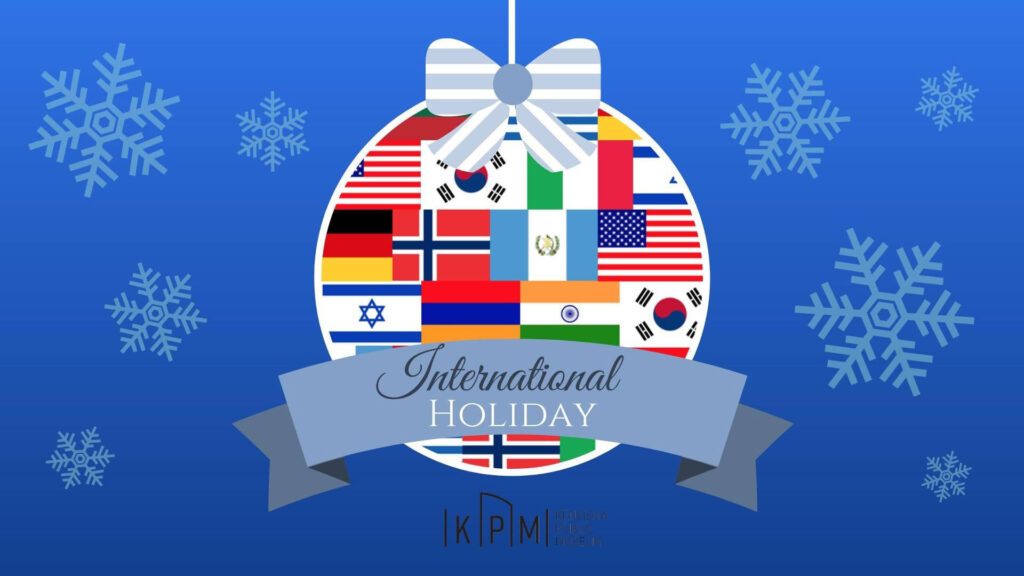 The museum's International Holiday Market gives visitors a chance to shop artisan products from all over the world as well as right here in Kenosha. Set for 1-4 p.m. on Saturday, Dec. 4, the market features sweets, crafts and an opportunity to create an ornament and learn about Ikebana floral arranging. Ballet Folklorico Tayahua will provide live music throughout the day, and a hot cocoa and toppings bar will be available. Admission is free.
The Southport Light Station Museum, 5117 4th Ave. is usually only available May-October, but this beloved symbol of Kenosha will be open from 10 a.m.-4 p.m. Saturday (Nov. 27) as well as Saturday, Dec. 11 to help Santa navigate his way to Simmons Island. Santa himself will be visiting the neighboring Kenosha History Center (220 51st Pl.).
The maritime museum inside the keeper's house preserves the history of Kenosha's lighthouse keepers, as well as shipping/fishing history and local shipwrecks. The 1866 Southport Lighthouse tower's 72-step spiral staircase takes visitors to the lantern room for an unparalleled view of Kenosha and the surrounding area. On a crystal clear day, the Chicago skyline is visible. The tower stands 55 feet above the lighthouse grounds. The tower will be open for climbs, weather permitting.
Maritime Historian Ron Luttrell will give a short presentation on the Rouse Simmons Christmas Tree Ship at noon on Saturday (Nov. 27) and once more on Dec. 11 inside the Southport Light Station Museum.
Admission to the keeper's house and the Christmas Tree Ship presentation are free, donations are welcome. The lighthouse climb costs $10 for ages 12 and over, $5 for children 8-11 years old. (Must be 8 or older to climb.)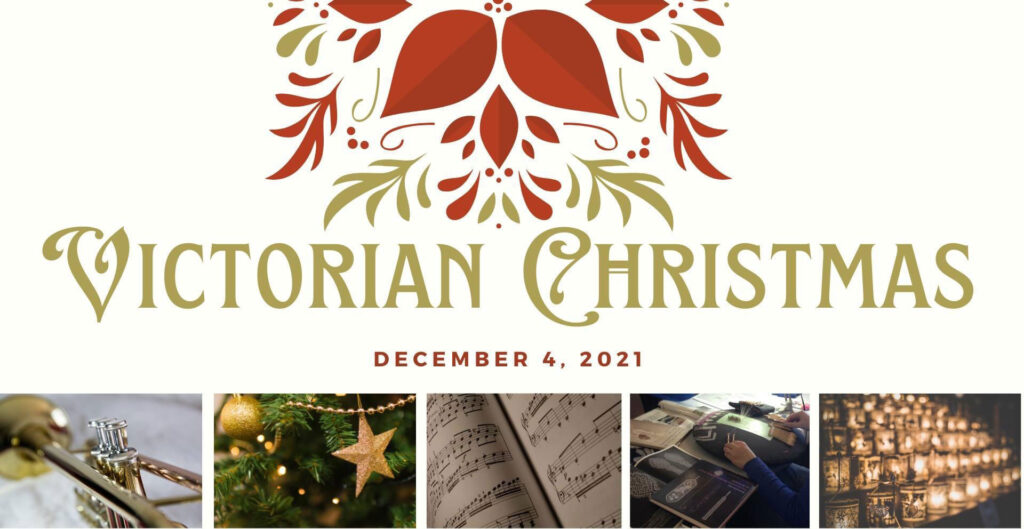 Step back in time by celebrating the rich traditions of a Victorian Christmas 10 a.m.-4 p.m. Saturday, Dec. 4 at the Civil War Museum, 5400 1st Ave. The festivities include musical performances, ornament making and holiday crafts. Visitors will also find displays of dollhouses and Civil War miniatures, living history presentations and a replica of a Civil War-era game parlor. Admission is free.
***
Winter Wonderlands
Hawthorn Hollow, 880 Green Bay Rd., is the picturesque setting for a Holiday Boutique and Bake Sale on Saturday, Dec. 4. This family-friendly event features unique, hand-crafted holiday gifts, and wreaths and swags made from natural materials gathered on the Hawthorn property. Fresh greens will be available for crafting. Homemade cookies, cakes and candies will be available for purchase, and Santa Claus will be there, too!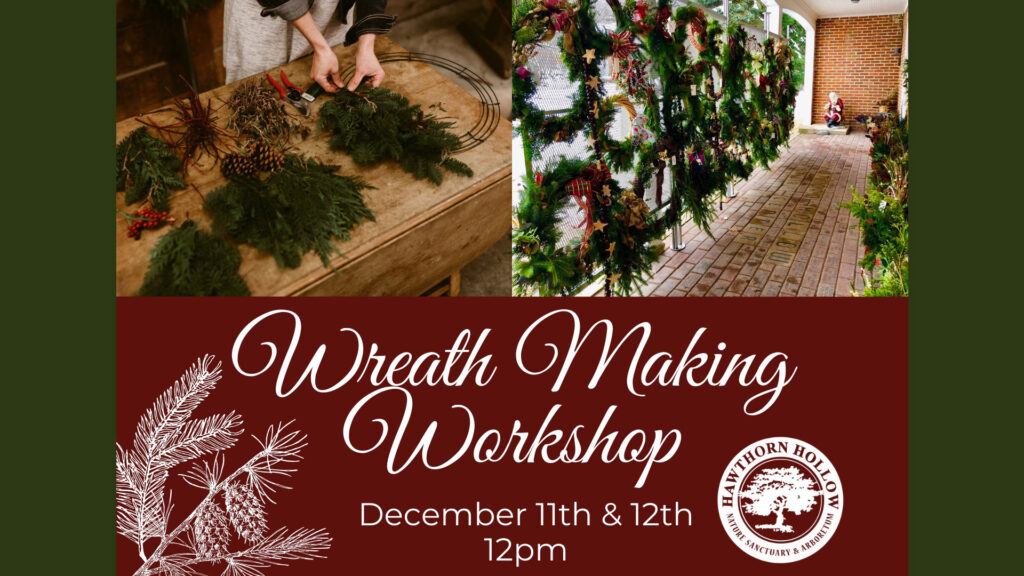 Inspired by the holiday boutique crafts? Hawthorn Hollow offers a Wreath-making Workshop at noon Dec. 11-12, using fresh yew branches and assorted evergreens from the Hawthorn Hollow grounds. Tickets are $32.50 with fees and include all materials and help from staff. (Price is per wreath).
An old school Kenosha attraction has established a new tradition. Opening night for the second year of Holiday LIghts at the Farm, a walkable holiday light display, is set for 3-8 p.m. Friday (Nov. 19) at Jerry Smith's, 7150 18th St. Santa Claus will visit every Friday and Saturday evening, and the holiday shop will be open daily.

General admission is $5 for guests 3+ years old. The display is open daily 3-8 p.m through Dec. 19 except Thanksgiving (Nov. 25).
Markets and more!
Holiday markets and family events are dotted throughout the city.
The YMCA, 7101 53rd St., invites families to join Breakfast with Santa Claus Saturday, Dec. 4 from 9-11 a.m. Families can celebrate the season with reindeer games, caroling and plenty of photo opportunities. Each child will receive a gift from Santa. Reservations will be required for breakfast. Four seating times are offered.
The Vault Banquet Hall and Event Venue, 625 57th St. will hold an Ugly Sweater Contest and Holiday Tree Auction, and holiday tree auction as a benefit for local families.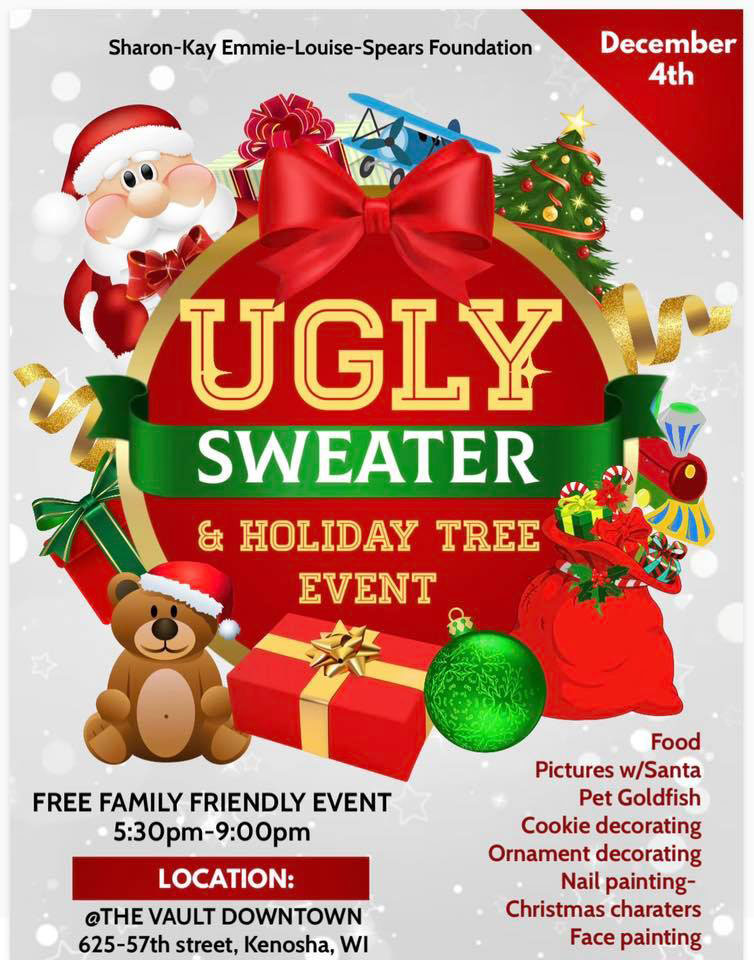 Enjoy complimentary food and beverages while the kids play games and adults try their luck at winning raffle items from favorite businesses throughout Kenosha. Custom Christmas trees decorated and donated by area nonprofit organizations and local businesses will be on display and available by auction.
All proceeds from the auction and raffle will be donated to our foundation that supports annual scholarships for students studying and living in the Kenosha area. More information about the foundation and how you can help will be available at the event.
Both of Kenosha's successful indoor markets will feature special holiday editions.
The beautiful Stella Hotel & Ballroom will be the setting for the Holiday HarborMarket Dec. 18. More than 30 specialty vendors including arts & crafts, holiday foods (including baked goods), fresh local foods, gifts of all kinds including handcrafted goods, soaps and body care, dog treats, home decor and more.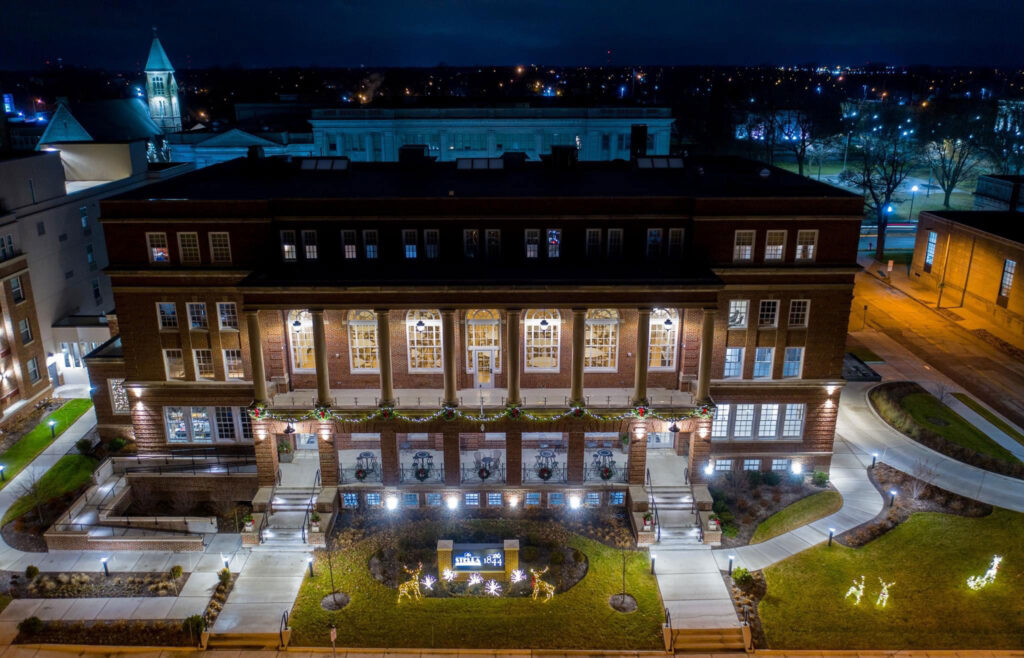 This special version of the holiday HarborMarket features live music by Indigo Canyon, raffle baskets benefiting the Shalom Center, food, adult beverages and hot chocolate.
The Indoor HarborMarket is in its usual location at the Union Club, 303039th Ave. Dec. 4 and 11, then moves to the Stella for one week only, and is closed on Christmas and New Year's Day before returning to the Union Club Jan. 8.
Likewise, Kenosha Public Market is going all out to celebrate the season. Beginning Saturday (Nov. 27) through Dec. 18, KPM vendors will be at two locations: The Vault Banquet Hall, 625 57th St. and Public Craft Brewing Co., 628 58th St.
Santa will visit the market from 11:30 a.m. to 2 p.m. on Dec. 4 with free candy canes and hot chocolate. On Dec. 18, Mrs. Claus will help the kids write letters to Santa and send them in a magic mailbox.
The Kenosha Public Market will be closed on Christmas and New Year's Day.
The GFWC Pleasant Prairie Woman's Club will hold their Annual Holiday Cookie Walk fundraiser on Saturday, Dec. 11 from 9 a.m.-noon at the Pleasant Prairie Village Hall, 9915 39th Ave. A wide variety of homemade cookies will be available for purchase. All proceeds will go toward community service projects. For more information please email 1conniesue@att.net.
Live Performances
Christmas with the Kenosha Symphony Orchestra returns to Reuther Auditorium, 913 57th St., Saturday, Dec. 11 from 3-6 p.m.
This annual holiday concert, supported by Snap-On, Inc., features Christmas staples such as selections from Tchaikovsky's "Nutcracker," popular Christmas songs and John Finnegan's Christmas Sing-along. Tickets are $30 for adults, 18-under are admitted free.
"A Cowboy Christmas" presented by RG Radio Productions promises an afternoon of nostalgic Old Time Radio featuring a "Gunsmoke Christmas Story." In this recreation of an episode that aired Dec. 20, 1952, US Marshall Matt Dillon finds himself stranded on the prairie miles from Dodge and accepts the aid of a stranger. Along the way the stranger learns the real meaning of Christmas. RG Productions is an Old Time Radio Theatre group showcasing recreations from the Golden Age of Radio as well as new audio theatre in live venues. The show is 1 p.m. Sunday, Dec. 12 at the Civil War Museum. Tickets are free.
Lakeside Players, Inc. presents "The Best Christmas Pageant Ever," opening Friday, Dec. 3 at 7:30 p.m. at the Rhode Center for the Arts, 514 56th St. The family-friendly show follows the shenanigans of the Herdman siblings, or "the worst kids in the history of the world." The siblings take over the annual Christmas pageant in a hilarious yet heartwarming tale. The show's run continues Saturday, Dec. 4 at 7:30 p.m., Sunday, Dec. 5 at 2 p.m., and again Dec. 10-11 at 7:30 p.m. and Dec. 12 at 2 p.m. Tickets are $10.
The bad news is that tickets are already sold out for "A Kenosha Christmas Carol" set for Saturday, Dec. 11 at Fusion, 5014 7th Ave. The good news is that a live stream will be available on Facebook.
The evening of entertainment features stand-up comedy, live music, eggnog tasting, and a live script reading of "A Kenosha Christmas Carol," an original play based on the Charles Dickens classic.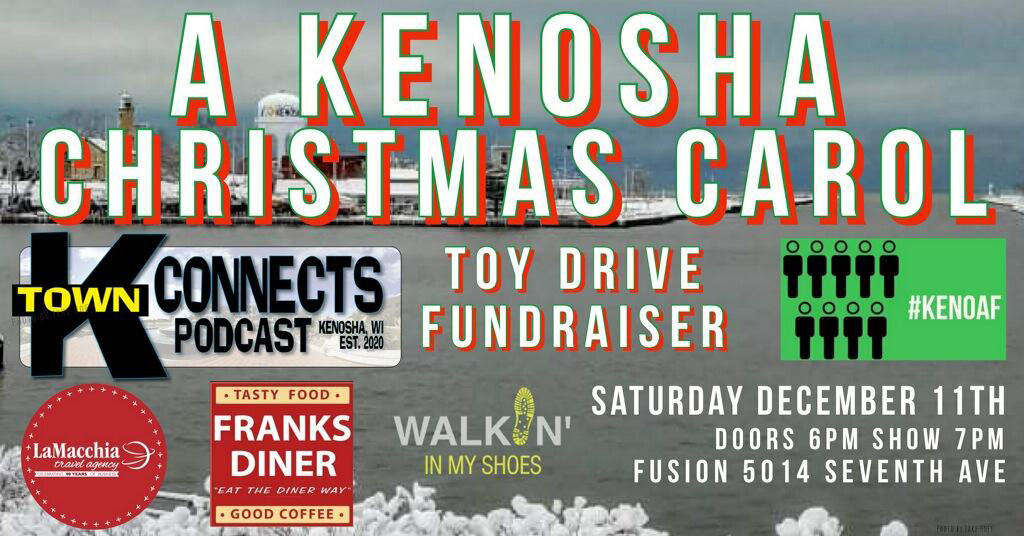 Participants include Koerri Elijah, Daniel Thompson, Jake "The Weather Guy" Hoey, Kevin Ervin of Franks Diner, Sarah Kovach of Wink Beauty Boutique, Katy Wallner of Hot Mess Studios, Ron Dean Brown, comedian Jordan Pauley, Jakob Morgan from WLIP and more. Guest bartenders for the evening will be from Faded Barbershop for Men.
With the assistance of Walkin' In My Shoes, 100 percent of all proceeds from the event will be donated to a local toy drive for Kenosha children. The event is presented by Ktown Connects and KenoAF and is sponsored by LaMacchia Travel and Frank's Diner.
The live stream of the show with online donation opportunity can be found on Fusion's Facebook page Dec. 11 at 7 p.m. The show is expected to be available on YouTube the following day.
Live music venues are adding events throughout the season. Stay tuned to Kenosha.com. To submit an event, please email Laura@Kenosha.com.