Ingredients:
For the crust
1 1/4 cups graham cracker crumbs
5 Tbsp unsalted butter, melted
2 Tbsp sugar
For the filling
Three 8-ounce packages cream cheese at room temperature
1 1/2 cups sugar
15-ounce can pure pumpkin purée
1/4 cup sour cream
1 Tbsp pumpkin pie spice (see tip after recipe)
2 tsp vanilla extract
1/2 tsp salt
Four large eggs, at room temperature, lightly beaten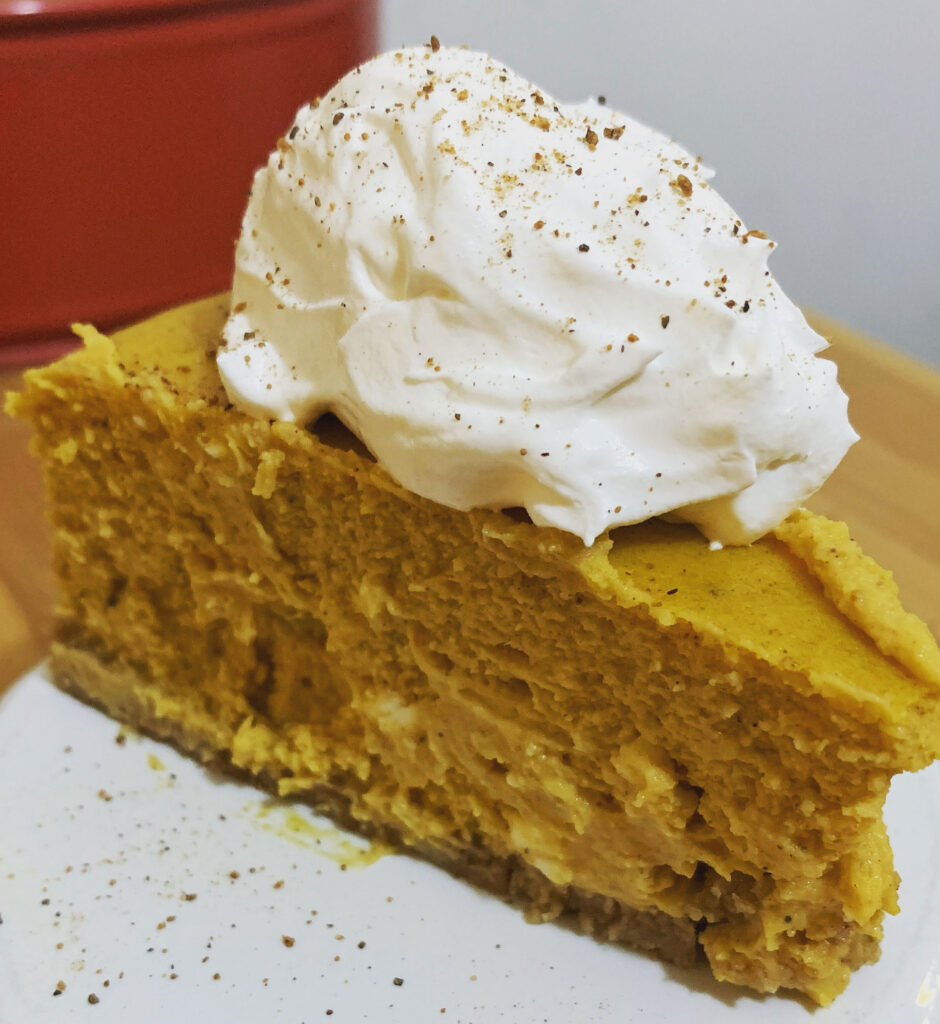 Directions:
Preheat oven to 350 degrees. Wrap the outside (bottom and sides) of a 9-inch springform pan with foil to prevent leaking.
Make the crust: toss the graham cracker crumbs, melted butter, and sugar in a bowl until combined. Firmly press the mixture into the bottom of the pan. Bake until set and a few shades darker, about 10 minutes. Transfer to a rack to cool completely.
Bring a kettle of water to a boil. Make the filling: beat the cream cheese in a large bowl with a mixer on medium-high speed until smooth, about 2 minutes. Add the sugar and beat another 3 minutes until mixture is light and fluffy. Add the pumpkin, sour cream, pie spices, vanilla and salt. Beat them until combined. Add the eggs and beat medium-low until just combined. Finish stirring with a rubber spatula (make sure to get the bottom of the bowl). Pour filling into the cooled pan with the crust. Gently tap the pan to release any air bubbles.
Set the cheesecake into a larger roasting pan or baking dish, and set in the oven using the middle rack. Carefully pour boiling water into the baking dish/pan one-third of the way up the springform pan side. Bake the cheesecake until edges are set and center is still jiggly. This should take around 1 1/2 hours. When ready, turn off the oven and slightly crack the oven door. Keep the cheesecake in the hot oven for an additional 30-45 minutes. Remove from rack and let the cheesecake cool completely. Finally, cover and refrigerate for 8 hours (or overnight) until fully chilled.
Remove from fridge and sit at room temperature about 30 minutes before serving. Remove springform ring and enjoy!
Tip:
If you don't have pumpkin pie spice, use this recipe:
1 tsp cinnamon 
1 tsp ground ginger
1/2 tsp nutmeg 
1/2 tsp ground clove