This year Small Business Saturday falls on the day after the holiday season kickoff in downtown Kenosha. It's the perfect time to keep the momentum going and show our local shops some love.
What better place to find a gift for the book aficionado on your list than at local independent shops catering to readers?
Studio Moonfall, 5031 7th Ave is tucked around the corner from the busier Sixth Avenue thoroughfare through downtown, so be sure not to overlook this gem.
"Along with tons of books by independent authors, prints and more by local artists, and my own collection of oddities, Studio Moonfall has multiple weekly events planned through Christmas," said owner Donovan Scherer.
On Small Business Saturday, Studio Moonfall can be found at the HarborMarket from 9 a.m.-1 p.m., and then back in the shop from 3-7 p.m.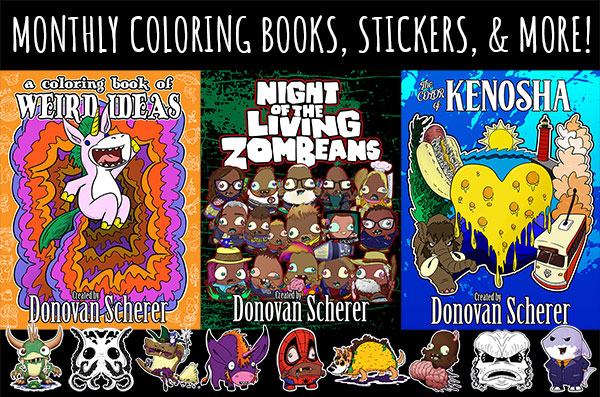 The city's holiday celebration Friday (Nov. 26) coincides with Studio Moonfall's Free Book Friday from 10 a.m. to 7 p.m., a weekly event where visitors can choose from thousands of used books. Sundays throughout the holiday season Scherer is bringing in special guest local authors and other creatives from 10 a.m. to 3 p.m. Upcoming guests include Jojo's Anime Nov. 28, D. Lieber on Dec. 5, Meg Bonney on Dec. 12 and Inthreadable Designs on Dec. 19. More information about the guest events can be found here.
The shop's official title, Studio Moonfall — Donovan Scherer's House of Art & Story rings true. He's been hard at work on the latest in his series of Color of Kenosha local business coloring books — a perfect fit for Small Business Saturday.
"The shop is fully loaded with the good stuff for everyone who does find their way here," Scherer said.
Blue House Books is certainly a small business success story. Sam Jacquest's store has transformed from a dream to a pop-up shop to a gorgeous brick and mortar store that already feels like home for local literary fans. Now with room for a selection of gifts in their new location at 5915 6th Ave. A., the indie bookstore has a wide range of choices for all ages, all genres and even those on the gift list who haven't picked up a book in a while.
The week following Small Business Saturday, the shop will have a rescheduled Cozy Night event at Blue House featuring Jordan Stocker on piano along with refreshments and gifts with purchase.
"We are so lucky to have the most amazing customers a little indie bookstore could ever ask for, and we truly would not be where we are today if it weren't for all of your love and support," Jacquest said.
Pollard Gallery, 518 56th St., is another authentically local spot in downtown Kenosha to find books and other gifts on Small Business Saturday.
In addition to carrying artwork by two of the most respected and well-known artists to ever call Kenosha home, Pollard Gallery is proud to include the "Book Nook." This special section features works of local authors. Highlights include history, historical fiction, biographies and children's books.
Small Business Saturday was launched in 2010 as the country was emerging from the recession that took hold years earlier. The concept was to redirect holiday shopping to local stores. A decade later, it's observed in all 50 states, and in 2011, the U.S. Senate passed a resolution recognizing Small Business Saturday.
Note: The artwork accompanying this article is also a product of a small, independent business Lily and Val created the graphics beginning in 2018 with the intention of sharing them for free to share the Small Business gratitude.