Arnetta Griffin and her team of volunteers fed hundreds of area residents Saturday afternoon.
Griffin, founder of God's Kitchen, offered free Thanksgiving meals to all who stopped by St. Anthony's Church, 2223 51st St. The local nonprofit also provided free winter clothing and haircuts. 
"We're very busy. It's a blessed day," Griffin said, adding she was hoping to serve at least 300 people.
"I've got a whole lot of food. I've got greens, turkey, ham, chicken, mac and cheese, lasagna, dressing, dirty rice, salad, meatballs, pies. It came from the community. They donate to God's Kitchen."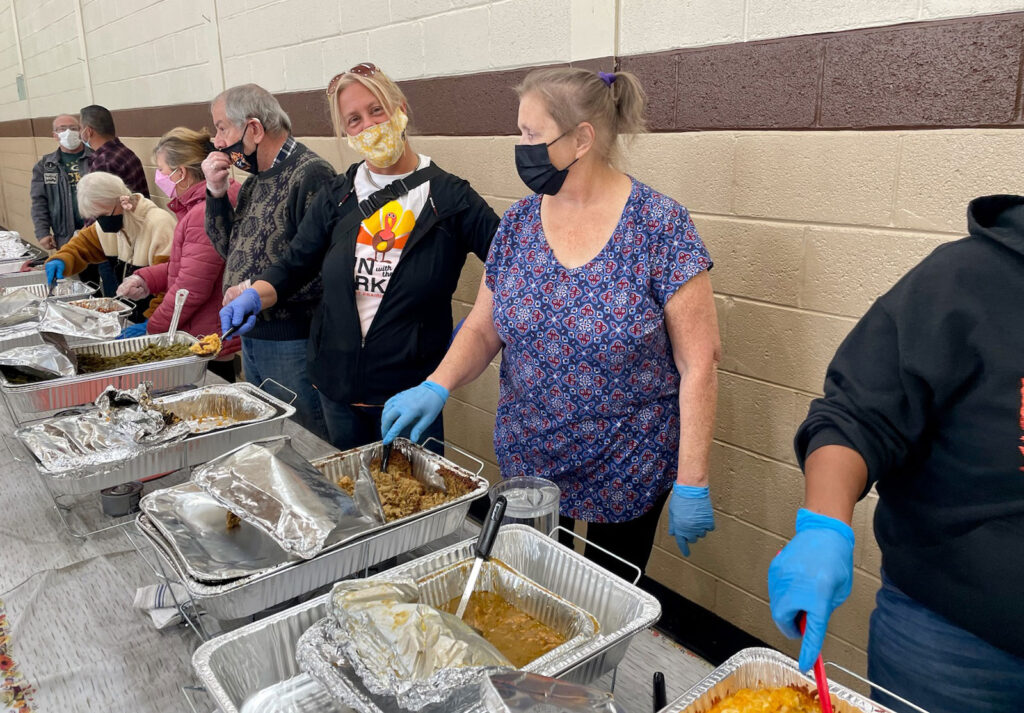 Griffin has been offering daily free meals around Uptown for years. She said God spoke to her after First Step Services closed in 2017. She believes nobody should go hungry here.
"It's Him. He put it on my heart to do it. I have to obey God and feed his people," she said. "I didn't know this would be God's plan for me. God's Kitchen is for everybody."
Griffin, 55, and her family prepared most of the food. Wolfpack Motorcycle Club of Kenosha Inc. prepared the turkeys and the Salvation Army of Kenosha donated some items. Dick's Roofing co-owner Jeff Milkie "bought half the stuff," Griffin added.
Pat DeGrace, a member of St. Anthony's and board member of God's Kitchen, said Griffin "is driven by God."
"She fulfills the Beatitudes every single day," he said. "The name of her organization is fitting."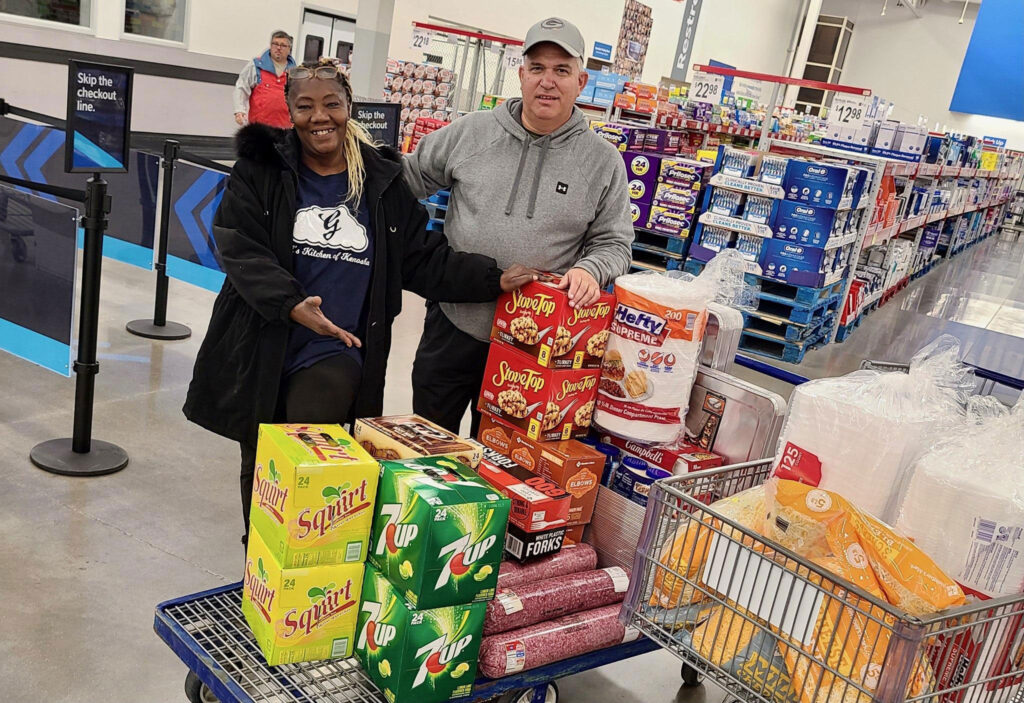 DeGrace said the COVID-19 pandemic and historic city unrest "didn't stop her at all. Not one bit."
"She gives food to people every single day, clothing. Whatever they ask her for she finds a way to get it," DeGrace added.
This is the first year the organization held the meal at St. Anthony's. Father Todd Belardi said he hopes to partner with Griffin again.
"I would like to do this as much as we can," he said. "It's wonderful to have her here."
Volunteer Zach Stock has been working with Griffin for the past few months. He met her last fall when she was handing out free food boxes.
"She loves everybody and wants to feed everybody. Whatever I can do to help her out I am more than happy to do. She is a gem in our community," he said.
Stock was busy refilling dozens of trays and clearing tables for guests. Volunteers wore masks and gloves while serving food.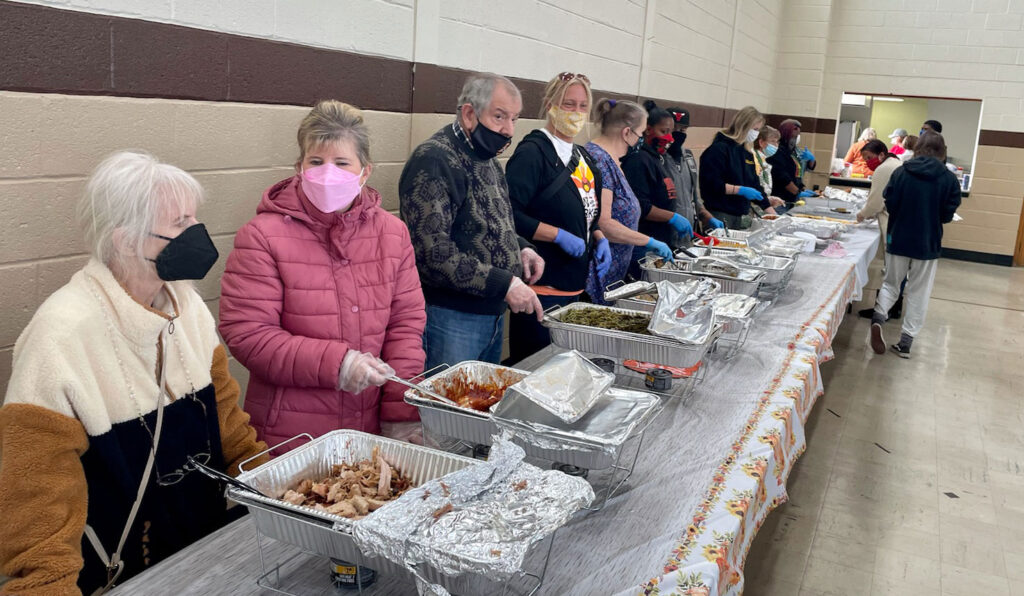 One guest named Lupe said the food was tasty.
"It was excellent, very good. It tastes homemade," she said. "I'm grateful and I'm sure it's a lot of work organizing this."
Guest Randy Grosch expressed similar sentiments.
"Anytime Arnetta makes food it's always good," he said. "She goes out of her way to feed my sister, her friend and her husband. I ask them, 'Where do you get the food from?' They say, 'Mrs. Arnetta.'"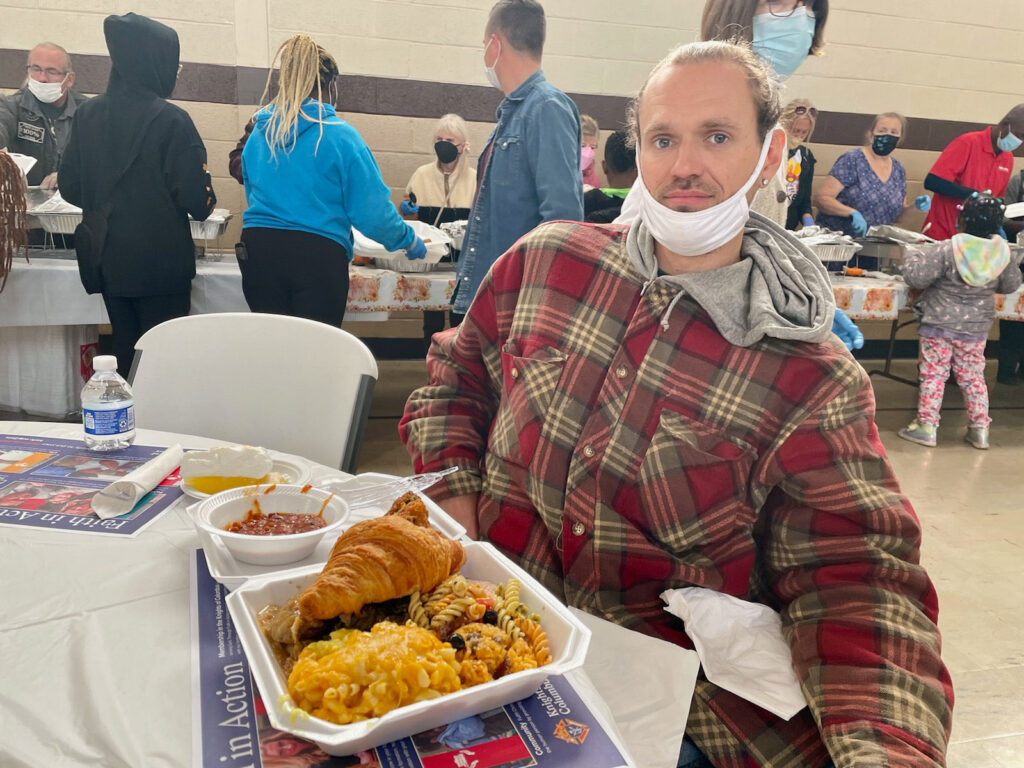 Grosch said he sometimes helps Griffin set-up tables and set food out when he sees her around town.
Attendee Henry Hicks said his turkey, mac and cheese and potato salad were "great."
"She's amazing," he said. "Every day she sacrifices for breakfast, lunch and dinner. She wishes she could do more. She hates to see people hungry."