Lee Mechanical Inc. has agreed to a multi-year partnership to become a RangerVision 2020 Community Champion, UW-Parkside Director of Athletics Andrew Gavin announced Tuesday. The Kenosha-based company is not only a leading plumbing, heating, cooling, and electrical contractor in Southeastern Wisconsin, but a committed supporter of the community.
Lee Mechanical's support of Parkside Athletics will be instrumental to the completion of the RangerVision 2020 projects and enhancing the gameday atmosphere in De Simone Gymnasium, including collaborating with HARIBO of America to host a Boys & Girls Club Day as part of the HARIBO Invitational on Nov. 19-20 and sponsoring a Lee Mechanical Night in January.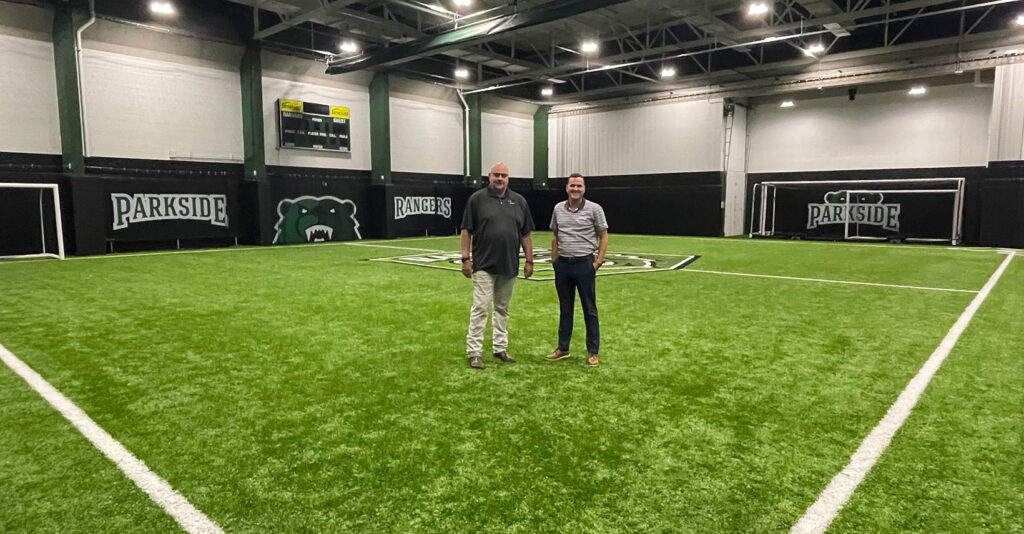 "It's an honor for a hometown contractor to team up with a world class company like HARIBO to provide our Boys & Girls Club youth the opportunity to experience this first-class venue at Parkside and college life for a day," said Bob Lee, Jr., President/CEO of Lee Mechanical.
Parkside will host the second annual HARIBO Invitational on Nov. 19-20 in the newly renovated De Simone Gymnasium. Parkside will battle Southwest Minnesota State on Friday at 7 p.m. and Upper Iowa on Saturday at 3 p.m. On Saturday, Lee Mechanical has partnered with HARIBO to host a Boys & Girls Club Day. Individual tickets for the HARIBO Invitational are available at  ParksideRangers.com/Tickets, along with mini packs, season tickets and group ticket information.
Additionally, Lee Mechanical joins the Parkside Athletics Partners Program and remains a committed sponsor of the Ranger Impact Open presented by Kings and Convicts Brewing Company. The Parkside Athletics Partners Program aims to create mutually-beneficial partnerships that meet the marketing, advertising, and human resources needs of businesses and organizations while providing financial and in-kind support to Parkside Athletics.
"Lee Mechanical has been an amazing supporter of our community for generations, and I'm extremely grateful to Bob Lee, Jr., Brandon Quinn, and Frank Ruffolo for their partnership and support," Gavin said. "We're thrilled to continue to build our relationship in ways that will positively impact our student-athletes and community."
For more information on partnering with Parkside, contact Gavin at gavin@uwp.edu or 262.595.2485.
About Lee Mechanical
Our values are designed to best serve our customers and employees. The spirit and heart of our company is about doing what it takes to get the job done right. Integrity first, safety always.
To provide our customers with the best possible value for our services and products. We achieve this by committing to a safe work environment, servicing and standing behind our products, and maintaining an uncompromising commitment to our promises. Our employees are our greatest asset and we are committed to providing a best-in-class work environment. We conserve our clients' resources as if they were our own, while producing a fair return to continue to grow, improve and innovate.
To learn more about Lee Mechanical, visit SelectLee.com.