The Restaurant:
The Daily Dose Café, 6010 40th Ave., is a neighborhood café that has been providing huge flavor in a tiny space since 2007. Don't let the coffee shop atmosphere or small size fool you, though. The food coming out of this kitchen for breakfast and lunch is legendary.
The Featured Dish:
Awesome Beef! — Oven-roasted beef sauteéd with red onions and secret spices, pepper jack and cheddar cheese, sambal chili, garlic aioli, sliced tomato and spinach served hot on grilled white panini bread.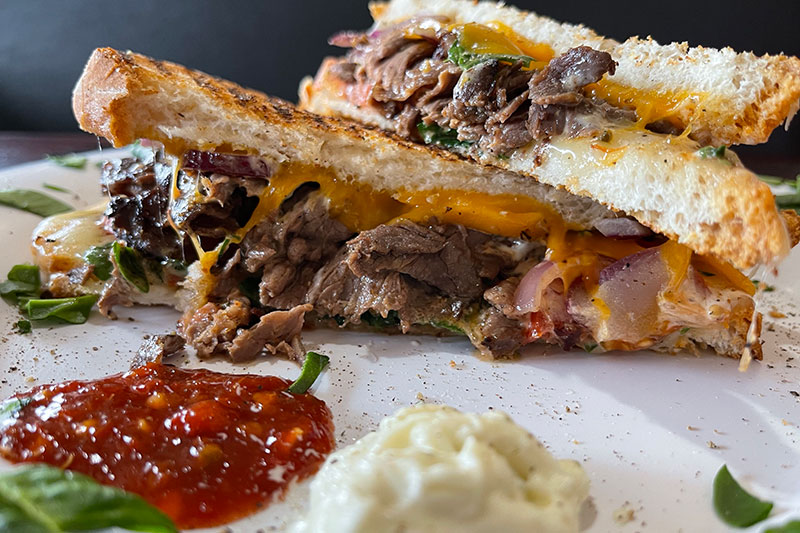 The Flavor and The Story:
This panini is what all other sandwiches dream to be when they grow up.
Let's start with the beef itself. The oven roasting not only imbues the flavor of red onion and secret spices into every bite, but renders the meat to be the perfect texture. Every bite of tender meat falls apart while never feeling mushy or soft, delivering a wonderful sensory experience.
Beyond the beef, the remaining toppings act as a supporting cast and deliver depth and excitement to the palate, while never overtaking the star of the show. First up, the pepper jack cheese adds a bit of spice while the cheddar accents with creamy texture. For balance, the crisp, semi-sweet tomato adds light acid and fresh flavor while the spinach complements with a subtle texture change.
All of this is then surrounded in crispy, grilled, white panini bread that is both crunchy and chewy at the same time to round out the absolute perfect bite. But, wait, there's more! Served alongside the awesome beef are two signature sauces. Sambal chili paste for those who like some heat, and garlic aioli for those looking to cool down with creamy flavor.
Personally, I dip mine in both, and then ask for more.

Daily Dose owner Jen Capponi credits the creation of this dish to a collaborative effort by the 2009 Daily Dose crew.
"When things got boring, we would start creating new sandwiches," she said. "We had customers submit names and all they would write on the ballots for this one was two words, 'Awesome Beef!'"
The "Awesome Beef!" is available daily for $9.95.
The Daily Dose is currently open for dine-in, carryout, and curbside orders Monday through Saturday 7 a.m. until 2 p.m. You can view this dish and the entire menu at dailydosecafe.net.