Clay Davison left us far too soon, taking his own life more than seven years ago at the age of 16. The memory is still fresh for Felicia Labatore, his mother, especially as Nov. 16 approaches — Clay's birthday. 
"I really want Clay's life to have mattered, because it did," Labatore said. "When my days are all up here, I will see him and he will be standing there with these big arms, and I really want to give him a great, big hug. And (he'll say), 'I'm proud of what you've done.'"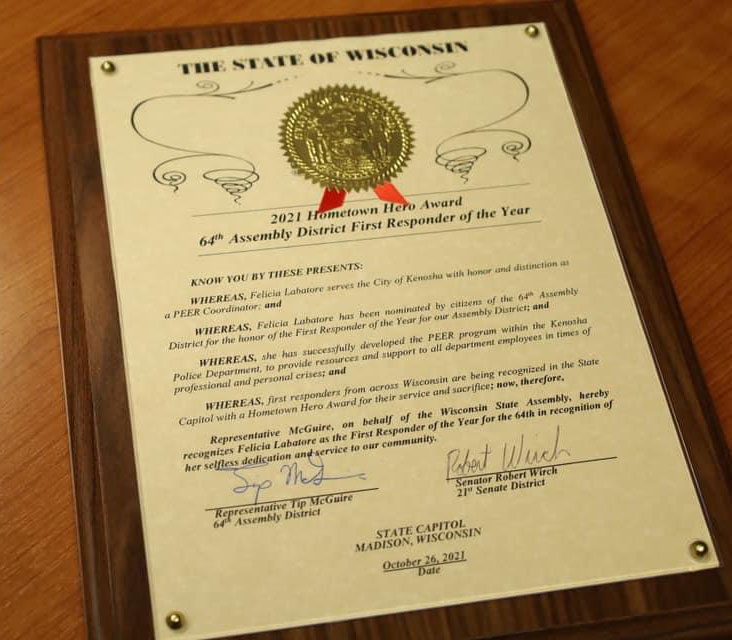 There is a lot for which to be proud. Clay's legacy lives on through the work of his mother, who is receiving well-deserved recognition for her work in putting a spotlight on mental health at the Kenosha Police Department.
State Rep. Tip McGuire (D-Kenosha) has named Labatore, a crime prevention officer and PEER coordinator for the KPD, as the First Responder of the Year for the 64th Assembly District. Labatore is responsible for the development and success of the KPD's PEER Support Team, which promotes the mental health of officers, removing the stigma around mental health with a focus on employee wellness.
Labatore received the honor last week, calling the award a "full-circle moment" — "that what I have been doing, what my peers have been doing, really has helped people, and it has saved our own people's lives."
"I had a dream that this could be a full-time position, and we could do some work with wellness for our officers," Labatore said, recalling the early days of PEER following the death of her son. "I also remember during that time begging God to use me through his life, through his story — may his life really help other people."
It has. KPD formed its PEER program more than a decade ago following the suicide deaths of two officers.
The belief behind it: "Mentally well cops make great decisions," Labatore said.
A former KPD detective, she has seeded it in the department and expanded it, creating a model program for other agencies that focuses on building teams to identify and address issues like anger, depression, alcohol and drug problems, marital concerns, post-traumatic stress symptoms and suicidal ideation.
Twenty members of the department are now part of the KPD program.
"I have people from all ranks and areas — supervisors, detectives, patrol officers. Peer to peer works because we've all gone through similar situations," she said. 
For officers, those situations can vary widely. It might be a traumatic crime scene — like a grisly triple homicide in Kenosha in October, or having to do CPR on a baby who didn't survive — or officers looking for peer support because a parent was just diagnosed with cancer or an officer or spouse suffered a miscarriage. 
"We are very much ahead of the game," she said. "It's very normal for us to all talk about mental health and all the things that come with it, all of these feelings and topics. A lot of other departments don't do that."
Locally, Labatore said, Pleasant Prairie has added a support program, and she has taught in Racine and Mount Pleasant, as well as with the Wisconsin State Patrol. Labatore also thinks PEER has applications in private industry. "I want to teach this to every company — Abbott needs this, Uline needs this, Jockey needs this," Labatore said. 
Part of what makes it successful is how early it is brought into the organization. It is offered as a resource to new recruits and families from day one.
"It's creating an environment to actually be a human," Labatore said.
Foundation and scholarships
Labatore is going further to keep Clay's memory alive, through the Clay Davison Legacy Scholarship Fund, established in 2019 to benefit Kenosha-area students pursuing a post-secondary education degree in a mental health-related field of study.
The Kenosha Community Foundation awarded the first scholarship this summer to Samantha Pierce, a 2021 Tremper High School graduate.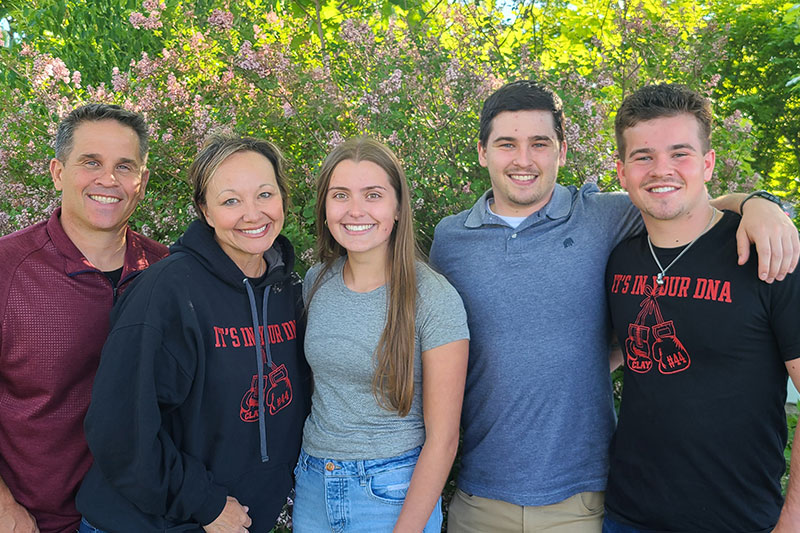 "It was so meaningful to be able to support people who want to go into the mental health field," Labatore said. "There is such a shortage, and in Clay's name to be able to say 'here is some money to help do that,' it's awesome."
The new scholarship application period will open in December, according to the foundation website. Labatore also wants to bring back the foundation's Comedy Night for Clay fundraiser in late 2022.
"It's established, and it will always be there," Labatore said of the scholarship fund. "The difference is between 'could we give this amount, or could we give a full ride'? I'd love to be able to pay for someone's full tuition."
All to honor Clay.
"He taught us to really live. Even though he was only 16 he lived every day to the fullest," Labatore said. "I will never let that one decision define who Clay was because he made thousands of great decisions. He just lost his way."
Learn more about Clay and how to donate to the Clay Davison Legacy Scholarship from the Kenosha Community Foundation.
Fire captain also honored
Joining Labatore in receiving the honor last week was Kenosha Fire Department Captain Carl Carlson, who Wisconsin Rep. Tod Ohnstad (D-Kenosha) named the First Responder of the Year from the 65th Assembly District.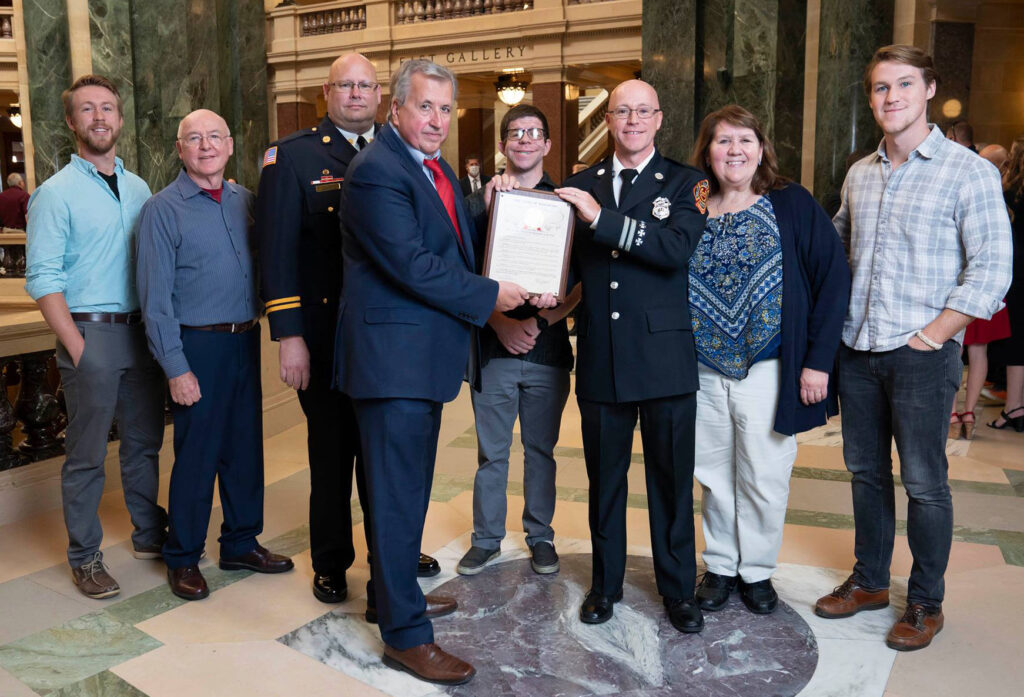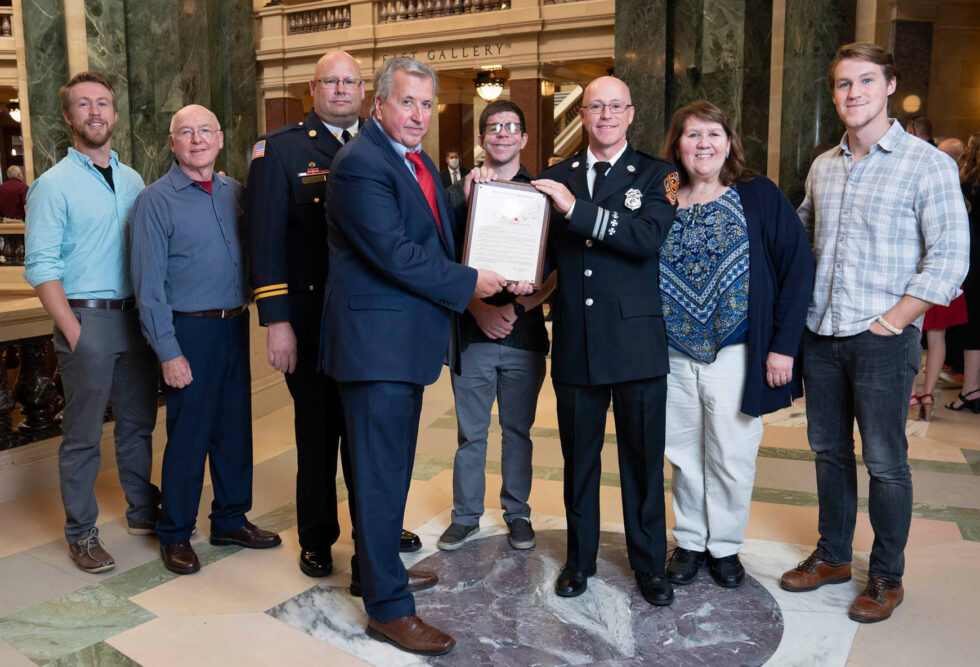 A joint Assembly press release noted Carlson's "distinguished 30-year career as a paramedic," with numerous unit citations. Carlson was also instrumental in the KFD's COVID-19 Vaccination Program, where he helped the department achieve a 94% vaccination rate among its employees.
"It was great to see so many deserving honorees here at the Capitol," Ohnstad said, adding Carlson "has accomplished many great things throughout his career, and I'm grateful for the work Carl has done to make our community a better, safer place."
NOTE: To nominate a Kenoshan of the Week click here or email Andrew@Kenosha.com.