If you're like me, cheap ramen found its place in your food journey here on earth. In college, you were sure to find quite a bit in my apartment pantry. This ramen dish is definitely more elevated. Using basic ramen noodles, alongside fresh ingredients, and bold flavors … this dish is definitely a delight! 
Ingredients:
1 lb of boneless skinless chicken breasts (I just used two large chicken breasts)
4 cups of low sodium chicken broth
1/3 cup of low sodium soy sauce 
1/4 cup of red curry paste
1 ounce of dried porcini mushrooms
1 Tbsp of freshly grated ginger
1 Tbsp of Chinese 5 spice
1 tsp black pepper
2 tsp of honey
3/4 cup of canned coconut milk
4 squares of ramen noodles (just the noodles, discard or repurpose the seasoning from the packages)
3 cups of baby spinach
1 acorn squash — cubed or 3 cups of butternut squash — cubed
1 Tbsp of olive oil
1 Tbsp of spicy curry powder 
Kosher salt and pepper 
Soft or hard boiled eggs, for serving
Carrots, green onions, chilies (I used jalapeño), and cilantro, for serving
Toasted sesame seeds, for serving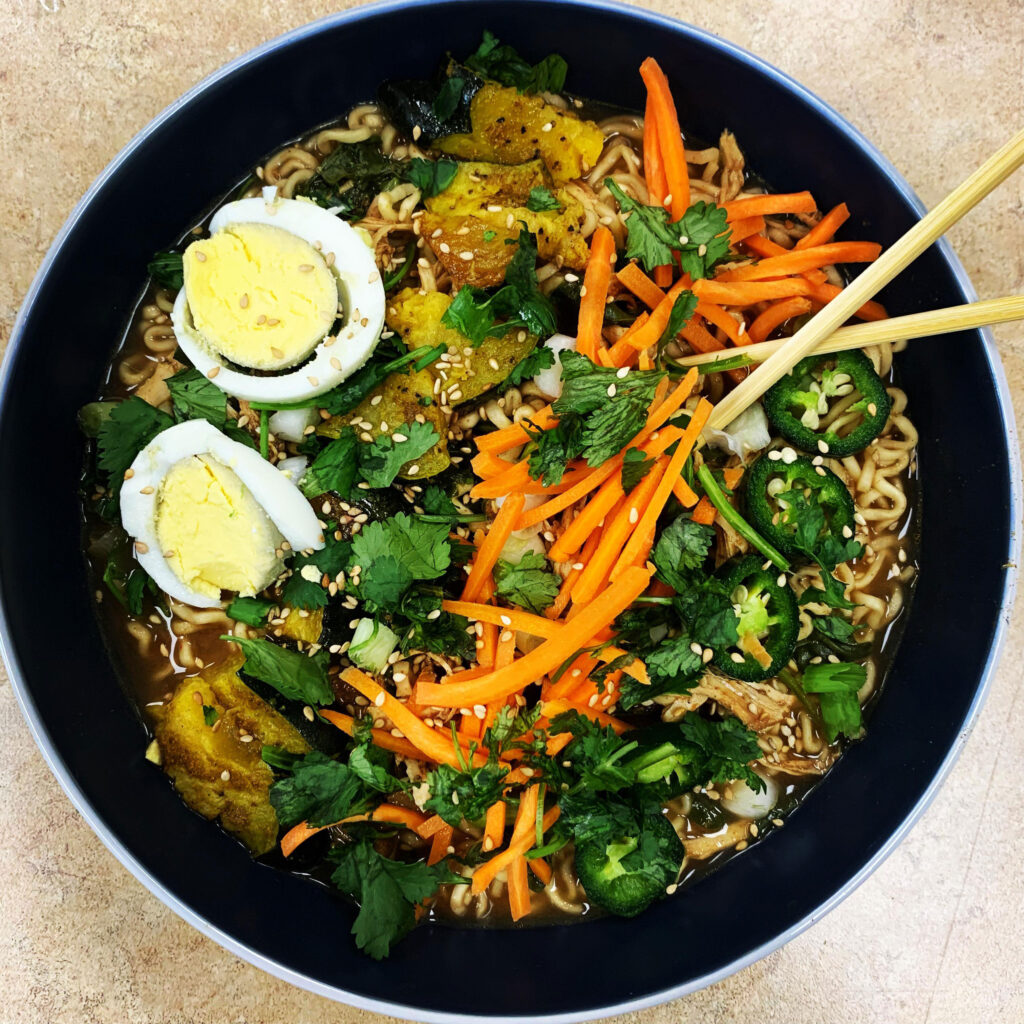 Instructions:
Crockpot
In the bowl of the crockpot, combine the chicken, broth, four cups of water, soy sauce, curry paste, dried mushrooms, ginger, Chinese 5 spice, pepper and honey. Stir well. Cover and cook 4-6 hours on low, or 2-4 hours on high. 
Before serving, preheat oven to 425 degrees. On a baking sheet, toss squash, olive oil, curry powder, salt and pepper. Bake 25-30 minutes until tender. 
Crank crockpot to high (unless you're already using the high setting). Shred the chicken and return to pot. Stir in coconut milk and spinach. Then submerge the four squares of ramen into the pot. Let sit 8-10 minutes or until the noodles are soft. 
Ladle the ramen into bowls, and serve with the roasted squash and other desired toppings. 
Enjoy! 
Customize!
The ramen is awesome, but the toppings bring this recipe all together. Try playing with what you add to the ramen.
For a spicy route, add red pepper flakes or a spicy oil. 
I added a fresh squeeze of lime at the end and it was a game changer! It brought that citrus note to the party. 
Go veggie! Substitute the chicken for tofu (crisp it on the stove top and add with the toppings). You can even swap chicken broth for mushroom or veggie.