Following the Packers' win Thursday night, Aaron Rodgers has the weekend off. Chances are, he's spending it reading.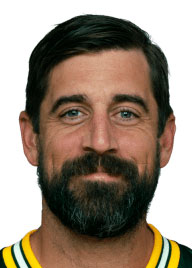 The QB has shared his love of reading through Aaron Rodgers Book Club, suggesting titles and giving capsule reviews.
So, who gets to join this exclusive club? Everyone and anyone!
Unlike a traditional neighborhood book club that gathers in someone's living room or requires reading a specific book in time for the next meeting, Rodgers' has a more casual approach.
This literary "club" got started during his weekly appearances on "The Pat McAfee Show" on Sirius XM radio and broadcast live in YouTube. At the end of his segment, Rodgers gives a book recommendation. Rodgers told McAfee on the show that the idea came to him during training camp when Packers wide receiver Marquez Valdes-Scantling asked him for recommended reads.
Rodgers put together a list of titles that have had a positive, lasting impact on him, and hopes others find something that connects with them as well.

Even fans of certain other teams who cheer when the Packers' MVP QB absorbs a crushing sack will find something to love about Rodgers' no-pressure, positive encouragement of reading.
His first book club pick was "The Alchemist" by Paulo Coehlo. The Brazilian author and lyricist, with 15.4 million followers, retweeted Rodgers' pick and thanked him for his support. Twitterverse loved it.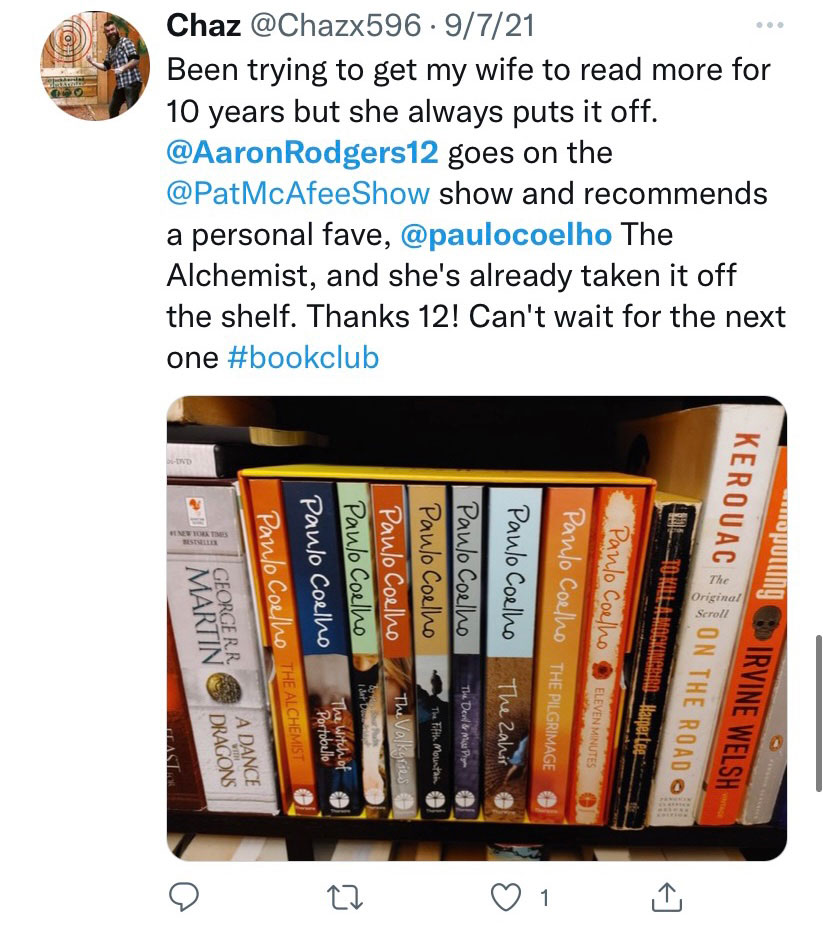 Like this from a disgruntled Minnesota fan but a happy reader: "I'm not an Aaron Rodgers (fan) and despise the Green Bay Packers as an avid lifelong Vikings fan but Aaron's #1 Book 'The Alchemist' by Paulo Coelho is an amazing read and in my opinion one of the greatest masterpieces ever written!! I tip my cap to you Mr. Rodgers!"
Rodgers, who told McAfee he has a stack of 30 books he wants to get to, reads mostly nonfiction and leans toward philosophical, spiritual and self-help titles. He plans to choose 18 books through the season.
"We need more people reading and (less) people spending time sitting on their ass watching TV and other bull—-," he told McAfee on the show.
In keeping with the inclusive spirit of the book club, it's never too late to join. Here are the picks so far with summaries for anyone who wants to jump in:
Oct. 26: "The Power of Now: A Guide to Spiritual Enlightenment" by Eckhart Tolle
Summary: Much more than simple principles and platitudes, the book takes readers on an inspiring spiritual journey to find their true and deepest self and reach the ultimate in personal growth and spirituality: the discovery of truth and light. In the first chapter Tolle, a German-born spiritual teacher, introduces readers to enlightenment and its natural enemy, the mind. He awakens readers to their role as a creator of pain and shows them how to have a pain-free identity by living fully in the present.
Oct. 19: "The Art of War" by Sun Tzu
Summary: Sun Tzu is thought to have been a military general and adviser to the king of the southern Chinese state of Wu during the sixth century BCE. Among the classic's famed quotes: "It is easy to love your friend, but sometimes the hardest lesson to learn is to love your enemy."
Oct. 12: You Are the Universe: Discovering Your Cosmic Self and Why It Matters" by Deepak Chopra and Menas Kafatos
Summary: "You Are the Universe" literally means what it says–each of us is a co-creator of reality extending to the vastest reaches of time and space. This seemingly impossible proposition follows from the current state of science, where outside the public eye, some key mysteries cannot be solved, even though they are the very issues that define reality itself.
Oct. 5: "The Four Agreements" by don Miguel Ruiz
Summary: Bestselling author don Miguel Ruiz reveals the source of self-limiting beliefs that rob us of joy and create needless suffering. Based on ancient Toltec wisdom, "The Four Agreements" offers a powerful code of conduct that can rapidly transform our lives to a new experience of freedom, true happiness and love.
The agreements are: Be impeccable with your word; don't take anything personally; don't make assumptions; and always do your best.
Sept. 28: "Be Here Now" by Ram Dass
Summary: When "Be Here Now" was first published in 1971, it launched the ongoing mindfulness revolution. The 1971 book l offers guidance on meditation, yoga and finding your true self from the famed guru of the spiritual movement in America. It offers readers a way to find peace, calmness and higher states of consciousness and live in the present.
Sept. 21: "The Giver" by Lois Lowry
Summary: In this Newbery Medal–winning YA classic, 12-year-old Jonas lives in a seemingly ideal world. Not until he is given his life assignment as the Receiver does he begin to understand the dark secrets behind his fragile community. The haunting story centers on twelve-year-old Jonas, who lives in a seemingly ideal, if colorless, world of conformity and contentment. Not until he is given his life assignment as the Receiver of Memory does he begin to understand the dark, complex secrets behind his fragile community.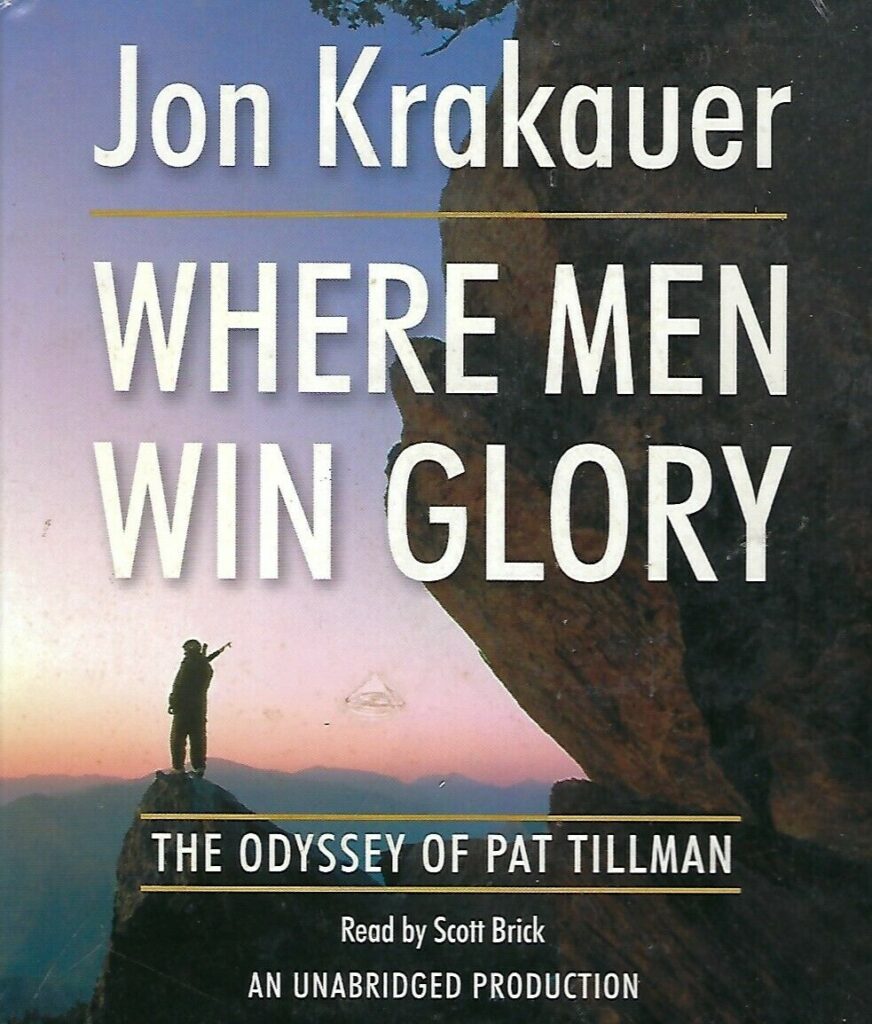 Sept. 14: "Where Men Win Glory: The Odyssey of Pat Tillman" by Jon Krakauer
Summary: In 2002, Pat Tillman walked away from a multimillion-dollar NFL contract to join the Army and became an icon of American patriotism. When he was killed in Afghanistan two years later under confusing and controversial circumstances, a legend was born. But the real Pat Tillman was much more remarkable, and considerably more complicated than the public knew. Drawing on Tillman's journals and letters and countless interviews with those who knew him and extensive research in Afghanistan, Jon Krakauer chronicles he outspoken Tillman's riveting, tragic odyssey in engrossing detail highlighting his remarkable character and personality while closely examining the murky, heartbreaking circumstances of his death. Infused with the power and authenticity readers have come to expect from Krakauer's storytelling, "Where Men Win Glory" exposes shattering truths about men and war.
Sept. 7: "The Alchemist" by Paulo Coelho
Summary: Combining magic, mysticism, wisdom and wonder into an inspiring tale of self-discovery, "The Alchemist" has become a modern classic, selling millions of copies around the world and transforming the lives of countless readers across generations. Paulo Coelho's 1988 masterpiece tells the mystical story of Santiago, an Andalusian shepherd boy whose journey teaches us about the essential wisdom of listening to our hearts, of recognizing opportunity and learning to read the omens strewn along life's path, and to follow our dreams.