Hero.
It is a word that gets overused and oftentimes ends up losing its meaning.
In the case of Riggs, the police dog who made news last week, a moniker has never been more fitting.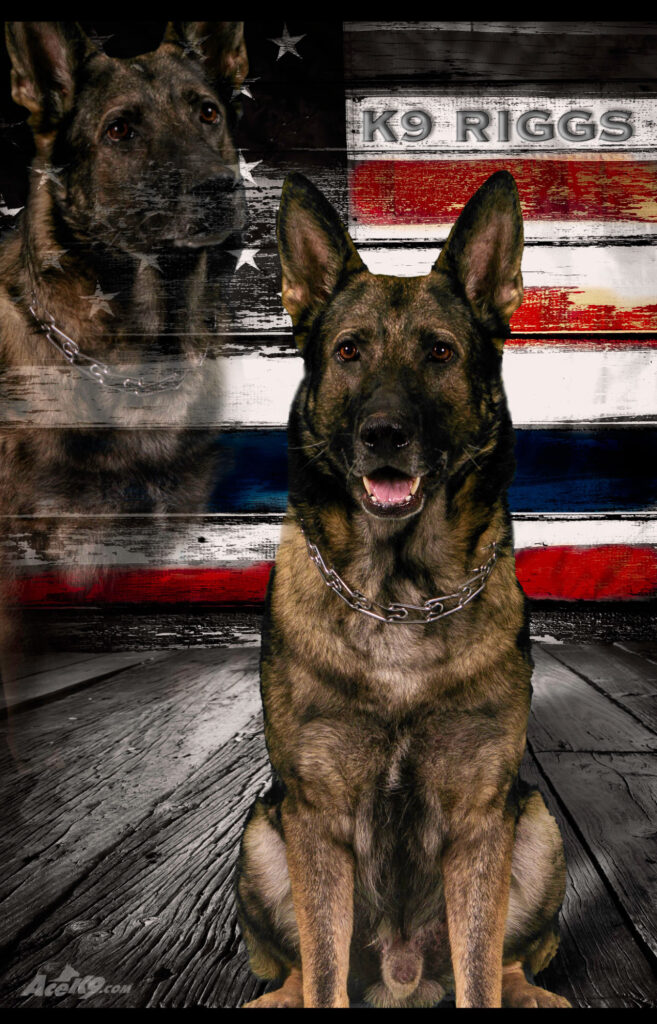 "I 100 percent think he saved my life and the life of every co-worker who was there that day," Kenosha County Sheriff's Deputy TJ Tifft said. "I truly believe that. I think one of us would've gotten shot."
Unfortunately, Riggs, the 8½-year-old German Shepherd who has worked side by side with Tifft since the fall of 2014, was the one who ended up being shot in the line of duty.
***
At 11:16 a.m. Thursday, Oct. 21, Kenosha Sheriff's Department deputies were dispatched to the Benson Corners Shell Station, 19942 75th St. in Bristol, to locate a stolen vehicle in which the driver was a suspect in two Wednesday night fatal shootings in Chicago.
KSD deputies located the car and ordered the sole occupant — later identified as 33-year-old Allen M. Brown of Countryside, Ill. — out of the vehicle. Instead, Brown took off running and that's when Tifft released his K9 partner. While tackling Brown to the ground, Riggs was shot in the head.
Brown was then shot by KSD deputies and was taken to the hospital with non-life-threatening injuries.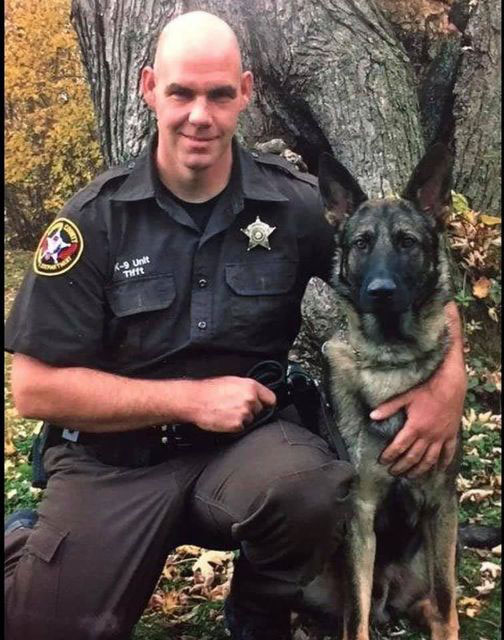 "Every dog, I think, would react the same," Tifft said. "It just happened to be me and my dog that were put in that situation. I truly feel he did what he was meant to do."
Riggs was immediately taken to Harris Veterinary Hospital in Paddock Lake. After being stabilized, he was transported (along with two paramedics and a Harris vet tech) by a Salem Lakes Fire Department ambulance to Veterinary Specialty Center, a Level I Trauma Center in Buffalo Grove, Ill.
Weeks earlier, Tifft attended a K9 conference and picked up some valuable information.
"At that conference, I had learned that Governor (Tony) Evers had recently signed into law that K9s injured in the line of duty can be transported by ambulance to the hospital," he said. "Had I not gone to that conference, I would have never known that."
Amazingly, Riggs escaped serious injury after taking a gunshot to the head.
"The bullet entered through his forehead and it traveled around the skull and out the back below his ear," Tifft said. "Had his head been positioned another way, it would've been different. Definitely."
***
On Sunday, Riggs was released from the Veterinary Specialty Center. Outside the hospital, he received an emotional hug from his longtime handler and was greeted by members of the Kenosha Sheriff's Department and some of his K9 buddies from around the area.
Once Riggs, Deputy Tifft, his wife Gwen, and children Lucas (12) and Ava (10) returned to Kenosha, hundreds of law enforcement officials, neighbors, and well-wishers were waiting. The event even included a helicopter flyover.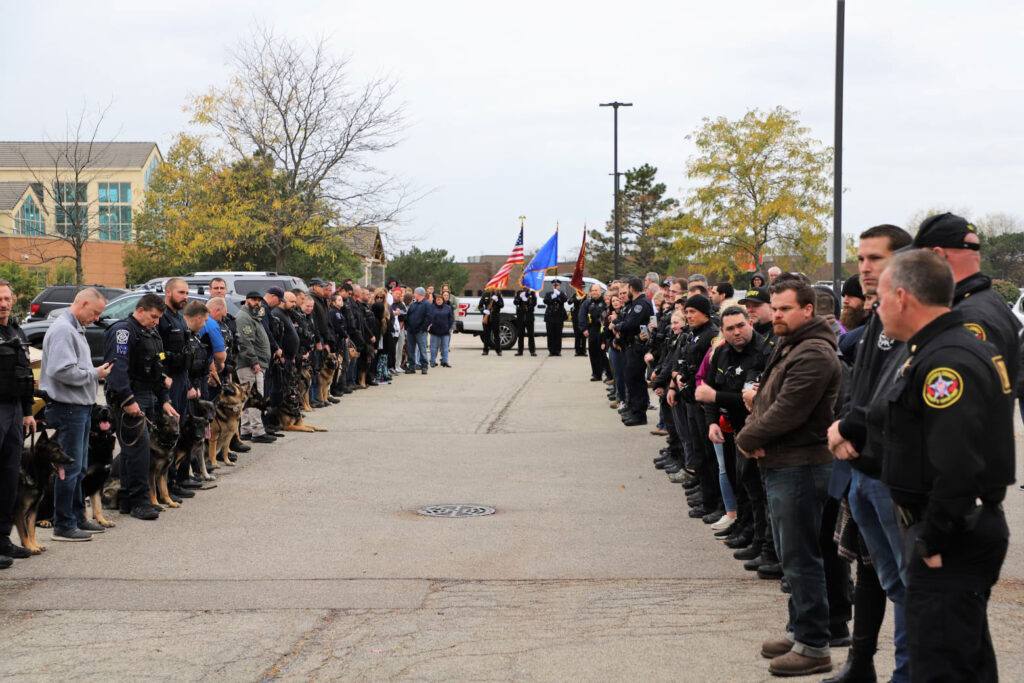 Tifft was taken aback by the hoopla.
"I was at a loss for words," he said. "At first, I was just going to pick him up and bring him home and the department was going to back me on that. But then, I just thought that this was a real positive for law enforcement as well as police K9s all over. So, I decided to go ahead with the homecoming."
For his act of heroism and celebrating his years of service, Riggs has been selected as the Kenosha.com Kenoshan of the Week.
***
During an interview Monday afternoon, Riggs, on the road to recovery, was laying next to Tifft.
"He won't leave my side," Tifft said. "He's doing phenomenal."
Celebrating 15 years with the Sheriff's Department in March, Tifft was asked to describe his relationship with Riggs.
"I've told my wife, I don't know that I could ever own another dog after this because nothing could take his place," he said. "Any other dog that I have from here going forward would probably be a disappointment. He is so good."
Prior to Riggs, Tifft had another K9 for about a year.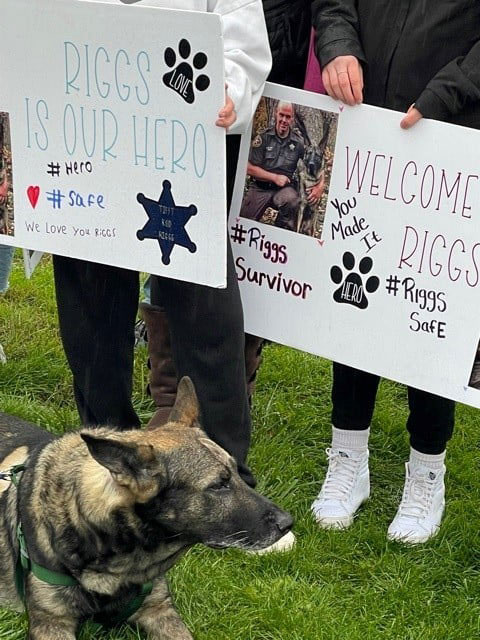 "He 'washed out,' which is common in law enforcement," Tifft said. "Some dogs just aren't cut out for the grind of everyday police work. He was given to another family and is doing really well."
Riggs was assigned to Tifft after a visit to Alex and Paula Rothacker's TOPS Kennel in Grayslake, Ill., in 2014. The new duo went through an eight-week class, and they return regularly for additional training.
"I swear that there are times when the dog understands when I say something," Tifft said. "I'm not talking commands like 'Sit' or 'Down' … sometimes I think he understands almost like a human does. On a monthly basis, he does something that amazes me. He continually learns. I'll be like, 'I didn't know he could do that.' He keeps growing and his ability to learn is amazing to me."
***
As one might expect, Riggs is a member of the Tifft family.
"When I got him, my daughter was 2 and my son was 4," Deputy Tifft said. "I've spent more time with my dog over the last 7½ years than I have with my wife and kids. I take a week off every year and we go on vacation and Riggs goes to TOPS. Other than that, we're pretty much together 24/7 every day of the week."
Is Riggs officially retired? As of now, Tifft said he is "going to play it by ear."
It all depends on how he responds in the next few months.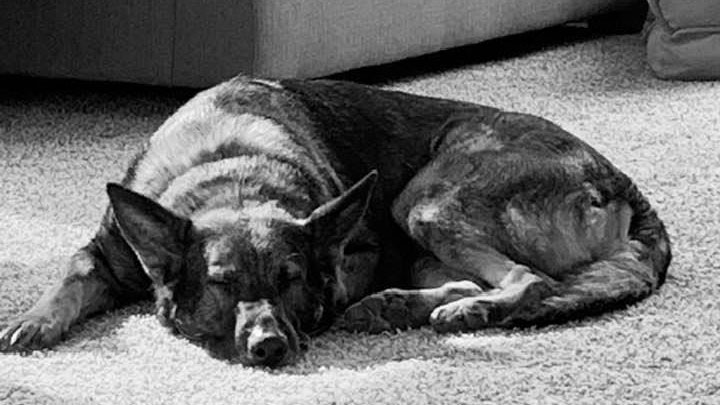 "He's not a young K9," Tifft said. "For him to take a bullet to the head and be back to pretty much normal five days later is amazing. Riggs is 8½ years old. Typically, 10 is old. Riggs is going to be off for sure for at least three months, they said. Once the three months is up, I'll take him to (TOPS) and we'll evaluate where he is.
"I'm sure there's going to be some issues. If he can't overcome those, then I'll make the decision to let the department know. As much as I love being a K9 handler, I can't take a dog out on the road that will hurt somebody. If I see that he's not responding to training, then, yes, I will retire him and he can live out his days being a dog in my house."
More about Riggs
On the KSD K9 Patrol: The Sheriff's Department reintroduced K9 units in 2005 after a 30-year absence. Along with Deputy Tifft and Riggs, other teams are Deputy John Lanctot and Fritz, and Deputy Matt Kasulke and Arlo.
On how Riggs got his name: "I let my wife and kids come up with the name," said Tifft, noting that the dog was originally called Rocky. "They picked the name Riggs. When they said it, I initially thought Lethal Weapon like everybody else (after Mel Gibson's character Martin Riggs). One day I was riding with my wife in her car and she was listening to 103.7 (KISS FM) and Riggs and Alley. I was like, 'Wait a minute' and she just started laughing."
On duty with Riggs and Deputy Tifft: "Riggs and I have had a lot of close calls," Tifft said. "This past summer, we had a guy down on 22nd Avenue who was cutting himself with a knife. He had a big butcher knife and was threatening to harm officers. The suspect was hellbent on dying or having us hurt him. He was so focused on Riggs and terrified that I was going to let him go, that officers were able to sneak up behind him and tase him and take him into custody without us hurting him at all."
NOTE: To nominate a Kenoshan of the Week click here or email Andrew@Kenosha.com.