This past weekend we celebrated my son's 7th birthday. He asked for a three-layer cake, and vanilla cupcakes. I found this awesome recipe for ultra vanilla cupcakes that turned out awesome. For the frosting, I went with spiced caramel buttercream. I find that when you have such a bold frosting, a simple vehicle for delivering that frosting is best … though, these cupcakes are anything but simple. 
Cupcake Ingredients:
1 1/2 cups (170g) all-purpose flour
1 cup (198g) granulated sugar 
1 1/2 tsp baking powder
1/4 tsp salt
6 Tbsp (85g) butter, softened 
2 large eggs, room temperature 
1/2 cup (113g) milk, room temperature 
2 tsp vanilla extract 
Frosting Ingredients:
2 sticks of butter, at room temperature 
1 cup packed brown sugar (dark brown sugar is preferable, but light works awesome too!)
1/2 cup of heavy cream
2 1/2 cups of powdered sugar 
1 Tbsp of vanilla extract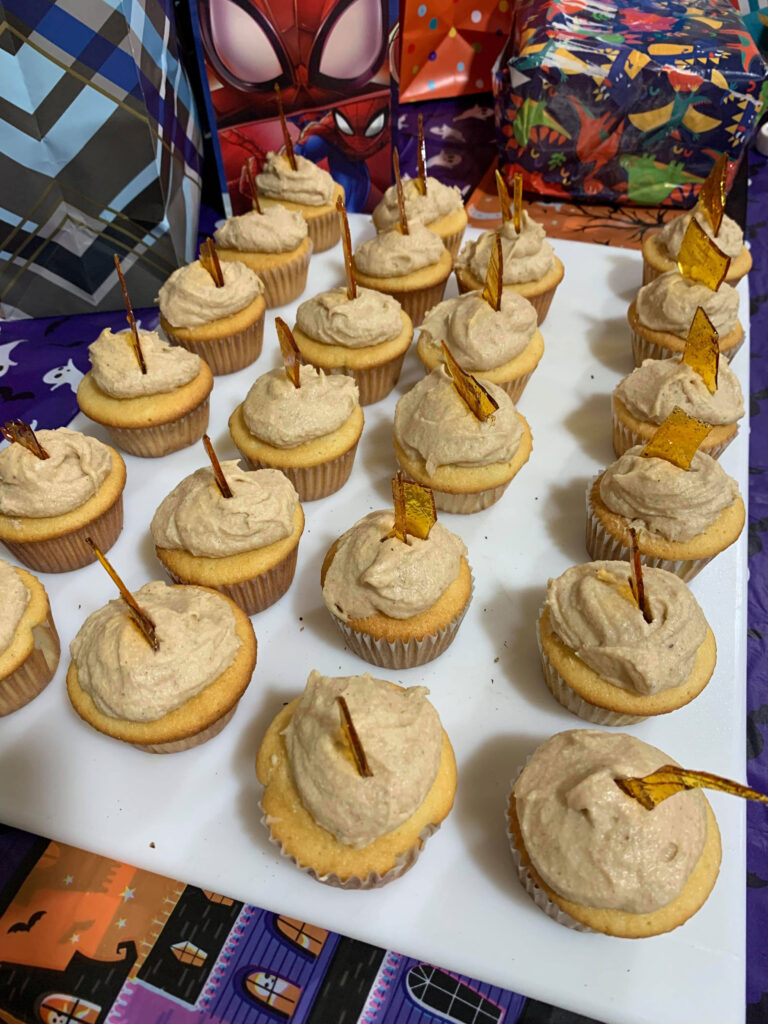 Cupcake Directions:
Preheat the oven at 350. Grease muffin tin, or line with greased cupcake papers.
In a large mixing bowl, combine flour, sugar, baking powder and salt. Add butter and mix until the mixture is crumbly.
Whisk together eggs, milk and vanilla. Add to the dry ingredients in two additions, mixing well in between. Scrape the bowl, mix briefly, then scoop the batter into prepared pan (about 1/3 cup per cupcakes). 
Bake cupcakes for 16-18 minutes. Tops should be lightly browned, and toothpick comes out clean. 
Remove from the oven and let cool for 5 minutes in the pan, then remove completely from the pan and cool them completely on a cooling rack. 
Caramel Frosting Directions: 
Melt together 1 stick of butter, brown sugar and cream in a medium saucepan. Bring to a boil and cook 2 minutes, or until sugar is dissolved. Add a pinch of salt and remove from stove. Pour the mixture into a mixing bowl and place in freezer for 15 minutes (or until mixture is cool to the touch).
Take the butter mixture from the fridge and add the remaining stick of butter, vanilla, powdered sugar and 1-2 teaspoons pumpkin of spice seasoning (optional). Beat together until well combined (you may add more powdered sugar if needed). 
Tip!
If you are someone who LOVES frosting, you can remove some of the center of the cupcake by using a coring device (or just use a spoon). This way you can fill the cupcakes with frosting when you frost them.