A local Halloween tradition continues for a worthy cause in Kenosha's Golden Meadows Subdivision.
Over 160 pumpkins are prepped for carving and ready to be illuminated at the 16th annual Peterson's Pumpkin Patch, 9210 63rd St. The immaculate front-yard display, created by local chiropractor Dr. Kris Peterson, begins at dusk on Friday, Oct. 29 and runs through Monday, Nov. 1.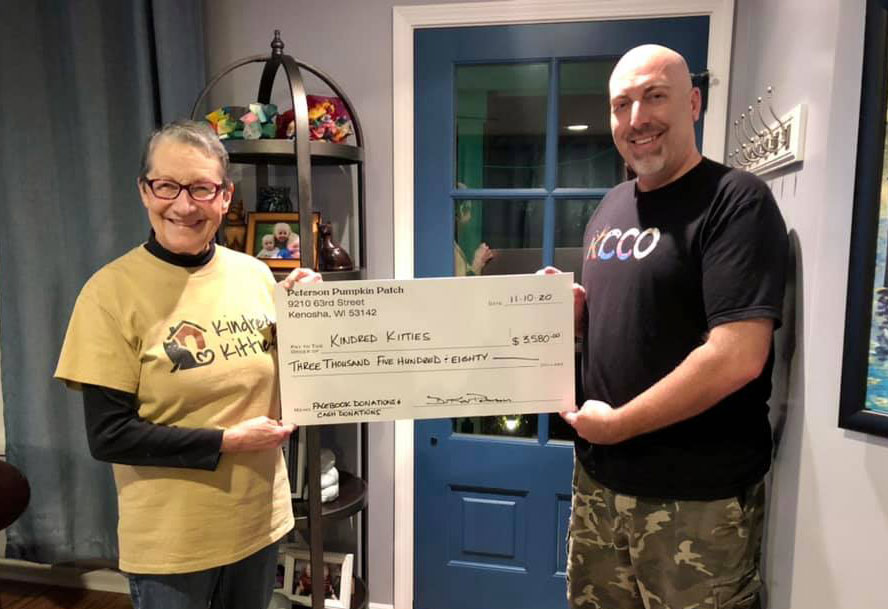 A donation box is available on-site with 100 percent of the funds raised presented to a local, nonprofit organization. A check for $3,580 was presented to Kindred Kitties in 2020. This year's recipient is Safe Harbor Humane Society.
The display attracted close to 5,000 visitors last year, according to Peterson.
"Everyone was telling us they were glad we still did it so they could be outside doing something," Peterson said. "It really comes down to the weather. We need Mother Nature to cooperate for us."
In addition to pumpkin carvings — ranging from traditional Halloween designs to classic horror movie characters and celebrities — the display features skulls, skeletons, silhouettes and a variety of spooky creations.
"Even though professionally I'm a chiropractor, I've always loved decorating," said Peterson, who owns LP Chiropractic, 5703 75th St. "I grew up with parents that did big-time decorating for Halloween, Christmas … everything.
"Halloween is most fun because, for the most part, the weather is favorable. Once you get to Christmas you have freezing temperatures and the snow and it's a little harder to get creative."
Peterson, who minored in art while earning his undergraduate degree at UW-Eau Claire, began decorating in early October. The Eau Claire native devoted the past three weeks to sketching designs on the pumpkins.

The Milwaukee School of Engineering women's volleyball team kicks off the carving on Sunday (Oct. 24) in what has become an annual team-building exercise.
Tom Wood, head coach of the MSOE volleyball team, is one of Peterson's Golden Meadows' neighbors.
"Five years ago, the girls were at Tom's house and decided to come over and carve with us," Peterson said. "It's turned into an annual event for them. The first thing the seniors tell the incoming freshmen is nothing related to volleyball, it's to make sure they have this date available because they're going down to Kenosha to carve pumpkins."
The volleyball team typically carves around 80 pumpkins as Peterson works diligently, scraping the seeds with The Pumpkin Gutter, a power drill attachment that cuts the work to a fraction of the time.
"Carving pumpkins for us is an opportunity to have a fun time, bond (laugh at our carving skills) and give back to some very helpful community and statewide organizations," said Wood, whose roster includes junior setter Amanda Yackley, a Bradford graduate. Kyle Yackley, Amanda's father, is an MSOE assistant coach. The longtime Bradford head coach recently stepped down after coaching the Red Devils for 24 years.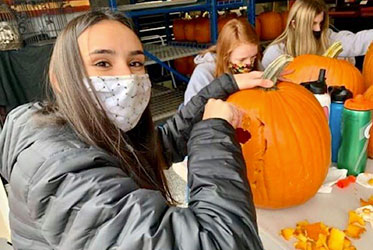 "The nice thing is our work helps a different organization every year from the National Alliance on Mental Illness (NAMI) to local animal shelters and we know that we are making a difference across the board. This is also a great opportunity for us to really focus on 'team' and get us into the mindset of helping each other and having fun as we gear up for the postseason."
Once the carvings are completed, the pumpkins are covered with plastic wrap to avoid dehydration.
"If the weather is cool, they hold up better," Peterson said. "Another thing we do is cut from the bottom, not the top, so more of the moisture stays in the pumpkin. This allows you to set it over the light instead of putting it in from the top."
On Tuesday, Nov. 2, all of the pumpkins and corn stalks are set to be dropped off at a local hobby farm and returned to the soil.
A portion of the pumpkins were donated by Jerry Smith Pumpkin Farm. The display is made possible through local business sponsorships with Szulczewski Financial Group, Cable Family Denistry and LP Chiropractic.
Other sponsors include MSOE, Burn Boot Camp, Hot Shop Glass, R'Noggin Brewing Company, MGSI Printing, Cordeck, TPC Painting, Candy Soens-Francetic of State Farm, John Harrington Family and Gallo Family.