It's not too often you can hold a grand opening, ribbon cutting and one-year anniversary at the same time. But the last year has been anything but normal for Herzing University (and Kenosha and the world, for that matter).
That's what makes Thursday's grand opening event (Oct. 21) at Herzing's downtown campus so special, as it gives faculty, staff, students and the broader community a chance to reflect on and celebrate the $5 million transformation of the former Kenosha News building into a beautiful new home that will enable the university's continued growth.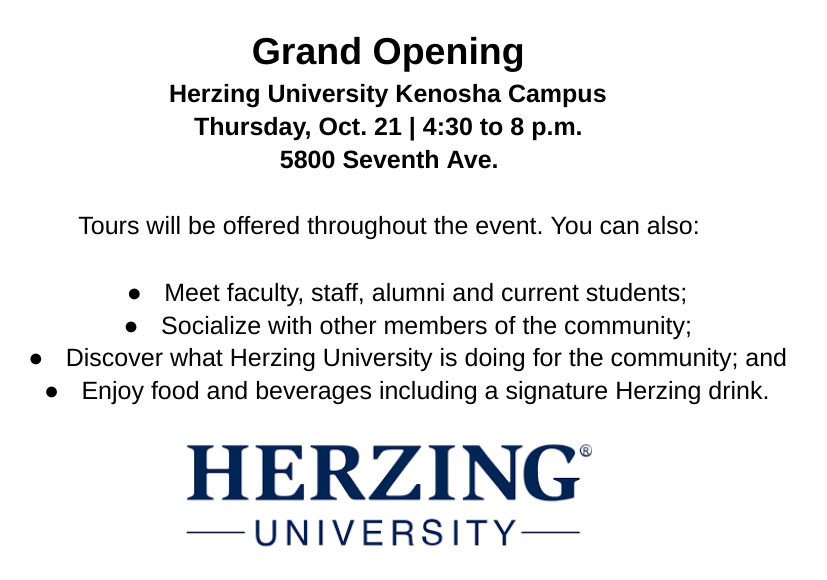 It's a year later than school officials wanted, but it's special nonetheless, especially with what the university faced during its first try at a formal opening — civil unrest outside its front doors, just days after Herzing took occupancy of the building at 5800 Seventh Ave.
"We had all these exciting plans of going from a much smaller campus to this beautiful space and really open the community up to our students — and introduce them to downtown Kenosha and the lakefront," Herzing Regional President Jeff Hill said.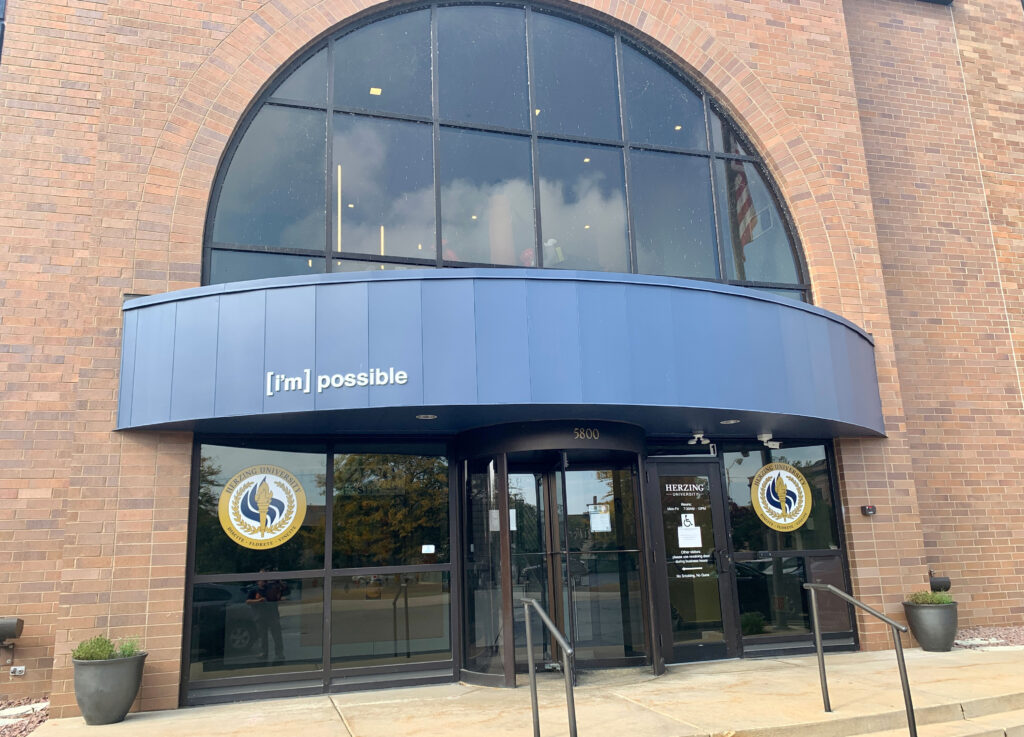 That changed quickly after August 23, 2020.
"It was very nerve-wracking," Hill said. "It was less than a mile from here, hearing all the helicopters, seeing the shadows from the flames and just biting my fingernails, answering frantic texts from family members. And then watching the car dealership right in front of us …"
Said Erin Arneson-Ginn, director of admissions: "Watching all the live feeds, having access to our building cameras, watching that … it would be like 2 a.m. and we'd all be texting each other … 'We just saw our building! Oh no, it looks OK. Was there any damage? No, we're good.'"
Indeed, the building suffered just one broken window. Other windows had been boarded up and soon adorned with murals, like many downtown buildings.
So, September 2020 came, and another challenge would soon present itself: a worsening pandemic.
As tensions eased in Kenosha, COVID-19 cases rose, and Herzing had to decide — is it even safe to welcome faculty, staff and students to their new home? The answer was no, initially, so the new building was essentially mothballed.
All students started the first semester of the 2020-21 school year learning remotely, which was nothing new for those in on-nursing programs, who typically learn entirely online at Herzing, with access to the physical campus available should students need or want it. Starting in the spring, the university started bringing nursing students back in small groups to do in-person "skills checks" — things you can't master over a computer, like putting in an IV. All lecture-based learning remained online.
Over the summer, Herzing began bringing back students for lectures, and now almost all lectures and labs are back in-person in the downtown building.
Hill said he was proud of the "fairly smooth" transition students, staff and faculty made to online learning and remote work due to the unrest and pandemic. Herzing's long-standing investments in online learning made that effort easier.
Still, Hill said, "Virtually, it's much harder to engage."
"I missed terribly my own connections with my team and with our students," he said. "We were at Washington Avenue on this small campus, and pride ourselves on knowing our students on a first-name basis. Our students, most of them work. Most of them have kids. Most of them are juggling all these different things. From the time they start to the time they finish, they will hit a roadblock or two or 10.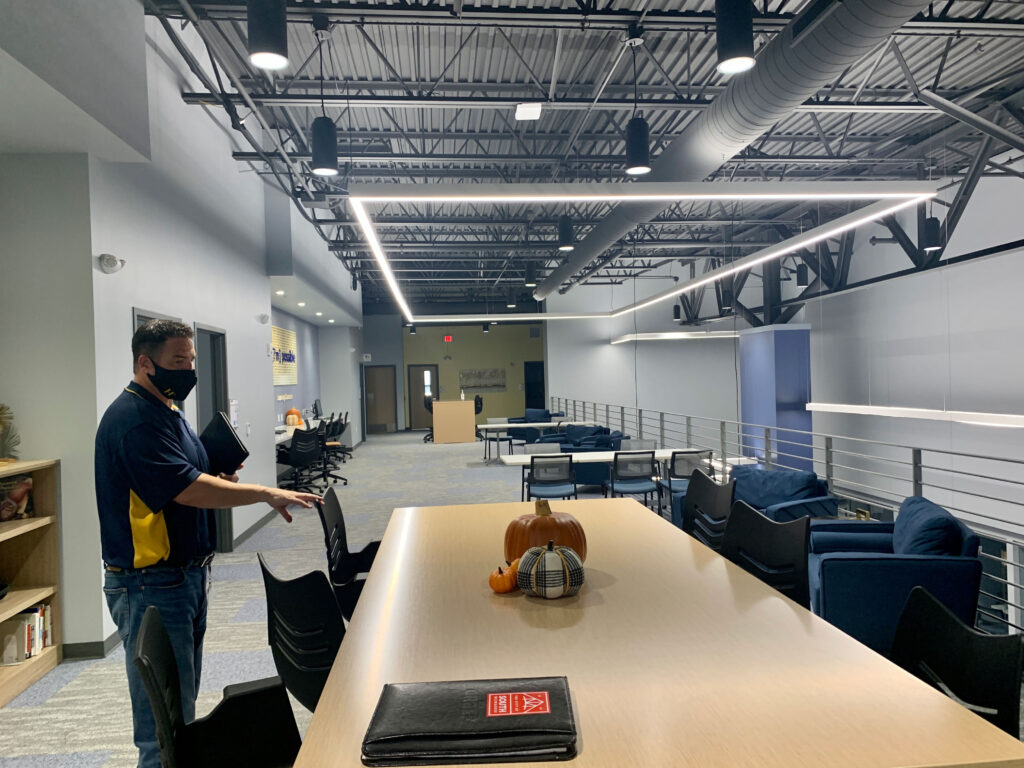 "We pride ourselves on being able to fill in and provide that support."
It's harder to do that over a computer.
Yet Herzing saw enrollment growth during the pandemic nationally and in Kenosha, Hill said. He partly credited that to the increased number of workers displaced by the pandemic looking to change careers and add new skills — and Herzing's flexible, in-person/remote "hybrid" learning model that existed before the pandemic.
"A traditional school, brick and mortar, where there students were on campus five days a week, returning to normal for them was five days a week back," Hill said. "Our normal was, 'You're back on campus probably two days a week.'"
Major upgrade
Students returned to a first-class building.
The school made significant upgrades to most of the approximately 60,000 square-foot building, transforming a former newsroom, offices and production areas into classrooms, meeting rooms, common areas and even simulation lab spaces where aspiring nurses can hone their craft in model pediatrics and obstetrics/delivery rooms.
The public can see those and more on Thursday (Oct. 21). All are invited to visit the campus from 4:30 to 8 p.m., when attendees can socialize with members of the community, Herzing faculty, staff and alumni over complimentary food and beverages.
"We know the Kenosha News was an icon that was here for 50 years, and we want to pay homage to them and bring as many people in — former employees, those who had visited the Kenosha News," Hill said. "Hopefully they are proud of what this has transitioned into."
For some students, Thursday's opening event will likely be their first visit to the building.
"We want to get as many of our students and alumni to come and just see this new space," Hill said. "We want this to be a resource for them."
Hill also sees the downtown campus as a chance to show off the city to students who may have never been here before.
"We talk about wanting to keep our talent in Kenosha, and I think we are in a really great advantage to try and attract new talent from Illinois and keep them in Kenosha when all is said and done," Arneson-Ginn said.
Indeed, the school is embracing its location, from driving students to local business through discounts to making a ride on the streetcar part of its new student orientation. Students especially welcomed the streetcar ride.
"Right away students get a taste of what it is downtown and how close we are to the lake, and they get to ride by the iconic red lighthouse," Arneson-Ginn said. "Students do nothing but take pictures and take video."
The new location is bringing workers downtown. Herzing has about 35 full-time staff and faculty working at the downtown campus, in addition to adjunct faculty.
Strengthening its future
Herzing's history in Kenosha dates to 2009, when its Washington Avenue campus was founded. Within a decade the university saw a looming capacity issue.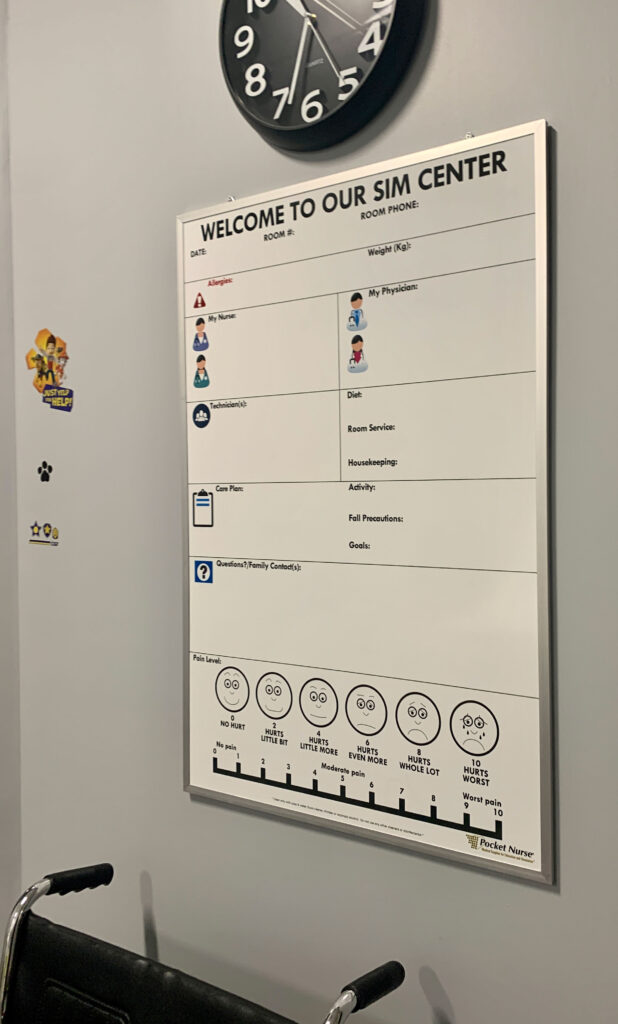 Hill set his sights on downtown.
"I had to convince my board of trustees that, 'I'm telling you — this is where we need to be,'" he said. "It was because we are more than just an educational institution. We don't want it to be a transactional relationship, where students drive in, get out of their car, come take a class, get back in their car and leave."
Herzing — founded in 1965 as a for-profit computer training institute in Milwaukee; it became nonprofit in 2015 — has more than 7,000 students enrolled at 10 campuses in seven states, with three campuses in Wisconsin.
Enrollment in Kenosha is about 700, with about 85 percent of those students in a nursing program, mostly seeking a bachelor's degree.
Almost 70 percent of Herzing's Kenosha campus students come from Northern Illinois. The average age of Herzing students is between 26 and 30.
"Most of our students have been to school before and were not successful," Hill said.
"Our students who come to us, they know what they want … whether it's data analytics, whether it's nursing, whether it's health care administration. We can provide that value proposition: 'Here is the offer. Here is the cost. Here is the class structure, here are the time commitments. And in two years, you're going to be done.'"
Often, with a job to follow.
"We talk to employers about 'what do you need?' and 'what are you looking for?'" Hill said. "And we use that feedback to not only influence the curriculum, but just the behaviors that we try and instill in our students, so they graduate with that knowledge and those skills so they can be assets to their employers."
Health care focus
Local health care providers especially benefit. Herzing has about 130 clinical relationships with hospitals, nursing homes and other providers across Southeastern Wisconsin and Northern Illinois — and most of them are desperate for workers.
Hill said Herzing wants to be part of the solution to a worsening national nursing shortage — driven by an aging population in need of more health care and a coming "silver tsunami" of retiring nurses — without enough graduates to replace them.
Herzing regularly sees graduates end up working for the same health care institution they supported during their clinicals. Consider it a long, two-way job interview, where students get to know the institution and vice versa.
"They are hiring our grads as fast as they are coming out," Hill said. "If you graduate with a nursing degree, you should have multiple offers. Every hospital system, every health care provider is massively understaffed."
And it's not getting better.
"That was one of the main reasons we wanted a space as big as the Kenosha News building, so we wouldn't have to turn people away," Hill said. "We have more than enough classrooms, more than enough lab space."