While searching the Internet for a new tasty recipe, I came across this gem. This particular recipe was first published in the King Arthur Flour 200th Anniversary Cookbook. Some of you may remember the voice of Betty Crocker over the radio a number of years ago (I don't, as this was before my time). The voice actually belonged to Zella Lane. While being a radio actor, she also loved baking.
I've found a new favorite with these bran muffins. They are high in fiber, but incredibly moist and subtly sweet. The best part is that the batter can be stored in the fridge for two weeks, so you can make a single muffin in the morning before work, or a dozen when having guests over.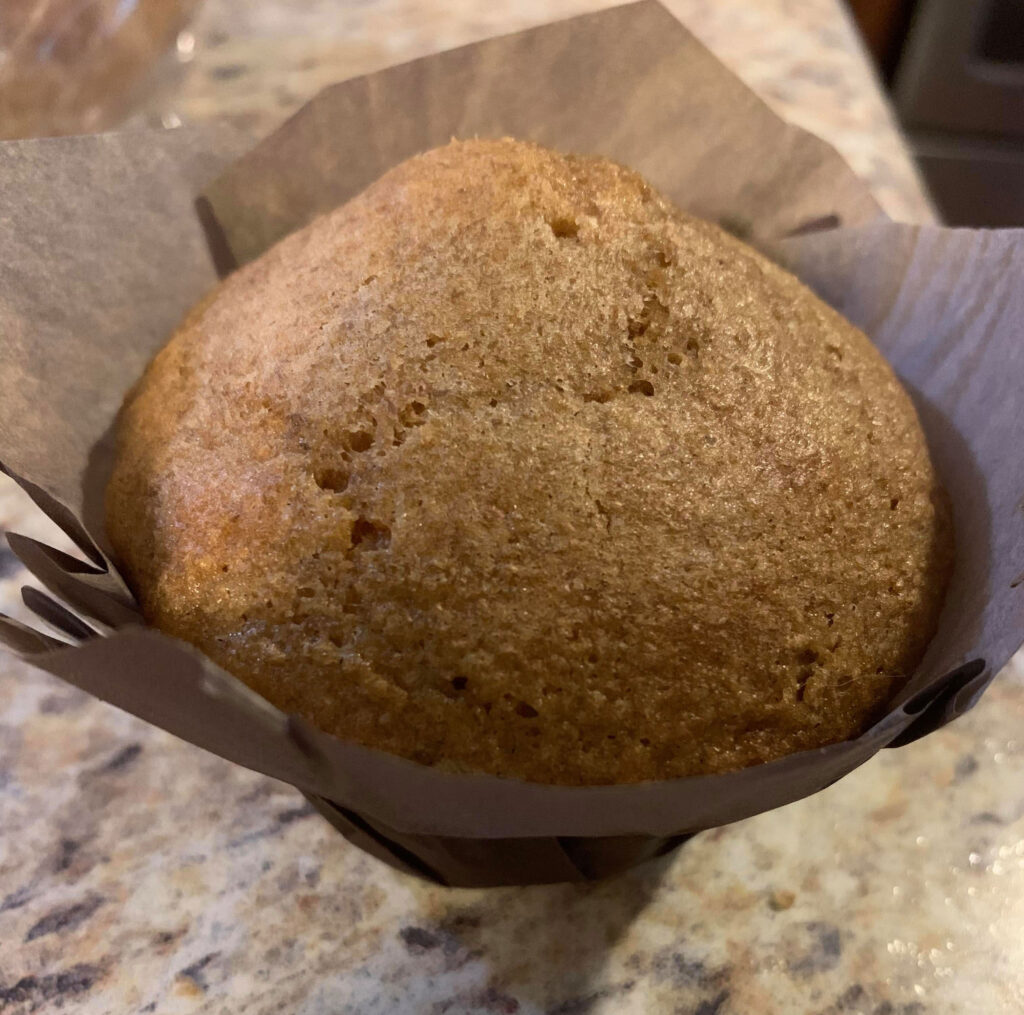 Ingredients:
1 cup (227g) of boiling water
1 cup (71g) bran cereal (buds or twigs); or 1 3/4 cups (71g) bran flakes
1/2 cup (90g) of vegetable oil 
2 1/2 cups (301g) all-purpose flour
2 1/2 tsp of baking soda
1 tsp salt
1-1.5 cups (170g to 255g) of raisins or currents (optional) 
2 large eggs
2 cups (454g) buttermilk 
1 1/4 cups (248g) of sugar
2 cups (142g) bran cereal (buds or twigs); or 3 1/2 cups (143g) bran flakes
Directions:
In a small bowl, pour the boiling water over the 1 cup of bran cereal. Allow the mixture to cool to room temp (about 45 minutes).
While the water/cereal cools, mix and combine the flour, baking soda and salt in a large bowl. Stir in the raisins (if desired). Set it aside.
Stir the vegetable oil into the cooled water/cereal mixture. Set it aside.
Whisk together the eggs, buttermilk and sugar. Combine with the flour mixture. 
Stir in the dry cereal.
Finally, add the water/cereal mixture and stir until fully combined. Cover the bowl and store in the refrigerator overnight. 
Preheat your oven to 375. Lightly grease (or use muffin liners). Remember, you can make as many muffins as you'd like. The batter is good for two weeks in the fridge. 
Heap the mixture into the muffin tin (about 1/4 cup). 
Bake the muffins for 20-25 minutes (check with a toothpick to see if they're finished). 
Remove from oven and immediately take the muffins out of the pan to cool. 
Enjoy!