I've been enjoying coffee cake for over three decades.
My mother used to make it when I was young, and I've enjoyed it ever since. Here's a delightful seasonal spin on an original coffee cake that will bring warmth with sweet pumpkin and fall spices.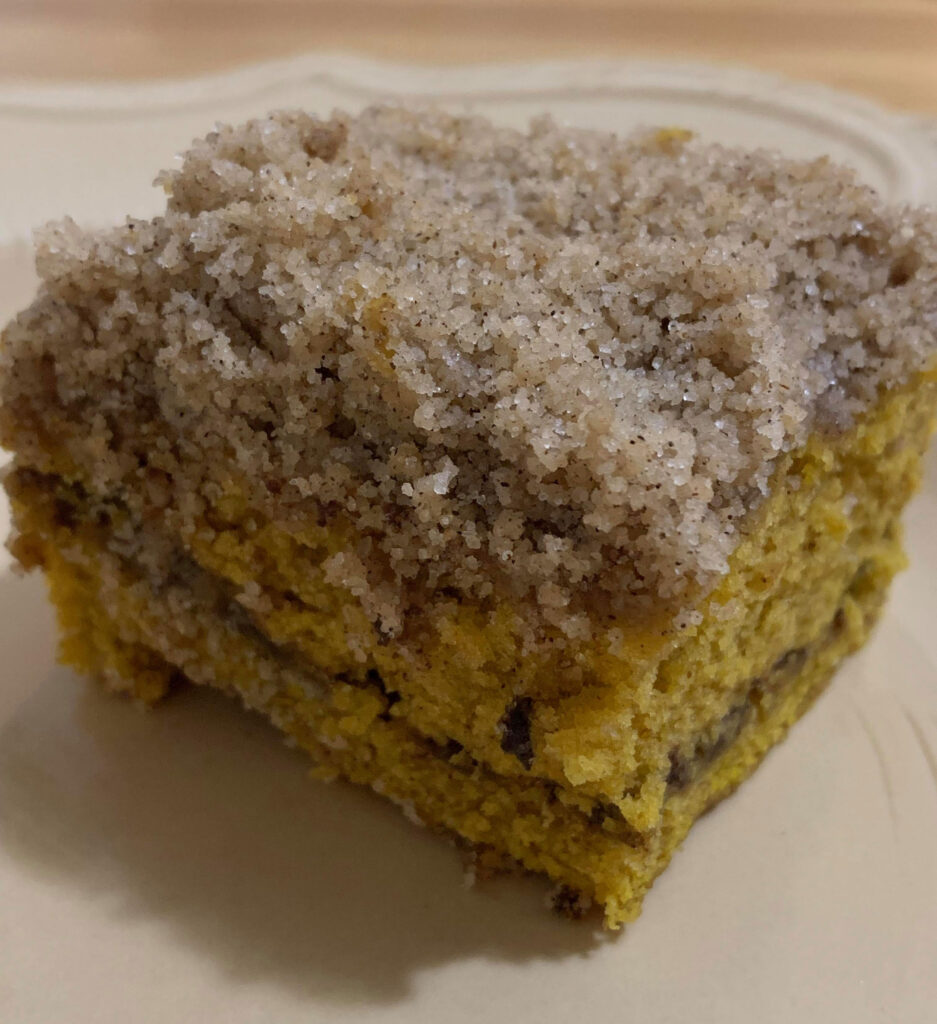 Ingredients:
Topping:
2/3 cup (131g) granulated sugar
Pinch of salt
2/3 cup (82g) all-purpose flour
1 tsp cinnamon 
1/4 cup (28g) chopped pecans, optional (I did not use pecans, as my kiddos would not have eaten the cake). 
4 Tbsp (57g) butter, melted
Filling: 
1/3 cup (71g) brown sugar, packed
1 tsp cinnamon 
1 tsp unsweetened cocoa (I used Dutch-process)
Cake: 
1/3 cup (67g) vegetable oil
2 large eggs, room temperature 
1 cup (198g) granulated sugar 
1 cup (213g) pumpkin purée
1 tsp pumpkin spice seasoning 
1 tsp salt
1 tsp baking powder
1 1/2 cups (177g) all-purpose flour 
Directions:
Preheat oven to 350 degrees and lightly grease an 8×8 pan.
For the topping, whisk together all the ingredients except the melted butter. Next mix in the butter and stir well. Set aside.
For the filling, mix together the brown sugar, spice and cocoa powder. 
For the cake, beat together oil, eggs, sugar, pumpkin, spices, salt and baking powder until smooth. 
Add the flour, stirring until smooth.
Pour/spread 1/2 (around 12.5 ounces) of the batter into your greased pan. 
Sprinkle the filling evenly atop then the batter. 
Spread the remaining batter on top of the filling. Use a spoon or knife to swirl the mixture with the filling. Do not overmix. 
Sprinkle the topping over the batter. 
Bake until light brown and a toothpick can be removed without residue (40 to 45 minutes). 
Remove from oven and let cool for 20 minutes before serving. Serve directly from pan. 
Enjoy!