The Parkside men's golf team is trying to make a name for themselves in the region, and Steven Sanicki is doing his best to help that cause. One day after the Ryder Cup finished up an hour from his hometown, the junior helped lead his squad to a runner-up finish at the Cedarville Invitational, a match-play tournament where Sanicki finished 3-0 and tied a career-low with a 68 in the opening round. For his efforts, Steven Sanicki was named the Kenosha.com Ranger of the Week on Wednesday, Sept. 29.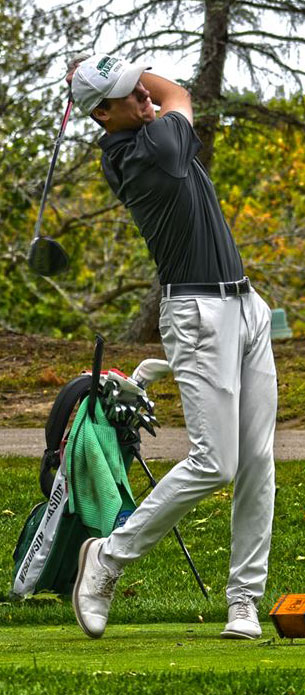 In addition to being named the Kenosha.com Ranger of the Week, Sanicki was also selected as the Great Lakes Intercollegiate Athletic Conference Men's Golfer of the Week.
He smashed his first opponent by 11 strokes in the quarterfinals with his 68 (-4), which tied the best score of his life and broke his career-low in collegiate tournaments. The last time he shot a 68 in tournament play came in his first-place finish at the 69th annual Kenosha County Open out at Brighton Dale Links.
This week, he helped his team take down a regional foe in Lewis, then the No. 1 seeded Ohio Dominican squad before falling in the championship round 3-2 to Mount Vernon Nazarene.
Twinning
Steven's twin brother Danny Sanicki is also a member of the Parkside men's golf team. The two have been competing with and against each other their entire lives, not just on the links.
"Back in the day golf was always our backup sport," Steven said. "We played basketball, baseball and soccer together all the time, but we wanted to be on the course. We love the competition and competing in tournaments, pushing each other to get better."
Steven recalls one time where the twins directly competed against each other, and it ended with neither of them winning, surprisingly enough. They, along with another member of their team, were trying to get a spot as the alternate in the WIAA State Tournament while in high school, but both the Sanicki brothers were defeated that day. Other than that, the two are nearly always on the same team, cheering for one another.
Mark Olsen Golf Center
One of the biggest reasons for the rise in the Parkside men's golf program is the creation of the Mark Olsen Golf Center, which turned an old dance studio on campus into one of the premier indoor golf facilities in NCAA Division II. It features two state-of-the-art simulators, a putting green, and plenty of space to work on your chipping.
Catch the Rangers in action this week
Parkside will host a pair of home events this weekend, first beginning with women's soccer at noon Friday (Oct. 1) and ending with The Ranger Open Cross Country Meet on Saturday (Oct. 2). Fans are encouraged to check out ParksideRangers.com/Tickets to get tickets before the events.