The Carthage Athletic Department announced Monday that the college has been chosen to host the upcoming 2022 NCAA Division III Men's Volleyball Final Four and Championship, taking place on April 22 and April 23 in 2022.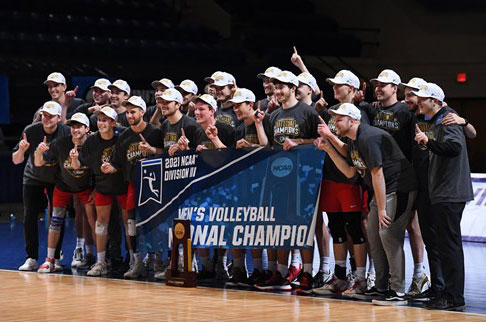 "We're incredibly excited for this opportunity that our student-athletes, coaches, department, college, and the city of Kenosha can share in celebrating," said Director of Athletics Nate Stewart. "It will take plenty of work and planning, but we're prepared to host a national championship in Kenosha, and have the top-notch facilities and staff members to do it."
After a change from the originally planned location of Canton, Ohio, the bid for this coming spring's tournament was opened back up nationally, with Carthage earning the chance to host again after doing so in 2018.
"We are honored to host this year's NCAA Championship matches here at Carthage," said men's head volleyball coach JW Kieckhefer. "It is an exciting opportunity to showcase our sport to the Kenosha community and the greater southeast Wisconsin community. It is our hope that this event will continue to grow boys volleyball in the state by bringing the greatest teams in the country to Kenosha. I could not be more excited for our city, college and program."
The Firebirds will look to repeat as NCAA National Champions after claiming the crown last spring. Led by All-Americans Zach Bulthuis, Gene McNulty, Matt Slivinski and Carter Schmidt last year, Carthage ended the season with a 23-0 record, capping it off with a thrilling 3-2 win over Benedictine in the championship match. Kieckhefer, the reigning USMC/AVCA National Coach of the Year, returns each of last year's four all-Americans as he gears up for his third year at the helm.
"On behalf of the Carthage Athletic Department, I'd like to thank the NCAA and the NCAA Men's Volleyball Committee for this great opportunity," Stewart said. "This is especially a fantastic opportunity for our men's volleyball program, as they battle this spring to defend last year's national championship."