Is Simmons Library really haunted?
Find out for yourself Thursday (Sept. 30) when the Kenosha Public Library teams up with Blue House Books for a special spooky evening featuring an author visit and night-time visit the scenes tour of the downtown library, 711 59th Pl.
Gilbert M. Simmons Memorial Library, the oldest KPL branch, is rumored to have been built over a burial chamber. The Library's Haunted Tour is a spooky version of a behind-the-scenes tour, complete with staff reports of ghostly happenings within the historic building. Participants will explore parts of the building most people never see.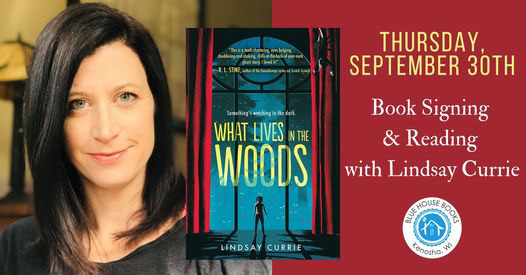 Priming participants for ghost hunting is a visit from Lindsay Currie, Chicago-based author of "What Lives in the Woods."
"We are super excited to be hosting Lindsay Currie here at Blue House Books, this is actually our first big author event," said Sam Jacquest owner of the indie bookstore, 5915 6th Ave. A.
Currie will be reading from the book, signing copies and taking questions from the audience.
Following Currie's appearance, participants will walk just a couple of blocks over to Simmons Library for a family-friendly, spooky after-hours tour of one of Kenosha's oldest landmarks.
"The book itself is a haunted house kind of story, so we were thinking what kind of activity could we incorporate with that especially gearing up toward Halloween," Jacquest said.
"We know there are a lot of fun, supposedly haunted places downtown, so we thought the library would be the perfect setting."
This event, which is scheduled for 6-8 p.m., is free to attend, but requires advance registration. Books will be available for purchase at the event and are now available for pre-order online as well.
"What Lives in the Woods" is a great book for grades 5-and-up.
In the book, summer vacation plans take a weird turn for teen Ginny Anderson, who finds herself traveling with her family to a dilapidated century-old mansion surrounded by a dense, perhaps dangerous forest.
The book is already garnering critical acclaim. Here's an excerpt from a review on Goodreads:
"The talented storyteller, Lindsay Currie, does it again and will leave her readers wanting more! Thank you Edelweiss for giving me the opportunity to read and review this! I devoured this deliciously, suspenseful mystery in one night, with all the lights on in my house, of course."
"What Lives in the Woods" is available at Blue House Books.