The Restaurant:
El Camino Kitchen, 9900 77th St., is a rare independent restaurant in the center of a sea of chain restaurants. Opened by the Roots Hospitality Group in 2020, El Camino provides the perfect combination of Mexican American, So-Cal, burgers, wings and more.
The Featured Dish:
Hipster Burrito ­— Large flour tortilla, grilled aged skirt steak, queso blanco, chihuahua cheese, french fries, cilantro-garlic sour cream, pickled jalapeños, refried beans, tomatoes, onion and side sour cream.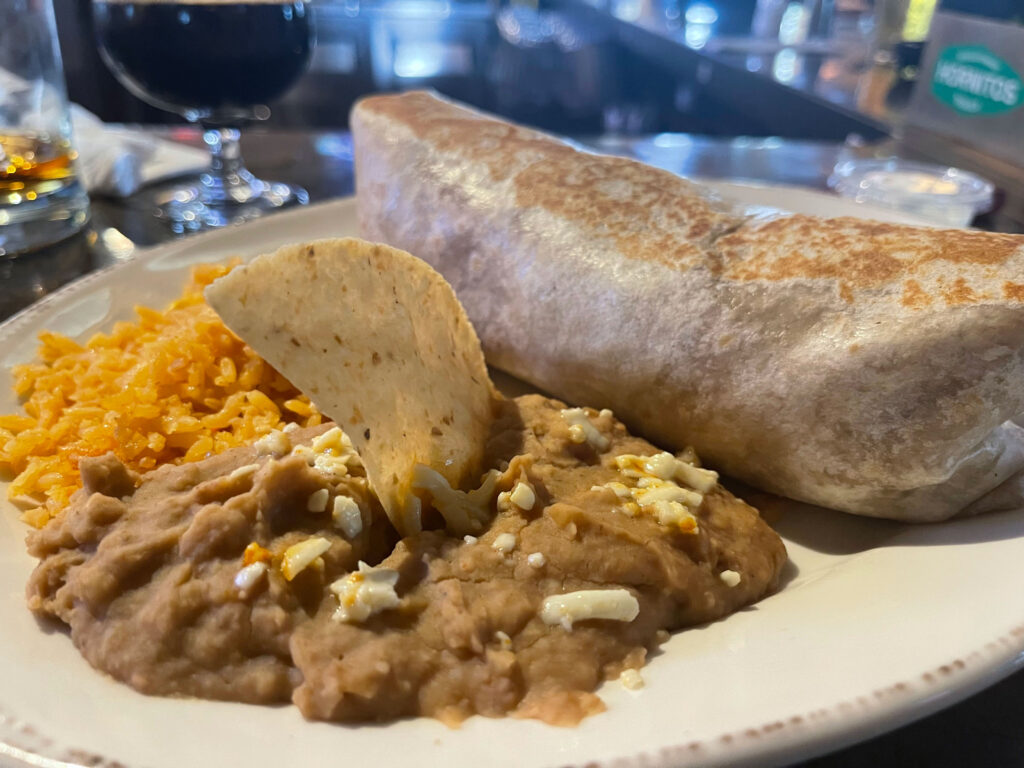 The Flavor and The Story:
El Camino Kitchen is a wonderful addition to the western 75th St. corridor. While the shopping centers have traditionally been serviced by large national chain restaurants, the locally owned and operated restaurant group, Roots Hospitality, has brought a unique and creative concept to keep things exciting on the west side.
El Camino Kitchen is a large concept focused on everything that has made La Fogata and Waterfront Warehouse culinary destinations … with a little extra.
You can still sip on a signature margarita or indulge in loaded fries, but it's the spaces in between both menus that El Camino shines on its own. A great example is the Hipster Burrito.
This menu mashup is full of Latin flavors while simultaneously representing classic bar food fare.

First, this burrito is not small, so come hungry. There's a chance I could have finished it, but I'm positive I would have regretted not being able to eat the other half as a second meal.
When the Hipster Burrito arrives, it's appearance is unassuming, but like any good burrito, it's what's inside that counts.
This monster entree is packed full of deliciously seasoned skirt steak that is lean, but still very tender. Most impressively, the steak stands out with its own flavor even while absolutely drenched in cheese.
The queso fresco and chihuahua cheese melt together alongside the cilantro-garlic sour cream to form an incredible creamy sauce that covers every bite, yet the richness is balanced nicely with crisp, fresh diced tomatoes and finely diced onions for a wonderful experience.
The most amazing thing to me overall is the addition of french fries. It stands to reason that when cooked inside this creamy, flavor-packed tortilla, the french fries would turn to mush, but they stay quite crispy and add their own unique texture and flavor to the experience.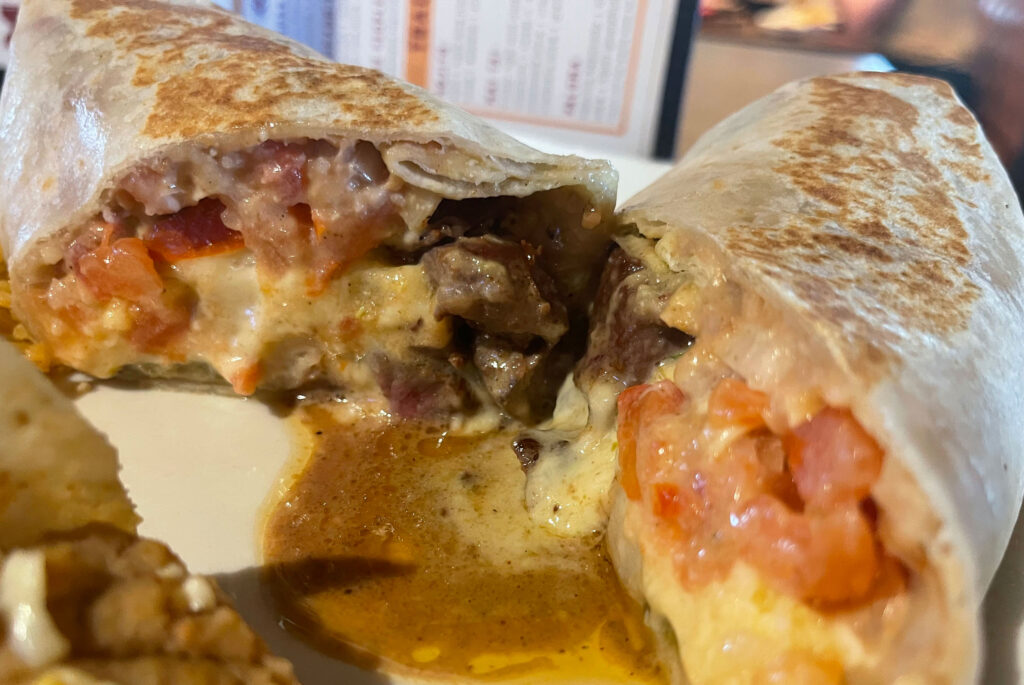 It's hard to describe how it all comes together, but I'd suggest imagining your favorite steak burrito, and an order of extra delicious cheese fries in the mashup of the decade. It's truly an impressive feat how each individual ingredient maintains its own unique textures and flavors and that they all come together into such a tasty meal.
The dish is also available "poblano style," which includes it being smothered in the incredible poblano cream sauce from the famous Pollo Gordo. I opted for the original, but if you want to get an idea how it would add to the dish, read the Kenosha Eats: Pollo Gordo story to learn more about it.
I also have to add that I've never felt more like a millennial stereotype as I was taking multiple photos of a dish with the word hipster in the title while surrounded by strangers, but it was well worth the judgment once I was able to take a bite.
The Hipster Burrito is available every day for $16.99.
El Camino Kitchen is currently open for dine-in and also accepts carryout orders. The full menu, including this dish, can be viewed online at EatAtElCamino.com.