On this date (Sept. 21) in 1997, former Kenosha Twin Brad Radke cemented his status as one of baseball's elite pitchers by becoming a 20-game winner for the Minnesota Twins.
The 20-game winner, once the gold standard of pitching, is fading into obscurity along with the sacrifice bunt, Sunday doubleheader and two-hour game.
Minnesota, for example, had 11 20-game winners between 1962 and 1979 but none since 2004.
Radke, 24 at the time, secured victory No. 20 with another relic: A complete game of 10 innings.
And he had help from six other Kenosha Twins alumni and a legend who recently visited town to boot.
Win No. 20 was Radke at his best.
Using his trademark control and flawless mechanics, the crafty right-hander was in command virtually the entire game as the Twins nipped the Milwaukee Brewers, 2-1, before 13,263 at the Metrodome. Radke gave up six hits and struck out six against no walks in improving to 20-9.
His only mistake was a first-inning home run by Jeff Cirillo, who who was recently at Simmons Field and the lakefront for Legends Weekend.
From there, Radke, who accounted for 29 percent of dismal Minnesota's wins in 1997, did not let a runner reach third base.
The Twins finally tied it in the sixth when current Cubs radio broadcaster Ron Coomer's double scored ex-Kenosha Twin Chuck Knoblauch with one out in the sixth.
The game stayed deadlocked until the Twins 10th with Radke prepared to keep working overtime in pursuit of his landmark victory despite the mounting number of pitches.
"I probably could have (pitched 11 innings), to tell you the truth," Radke said in an Associated Press article on the game. "I'm sure (my arm) won't feel good the next two months, though."
Paul Molitor, who was also at Simmons Field recently for Legends Weekend, made sure Radke's pitch count ended at a whopping 128.
In classic Molitor style, the future Hall-of-Famer brought home ex-Kenosha Twin Brent Brede (who singled) with a one-out triple in the 10th to hand Radke his historic win.
Radke's feat set off a modest but genuine celebration in the clubhouse where the future All-Star was given a champagne toast by his teammates.
"I definitely didn't expect this," Radke told the AP. "I didn't set any goals for myself this year. It's something that I'll cherish for a long time."
The Eau Claire native, who was raised in Tampa, was Minnesota's eighth-round pick in the June 1991 draft.
Following a season in the Gulf Coast (Rookie) League, Radke pitched for the Kenosha Twins, Minnesota's Class-A affiliate in the Midwest League, in 1992.
Pitching beyond his years at age 19, Radke gave a solid preview of what was to come in the big leagues toiling for the K-Twins in the franchise's final year here.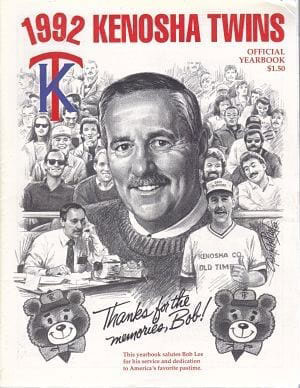 In 26 appearances (25 starts) for manager Jim Dwyer, Radke went 10-10 with four complete games, a shutout and a 2.93 ERA as the K-Twins went 72-61. In 165.2 innings, Radke gave up 149 hits with 127 strikeouts and 47 walks.
Three seasons after hurling in Kenosha, Radke made his big-league debut, sparking a career that would see him go 148-139 pitching exclusively for Minnesota through 2006. He was inducted into the Minnesota Twins Hall of Fame in 2009.
Radke really is one of the most accomplished performers ever to come through here in any sport.
Bits: Other former Kenosha Twins who played in Radke's 20th were Marty Cordova, Rich Becker, Pat Meares and Denny Hocking and the third base coach was ex-KTwin skipper Ron Gardenhire. … Among Radke's Kenosha Twins teammates in 1992 were Brede, Eddie Guardado, Damian Miller and Jamie Ogden, who was also in Kenosha for Legends Weekend. … Others in the Brewers lineup that day were Julio Franco, Darrin Jackson, Fernando Vina, Jeromy Burnitz, Dave Nilsson and Jose Valentin. … Radke finished the 1997 season with a 20-10 record.
Direct comments, questions and suggestions on this feature to dmarran359@aol.com