The Lincoln Park Live Music Series, in partnership with several local educational institutions, will present a special Education Night concert on Wednesday (Sept. 8), organizers announced.
"Education Night at Lincoln Park Live is a great way for neighborhood residents and the community at large to come together and celebrate the upcoming academic year," said Jeff Hill, Herzing Regional President – Wisconsin Campuses.
The evening's program will feature performances by local favorite the Terry James Blues Band and by the Milwaukee-based R&B band Christopher's Project. Admission is free and lawn chairs are welcome.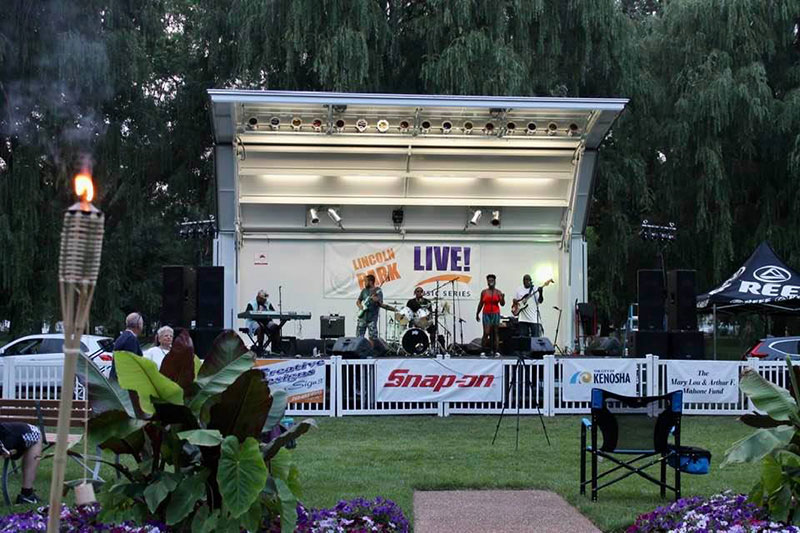 The theme of this special September Lincoln Park Live presentation is Community Collaboration Through Diversity, Equity, and Inclusion, said Tim Mahone, chairman of the Mary Lou & Arthur F. Mahone Fund.
"With the opening of each new school year brings hope and optimism for thousands of children and their families," said Bryan Albrecht, President Mahone Fund Board. "The Mahone Fund and the Lincoln Park Live organizing committee are proud to join with our academic partners and our community to start the school year with friends, fun and entertainment at this year's Education Night at Lincoln Park."
The Mahone Fund, which organizes the Lincoln Park Live Music Series each year, is presenting Education Night along with Gateway Technical College, the University of Wisconsin-Parkside, Herzing University, Carthage College and the Kenosha Unified School District.
"We are excited to once again partner with the Mahone Fund and begin the school year spending time with family and friends at this year's education night at Lincoln Park," said UW-Parkside Chancellor Debbie Ford, who is the vice president of the Mahone Fund Board. "We know that real, sustainable change occurs through partnership and participation, and through our efforts with the Fund we continue to be strong advocates to bring the core values of equity, diversity, and inclusion to all."
The Lincoln Park Live organizing committee works hard with neighborhood residents to use music to promote the beautiful park and the gorgeous Lincoln Park flower garden backdrop.
"Carthage is proud to support Lincoln Park Live through Education Night, as part of our firm commitment to college access and success for the Kenosha community," Carthage President John Swallow said.
Education Night marks the conclusion of the seventh season of Lincoln Park Live. The concert grounds will open at 5 p.m., with the music beginning at 6 p.m.
A variety of food, wine, beer, and water will be available for purchase. A 50/50 raffle will be held, with proceeds going to further the mission of the Mahone Fund. Alcoholic carry-ins are strictly prohibited.
The Lincoln Park Live Music series is sponsored by Snap-on and supported by Hampton Inn and Suites Kenosha. For more series or sponsorship information visit mahonefund.org/lpl/.
Lincoln Park is located at 6900 18th Ave. Additional off-street parking will be located near the softball diamonds on 18th Ave.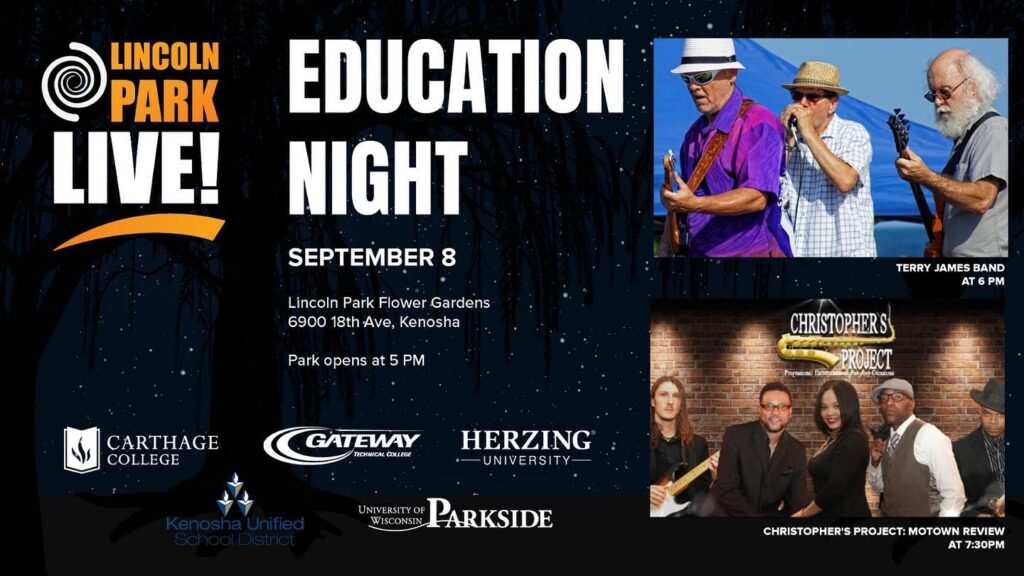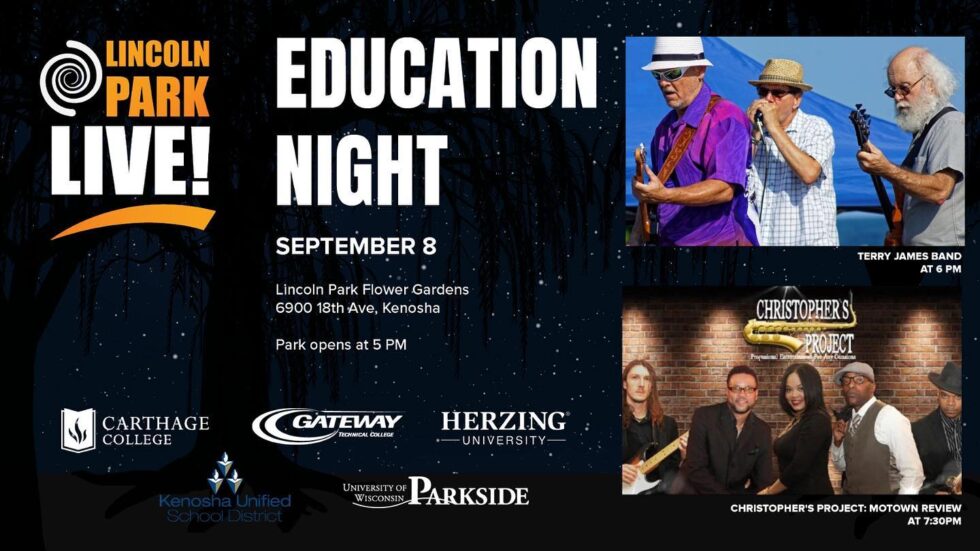 About the artists
The Terry James Band – Blues, 6 p.m.
Singer, guitarist, and songwriter Terry James, is a Chicago-style blues man who uses his raspy, deep bass voice to energize the audience. Born in Waukegan, James creates a mixture of soulful, rockin' blues and R&B that blends the style of Taj Mahal, Jimi Hendrix, BB King and Buddy Guy just to name a few. James has opened for Buddy Guy, Lonnie Brooks, Koko Taylor, Mississippi Heat, and the Fabulous Thunderbirds. He has performed at many area festivals and Chicago blues clubs over the years.
Christopher's Project – Motown Tribute Revue, 7:30 p.m.
Christopher's Project is a melting pot of musical styles. They have persevered and are proud to be celebrating over 20 years. Christopher's Project is led by saxophonist Chris Pipkins, a three-time winner on Showtime at the Apollo. He has opened for legendary acts like George Benson, The Temptations and the Isley Brothers. The ensemble covers a wide variety of soul and R&B tunes from female vocalists like Aretha Franklin, Anita Baker, Chaka Khan, Sade and Whitney Houston. The Motown Tribute Revue will showcase classics from Stevie Wonder, Diana Ross, Marvin Gaye, Aretha Franklin and a variety of America's most popular Divas of Soul.