Perhaps one of the simplest and most tasty type of taco would be carnitas. I found this recipe and added a couple ingredients to make a delectable slow-cooked taco.
Ingredients:
4 lbs pork shoulder/butt (5 lb bone in)
2.5 tsp salt
1.5 tsp pepper
1 onion (chopped)
2 jalapeños (deseeded & chopped)
4 cloves of garlic (minced)
Juice from two oranges
Juice from 1 lime
Rub:
1.5-2 Tbsp dried Mexican oregano
3 tsp cumin
1.5 Tbsp olive oil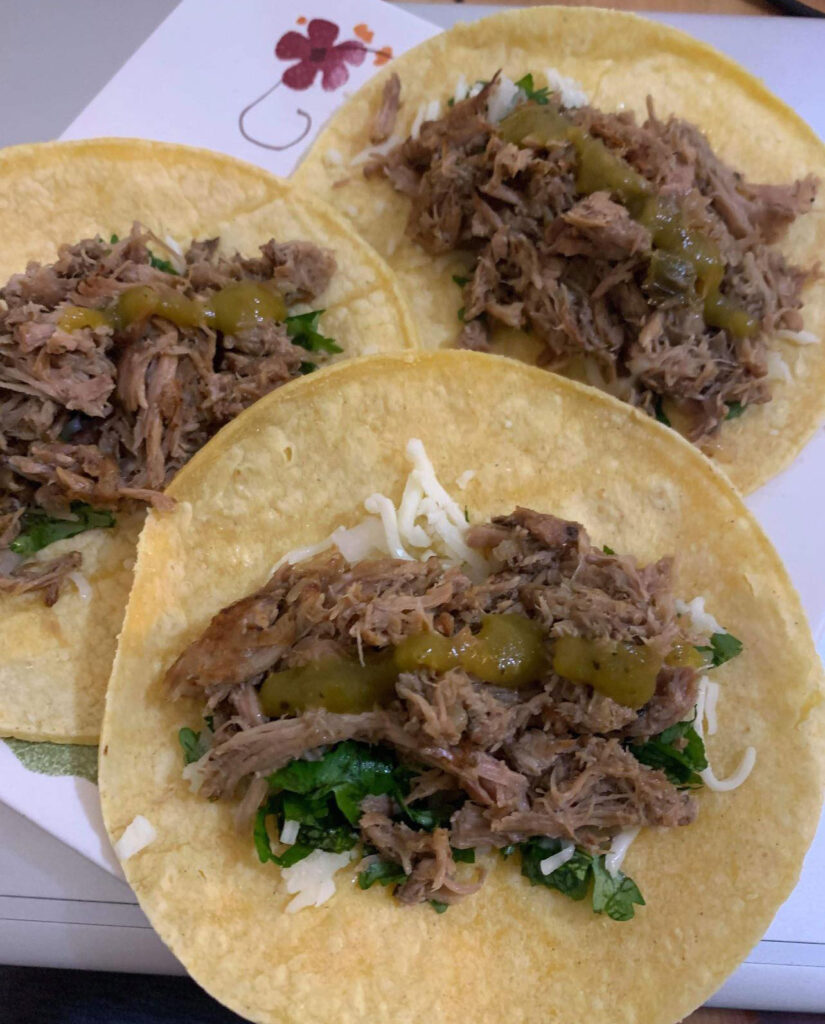 Instructions to cook carnitas:
Rinse and dry pork, then season with the salt & pepper.
Combine the rub ingredients & rub the mixture over the pork thoroughly.
Place the pork in a slow cooker with the fat cap up. Top with onion, jalapeños, garlic (don't need to spread, just place on top), & squeeze juice from two oranges and one lime.
Slow cook for 10 hours on low, or 7 hours on high.
Pork should be tender enough to shred. Remove pork from cooker and let cool for a couple minutes before shredding the pork. Return the shredded pork to the slow cooker.
Let cook for 15 more minutes and then remove pork.
Remove two cups of the liquid to use for cooking the pork in a skillet.
Directions to crisp carnitas:
Heat 1 tablespoon of oil in a pan, place pork and a drizzle of the juice in the pan. Sear until the juice evaporates and pork is crisp (make sure not to cook too long and dry the pork). Turn the pork over and sear slightly before removing from pan.
Repeat this process in batches, or simply refrigerate remaining pork and juice in the fridge to use later.
Building your carnitas:
Choose your favorite tortilla.
Place the pork in the center.
Sprinkle whatever fixings you'd like.
Enjoy!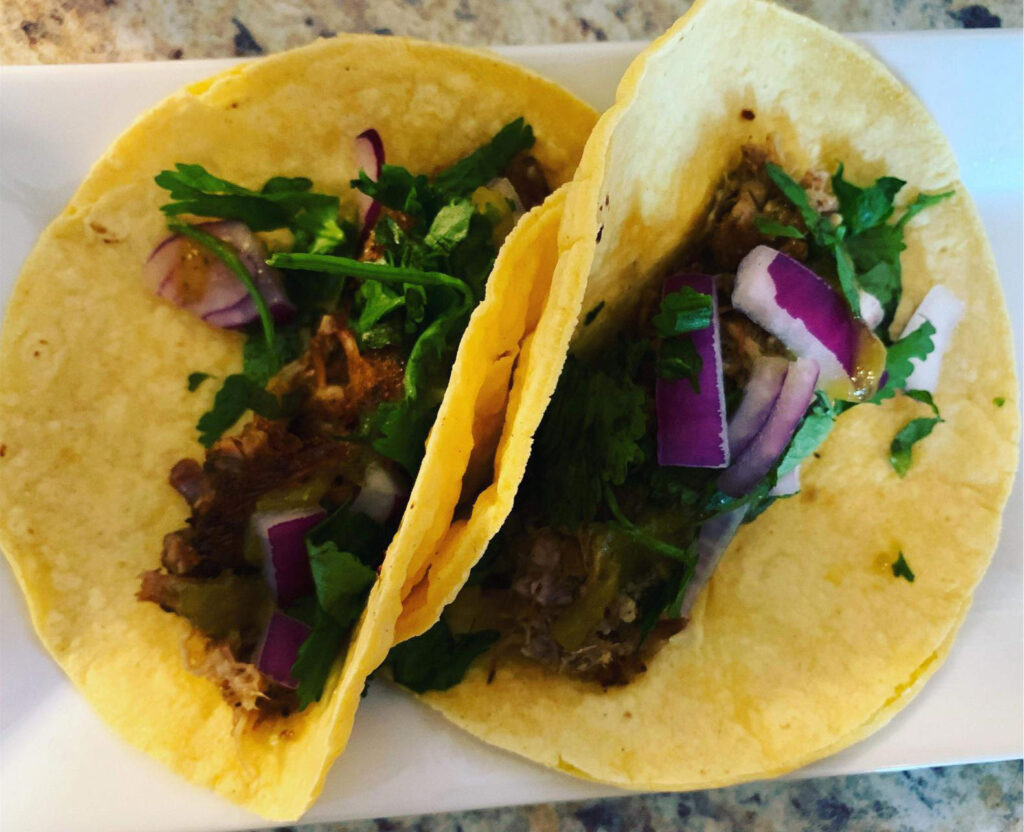 Tips:
When building your carnitas, pour a tad more juice on the meat before adding the fixings. This will make the taco a little messier, but will taste AMAZING!
I personally enjoy carnitas with fresh cilantro, chopped onions, & Yellowbird Serrano sauce.
For a tasty twist, make a carnitas pizza. Use fresh pizza dough, and add your pizza sauce. Spread some pork and Mexican cheeses over the pizza and bake until crisp. Once the pizza is finished cooking, top with fresh cilantro and chopped onion. Drizzle some hot sauce, salsa, or other sauce (check out Yellowbird sauces).
Enjoy!