Every year, there are several very good movies released that for whatever reason never catch on in the public's imagination. Whether it was bad timing, poor marketing campaigns or simple disinterest, some movies are just plain overlooked and never reach an audience. And that's a shame, because the movie deserves better and the audience has missed out on a richly rewarding entertainment experience.
In the following paragraphs I am going to highlight 20 films released since 1980, all of which grossed less than $25 million at the domestic U.S. box office and that deserved a much more robust reception. The films are listed in chronological order.
Resurrection (1980)
I wish I could adequately put into words what a unique and moving film experience Resurrection provides. I saw it when it was first released some 40 years ago, and I remembered it as a movie with some wonderful scenes and performances, and with a heartfelt and philosophical moral that really resonates. I decided to rewatch it when I included it in this article, and I was able to find the full movie on YouTube of all places. Upon watching it again, I realized how profoundly I underestimated its quiet power.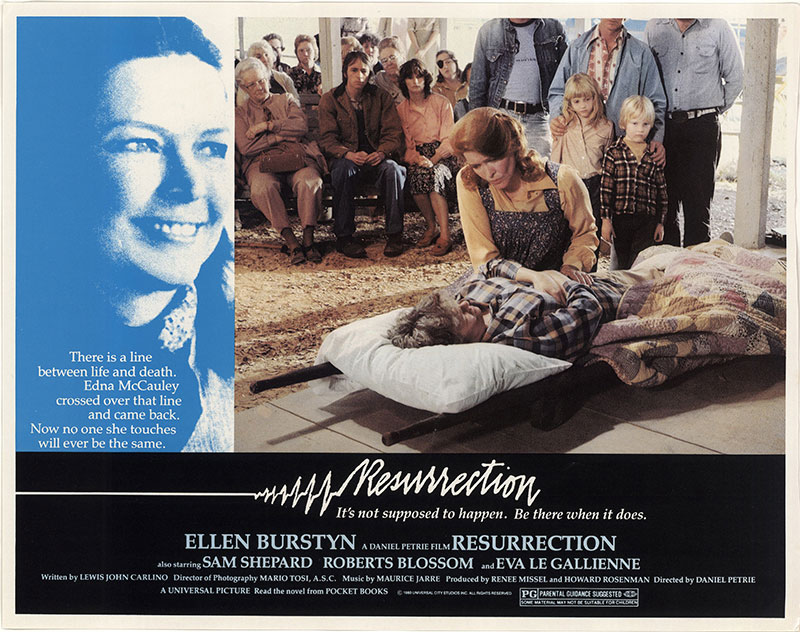 Resurrection tells a story about a woman named Edna Mae McCauley (a magnificent Ellen Burstyn), who loses her husband in a car accident that also leaves her paralyzed from the waist down. After the accident, while the surgical team is trying to save her life, she has a near-death experience, seeing a bright light and various friends and family members who had passed on. After being released from the hospital, she returns to her childhood home to live with her cold and domineering father, from whom she had been estranged, and her beloved Grandma Pearl (an equally brilliant Eva LeGallienne). While recovering from her injuries, she discovers that she has acquired healing powers. Eventually, word spreads in the community of her talents, and she begins to attract followers. One of the people she helps is a young ne'er-do-well named Cal (Sam Shepard) who becomes her lover, and is the son of a local pastor who believes that since Edna has never claimed her powers come from God, that they must evolve from a more nefarious source. As Cal and Edna's relationship deepens, he becomes increasingly obsessed with Scripture, and convinced that Edna must ascribe her gifts to God. Her unwillingness to associate her powers with any religious source becomes the focal point of her relationship with the increasingly unstable Cal.
There are scenes in this movie that are so beautiful and touching that they made me cry, foremost among them the farewell scene between Edna and Grandma Pearl. I'm not going to say any more about it, other than I heartily encourage you to watch the movie so you can hear what they say to each other. The power of this scene, and others, comes from the performances of Burstyn and LaGallienne, both of whom received Oscar nominations. Burstyn is a remarkable actor, able to convey vulnerability, compassion and steeliness in the same moment, with an open face that draws you into her character. A major star of the 1970s who has had a long and storied career dating back to the late 1950s, she is still going strong at age 88, as evidenced by her acclaimed performance in last year's Pieces of a Woman. LaGallienne made only three feature films in her entire career. She was a stage actress for 60 years, but not just an actress – she was also a producer, director, coach and manager who ran her own theater company for 10 years. Her performance as Grandma Pearl is wonderful, with an earthiness and simplicity that belies her background as a denizen of New York City.
Available to stream on YouTube.
Body Heat (1981)
Beyond the allure of the exquisite Kathleen Turner, Body Heat is a sexy, stylish modern film noir. William Hurt plays seedy Florida lawyer Ned Racine, who meets Matty Walker (Turner) at a beachfront concert and begins a torrid affair with the married Walker. Soon, the two are planning the murder of her husband (Richard Crenna), which sets in motion a tale of love, obsession, greed and betrayal. While Hurt is fine as the in-over-his-head Ned, it is Turner who steals the film. Her film debut, it truly announced the arrival of a major new star. Her Matty is one of the great movie characters, whose motivations and desires are kept a mystery to both Ned and us the audience, as we continuously try to guess where this is headed.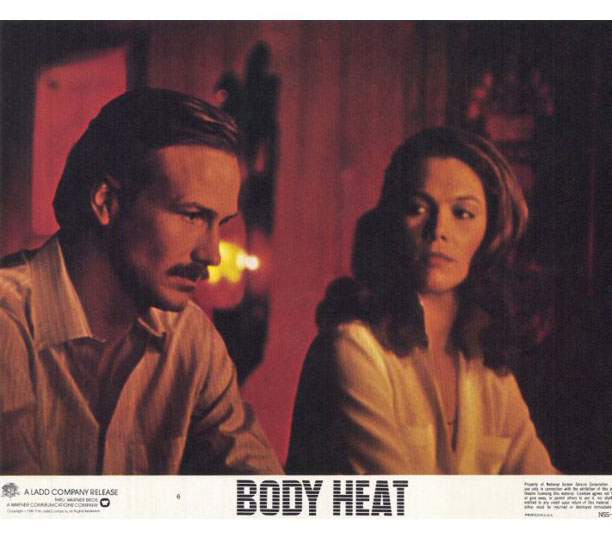 The film was written and directed by Lawrence Kasdan, and both the script and the direction keep the sexiness and the suspense at full boil throughout the film. Decidedly for adults only; put the kids to bed and treat yourselves to a smart, steamy thriller.
Available to rent on Amazon Prime. I've also seen it aired on Turner Classic Movies.
Eye of the Needle (1981)
Adapted from the novel by Ken Follett, Eye of the Needle is about a German spy (Donald Sutherland) who has vital intelligence about Allied preparations for D-Day. He ends up on an isolated, wind-swept island off the Scottish coast, that is populated by Lucy (Kate Nelligan) and her bitter, wheelchair-bound, ex-RAF pilot husband David (Christopher Cazenove). Lucy, trapped in a loveless marriage, and the spy embark on an affair, but Lucy soon comes to understand who this man is and what he is capable of.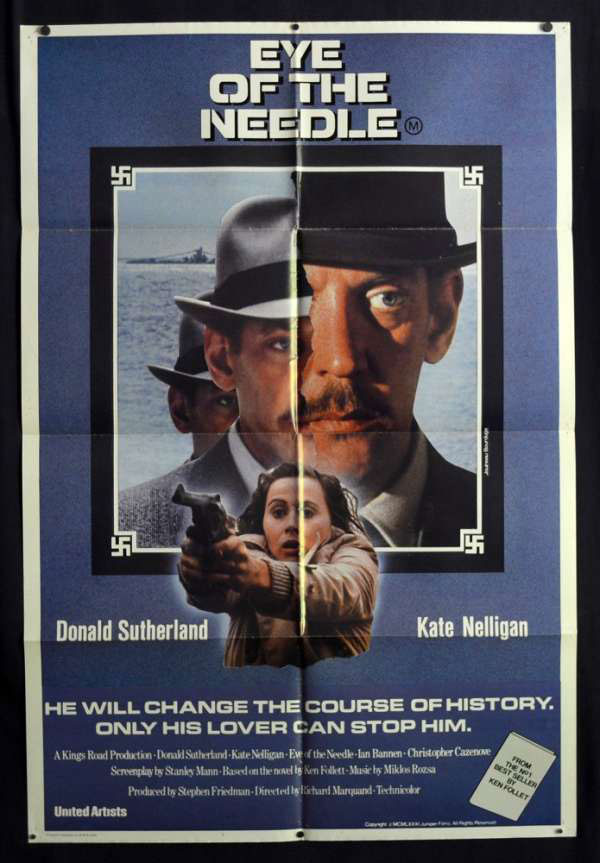 The film begins as a spy story, then evolves into a romance and finally ends as a thriller, and is effective in all three parts. The performances are wonderful, especially from the underrated Nelligan, who made a career of great performances that flew under the radar.
Available to rent on Amazon Prime.
Ghost Story (1981)
Oh, what a strange movie this is! It is a horror film that, like ghost stories in general, is more creepy than terrifying. It has a bevy of classic movie stars – John Houseman, Fred Astaire, Melvyn Douglas, Patricia Neal, Douglas Fairbanks, Jr. – but also boasts strong sex scenes and copious nudity from its younger stars. Watching this film, I asked myself if the producers showed Houseman, Astaire et al only those pages of the script that involved their characters and left all the other stuff out.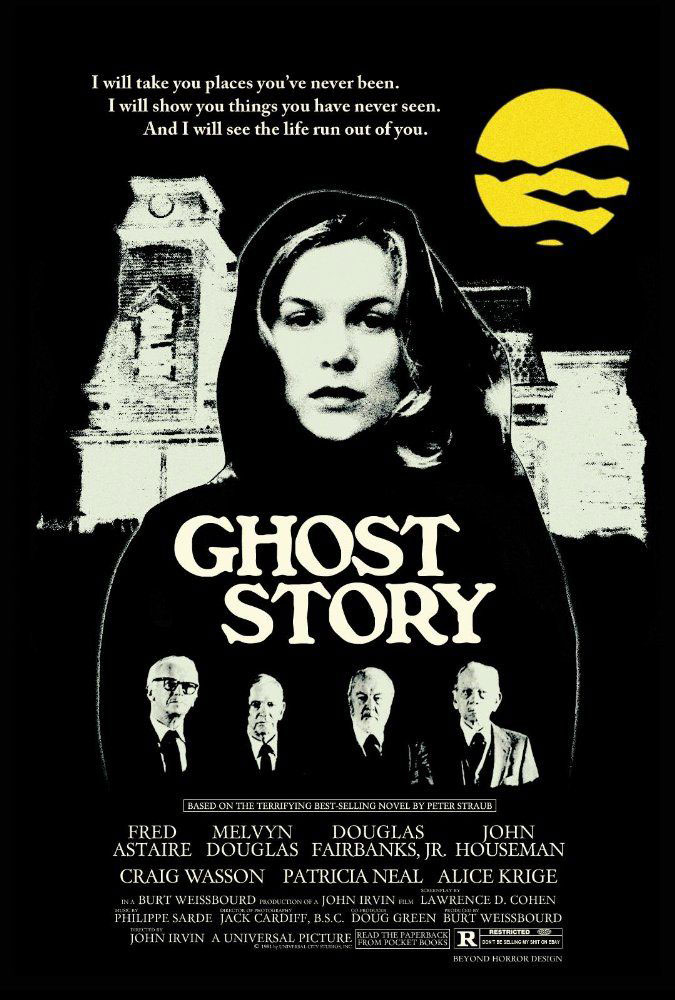 The film begins with four old men (Houseman, Astaire, Douglas, Fairbanks) sitting in a dark room lit only by a fire, with one of the men telling a ghost story. It is the perfect way to begin this story, which sets the mood of eeriness and dread that is necessary for any successful ghost story. It would seem that the men meet regularly to tell such stories to each other. Then the action jumps to a young man (Craig Wasson) who is assaulted and thrown out of a high-rise window by a woman (a brilliant Alice Krige). It would appear that the woman has a connection both to the young man and to the old men, but the connection only comes clear through flashbacks to the time when the old men were young. This is a story of revenge and regret, of guilt and redemption, and of the actions and inactions of youth that haunt us throughout our lives.
Available to rent on Amazon Prime.
My Favorite Year (1982)
Sometimes a great performance is enough to turn a mediocre movie into a truly memorable one, and My Favorite Year is a perfect example of this. Peter O'Toole is fantastic in this film about a washed-up, alcoholic Hollywood movie star named Alan Swann (a thinly veiled Errol Flynn) who has agreed to appear as a guest star on a 1950s TV sketch comedy show in the vein of Sid Caesar's Your Show of Shows. Mark Linn-Baker (terrible) is Benji, a junior writer on the show who has been given the task of making sure that Swann shows up for rehearsals and taping and to keep him sober and away from any dalliances with young women. Of course he fails magnificently or else there would be no movie.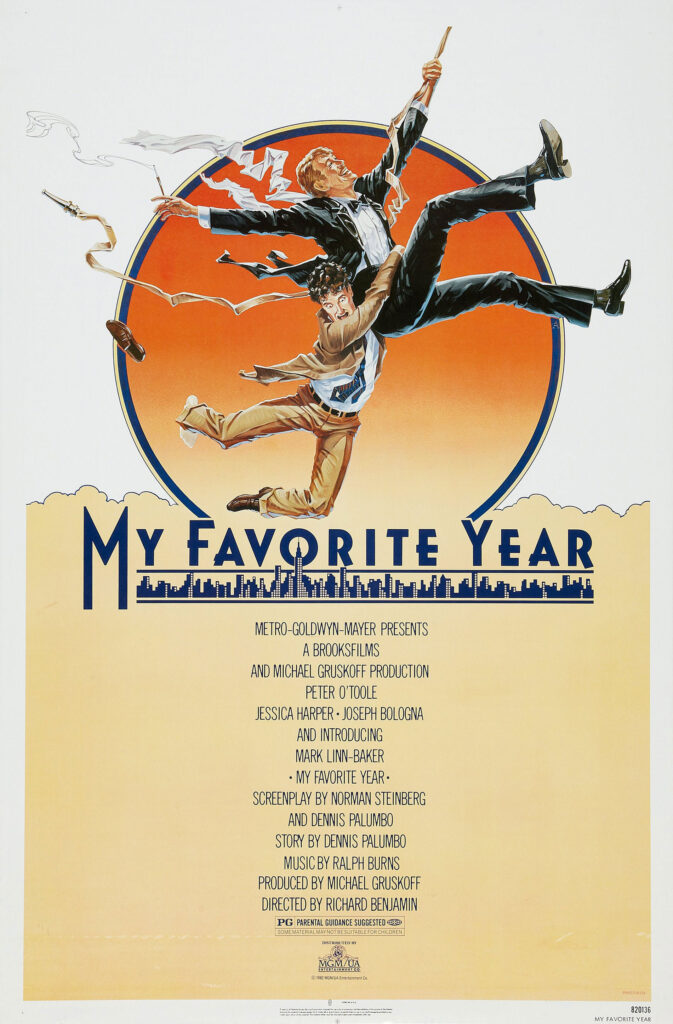 Highlights include a dinner at the apartment of Benji's Jewish mother (a wonderful Laine Kazan), with her Japanese second husband and Benji's aunt and uncle, that begins hilariously as Benji's family is embarrassingly starstruck and ends sadly as Benji's mother admonishes Alan for his abandonment of his daughter. This sets in motion a chain of events that leads to shame and redemption, and a wild ad-libbed rescue sequence during a live performance of the show. Not to mention one of the great lines in movie history – "I'm not an actor, I'm a movie star!" as only an ACTOR of the caliber of O'Toole could pull off. The film hangs together with that magnificent O'Toole performance, who is rakish, charismatic, befuddled and drunk, but never cartoonish, and makes this character believable and sympathetic despite his glaring faults.
Available to rent on Amazon Prime. I've also seen it aired on Turner Classic Movies.
Testament (1983)
Movie experiences are seldom this shattering. This is a film about nuclear war, but there is no explosion, no sonic boom, no mushroom cloud. Jane Alexander and William Devane play Carol and Tom Wetherly, the parents in a family of five living in a small town in California. One day, after Tom has gone to San Francisco on a business trip, a news report indicates that nuclear bombs have exploded on the east coast and in San Francisco, and then alarms go off. Radio and television stop broadcasting, and the only communication with the outside world comes from a ham radio operator. Life in the small town continues as best it can, but the specter of uncertainty and fear and death hangs over everything. As resources begin to dwindle, and lawlessness breaks out, hope is the last victim of nuclear war.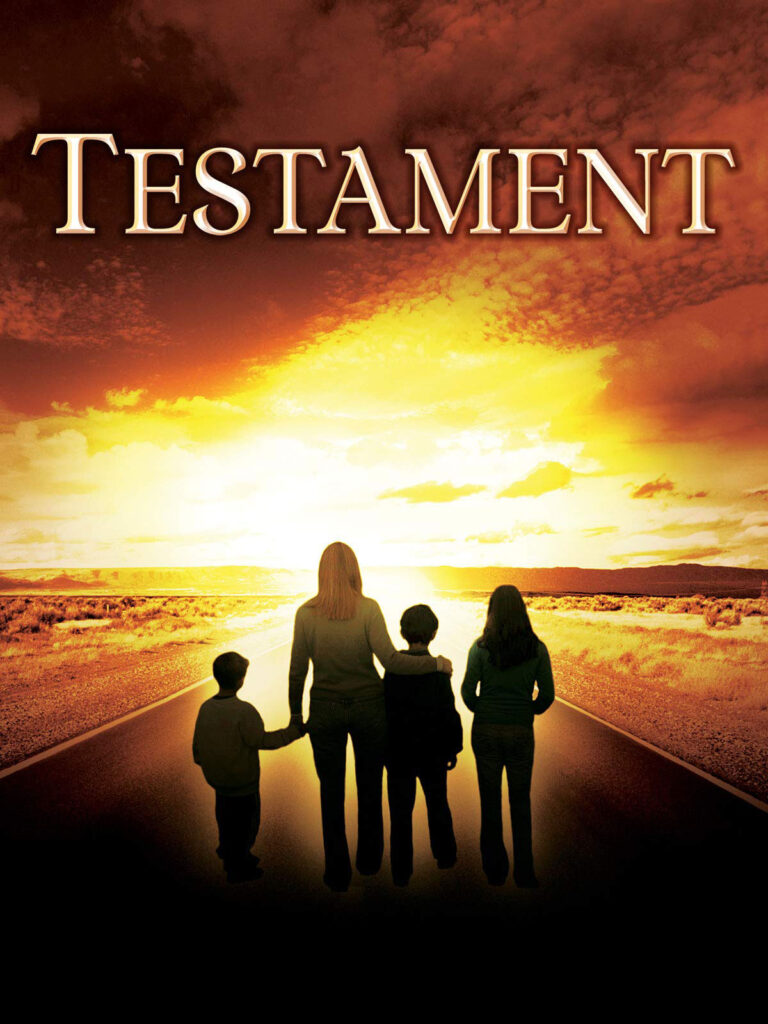 It is impossible to review this film like you would any other piece of entertainment. It is not entertaining, and it is not meant to be. It is devastating to watch from almost the very beginning to the very end. The sense of dread and despair is palpable, and the quiet tone of the film makes it so much more realistic and resonant. This film is definitely not nihilistic, very much the opposite; the townspeople band together to share, to comfort, to help – it shows human beings at the very darkest moments of life at their very best. But make no mistake, this is not a feel good movie. The world will not heal, and there will be no escape from this dark fate as the radiation poisoning begins to take effect. Never has the simple act of sewing packed such an emotional wallop.
Jane Alexander is breathtaking as the mother of the family. Alone with three minor children with no communication from her missing husband (presumed dead), she portrays this woman as strong and loving as she suffers unimaginable tragedy and tries to hold her family together in the very worst of circumstances. Highly recommended.
Available to rent on Amazon Prime.
Irreconcilable Differences (1984)
Surprisingly good dramedy with Ryan O'Neal and Shelley Long, as two star-crossed lovers who meet cute and marry, have a little girl (Drew Barrymore) but then the marriage dissolves into acrimony and divorce when first one parent and then the other puts career above family. The little girl, Casey, fed up with her parents constant fighting, sues to disband the parent-child relationship so she can live with their Mexican maid, who is a source of love and consistency in her life.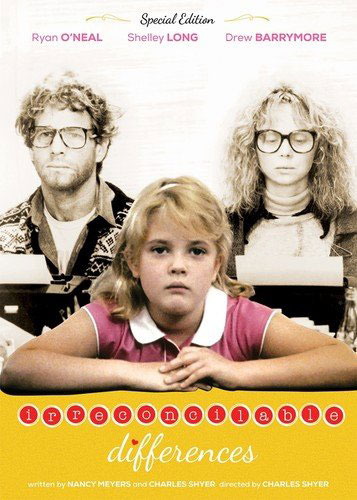 This summary probably overemphasizes the drama aspect of the film, but the road it travels is intelligent, funny, romantic as well as sad, and the performances by O'Neal and Long are really good in bringing to life these flawed but not irredeemable people.
Available to stream on YouTube.
The Big Easy (1987)
This film was expected to make Dennis Quaid a star. It was very well reviewed by the critics, but for some unexplainable reason it never found an audience. Quaid stars as a brash, charming New Orleans detective, not above a little graft, who is swept up into a sexual relationship with a DA (Ellen Barkin) investigating official corruption in the police department at the same time that he is investigating a series of gang killings.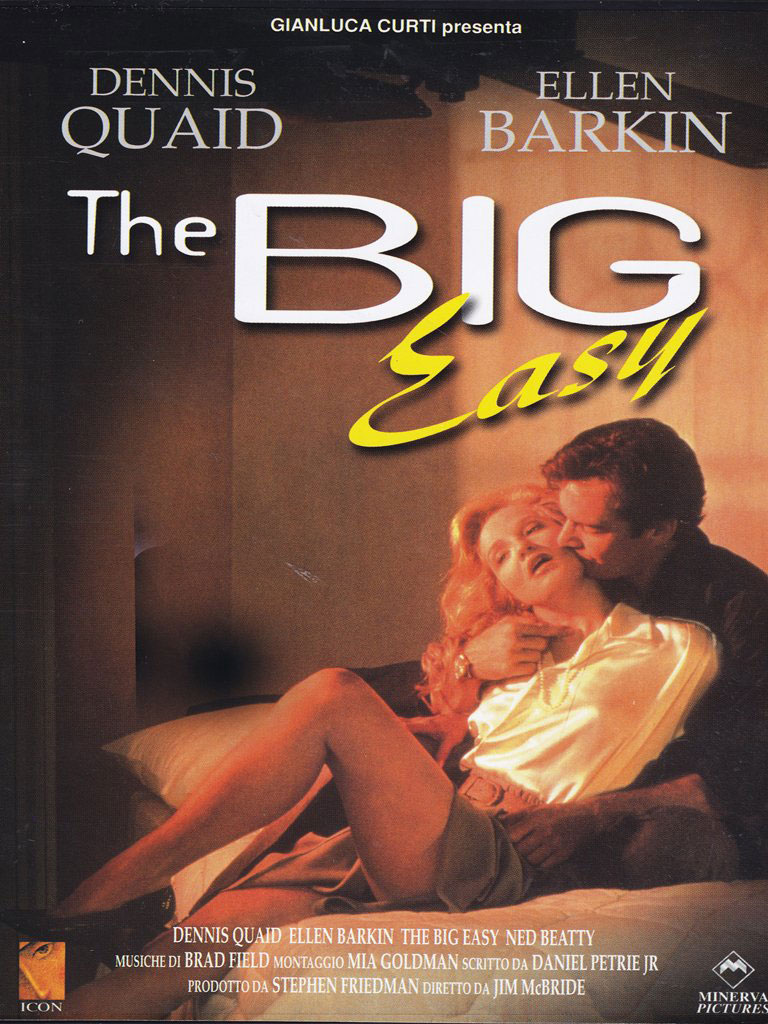 The film is a tense, taut thriller with romantic chemistry to spare between the leads. In fact, it is the fraught relationship between the cop and the DA investigating him that really makes the action sizzle, and Quaid and Barkin really play off each other well. So many times we have seen movies that live and die on the romantic chemistry between the lead actors which disappoint because the script tells us that they are hot for each other, but our eyes and ears tell us otherwise. That is definitely not the case here – Quaid and Barkin make the relationship between these two very real and very sexy.
Available to rent on Amazon Prime.
Eight Men Out (1988)
The rare sports movie that is neither feel-good nor inspirational. Eight Men Out tells the story of the infamous Chicago Black Sox, the major league baseball team that conspired with gamblers to throw the 1919 World Series. Let's be clear – not all the players on the team were in on the scam. Certain players were actively involved, some of the players were aware but did not participate, and some were totally unaware of what was transpiring. This film purports to tell the true story of how it happened, who was involved and who was not, and makes a convincing case that justice was not served. The film features a fine cast that includes John Cusack, David Straithairn, John Mahoney, Bill Irwin and D.B. Sweeney as "Shoeless" Joe Jackson.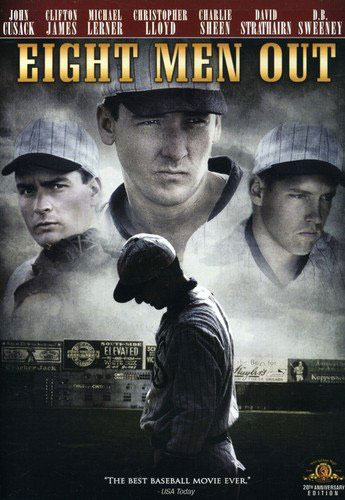 The film was written and directed by John Sayles, who made a career of making small, independent, very personal films, and this was probably his most commercially accessible. As usual with Sayles, the artistic quality is very high, and he is not afraid to take a stance. Clearly sympathetic to the players, yet mindful of the impact that their actions had on the game and its fans. A wonderful performance by Cusack as Buck Weaver, one of the players who was aware but did not participate in the scandal, and yet whose life was profoundly impacted.
Currently available to watch on demand on HBO.
Crimes and Misdemeanors (1989)
A film with parallel stories of marital infidelity. One involves a doctor played by Martin Landau who is having an affair with a woman played by Angelica Huston, who is becoming increasingly agitated with his promises to leave his wife that never come to fruition. The other story concerns a documentary filmmaker (Woody Allen) stuck in a loveless marriage who grows infatuated with a woman (Mia Farrow) who works with the self-absorbed subject of his latest documentary (Alan Alda).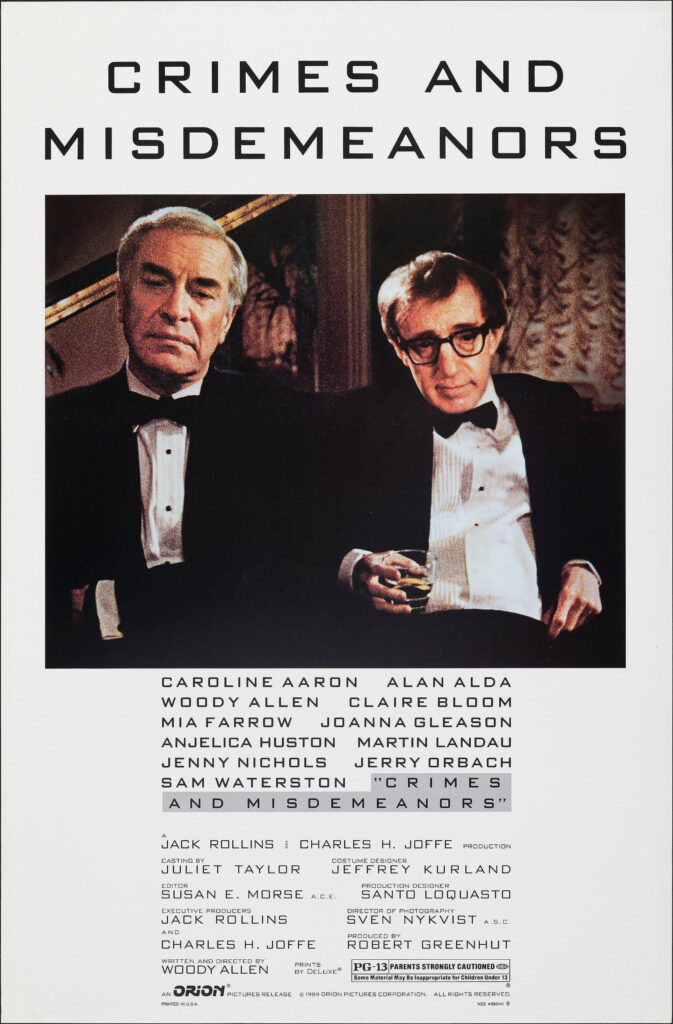 The film is a comedy and a drama, with a smart and nuanced view of our tenuous grasp of morality when it concerns our own actions. Oscar nominations for Landau for Best Supporting Actor, and for Allen for his direction and screenplay. See this movie if for nothing else but the documentary that Allen's character makes about Alda, and Alda's reaction to it. Absolutely hilarious.
Available to stream on YouTube.
Avalon (1990)
Avalon is an absolutely wonderful movie, a rich and rewarding film about an immigrant to America, the hope and promise of a new life, and the tapestry of life that the immigrant and his family weave in this land. It is a deeply personal story of filmmaker Barry Levinson, and is the third in a trilogy of films about life in Baltimore, the others being Diner and Tin Men. Avalon opens with the arrival in Baltimore on the Fourth of July of a Jewish man named Sam Krichinsky, an immigrant from Poland. He is amazed at the sights and sounds of this new world, and we are transported to this America through his eyes. It is a stunning scene that sweeps you into the story, aided greatly by the gorgeous cinematography of Allen Daviau and Randy Newman's magnificent score.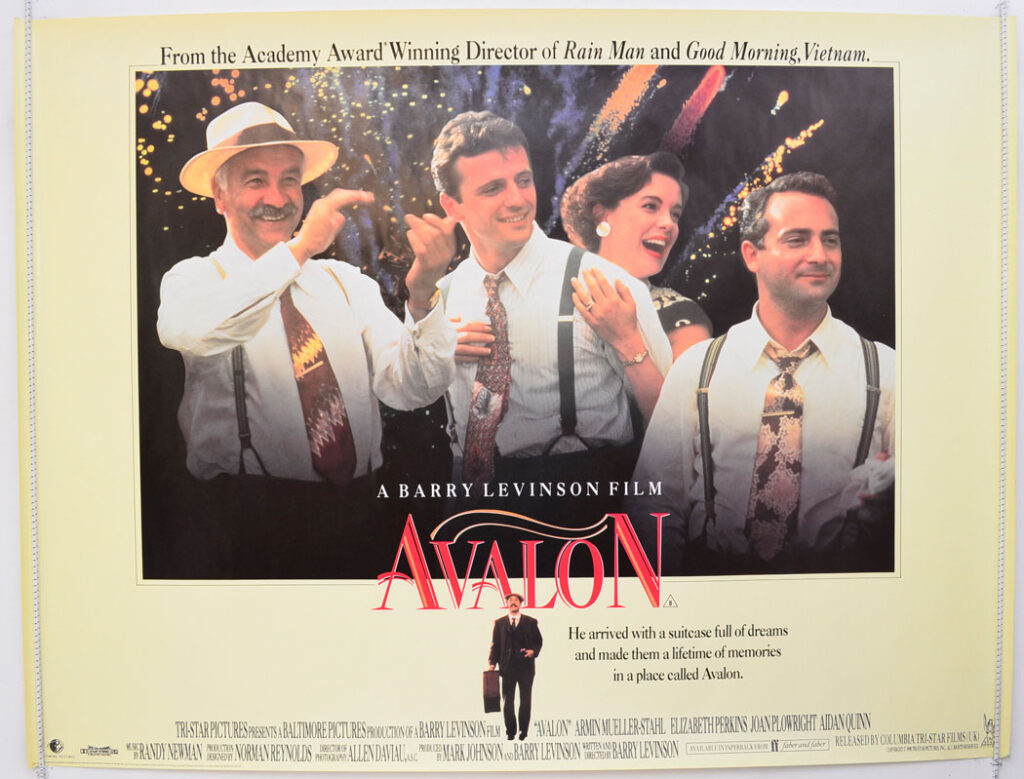 The story follows Sam as he establishes roots in Avalon, an immigrant neighborhood in Baltimore, aided by his four brothers who had emigrated before him. Family is the central theme of the film, as it follows this family through succeeding generations, and as the bonds of family begin to loosen as each generation becomes more "Americanized," seduced by prosperity and individualism. There is a definite melancholy aspect to Avalon, as we contrast the early scenes of the multi-generational Krichinsky family with a generation more concerned with just the immediate family. But the journey to that sad ending is so richly rewarding, as we engage with this family.
Watching this film, I reflected on my own extended family, and how things change through time. I first saw this film shortly after its release with several members of my family, and I was struck afterwards at the conversation between my older siblings who remembered when our family got its first television, and how transformative an event that was in their lives and in the lives of the family, as depicted in the movie. If you come from a large, multi-generational family, I encourage you to watch it with as many family members as possible, and to have a conversation afterwards contrasting the film experience with your own. This is a wonderful movie and is not to be missed.
Available to rent on Amazon Prime.
Miller's Crossing (1990)
I saw this movie in Greensburg, Pa., in its initial release in 1990. I was on a business trip, and my co-worker and I decided to catch a movie at night. We picked up a six-pack of beer, hid the beers in our coats and bought two tickets to see the Coen brothers' latest film. We walked into an absolutely empty auditorium; it remains to this day the only time I have ever been to a movie in which there were no other people in the audience. I sat back and began watching what began as a really good movie, about a disagreement between an Irish mob boss named Leo (Albert Finney) who controls the unnamed city and a minor Italian boss named Johnny Casper (Jon Polito) that explodes into a war, and caught in-between is Leo's right-hand man named Tom Reagan (Gabriel Byrne) who is loyal but believes that Leo is in the wrong. Thus begins a complex story of loyalty, betrayal, lust and jealousy.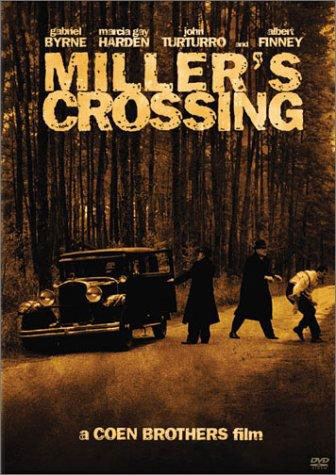 The story begins with Johnny Casper asking Leo for permission to rub out a bookie named Bernie Bernbaum (John Turturro) who has stolen from Casper. Leo refuses permission because Bernie is the brother of Leo's moll Verna (Marcia Gay Harden). Casper takes this as a personal affront, and begins a war by targeting Leo in a hit. At this point, the movie jumped from very good to classic. The hit is choreographed to the old Irish folk tune "Danny Boy," and it is something to be seen and heard. I remember after the scene had ended turning to my co-worker and saying the only thing I could think of in the moment, which was simply "Wow." The story becomes increasingly complex as we learn Tom has an ongoing relationship with Verna, and Tom and Leo break over Verna and Tom goes to work for Casper. There are twists and turns in the story as it gets more and more dangerous for Tom (I think Gabriel Byrne takes more punches in this movie than Stallone did in Rocky). A great-looking, smart film that really deserves to be discovered – I would place this in the top three of mob movies with The Godfather and Goodfellas.
Currently airing on Starz, and also available to rent on Amazon Prime.
City of Hope (1991)
Another John Sayles gem. A movie with several interlocking stories, and a multitude of characters, about official corruption in a city, centered around an apartment block to be demolished to make way for an upscale development. Sayles is the real star here, as both director and writer, juggling the many story lines and making it all work as a cohesive whole. As usual with a Sayles movie, this is a small-budget affair, but the writing is so sharp that each character comes alive in the hands of a veteran cast of character actors, with clear and understandable motivations that keep the story spinning to its inevitable ending.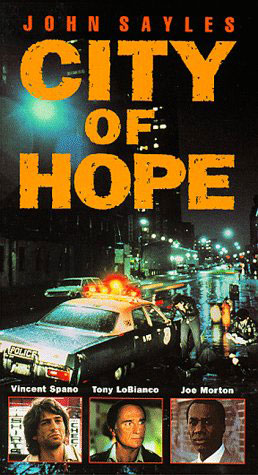 Vincent Spano is Nick Rinaldi, a wayward young man whose father Joe (Tony LoBianco) is a building contractor in an unnamed large city. Joe is facing pressure over the future of a tenement building he owns, from city leaders who want it cleared to make way for a new development, and from community organizers who are fighting for the rights of the tenants, most notably a Black councilman named Wynn (a very compelling Joe Morton), who is himself under great pressure from more radical members of the Black community. Meanwhile, Nick has involved himself in a robbery gone wrong, and city leaders are using him as a pawn to get Joe to do their bidding. Watching the film, I got the strong sense that this felt right, that the self-serving and deal-making portrayed in the film was probably an everyday affair in cities large and small across the country. It is all summed up nicely by a college professor falsely accused of making homosexual advances toward a Black teenager, when he says to his accuser, "We've got a long way to go, don't we?" Yes, we do.
Available to stream on Tubitv and to rent on Amazon Prime.
Once Around (1991)
A lot of movies about families never feel right. This one does. Holly Hunter plays Renata Bella, a woman from a close-knit Italian-American family who questions if she will ever find true love. At a seminar in the Caribbean, she meets Sam Sharpe, played by Richard Dreyfuss, a fast-talking salesman, the type of person who takes up all the oxygen in the room. Renata is smitten, and soon enough she is introducing Sam to her family. The family is aghast at her new boyfriend, for all they see in him is an obnoxious blowhard, but they eventually make peace with him in order to please Renata. But there is undeniable tension between Renata's family and Sam, that eventually blows up when his over- the-top behavior becomes impossible to ignore.
There is an honesty about people in this movie that is very fresh. Sam is not a bad man; in fact, quite the contrary. He loves Renata's family, and wants so much for them to love him back. But he is over-eager to please and incredibly enthusiastic about everything, and is inherently unable to tell when his behavior has gone too far. He simply does not fit in, and his personality is such that he probably never will. This causes incredible strain for Renata, who loves both Sam and her family, and desperately wants them to occupy the same space in her world.
The performances by a stellar cast are wonderful. In addition to Hunter and Dreyfuss, the cast includes Danny Aiello as father Joe Bella and Gena Rowlands as mother Marilyn Bella. Aiello has always been a fine character actor, and never more appealing than here as the patriarch of his family who has always been the center of the family but now finds this threatened by the tone-deaf Sam. Rowlands, an underappreciated actress, shines as the resolutely loyal Marilyn; look for the scene where she tells Sam off when he interrupts a memorial service for Joe's mother.
The Crucible (1996)
An adaptation of the Arthur Miller stage play, with masterful direction by Nicholas Hytner and harrowing performances by Daniel Day-Lewis and Joan Allen. Written by Miller about the Salem Witch Trials, but as an allegory of the McCarthy witch hunts of the 1950s. Day-Lewis plays John Proctor, a Salem man who has an affair with his young servant (Winona Ryder), but after being rejected by a repentant Proctor and then dismissed by Proctor's wife Elizabeth (Allen), the servant accuses Elizabeth of being a witch.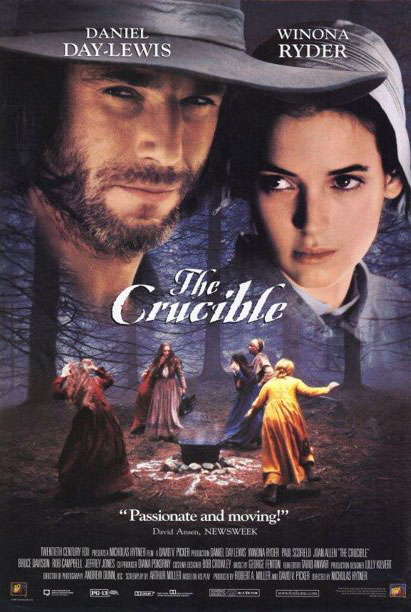 All this unfolds during the madness of the Salem Witch Trials, as opportunists see a chance to gain financially, and overzealous preachers wallow in the notoriety it provides until the hysteria they unleash becomes impossible to control. A very strong warning against giving in to popular frenzies when common sense and calm, deductive reasoning about human nature would point the way of truth.
Available to rent on Amazon Prime.
Marvin's Room (1996)
Diane Keaton has graced our screens since 1970, and her big break came, of course, from her casting as Kay in the classic mob movie The Godfather in 1972. She won an Oscar for Annie Hall in 1977, and has continued to work sporadically to this day. I would argue that her greatest performance came in Marvin's Room, a little-noticed movie which happened to have a great cast – Keaton, Meryl Streep, Leonardo DiCaprio, Robert DeNiro, Hume Cronyn and Gwen Verdon. In it she plays Bessie, the older of two siblings who stayed home to care for her ill father Marvin (Cronyn) while the younger, rebellious sister Lee (Streep) left to pursue her own dreams. Lee returns home 17 years later after Bessie tells her she has cancer, with two kids in tow, including Hank (DiCaprio), a disturbed teenager who, as the film begins, is in a mental institution after trying to burn down his mother's house. The film follows the particular dynamics of this dysfunctional family, who don't really know each other, but desperately need each other in a period of crisis.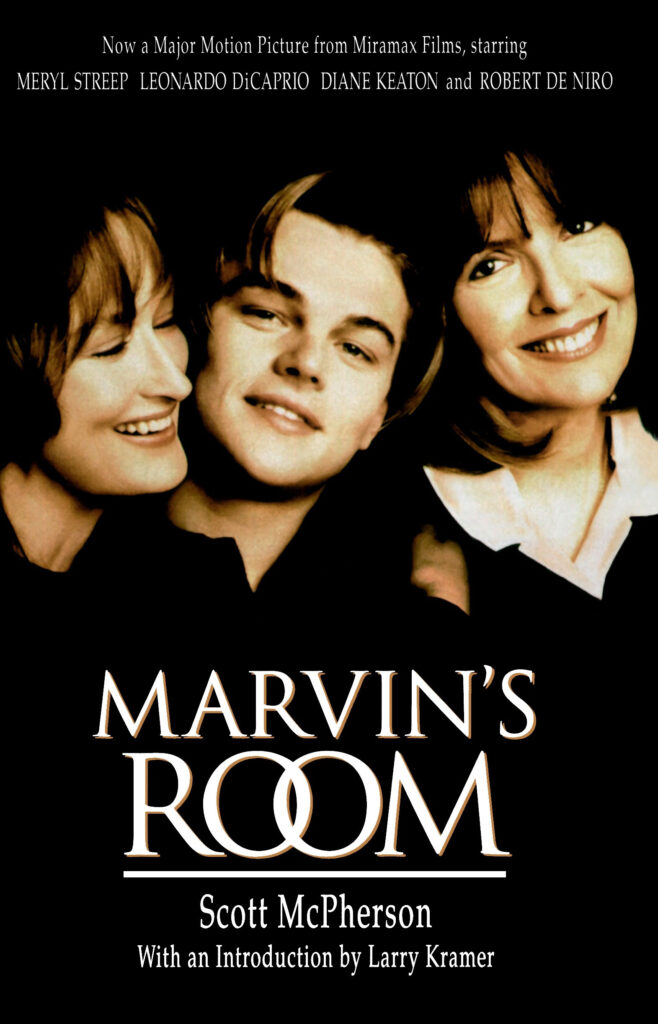 The strength of the film is in the Keaton performance. She has the less showy role of the others, but she is the glue that holds this whole enterprise together. Bessie is kind, and it seems to me that nice is the hardest role to play. It is easy for the good person in a film to be outshone by the histrionical or the evil, but Keaton is riveting throughout without ever succumbing to the temptation to make Bessie more than she is. Whether trying to make a connection with Hank, or breaking through Lee's innate selfishness, or caring for Marvin and her addled aunt (Verdon), she commands the scene and oddly, through the contrast, makes the characters of Lee and Hank more human and relatable. There is a scene towards the end where Bessie tries to make Lee understand the unique joy that can be gained by caring for someone else; it is simply one of the most beautiful (and beautifully-played) scenes I have ever seen in a movie.
Available to stream on Paramount+ or to rent on Amazon Prime.
You Can Count on Me (2000)
I went to see this film simply because it starred Kenosha native (and second cousin whom I have never met) Mark Ruffalo. I didn't really know anything about the movie, had never seen Ruffalo in anything else, and was only slightly familiar with co-star Laura Linney, who at the time had appeared in supporting roles in movies such as Congo and Primal Fear. Needless to say, I loved this movie. I walked out of the theater feeling I had seen a slice of real life, of real characters with real problems. Linney plays Sammy, a loan officer at a small town bank, who is a single mother struggling with a child who has never met his father, a difficult new boss at the bank, and a relationship with a nice guy she isn't sure is the right guy. Into the picture returns Terry (Ruffalo) her younger, irresponsible sibling with whom she has had a special bond since the death of their parents in a car accident when they were young. She is at first thrilled to have him back in her life, but as events play out, his immaturity complicates her life and her son's life.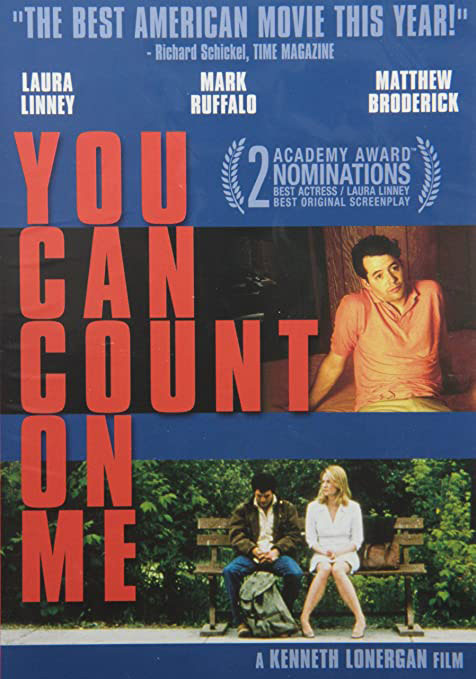 The movie is very honest about its characters. Yes, Terry is maddeningly immature, but he has a good heart and he does try. He is one of those people who ultimately make poor decisions, which is even more frustrating and tragic because their intentions are usually good. Sammy is presented as the responsible sibling, but even she makes questionable decisions. These are people who we can relate to – sinners and saints, good and bad; complicated people just trying to get through life with minimal disruption but somehow unable to avoid it. The nuanced performances of Linney and Ruffalo make these characters come alive, and you as an observer are privy to the very true emotions portrayed on screen – the temptations and regrets, the frustration and anger, and the love and affection that lies under all of it. Kenneth Lonergan wrote and directed this small wonder, and deserves so much credit for keeping it real throughout.
Available to watch on Cinemax or to rent on Amazon Prime.
House of Sand and Fog (2003)
I have had so many people chastise me for recommending tragedies. Life is full of many wonderful things, but it also has sadness, and I just don't understand the idea of not watching movies because they don't make you feel good. House of Sand and Fog is such a movie. It tells the story of Kathy (Jennifer Connelly) a young woman stuck in a depressive state since her husband left her several months previous. Because of her severe depression, she has allowed certain things to go undone, most importantly payment of taxes on her home. As the film begins, she is being evicted by the Sheriff's department for non-payment of the taxes on the home, which had been left to her by her father. The deputy (Ron Eldard) who is evicting her takes pity on her, which begins an emotional involvement which has devastating consequences. Meanwhile, an Iranian exile Behrani (Ben Kingsley) who is trying desperately to return his family to financial security and a place of prominence in the Iranian-American community, sees the house up for auction as an investment to accomplish his goals. He is a strong-willed, unbending man, and nothing will distract him from his determination to secure his family's future, certainly not the pitiful, unstable young woman who claims the house is hers and the hot-headed deputy who dares to confront him.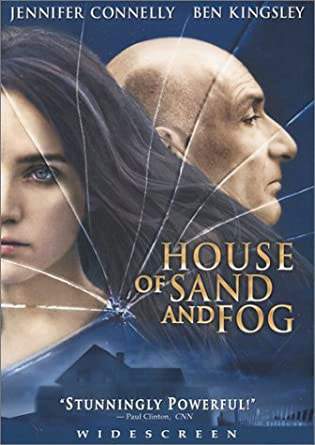 As the film proceeds, you begin to have a sense that this is inexorably leading to no good end, that these stubborn, inflexible, unbalanced people are on a collision course that they cannot avoid. You have empathy for both parties – the fragile Kathy for whom life has veered off in desperate directions she could not have predicted, and the proud, hard-working Behrani who is only trying to do what is best for his family. You hope against hope that somehow saner heads will prevail, but events and behavior push the protagonists further and further into the abyss.
The performances are uniformly excellent. Connelly makes Kathy both incredibly frustrating and appealing at the same time, and Kingsley is a force as the unyielding Behrani. Shohreh Aghdashloo is heartbreaking as Behrani's wife Nadi, a simple, good woman caught in the middle of this tug of war. The deputy is a thankless role, but Eldard plays him with just the right combination of fierceness and immaturity. No, it is not a feel-good movie, far from it, but for those who love great drama House of Sand and Fog delivers the goods.
Available to stream on Amazon Prime and Paramount+.
Shattered Glass (2003)
They finally found a good role for Hayden Christensen. I've seen only a handful of the movies he was in, but was never impressed with his ability to inhabit a character. Jar Jar Binks got most of the criticism for the Star Wars prequels, but certainly Christensen was a close second. In Shattered Glass he is cast in the true life role of Stephen Glass, a young reporter for the news magazine The New Republic who was discovered to have partially or wholly fabricated the majority of the stories he wrote for the magazine. Glass is portrayed in the film as sweet and humble, and is well-liked by the other magazine employees, who rally to his side when questions begin to mount about the sources and events depicted in his articles. Peter Sarsgaard plays Chuck Lane, the recently installed new editor of the magazine, who is not well-liked by the employees and whose pursuit of the truth behind these suspicions raises even more hostility with the reporting staff.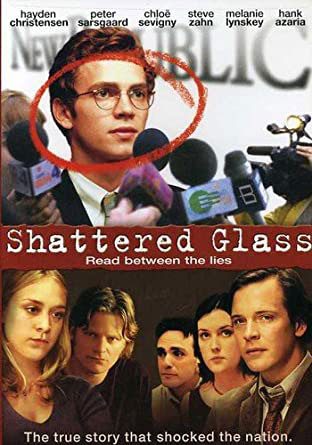 Christensen is well-cast as Glass, who comes off as likable but shallow and duplicitous, and way in over his head. Sarsgaard is excellent as the harried editor, who is at first annoyed by the contradictions, and then becomes increasing horrified as the implications for the magazine become evident, all while battling a staff which has clearly taken sides against him. While certainly critical of The New Republic for its lapses in verifying its young reporter's work, it is also encouraging to see the extent to which the editor pursues the truth simply because his journalistic integrity compels him. This film is engrossing from beginning to end.
Available to stream on IMDb TV and to rent on Amazon Prime.
The Wife (2017)
Glenn Close was the overwhelming favorite to win Best Actress at the 2020 Oscar ceremonies, but I have to wonder how many people actually saw her performance. The Wife made less than $10 million at the U.S. box office, so considering today's movie ticket prices that works out to about 48 people. When Frances McDormand opened the envelope and announced Olivia Colman as the winner of the Oscar for Best Actress of 2019, I think I was in a state of shock for about a half minute. I could not believe that Hollywood had taken a pass on finally honoring Glenn Close with its highest accolade. Who was the sympathy nominee? Glenn Close. Who was the actual lead actress in her film? Glenn Close (more on that later). Who gave the better performance? Glenn Close. And yet it was Olivia Colman who took home the hardware and Glenn Close was left jilted at the altar one more time, in the greatest Oscar upset since Shakespeare in Love somehow won Best Picture over Saving Private Ryan. Actually, upset is too mild a term; it was highway robbery. Back to that lead actress thing. I would like to emphasize that Glenn Close was the lead actress in The Wife – she dominates pretty much every scene in the film. Olivia Colman's role as Queen Anne in The Favourite is reflected in the title – it is a secondary part to the roles played by Rachel Weisz and Emma Stone, and should have been nominated in the supporting category. Again, I have to wonder how many people in Hollywood actually saw the film(s)?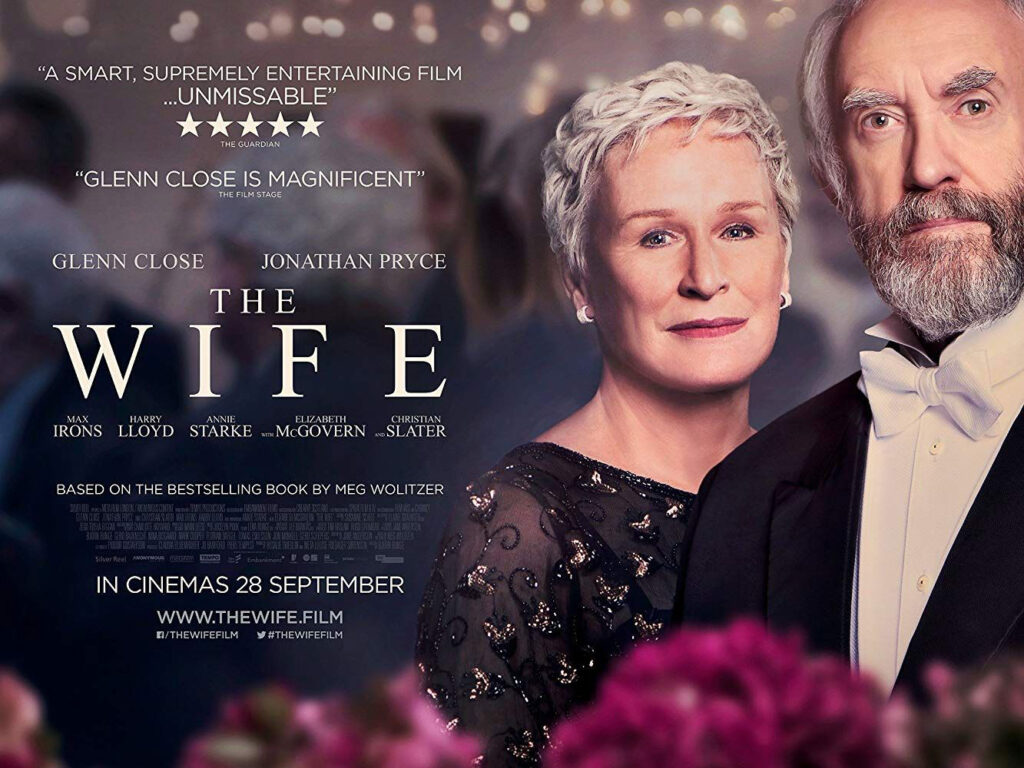 Well, they missed a wonderful film in The Wife with excellent performances by both Close and Jonathan Pryce, who plays her husband. The film is about a famous author (Pryce) who as the film opens learns that he has won a Nobel Prize for Literature for his life's works. The rest of the film concerns their preparations for the trip to accept the award, and the award ceremonies in Oslo. Sounds pretty tame, doesn't it? On the contrary – what follows is a journey through a marriage rife with complications and recriminations, and a delicious twist that puts everything into new light. A movie like this depends on the gifts of the actors to draw out these characters, and to make them believable; both Pryce and Close are more than up to the task. There is a scene in the film which alone should have won Close the Oscar where Pryce is accepting his Nobel and dedicates it to his wife against her very strong wishes not to be mentioned in his speech. The expression on her face is incredible – a mask of disgust and hate and loathing – that is the setup for the domestic explosion that follows, a drag-out fight between the two that is a master class in acting. Watch The Wife (and The Favourite) and then tell me that Colman deserved that Oscar over Close.
Available to rent on Amazon Prime.
I've tried to provide at least one outlet to view these films, with one exception – I could not find any place where Once Around is currently being aired or streamed or available for rent. I heartily recommend all of these films for an evening's entertainment. Give one or more a try!