More than 48 hours after going through the experience of a lifetime, Kenosha's Danny LaMantia still got choked up talking about it.
That's the kind of impact that participating in the 57th Stars and Stripes Honor Flight had on the local Air Force veteran.
"It's hard to put into words … It was just great," LaMantia said about the hero's welcome that the 102 veterans received at Milwaukee's Mitchell International Airport Saturday night, Aug. 28.
It was the first Honor Flight for the organization since 2019 due to the COVID-19 pandemic. While the popular airport homecoming was scaled down compared to years past, the appreciation showered on those who served their country was as tear-jerking as ever.
"Very emotional," said the soon-to-be 85-year-old LaMantia, who was greeted at the airport by family members and friends after spending the day touring war memorials in Washington, D.C. "There's a band playing. I'm being saluted by 50, 60 guys lined up in their uniforms. People are cheering, yelling our names.
"I'm thinking, 'I don't deserve this. I was just a GI doing what I was supposed to do. And I get all of this fanfare?' It was overwhelming."
LaMantia may have downplayed his service, but he earned every bit of what he received Saturday. As a result, he has been selected as the Kenosha.com Kenoshan of the Week.
Joining the Air Force in 1954 after the Korean War, LaMantia spent a year in mechanic school before working on B-36 bombers for a year and a half. After that, he worked on B-52 bombers for another year and a half, serving as a crew chief.
Once he completed his service, LaMantia returned home and worked in the maintenance department for American Motors until 1989. An avid cyclist, he has remained active and defies his age.
LaMantia is a frequent visitor to the American Heroes Café, which is held on Wednesdays and Fridays at Festival Foods, 3207 80th St. It was co-founded by Mary Domes and Sharon Janusz in 2011 as a way for local veterans to gather and enjoy coffee, doughnuts and camaraderie.
After the recent passing of Domes and the retirement of Janusz, Anne Wasilevich, no stranger to the café through her work at Piasecki Funeral Home, took over the Friday leadership position.
Wasilevich, who first met LaMantia after the death of his wife Rosie in December of 2018, got to know the veteran at the café. She encouraged him to submit his application for the Honor Flight and offered to be his guardian (during the Honor Flight, each veteran is accompanied by a trained guardian).
"Anne is one of the nicest people I've ever known in my life – just a wonderful, wonderful person," LaMantia said. "I can't say enough about her. She's a special person. Everybody loves her. She's been wanting me to go on the Honor Flight for a long time. She kept thanking me for letting her be my guardian. I said, 'You have to be kidding me!'"
Wasilevich added: "I have always respected the veterans and the military – my dad was a veteran. Nancy Piasecki has a special place in her heart for veterans. The funeral home would always back veteran organizations and events. I kept telling Danny that I was just honored to accompany him on this mission. Even if I would have gone with my family, I never would have the experience of being with the veterans."
To honor Domes, the Heroes Café presented the Stars and Stripes Honor Flight with a donation of $2,410. They were also presented with a check for $500 from VFW Post 7308 in Pleasant Prairie.
On Saturday, Aug. 28, Wasilevich picked up LaMantia at 5 a.m. and the two drove to the airport in Milwaukee. Greeted by enthusiastic volunteers, the Kenosha duo, wearing matching Asics shoes and red, white and blue masks covered in stars, boarded one of two planes.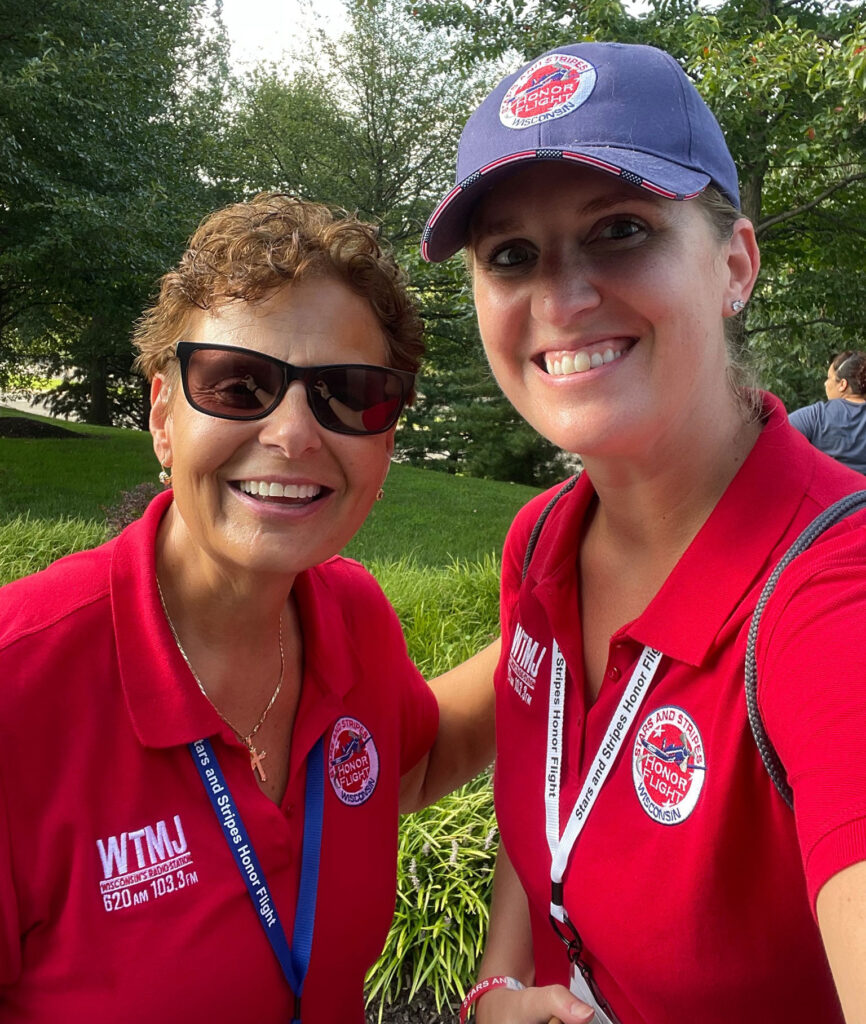 After landing in Baltimore, they traveled by bus, visiting the World War II, Korean War and Vietnam War memorials on the National Mall. They visited the Air Force and Marine Corps memorials in Arlington, Va. They saw the changing of the guard and wreath at Arlington National Cemetery. They happened to be seated next to the mother of the bugler playing "Taps." They enjoyed lunch and dinner during the well-organized trip.
While at the Air Force memorial, Wasilevich met Kenosha's Amanda Djurickovic, a longtime Honor Flight volunteer who was serving as the guardian for Air Force/Vietnam veteran Bill Watt of Waukesha.
Djurickovic, a senior financial analyst for Jockey International, has volunteered for the organization since 2012. She took a trip to D.C. with her grandfather Bob Johnson, a World War II veteran, in April of 2013.
The daughter of former longtime Carthage basketball coach Bosko Djurickovic and sister of current coach Steve Djurickovic, Amanda is known as the program's No. 1 fan. She is planning her fourth D.C. trip with the Honor Flight on Nov. 6, which will cause her to miss Carthage's season-opening game.
"That tells you how much I like the organization," she said. "It's pretty awesome. There are all different kinds of ways to volunteer and I've done most of them."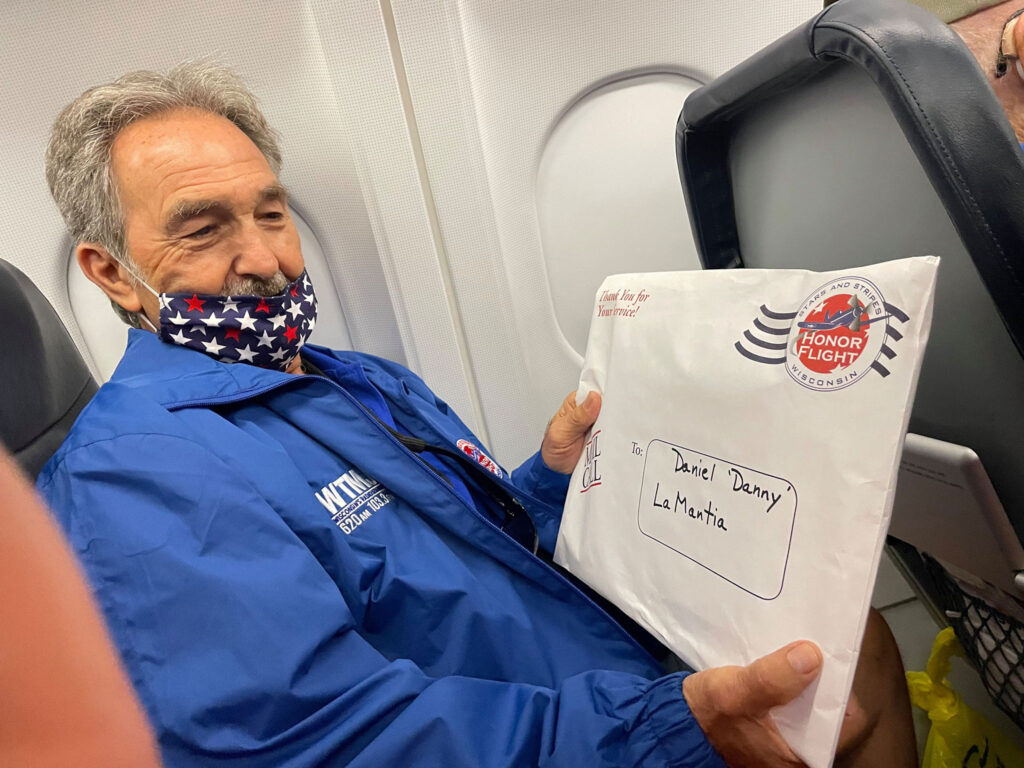 On the plane on the return trip home, there was "mail call." Each veteran received a big envelope filled with cards and letters from family, friends and well-wishers offering their thanks.
The return to the airport in Milwaukee and the scene that awaited the veterans was one that LaMantia won't soon forget. He returned home around midnight, capping a memorable day.
"I got up at 6 the next morning and felt refreshed and had so much energy – I cleaned the house and vacuumed and dusted," he said with a laugh.
"The Honor Flight and everybody involved made me feel like I've never felt in my life. The work involved in this – it isn't just jumping on a plane and getting on a bus – there's more to it than that. It was amazing."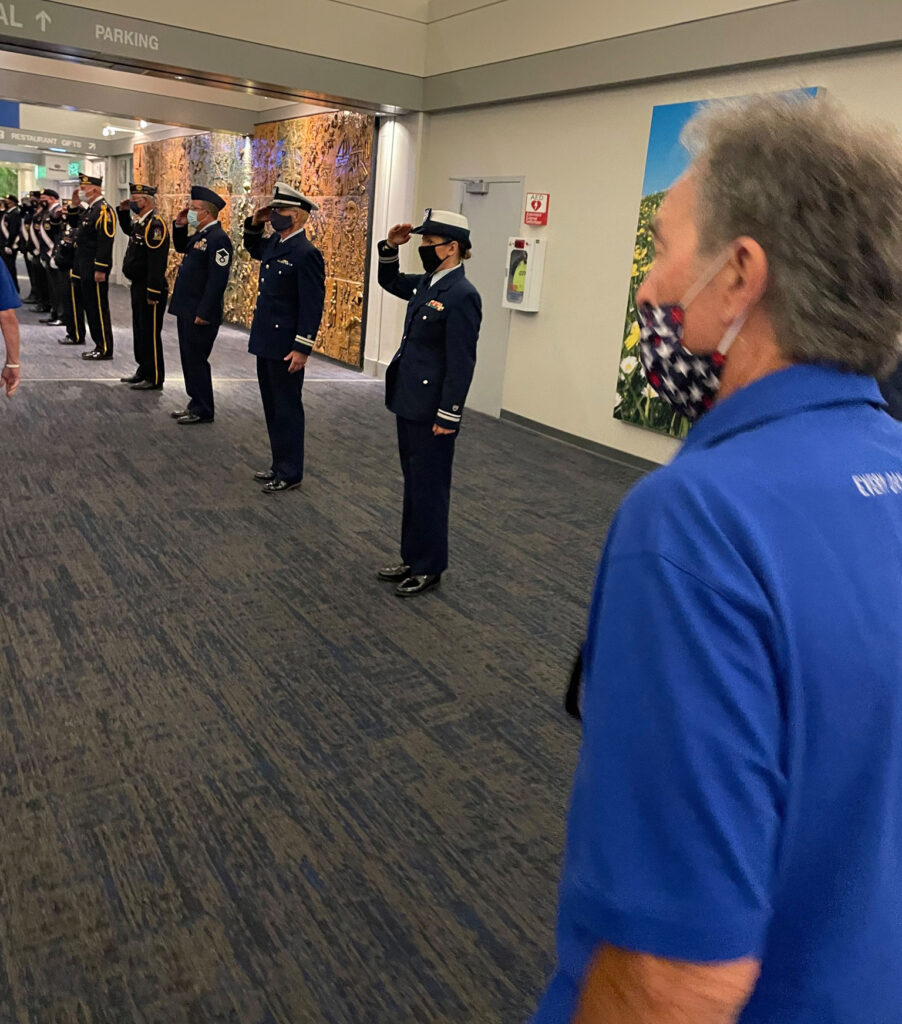 NOTE: To nominate a Kenoshan of the Week click here or email Andrew@Kenosha.com.