Around the time that Kenosha.com ran my July 30 ranking of the top vendors at the two downtown farmers' markets, I discovered another really special local grower that deserves some notice.
Had they been included, Vinny's Home Grown Fresh Produce would have been top-five material on my list. Owned and operated by Vinny and Bridget Raimondi from Burlington, Vinny's sells out of the parking lot at Our Lady of Mount Carmel Catholic Church, 5400 19th Ave., on Wednesdays and Saturdays throughout the summer, as well the southeast corner of Sheridan Road and 66th Street, just north of Baker Park, on Fridays. Hours are around 9 a.m. to no later than noon.
Vinny's has a full array of local produce, but for me, their two "must-have" items are the muskmelon and the heirloom tomatoes.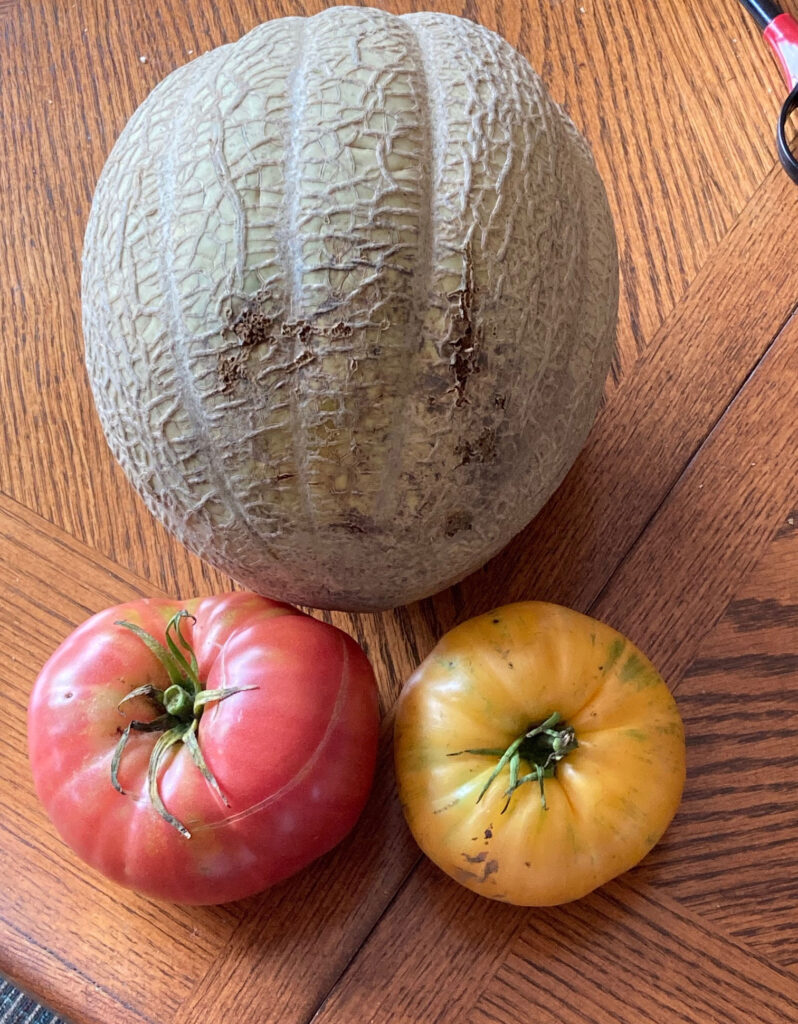 Every once in a while, I buy a melon from the grocery store.  I hold my breath until I get home, and then unprintable words come out of my mouth when I cut into it and discover it's hard, unripe and tasteless. It's so disappointing, and it happens to me almost every time. It's like Lucy yanking the football before Charlie Brown can kick it.
Vinny's sells muskmelons and only ones that are ripe. They're delicious and like eating candy inside of a rind. Bridget freezes some in the fall and makes muskmelon margaritas with the fruit over the winter. Cantaloupe, which more people are probably familiar with, are a variety of muskmelon, but Vinny's muskmelons have a distinctive ribbed skin.
Like a lot of Vinny's produce, the muskmelons can look flawed, sometimes even dirty.  Hey, the dirt washes off, and you know it was on the ground not long ago. I don't care what they look like — they taste fantastic. They are so good, that when Vinny's melon season ends, I'm done with melons until summer 2022 when Vinny comes back to town.
Speaking of ugly-looking produce, if you want a perfect-looking tomato, go elsewhere. If you want one of the most-flavorful tomatoes you've ever had, you want what Vinny and Bridget are selling. By the way, I know better than to buy grocery-store tomatoes, which are guaranteed disappointment. 
Vinny's heirloom tomatoes, some red, some pink and (my favorite) yellow, will take you back to an era when vegetables tasted like something that you grew in your backyard. Be warned, though. Some of their heirlooms look like mutated science projects or co-joined family members. Again, I don't care. I just know that we've been eating some variation of Caprese salad almost every night since early-July.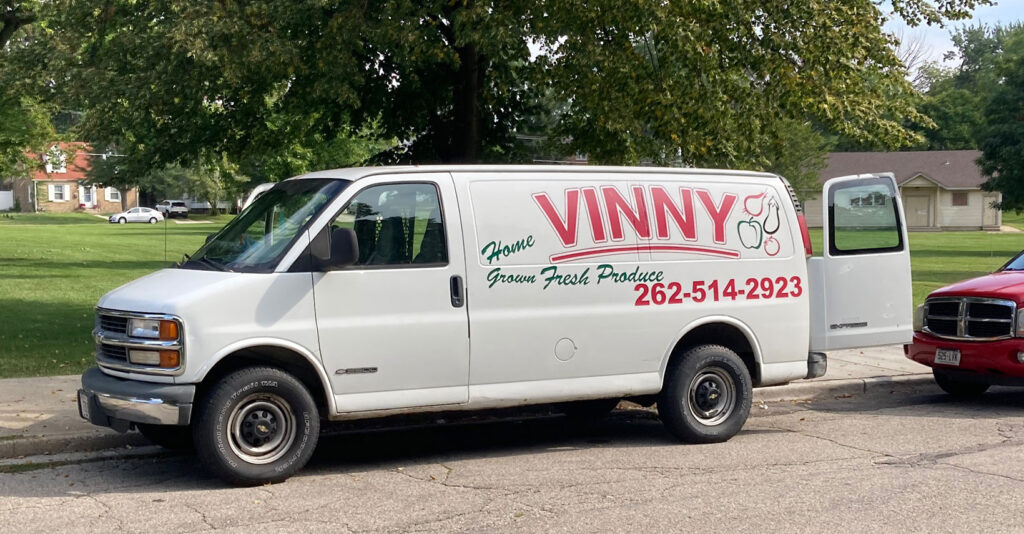 My current favorite variation is a sliced heirloom, some sliced ripe avocado, a dash of good olive oil, some sea salt, some cracked black pepper and a garnish of feta cheese and either fresh basil or fresh oregano. I know, I know. It's not really a Caprese salad, but its' damned good.
Other produce items at Vinny's on a recent weekday included watermelon, eggplant, cauliflower, green beans, snap peas, onions (yellow, white and red), fresh dill, chard, cucumber, and a full array of peppers (bell, some Hungarian or Cubanelles that are just lightly hot or hotter jalapenos).
I still love our Saturday downtown markets, but don't forget Kenosha's weekday neighborhood markets. They are some real treasures out there, like Vinny's.