With Starbucks and other major coffee suppliers releasing their fall pumpkin flavors already, I felt the urge to make a pumpkin scone! 
They were pretty amazing also. I brought them to my mom and dad's house for our family lunch … but three were gone before we even got to their home. I brought them into my church, and three friends asked about them.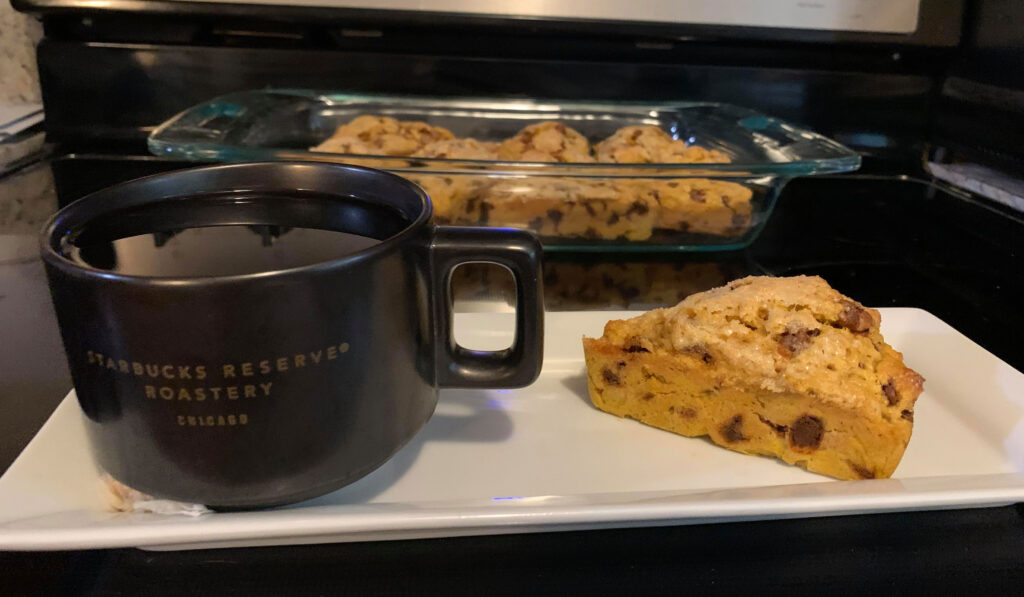 Ingredients:
2 3/4 cups (326g) all-purpose flour
1/3 cup (74g) granulated sugar
1 Tbsp of baking powder
3/4 tsp of salt
1 1/2 tsp of pumpkin pie spice
8 Tbsp (113g) butter, cold
1 1/2 cups (200g) of cinnamon chips
2/3 cup (152g) pumpkin purée 
2 large eggs
Coarse sugar for topping
Instructions:
In a large mixing bowl, whisk together the flour, sugar, baking powder, salt and spices.
Work in the butter just until the mixture is unevenly crumbly, it's OK (and preferred) for some larger chucks of butter to remain unincorporated. 
Hint: You can use a pastry blender, but I used my hands to incorporate the butter. 
Stir in chips. 
In another bowl, whisk together pumpkin and eggs until smooth.
Add the mixture to the dry ingredients and butter until just moistened and holds together. 
Lightly grease and flour a scone pan, OR place parchment paper on a flat baking pan. If using the scone pan, fill each section 3/4 full. If using a fat pan, split the dough into two equal sections. Form them into two 6-inch circles (they should be 3/4-inch thick). 
Brush the tops of the scone lightly with milk and sprinkle coarse sugar on top. 
If using a flat pan, run a knife under cold water and then cut each circle into six separate wedges. Move them apart (1/2-inch away from each other).
Place scone in the freezer for 30 minutes while the oven preheats to 425 degrees. 
Bake scones for 22-25 minutes, or until a toothpick comes out clean. 
Remove scones from oven and enjoy best warm! You can keep them in sealed containers and zap in the microwave. 
Enjoy!