Kenosha Softball Hall of Fame member Larry Tostrud understands a celebrity softball game is about entertaining the fans, exchanging friendly banter and creating memories.
But once he steps foot on the field, the 62-year-old Tostrud knows only one way to play the game.
"I still have that competitive drive where I have to go hard all the time," said Tostrud, one of the greatest softball players in Kenosha history. "I've been doing this for a long time. It's still a lot of fun."
Tostrud went 4-for-4 with four home runs as the Local Stars defeated the Legends, 29-18, on Saturday night at Simmons Field. 
The game wrapped up a memorable Legends Weekend, which was hosted by the Kenosha Kingfish. The event featured a number of state legends including former Milwaukee Brewers Paul Molitor, Rollie Fingers, Geoff Jenkins, Bill Hall and Jeff Cirillo.
Just one night before Tostrud put the Local Stars on his back, it was another hometown hero who stole the show.
Kenosha native Mike Umscheid blasted 16 home runs in edging Jenkins in the finals of a one-of-a-kind Home Run Derby Friday at the Kenosha Harbor.
"This is one of the coolest things I've ever done," said Umscheid, a 2002 Tremper High School graduate and former USA Softball player. "I'm so fortunate to be here and do this in front of my family, friends and this city. It doesn't get any better than this."
Umscheid, Jenkins, Hall and former Kenosha Kingfish Mitchell Buban, a Tremper graduate who plays for UW-Milwaukee, advanced to the semifinals. Umscheid prevailed 16-13 over Jenkins in the finals.
The 47-year-old Jenkins said he hadn't swung a bat since delivering a clutch, pinch-hit RBI double for the Philadelphia Phillies in Game 5 of the 2008 World Series. 
The Phillies defeated Tampa Bay, 4-3, in Game 5 as Jenkins capped his 11-year career with his first World Series ring.
Jenkins, sporting his memorable, compact left-handed swing, crushed softballs deep into the Kenosha Harbor over a sea of boats and kayakers.
"This was a great event and a lot of fun," Jenkins said. "It seemed like everyone loosened up a bit after a few swings. (Umscheid) has that prototypical, softball, home run swing."
Kenosha native Tristan Jass participated in the Home Run Derby and Celebrity Softball Game. The YouTube sensation just missed advancing to the semifinals on Friday, coming up short to Hall in a one-pitch tiebreaker.
Jass belted eight home runs, including one that drilled a boat and another that nearly took out a kayaker. It was an impressive display for someone known for his skills on the hardwood.
"I wasn't expecting to hit that many home runs," said Jass, who also homered in the Celebrity Softball Game. "I played some travel baseball growing up, but I can't tell you the last time I swung a baseball bat."
Jass was one of the weekend's biggest stars — frequently seen taking photos with some of his nearly three million YouTube followers — and was one of the most gracious participants.
"It was great to have the whole city here having a good time," Jass said. "These are all great people. I was raised here. I still live here. I don't want to forget where I came from. I try to come to events and give back whenever I can. That's what it's all about."
Other local stars competing included Andrew Gavin (University of Wisconsin-Parkside), Ty Jandrowski (Kenosha Kingfish), Brandon Morris (St. Joseph Catholic Academy/Tremper) and Luke Reigel (University of Wisconsin-Parkside).
Morris autographed a softball and tossed it up into the crowd before his first at-bat.
"Just a little showmanship there," Morris said. "This is exactly what Kenosha needed. An event to bring the community together and enjoy a wonderful time. It was a lot of fun."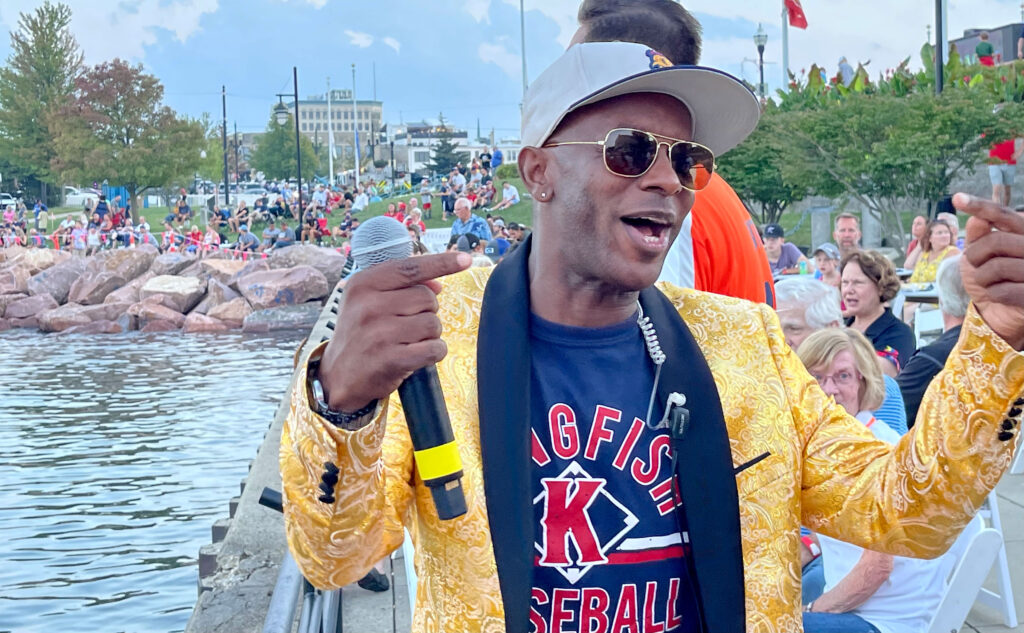 Donnie Slye, who organized the event and served as the all-time pitcher, said Legends Weekend will return to Kenosha in July 2022.
"I think everything went pretty well considering we were up against Friday Night Lights (high school football)," Slye said. "Next year will be even better."