The Restaurant:
Uptown Restaurant, 4003 75th St., is like two restaurants in one. Whether you're looking for classic American diner fare or authentic Mexican cuisine, you're sure to find what you're craving at this multifaceted eatery.
The Featured Dish:
Huevos Rancheros Con Carne — Fried eggs served on a tortilla with steak and spicy ranchero sauce and sides of rice and beans.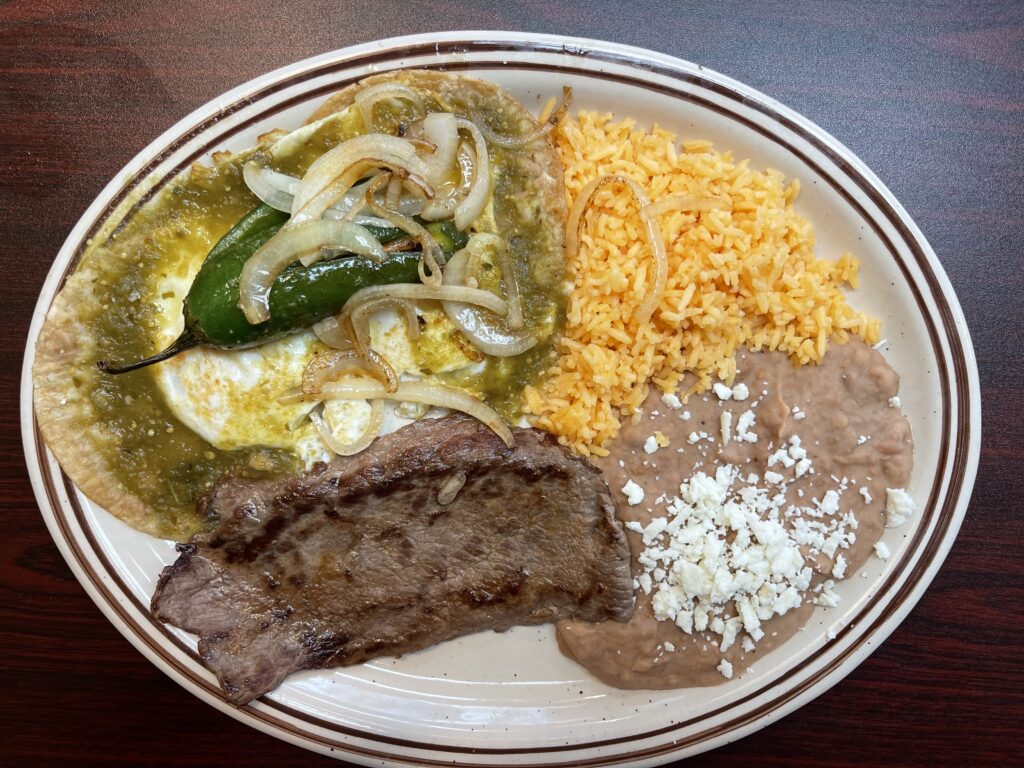 The Flavor and The Story:
Uptown Restaurant has been serving high quality comfort food with friendly service to neighborhood residents for over a decade with a small break in 2020 that resulted in relocation from 22nd Ave. to 75th St.

The family owned and operated restaurant was a total loss after damage sustained during the civil unrest in the summer of 2020 and it didn't take long for their customers and supporters to feel the hunger pains of their absence and start clamoring for a re-opening.

In July, the familiar faces and flavors finally returned at their new location. Despite having to update the google listing and remember to drive slightly southwest, once you arrive inside everything feels authentic and still tastes like family cooking.

If you've never been, the menu is comprehensive.
The first thing you'll notice is a full classic American diner menu that includes everything from pancakes and skillets to BLT's and patty melts all of which are delicious and cooked to order the old fashioned way.

The back of the menu, however, is my personal favorite section. It's filled with incredible quality authentic Mexican cuisine that's packed with flavorful dishes served all day long. A great example that can be enjoyed whether it's at 7 a.m. or for an early dinner is their Huevos Rancheros Con Carne.

Huevos Rancheros (or ranch-style eggs) is a classic Mexican breakfast in the style of mid-morning fare on rural Mexican farms consisting of fried eggs atop tortillas with flavorful salsa.
At Uptown Restaurant, the ingredients in the dish are true to form but the care in preparation and ingredients makes for an exceptionally delicious experience.

You get to choose your egg preparation and tortilla type, but for a truly authentic experience, I recommend fried eggs (rather than scrambled) and corn tortillas.

The eggs are cooked perfectly in what I have to assume is butter rather than a pan spray to get so much flavor into each bite. This flavor combines wonderfully with the egg yolks into the bottom layer of tortillas for a delicious and rich accent.
Atop the eggs are grilled onions and a whole fire-roasted jalapeno. Even if you're not a huge fan of heat, don't push this pepper aside as a garnish. The culinary masterminds at Uptown Restaurant partially quarter the jalapeno and remove the seeds before roasting which results in a reduced heat and significantly increased flavor. The smoky, fresh, and slightly sweet flavors here elevate this dish from good to great quickly.

This is all surrounded in a mild house-made salsa verde that explodes with freshness and flavor, complementing the richness of eggs and butter for a balanced bite all around.
When the "con carne" option is chosen, your eggs will be flanked by a large, lean piece of asada-style steak that is seasoned simply and turns this morning meal into something quite substantial to get you through anything coming your way during the day.

If you don't think that's enough, generous sides of Mexican-style rice and refried beans accompany this already sizable breakfast.
Huevos Rancheros Con Carne is available daily for $12.99.
Uptown Restaurant is currently open Tuesday through Sunday from 7 am until 6 pm. The full menu including this dish can be found at UptownRestaurantKenosha.com.