The Shalom Center will provide free backpacks filled with essential school supplies to hundreds of area students Thursday afternoon (Aug. 26). 
The local nonprofit, 4314 39th Ave., will hand them out during their first-ever Back2School party from 3 to 6 p.m. 
There are backpacks available for students from kindergarten to high school. Students must be present to receive one.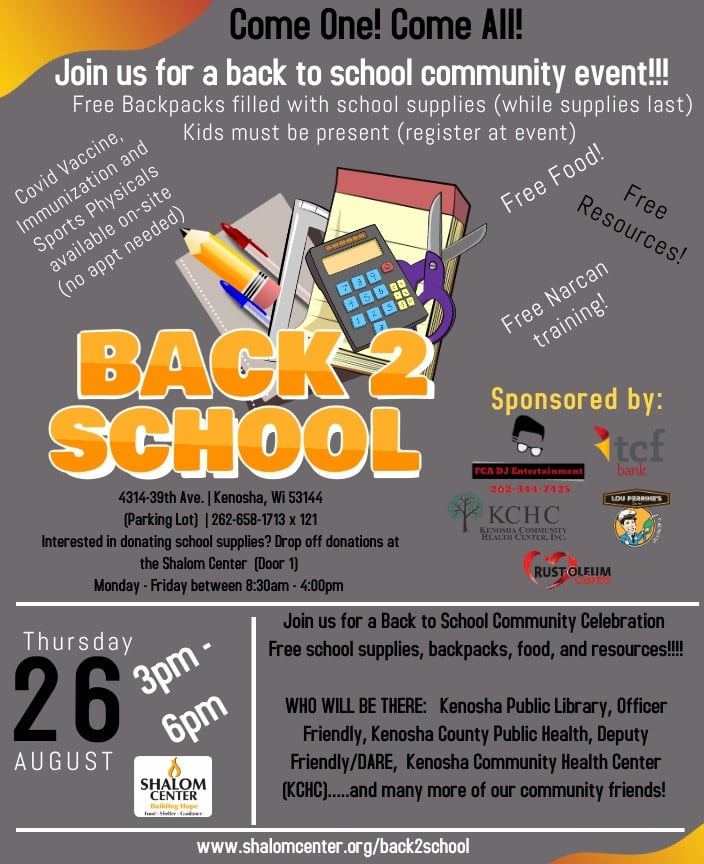 Tamarra Coleman, executive director of the Shalom Center of Interfaith Network of Kenosha County, said more than 450 backpacks will be handed out during the party. She's grateful for the opportunity to help make the transition to in-person learning a little easier for struggling families.
"We are really excited!" she said. "Whatever we can do to contribute to help ensure our students are ready and set-up for success on their first day of school."
The party will also offer free immunizations, COVID-19 vaccinations to eligible attendees, sports physicals, NARCAN training and haircuts. Free food and beverages will be provided.
"We want families to know the resources available to them," Coleman said. "We will have about 14 or 15 community resource tables here. … We are a community rich in resources and we want parents to know where they can go for support over the year."
The event is sponsored by TCF Bank, Lou Perrine's, Rust-Oleum, FCA DJ Entertainment, the Kenosha Community Health Center and Kiddie Kare A'Kademie. Hundreds of area residents also chipped in with supplies. 
Festival Foods donated hundreds of "lunch box starter kits" filled with granola bars and graham crackers, among other items, Coleman said. 
"People are always giving to the Shalom Center and we are really grateful for that," Coleman said. "We want to make sure our kids in the community are ready for school. … We're happy to do this."