On the one-year anniversary of a historical event, Kenosha's own The Olson Brothers have released a powerful song about their hometown.
"Kenosha (It's Goin' Down)" was written during the civil unrest following the Aug. 23, 2020 officer-involved shooting of Jacob Blake and released on Monday (Aug. 23).
As local residents, business owners and volunteers worked together picking up debris, boarding windows and pleading for peace, out-of-town rioters countered with arson, vandalism and graffiti.
"All of the things you see on the news were actually happening in our town," said Luke Olson, who formed the indie band with his brother Anthony Olson in 2020. "This isn't a lullaby song. People were dying. People were genuinely scared. It doesn't really hit you until you're right in the middle of it."
The song opens with these lyrics:
"Sunday night and the city's burnin'
Another young man has been shot down
Tear gas blowin' all through the city
Couldn't believe it's my hometown"
Luke Olson said he considered releasing the song last summer. However, the one-year anniversary seemed more appropriate to give people time to reflect on such a high-charged moment in Kenosha history.
"What discouraged us from releasing it during the heart of it was we didn't want it to be polarizing," said Luke Olson, a 2010 St. Joseph Catholic Academy graduate. "This song is more of a reach across the aisle. It's meant to unite and bring people together. We're not picking sides. We want all to be treated equally."
The track was co-produced by Rob Cavallo, an Oscar, Golden Globe and Grammy winning record producer and record industry executive.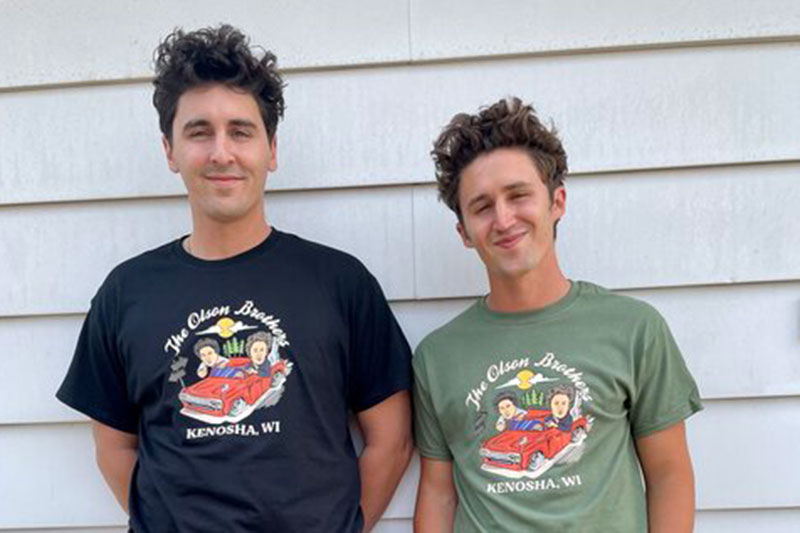 The Olson Brothers blend genres in rock, alternative, country and indie Americana. The duo is influenced by the classics from Neil Young, the Eagles and The Beach Boys and inspired by the songwriting of John Mayer.
The band's debut single "Molly," released on April 15, is about a girl the Olson brothers met at their family-owned bar, Swede's, in downtown Kenosha.
The Olson Brothers plans to release its first album this fall.
"It's being mixed right now," Luke Olson said. "That is going to be very exciting."