Our weekly Bookmark column occasionally features Kenosha readers sharing insights on their recommendations, their favorites, and their "to be read" stacks. Since today marks the end of the Olympic Games, it seemed fitting to feature a "champion" reader, Kenosha Unified ESL teacher Natalie Marciniak.
The Kenosha resident always has at least one book going, and is quick with a recommendation for a great read, author or bookstagram follow.
"I have been a reader as long as I can remember — the library was close enough to my house that I could ride my bike there. I'm pretty sure I lived there in the summer," Marciniak said. "One of my fondest reading memories as a kid was seeing how many "Book It" coupons I could collect."
She even shares synopses of her current reads on social media, providing reliable and entertaining bite-size reviews, such as this recent offering:
"I'm on a hot streak with summer reading. "The Soulmate Equation" is now my favorite Christina Laurence book I have read. I loved the science, the extended family, and Juno was such a delightful character. I also appreciate that this book was not too 'open door,' which is my preference. Loved this one!"
Marciniak took time from her summer reading to share some thoughts on her pastime/passion:
Currently reading: "Malibu Rising" by Taylor Jenkins Reid. The plot weaves the secrets and insecurities of a famous family of siblings who throw a party that changes the course of their lives.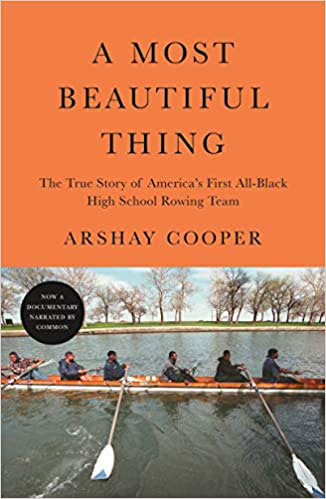 Recommendation for the community: "I recently read "A Most Beautiful Thing" by Arshay Cooper. It tells the story of the first all-Black high school rowing team, which was from the west side of Chicago. The story was so powerful and inspiring. I have been recommending it to everyone I run into," Marciniak said.
This moving true story is now a documentary film narrated by Common, and produced by Grant Hill and Dwyane Wade.
What's next in the queue?: On the top of Marciniak's endless "to be read" stack is "The Other Black Girl" by Zakiya Dalila Harris. The novel is described on Goodreads as "Stepford Wives" meets "Get Out."
Playing favorites: Marciniak said she reads across all genres and it's impossible to pick a favorite. She does have a few favorite places to dive into a good book, as well as a spot to pick up something new.
"When the weather is nice I love reading by the lake or in my backyard," Marciniak said. "I love that we have an independent bookstore in Kenosha. Everyone who loves reading definitely needs to check our Blue House Books."