The Restaurant:
Bristol Renaissance Faire, 12550 120th Ave., is hardly classifiable as an eatery, but within this fantasy realm awaits a variety of unique dishes fit for a king.
The Featured Dishes:
Pickle on a Stick — One of three varieties of giant pickles … on a stick
Mushrooms — Assorted mushrooms simmered in garlic and butter (served with a breadstick)
Vegetable Tempura — Fresh-cut vegetables dipped and fried in light tempura batter and served with ranch
Artichoke — Freshly steamed whole artichoke with butter for dipping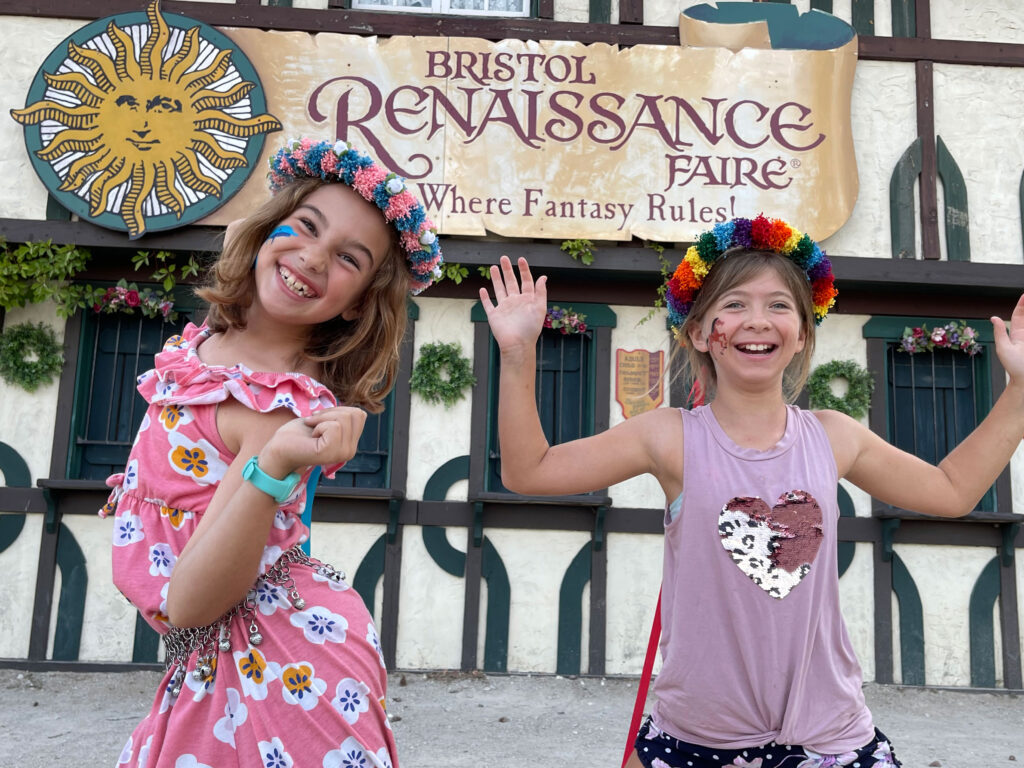 The Flavor and The Story:
When it comes to summer fun in Kenosha, Bristol Renaissance Faire is a top attraction.
Admittedly, it took me until late in life to realize what an absolute treasure the "Ren Faire" truly is. I always assumed it was an event targeted at a subculture that I simply didn't understand.

I thought costumes and accents were required and that in order to truly appreciate it, one had to come fully prepared to use every bit of imagination and commitment available to feel the magic.
I'm here to tell you how wrong I was.
This place is not only totally accepting of and appropriate for absolutely anyone, but the depth of detail, atmosphere, and entertainment make it nearly impossible not to feel as though you have entered an entirely different world.
While this adventure was food-focused, I'd have to put myself in the stocks if I didn't mention the world class comedy, drama and musical performances available at every turn.
From The Mud Show to Moonie, some of the area's greatest talent has been on display right in Kenosha's backyard every weekend for almost 40 years and it's all included in the price of admission.
Make sure to bring some cash to tip the entertainers, however. While this fantasy world feels completely off the charts of reality, these folks are making their living with these shows. And, although applause is the best compliment, it can't be traded to fill up a gas tank.
Close to every one of the over 15 entertainment stages stands at least one opportunity for unique flavor. It would be nearly impossible to try every culinary delight on one visit, so we took a poll and sampled the most suggested dishes.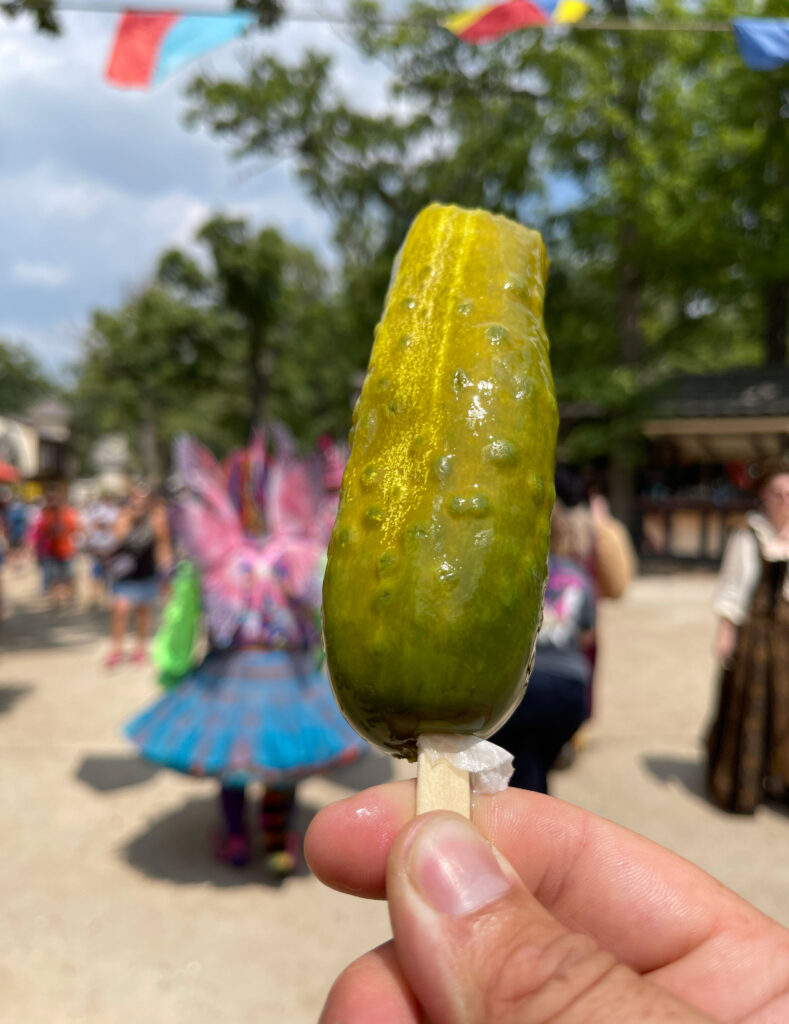 One suggestion I couldn't resist was the Pickle on a Stick. While the preparation is far from complex, a giant, cold pickle on a hot day is perhaps the perfect food. The pickle stands offer three varieties including classic dill, spicy and garlic. I'm not embarrassed to say we tried them all.
While they were all perfectly refreshing and the best way to get our palates ready for the day, I must say the garlic pickle stands out as king of the cucumbers. The garlic brine adds depth and complexity to the pickle, elevating it from refrigerator snack to a true culinary delight.
Our next stop was the No. 1 recommended dish simply referred to as "The Mushrooms."
This particular eatery serves only one dish and manages to draw a consistent line down their dusty street to indulge mushrooms ladled from a large cauldron into small bowls like a medieval lunch line.
I don't know what spell gets cast over this giant pot of fungus every morning, but these mushrooms are incredible.
Despite clearly being simmered in delicious butter and garlic for hours, the mushrooms retain a great texture without a single one becoming soggy or unpleasant.
Beyond the bite, the flavor is well rounded, perfectly seasoned and made me hate the fact that I can't have them every day of the year.
The incredible flavor will have you hit the bottom of your bowl before you've realized how fast you were eating, but have no fear, the experience isn't over. The provided breadstick makes it possible to soak up every last drop of heavenly broth.
Despite wanting another huge bowl of mushrooms, journalistic duty required that we move on to the next dish, vegetable tempura.
At this point, I'm sensing a theme. Simple foods prepared well in an engaging social experience. Basically, my favorite formula for culinary experience.
The Vegetable Tempura consists of broccoli, mushrooms, onions, carrots, zucchini and potatoes all lightly breaded and fried fresh for a crispy, crunchy and fresh flavor experience that would make any meat eater have to admit that vegan can be delicious.
The Vegetable Tempura has to be named the best bargain of the faire as well. The portion size was massive and I'm almost embarrassed that I finished it and continued on to one more dish.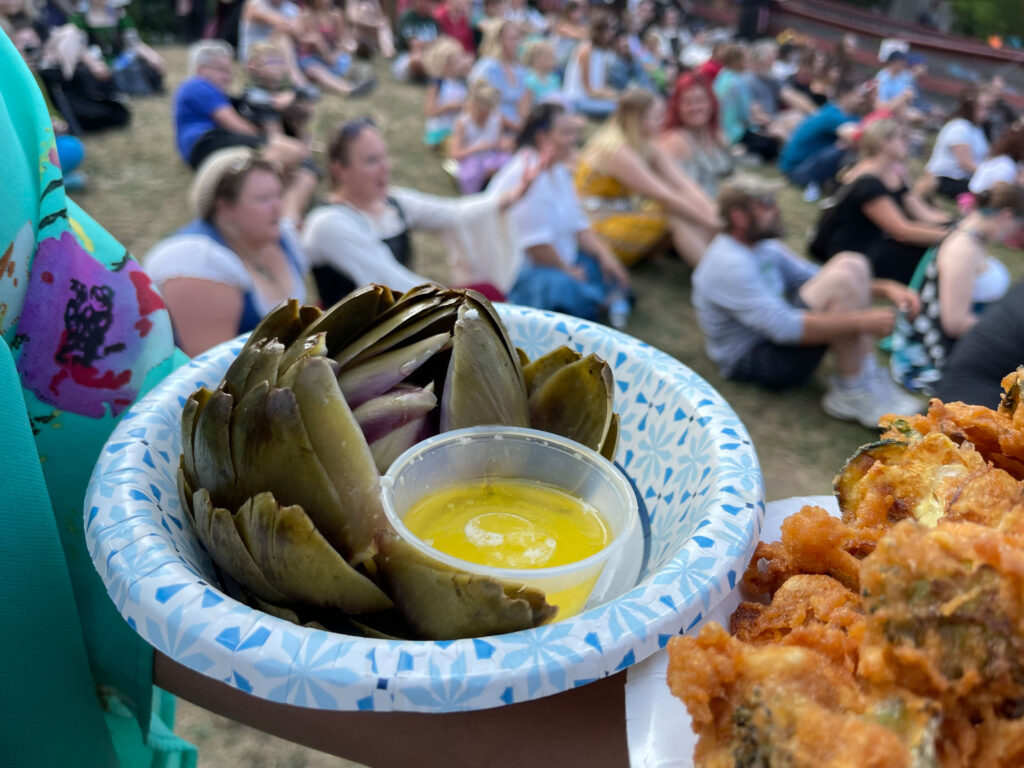 While it didn't make our top three recommendations, I'm a sucker for artichokes and one does not simply walk past a steamed artichoke stand.
The artichoke is served whole with a side of hot butter for dipping. Since it has been steamed fresh, this edible thistle blooms into a flower of flavor.
Since this dish comes with no instructions, I'm going to give you the pro tip to enjoyment. Each piece of artichoke can be pulled off individually, grab one of these beauties, dip it in butter, and then scrape the bottom portions with your teeth and discard the rest.

The flavor you'll experience is about as close as a dish this simple can get to culinary perfection. The complex vegetal flavor of the artichoke complemented by the rich butter simply cannot be beat.
After your first bite, you'll be hooked and find yourself feverishly scraping as much artichoke as you can before anyone else can beat you to it.
The artichoke is actually a bit like the faire itself. When you look at it from the outside, it seems odd and looks like nothing you've ever seen, however, when you just dive in and embrace the flavor it all becomes incredibly beautiful and you'll wish you didn't put off trying it for so long.
Huzzah!
Bristol Renaissance Faire is open weekends-only until September 6. The full menus of the entire fair, including these items, can be viewed online at RenFair.com/Bristol.