BRISTOL — If you've visited the Bristol Renaissance Faire this summer you may have been insulted by Jim Selovich at a Vegetable Justice show.
Selovich, who has served as a local radio personality, comedian and announcer at Dairyland Greyhound Park, joined the show this season.  
Selovich, a lifelong Kensohan, tosses barbs at those brave enough to throw tomatoes at him. He insults them from the wooden stocks and only his head and arms are visible.
"I love it!" Selovich said. "It's all in good fun. There's a big sign saying you will be insulted. I insult them and they enjoy it. They get to throw tomato slices at me. I'm having a time."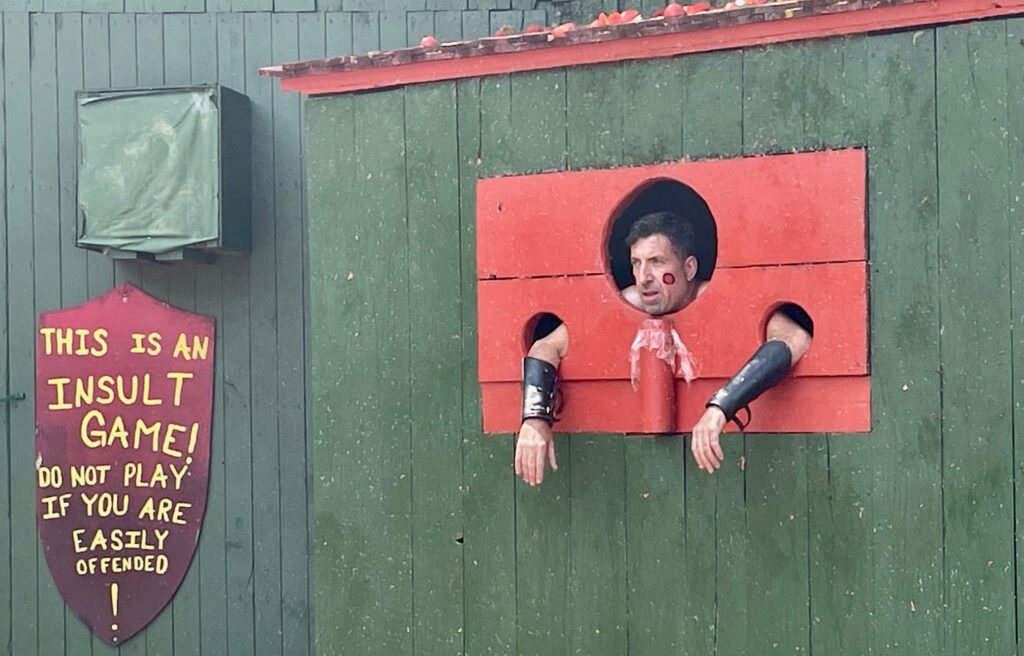 Selovich said "it was a little" difficult at first because he's not an insult comic.
"I'm learning to do it and I'm coming up with some good ones," he said. "I think on the fly a lot."
Selovich draws inspiration for his insults based on the appearance, age, personality and clothing of guests. He said no one gets truly angered by his taunts.
"They expect it," he said. "It's all in jest and after they leave we give them a round of applause. Sometimes they might get a little perturbed, but that also fuels them."
Selovich, 57, said he's hit on the head by a tomato about once an hour. Most throw tomatoes more than two dozen feet away from him at the booth where they purchase the produce. Children can throw them closer to the dunce.
"It's nicer when the little kids throw them," he said. "It doesn't hurt as much."
Selovich said fair organizers reached out to him via Facebook because they were looking for insult comics. Selovich said he attends the fair, 12550 120th Ave., every year anyway.
They asked him if he wanted the job and he said "Absolutely!"
"We're putting out a persona of being rude and insulting and it's funny because I'm actually a nice guy," he said. "I'm a bad guy in the stocks."
If a tomato thrower is really old, Selovich might quip: "When you visit a museum and leave, do the alarms go off?"
Logan Bloom serves beer and soda at a nearby stand. She loves the show.
"This is the best booth for me to work at because I hear comedy all day," she said. "I think (Selovich) is a natural. The first weekend he had to warm up a little bit but now his insults are just popping off. I love him."
Bloom enjoys both the reactions and the insults.
"Sometimes the insults go over peoples' heads but when they connect the shock is priceless," she said. "They start cracking up."
The fair runs Saturdays and Sundays and Labor Day through Sept. 6 from 10 a.m. to 7 p.m. It was cancelled last year because of the COVID-19 pandemic.