Part 1
Kenosha Sand Dunes, arrival of the railroad and Edith Rockefeller
If you ever hiked the Kenosha Sand Dunes, near the area of 85th Street and Lake Michigan, then you've landed at a spot where time intersects between 500 B.C., 1924 and the present, with a few stops in between. Our story begins with the Woodland-period Indians, particularly the Potawatomi tribe, who established small and seasonally occupied campsites in the dunes between 500 and 100 B.C.
The Kenosha Sand Dunes, one of the few-remaining sand-dune systems in southeastern Wisconsin, were formed at the end of the last glacial period, over 10,000 years ago. Evidence of several early Indian campsites has been found in both the dunes and in the Carol Beach area, particularly north of Barnes Creek. Discoveries include pottery and storage pits, and several sites have been surveyed by UW-Parkside and a local archaeological society.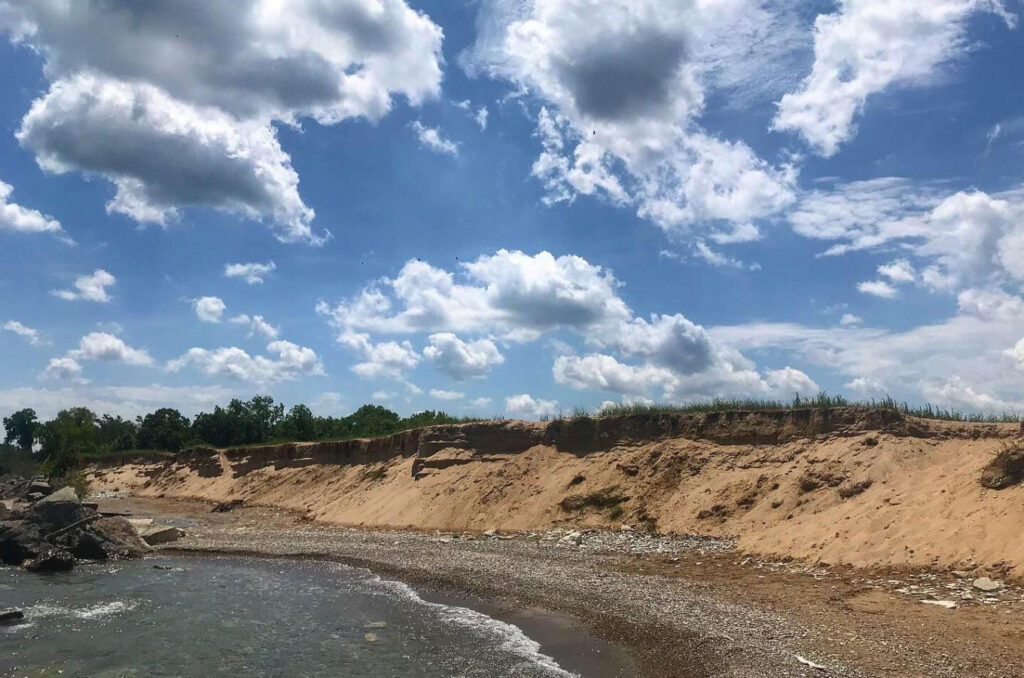 South and west of the dunes is one of the last lake plain prairies in Wisconsin. There was once two million acres of such prairie in Wisconsin. The largest remaining true prairie in Kenosha County is the Chiwaukee Prairie, formerly known as the Weyhe Prairie. The Chiwaukee Prairie is an ecological jewel, featuring changing wild flowers and grasses, as well as serving as a haven for grassland and other migratory birds.
According to Pam Holy, president of the Chiwaukee Prairie Preservation Fund, the unique prairie is a combination of ridges and swales created along the lake bottom as the lake receded.
"This is a remnant prairie — never plowed," points out Holy. "A remnant lake plain prairie is extremely rare worldwide."
Except for an area south of 122nd Street where a golf course was once established, the Chiwaukee Prairie is essentially unchanged since the retreat of the last glacier 10,000 to 12,000 years ago.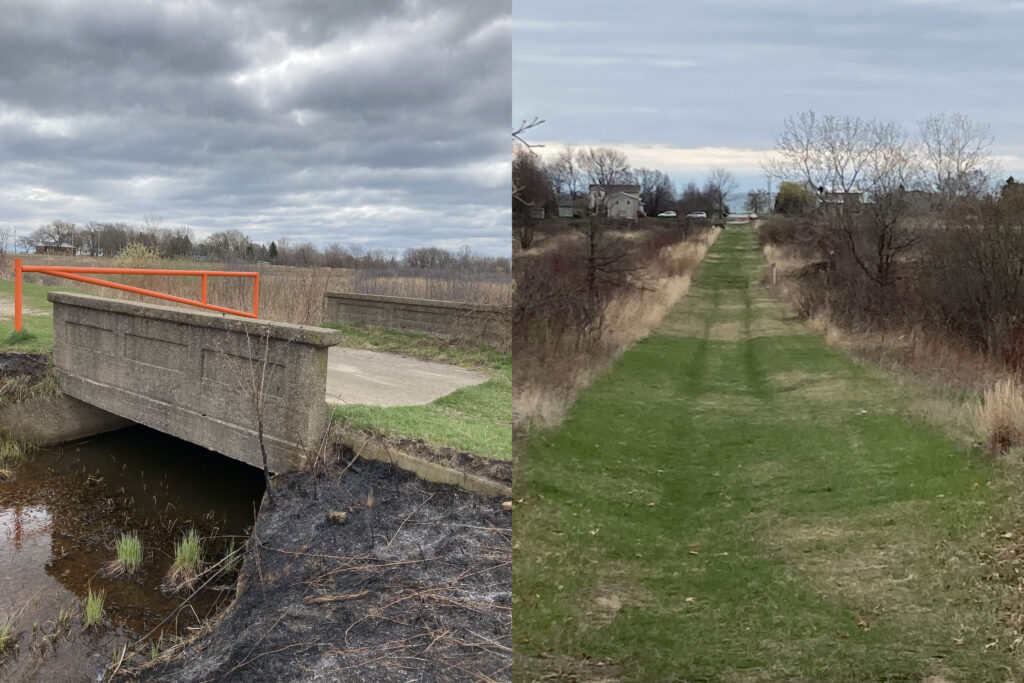 When Kenosha was settled in 1835, there were only two ways in and out. One was hiking or horseback riding over the old Indian trails between Chicago and Milwaukee. The other was via boat and the Kenosha harbor. Both methods were impossible during the winter, and city residents clamored for rail service.
The Illinois Parallel Railroad, later renamed as the Chicago & Milwaukee Railroad, fulfilled its Illinois charter on Dec. 19, 1854 by completing 44.6 miles of track to Waukegan, Ill. On May 19, 1855, the line connected in Kenosha to the southbound Green Bay, Milwaukee & Chicago Railroad (later renamed the Milwaukee & Chicago Railroad), and the Chiwaukee Prairie area, as well as the city of Kenosha, had a rail connection. The line from Milwaukee was also 44.6 miles long. The two rail lines merged in 1863 and were subsequently folded into the Chicago & North Western Railroad in 1883. In 1995, the Chicago & North Western merged with the Union Pacific Railroad, which now operates the tracks through Pleasant Prairie and Kenosha.
There were some reports of homesteading in the Chiwaukee Prairie in the 1840s, but even with the advent of the railroad, the area remained largely undisturbed through the early-1900s. By the late 1910s, there were a few farms, but the area between the city limits and the Illinois state line, particularly east of the railroad tracks, was "nothing more than sand dunes with a few scrub oaks on it," according to Kenosha native Milton Steinmetz in a 1980 Kenosha News article.
Enter Edith Rockefeller McCormick, a daughter of John D. Rockefeller Sr., philanthropist and the founder of Standard Oil. Edith was also the daughter-in-law of mechanical reaper inventor Cyrus Hall McCormick. She was born on Aug. 31, 1872 at her family's home on Euclid Avenue in Cleveland, Ohio, an area then-known as "Millionaire's Row."
The family moved from Cleveland to a West 54th Street brownstone in New York City when Edith was in her teens. There, while being home schooled, Edith first met Harold Fowler McCormick, a son of Cyrus McCormick. The two married on Nov. 26, 1895 in New York. For the first two years, they lived in Council Bluffs, Iowa, where Harold was the western agent for McCormick Reaper Works. Edith and Harold moved to Chicago in 1897, where Harold became an executive for the family business. McCormick Reaper became the International Harvester Company in 1902 with a series of mergers orchestrated by John D. Rockefeller Sr. and financed by J.P. Morgan.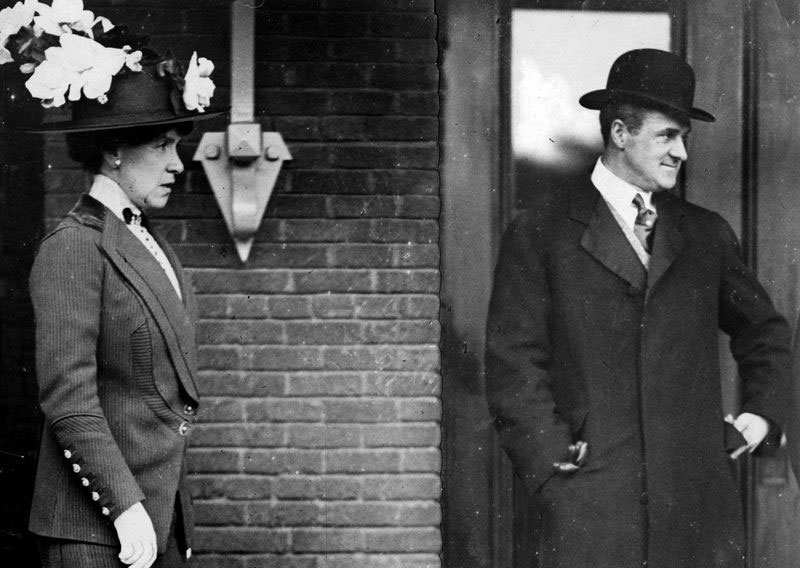 Edith and Harold moved into a mansion at 88 Bellevue Place in Chicago and soon changed its address to a more-impressive-sounding 1000 Lake Shore Drive and dubbed by Edith as the Bastion. The mansion, on the northwest corner of Lake Shore Drive and Oak Street, had been built in the 1880s for Nathaniel Jones of the Chicago Board of Trade.
The lavish home was furnished with plates of gold that Napoleon had given to his sister. Weekly dinner menus remained constant, with Mondays being filet mignon and mushrooms. Menu cards were printed in French and in gold lettering on a press in the basement. During Edith's later years at the Bastion, she acquired a Persian rug that had belonged to Russian czar Peter the Great.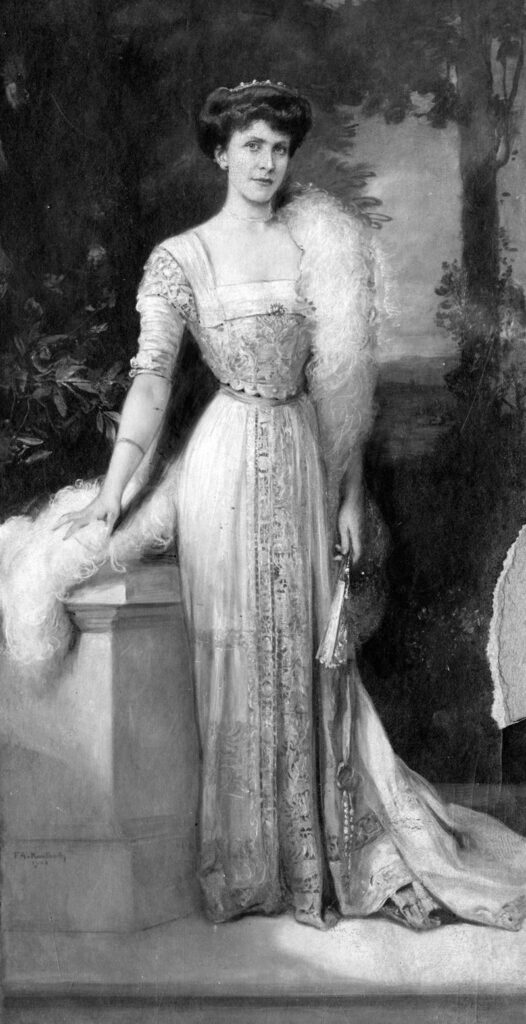 The couple's spending habits often clashed with the senior Rockefeller's frugality. After Edith was married, she wore a $2 million rope of pearls and a $1 million emerald necklace with jewels that had once belonged to Catherine the Great.
The McCormicks were generous patrons of the arts. They were charter members of the Chicago Art Institute and also helped found both the Chicago Grand Opera Company and Chicago's Orchestra Hall. In 1917, using land that had been gifted to her by her father in 1909, Edith donated an 83-acre tract in Riverside, Ill., to the Forest Preserve of Cook County to be developed as a zoological garden. That land eventually became the Brookfield Zoo. She also provided financial support to James Joyce while he was writing Ulysses.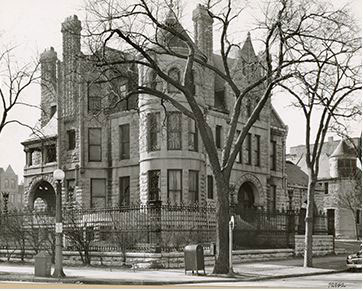 Edith was also somewhat eccentric. She studied reincarnation and once announced at a dinner party that in an earlier life, she'd been the child bride of Tutankhamen, an ancient Egyptian king whose tomb had been recently opened.
Because every A-lister needs a lake house, Edith and Harold began work on theirs. Cyrus McCormick Jr., one of Harold's brothers, gave the couple 300 acres of land in Lake Forest, Ill., just north of Fort Sheridan and next door to Cyrus' own estate known as Walden.
To design the new home, Edith had to wade through a couple of architects before finding one to her liking. The first was James Gamble Rogers, who later became campus architect for Northwestern University. The couple requested an estate with "pure Italian lines," but got something that Edith termed "too Gothic." Frank Lloyd Wright was next, but Edith dismissed a spectacular and sprawling design that was pure prairie architecture. Too modern for Edith.
Landscape architect Charles Adams Platt finally came through in 1908 with a plan for an Italian villa. Edith approved the design and named it Villa Turicum, which in Celtic means "settlement on the water."
Villa Turicum was one of the finest examples of Italian landscape design in America. The country house had 44 rooms, including 13 identical master bedrooms and 15 bathrooms, huge marble fireplaces, a marble-walled ballroom, a Pompeian room with a fountain and oil-painted walls and ceiling, along with a main dining room that could seat 60 people. The approach to house from Sheridan Road was a formally landscaped mall, 100 feet wide and 500 feet long. The grounds included magnificent formal and informal gardens, bowling greens, a stone pavilion, a polo field, stable and bridle paths, a swimming pool by the lake at the foot of a bluff with both a double staircase and an elevator to the main house, reflecting pools in the gardens, 21 garages and sleeping quarters for personal servants of guests.
The construction price tag for the Platt design was reportedly $5 million when the four-year construction project was completed in 1912 (or an astounding $139 million in 2021 dollars). Edith was extremely fearful of train travel and seldom used Villa Turicum. She never stayed overnight nor had a meal there after 1921, although a full staff was maintained to keep the estate in pristine condition. A real downer at Villa Turicum was its proximity to Fort Sheridan, where several times a week, the U.S. Army conducted military shelling drills.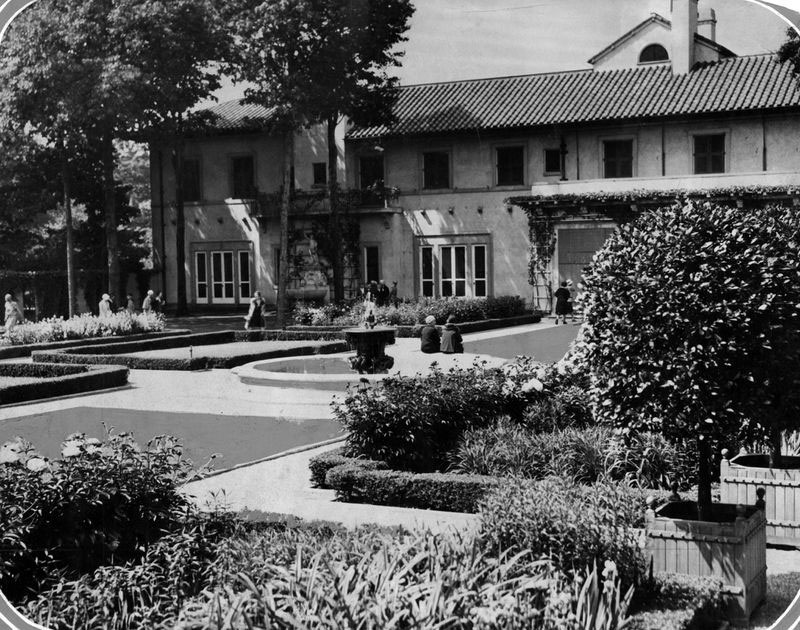 Before she was married, Edith was diagnosed with neurasthenia (exhaustion of the central nervous system). The malady was said to be common among young women of the time. In addition, the couple's first-born child, John "Jack" Rockefeller McCormick, died of scarlet fever in 1901 at the age of four, and one-year-old daughter Editha passed in 1904 with respiratory problems. Also in 1904, Edith's brother-in-law, Stanley McCormick, was diagnosed with dementia, catatonia and manic depression. In 1905, Edith's older sister, Bessie, died of a stroke. Beginning in 1911, Edith began to experience panic attacks and was in fear of a mental breakdown. In 1913, under a great deal of nervous strain from trying to be the model wife, Edith travelled to Switzerland for treatment by Dr. Carl Gustav Jung, the famed associate of Dr. Sigmund Freud, who worked to cure her of her various complexes.
After extended analysis and intense study, Edith had a partial recovery from her maladies and became a Jungian analyst, with a part-time practice of more than 50 patients. She would continue her practice after her return to America, attracting many socialite patients from around the United States.
Edith and Harold separated in 1918 when Harold returned to the United States. While in Switzerland, Edith became friends with young Austrian, Edwin D. Krenn, who was a staunch disciple of Jung. Most historical literature claims that Krenn was an architect, but Edith Rockefeller biographer Andrea Friederici Ross has written that such an assertion "is a dubious claim at best." Carl Jung biographer Richard Noll claimed that Krenn was, in fact, a gardener.
Edith returned to Chicago, with Krenn in tow, in September 1921, and set him up in business. She made him her business manager, and along with Edward A. Dato, formed the Krenn & Dato real estate firm. That firm developed affordable middle-class housing throughout large parts of Chicago's north side. Krenn & Dato's reassuring slogan was "The Mark of Security" and it always bore the tagline, "Exclusive Agent for Mrs. Rockefeller McCormick Properties."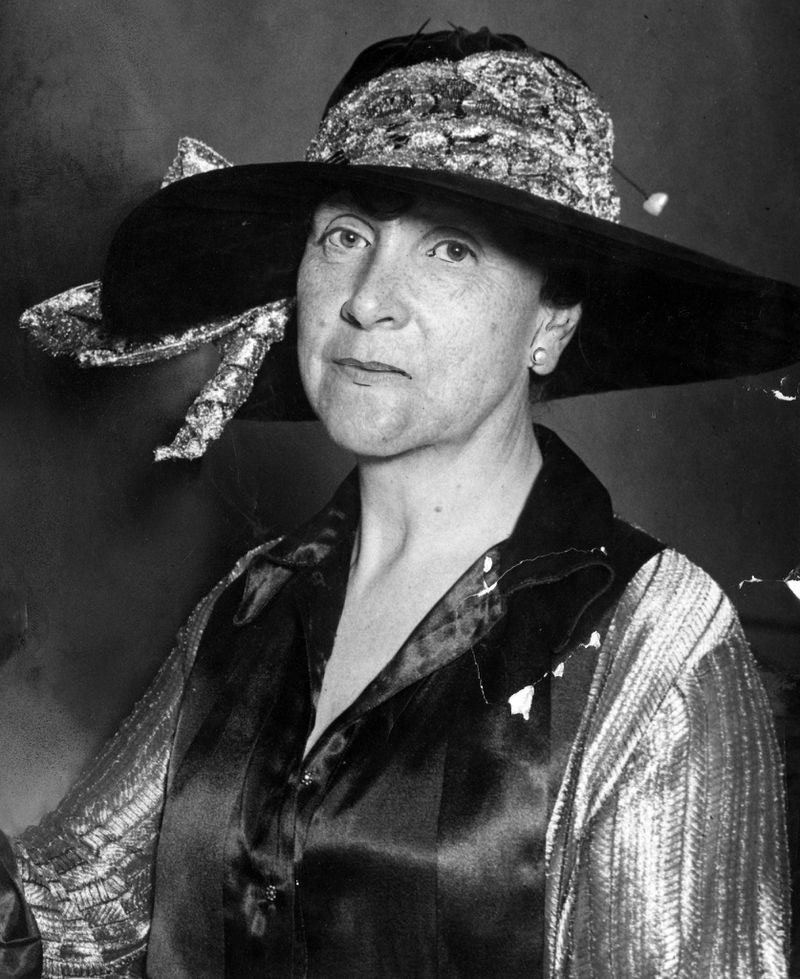 Shortly after her return to Chicago, Harold McCormick demanded a divorce. He was armed with a powerhouse team of attorneys, including former Illinois State Supreme Court chief justice George A. Cook and a then-unknown Clarence Darrow. John Rockefeller Sr. hired former judge Charles S. Cutting to represent Edith, and in an astounding display of questionable legal ethics, Cutting secretly corresponded with both John Rockefeller Sr. and John Rockefeller Jr. about the divorce proceedings.
Edith was pressured to accept a settlement on Harold's terms, even though she didn't even want the divorce. She asked Harold for alimony — the request was denied. She asked for the Bastion as her primary home, and that was turned down. In an era where women's legal rights were almost non-existent, Edith Rockefeller was railroaded in signing a divorce decree, whereby she had to pay Harold $450,000 for her share of the Bastion, $50,000 for two vacant lots adjoining the mansion and $1,958,916.50 for Villa Turicum.
The divorce decree was granted on Dec. 27, 1921, in a so-called legal proceeding that was concluded in under an hour. Edith was put on a four-year payment plan, which forced her into indebtedness that she never escaped from. Her father and brother both declined to help her pay off her now ex-husband. In fact, John Rockefeller Sr. had gradually increased Harold's annual allowance from $17,000 to $30,000. Edith was on her own.
Harold quickly remarried to Polish opera singer Ganna Walska. With her reputation as a mediocre singer, Walska was supposedly Orson Welles' inspiration for the character of Susan Alexander in the movie "Citizen Kane," according to former film critic Roger Ebert.
Krenn & Dato began with an office at 936 N. Michigan, which had opened during Edith's European absence. The firm later moved to a one-room ground-floor office at the corner of Michigan Avenue and Ohio Street and soon commandeered the entire three-story building, plus an additional site on LaSalle Street.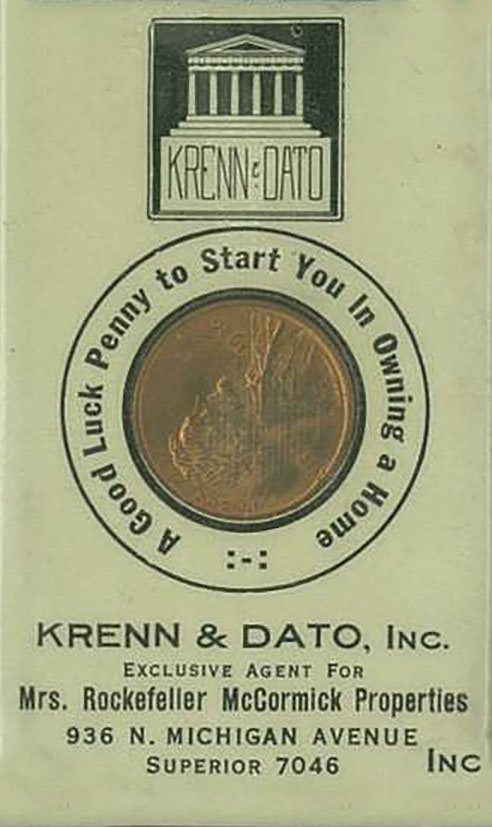 With an initial $5.2 million in endorsed Standard Oil securities, Edith established the Edith Rockefeller McCormick Trust. In the name of the trust, Krenn & Dato bought up thousands of acres of land along new rail lines in the Chicago area. Edith's goal was to provide affordable housing for first-time buyers. In Skokie, they built the Devonshire Manor subdivision and the Meadow Lane Garden apartments. In Highland Park, east of Old Elm Golf Club, they developed the 200-acre Highland Park Highlands, along with other projects, stretching from Waukegan on the north, LaGrange and Berwyn on the west and to Calumet on the south. One early project still exists, a 16-story apartment building at 3300 Lake Shore Drive that later became a condominium. Other projects outside of the Chicago-area included the Union National Bank building in Wichita, Kansas, and the Roosevelt Hotel in Cedar Rapids, Iowa. Within a few years, Krenn & Dato had become one of the nation's largest real estate firms. They owned huge amounts of property, developed infrastructure and built homes and even financed mortgages to new homeowners.
It's at this point in that Edith Rockefeller's story intersects with Kenosha history. On May 3, 1924, Krenn & Dato purchased a huge tract of land just south of Kenosha. It was to be the firm's biggest project, and as things turned out, its last.
Part II
Edithton Beach
According to information from the Kenosha County Register of Deeds, along with both the 1924 and 1934 Kenosha County Plat Maps, the Edith Rockefeller McCormick Trust spent $1.5 million to purchase 1,503 acres of land (just under $24 million in 2021 dollars), mostly fronting Lake Michigan and stretching three and one-half miles between 85th and 116th Streets. Listed as trustees of the trust were Rockefeller, Krenn and Dato.
The largest piece of land in the 1,503-acre tract was 969 acres then known as Van Ingen's Woods. That parcel was owned by the estate of Kenosha's Henry S. Van Ingen Sr. (1847-1924), a wealthy real estate broker. Van Ingen was a retired coal industry engineer and executive, who had survived the Dec. 30, 1903 Iroquois Theatre fire in downtown Chicago that killed over 602 people, including five of his children. Van Ingen reportedly left Kenosha sometime after the tragedy and died about the time that Edith Rockefeller acquired his land. Several of his surviving daughters married and remained in Kenosha.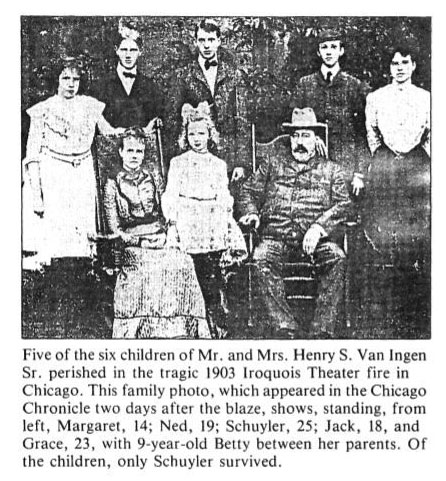 According to Kenosha County records, the remaining 534 acres seems to have been assembled by executors of the Van Ingen estate, Fred Snelling and Henry E. Hedberg, who sold the parcel to Abel Davis, Holman D. Pettibone and Harrison B. Riley, all from Chicago, on May 5, 1924. The three men then flipped the entire 1,503-acre tract to the Edith Rockefeller McCormick Trust on July 7, 1924.
What Edith originally had in mind was nothing less than a utopian recreation city or resort colony for rich people, modeled somewhat on both Atlantic City, N.J., and Palm Beach, Fla. The development plan included half-timbered, Tudor-style lakefront mansions, an airport (which was supposedly was laid out), a Chicago & North Western Railroad station to allow homeowners to commute to downtown Chicago, a luxury yacht marina and exclusive schools with playgrounds and high-end retail stores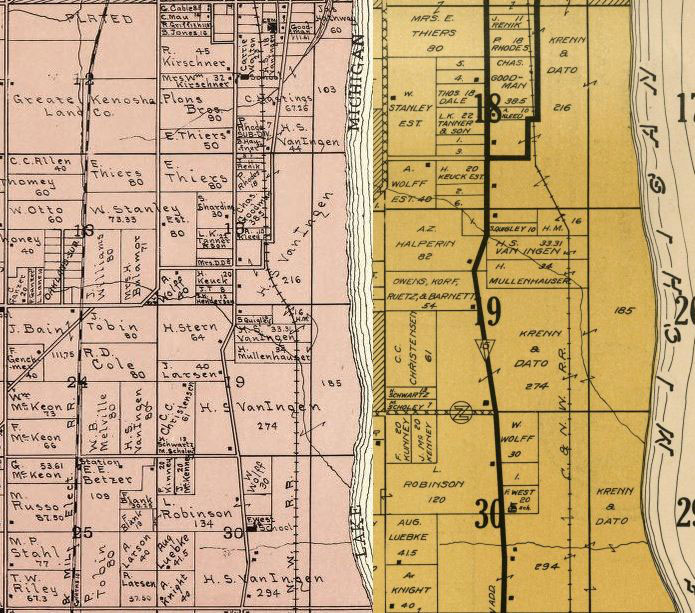 Edith previously had similar plans for Lake Forest, drafting plans in 1911 with Daniel Burnham for pleasure piers, islands, harbors and beaches. Similarly, she had plans in 1931 to turn Villa Turicum into the Rockefeller McCormick Museum of Lake Forest.
The $15 million development plan ($226 million in 2021 dollars) was announced on Oct. 12, 1924 and was described by Edith in a press releases as "a millionaire's resort." Krenn & Dato got the public involved with a naming contest for that portion of the development. There were a staggering 80,000 entries, and the lucky winner, Elmer Huge of La Porte, Ind., received a $1,500 cash prize (about $23,000 in 2021 dollars) for the name Edithton Beach.
The most impressive element of the plan was Edith's vision of a National University. According to a May 1931 planning document from the Rockefeller Archives titled "Proposed National University Campus," the university was not designed to provide vocational education so much as it was designed to furnish cultural education. The overarching goal of Edith's plan was to train men and women to think profoundly and independently.

National University was designed to be a vacation center for other existing universities, both in America and worldwide, which would provide rest and recreation, along with a challenging academic program. The planning document mentions lectures by leading academic experts in special subjects, along with educational conferences on a variety of topics, geared toward both faculty and students, and shared nationwide on radio broadcasts. The plan also foresaw national conventions of professional groups like surgeons, doctors, economists and attorneys.
Maps and architectural sketches exist from the project and still reside in the Rockefeller Archives. Judging from the map, the main entrance to Edithton Beach was going to be in an area between 101st and 102nd Streets, east of Sheridan Road. Quite possibly, that entrance would have been at the existing corner of Sheridan and 101st Place, with 101st and 102nd Streets forming the promenade. The planning map shows a wide promenade at the entrance with an island parkway separating two lanes of road. For purposes of this article, we're going to refer to that as the 102nd Place Promenade. Some longtime Kenosha residents remember an advertising arch on Sheridan Road near that intersection.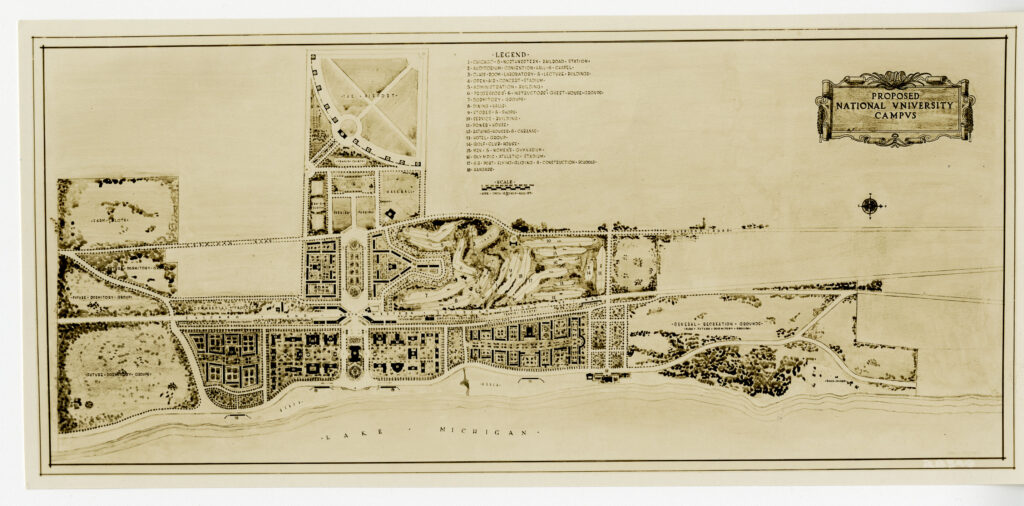 On the west side of Sheridan Road between about 97th Street and south to 104th Street was a large expanse of land that was to be the site of an athletic complex and an airport. The athletic complex would have been centered around a 3,000-seat stadium with parking adjacent to the road. North of the stadium was to be a gymnastics hall, riding stables, baseball field and polo field. Tennis courts were south of the stadium, with additional tennis courts scattered throughout the development. The athletic complex was designed to be large enough to play host to a future Olympics.
The airport was behind the athletic complex and stretching west almost to where 22nd Avenue would extend southeast of Springbrook Road. An unbuilt approach road, probably from 104th Street (Highway 165), would have led to an airport administration building that would have included office space, waiting rooms and a restaurant.
The main entrance island parkway was flanked on either side by dormitories and dining halls. About a half-mile in would have been a new passenger station on the Chicago & North Western Railroad, which bisected Edithton Beach on a north-south axis. Today, those tracks are operated by the Union Pacific Railroad for both freight and for the Metra commuter line from Chicago. A road crossing of the tracks would also have been necessary. While the most cost-effective solution would have been some sort of automobile and pedestrian bridge, the plans seem to show a tunnel under the tracks. However the road traversed the tracks, it would have led to and terminated at the existing Lake Shore Drive.
A pretty extensive commercial area was planned on both sides of the railroad tracks extending north from about 112th Street to 99th Street. The station itself seems to have been designed to house at least a half-dozen small stores or shops.
There were two access roads for the commercial areas, one on the east side of the tracks that ran the full distance and another on the west side that ran from about 112th Street to 102nd Place in the area of the train station. While these two roads were never constructed, a rough equivalent would be Eighth Avenue on the west side of the tracks and Seventh Avenue on the east. Just for clarity's sake, I'm going to refer to these two access roads with those avenue numbers, since the locations are pretty close. It's not clear from the plans if these access roads were meant for motorized vehicles, since a section of Seventh Avenue is clearly marked as a bridle path.
Along the west side of Seventh Avenue and flanking the tracks, near the corner of 112th, were stables and a series of tennis courts. Across the street, on the east side of the avenue, was a block's worth of dormitories and dining halls, with a few guest houses on Lake Shore Drive. There was a planned occupancy of 4,315 students in the dorms with each group also having its own bathing house and cabana along the beach.
Moving north is another block of classrooms and laboratories as you approach the 102nd Place Promenade. At the northeast corner of the Seventh Avenue and 102nd Place was a university administration building with another block of classrooms and labs, all grouped around quadrangles or courtyards.
Moving west for a moment, back across the tracks to Eighth Avenue, was some land set aside for future business, next to a series of employee cottages, more tennis courts and more stables. Returning to the east side of the tracks and near the corner of Seventh Avenue and about 97th Street, was a small section of guest houses for professors and instructors. Just north of the guest houses was a long parkway flanked on both the east and west by dormitories and dining halls. North of these dorms and bisected by 85th Street was a much-larger collection of guest houses.

Continuing north, the development ran into and included the Kenosha Dunes. The back area of the dunes, adjacent to the tracks, was designated as undeveloped general recreation grounds with bridle paths hiking trails, picnic and camping areas. That area was also designated as a future dormitory site.
A couple of access roads/bridle paths are marked in the dunes area. One seems to originate near Seventh Avenue and 80th Street, near the current gate for the Kenosha Water Utility Wastewater Treatment Plant, and angles southeast toward the dunes. The other access road/bridle path seems to originate near what is now the Southport Park parking lot. The two access roads/bridle paths merge near what is now the south end of the wastewater treatment plant, with the road eventually turning into Lake Shore Drive.
Moving in that direction, at the intersection of the drive and 85th Street, was a fairly major beach hotel. It's probably safe to assume that 85th Street would have been extended all the way from Sheridan Road to the lake, with another bridge or tunnel traversing the tracks. Currently, eastbound 85th Street ends at the tracks by Beech Pointe Senior Apartments and resumes east of Seventh Avenue before veering south onto Third Avenue. Just south of 85th and the hotel were two sections of bathing houses and gazebos, one on either side of the Barnes Creek flowage at 98th Street.
Now, we're back at 102nd Place and the lake. Just east of the railroad station was a large, open plaza and a 3,500-seat auditorium, the largest building in the development. Just east of the auditorium was an open-air concert stadium, with a slightly-depressed turf bowl, wood benches, a grandstand and what would have been a fantastic view of the lake.
North of the main entrance, along Sheridan Road and west of the railroad tracks was an 18-hole golf course that would have run from 85th Street on the north almost to the 101st/102nd Street entrance. According to the planning document, the golf course was viewed as a major revenue source of future revenue. The golf clubhouse was located on Sheridan Road, very close to 95th Street where the highway starts a gentle bend to the west. Just south of the clubhouse and between 95th and 97th Streets was to have been an artificial lake fed by Barnes Creek.
Barnes Creek is a U-shaped stream that originates near 104th Street, just west of Sheridan Road, travels north toward 91st Street and then loops southeast toward Carol Beach. The creek would have cut across both the first and second fairways en route to the lake. The north mouth, just north of 98th Street, was re-routed by the Edithton Beach developers to flow straight east from the railroad to Lake Michigan. The south mouth, the creek's natural path, empties into a pond just west of Edithton Beach, between 100th and 102nd Streets, and that portion was altered for a harbor in the mid-1920s. An artist's rendition of the harbor project also shows an S-shaped harbor included a pair of piers on either side with a breakwater at the end of both piers.
Work on the project got under way in 1925 and continued through at least 1927, accumulating heavy debt along the way. A case of agoraphobia, or an anxiety disorder that's often linked with a fear of public spaces, prevented Edith from ever visiting the site.
Completed infrastructure included bridges, roads and curbs, utilities and early work on the harbor. Krenn & Dato began selling lots, and the firm also obtained a license from the Federal Radio Commission to establish a small radio station. For a short period of time, the station aired entertainment programs, but its main purpose was to serve as an advertising medium to sell the lakeshore properties to listeners in the wealthy Chicago.
Anyone familiar with the 2008 housing crisis will recognize a parallel with the 1921-26 real estate bubble. The earlier bubble was centered on the state of Florida, where in the 1920s, easy credit and suspicious advertising helped produce a feeding frenzy where some Miami city lots were sold as many as 10 times in a single day. Subsequent research has shown that the boom and bust cycle was a national phenomenon. Prices collapsed in 1926, and foreclosures skyrocketed. Sound familiar?
Under increasing financial pressure from the collapsed real estate market, Krenn & Dato began tightening their belts. While the effort to build Edithton Beach continued, its high-end attractions like the marina, luxury homes, private schools and large commercial areas began to disappear from the plans. The firm produced a May 1931 planning document for a project that was substantially more modest than the one described in 1924.
Krenn & Dato's 1931 budget called for spending between $3.5 and $4 million (a little under $60 million in 2021 dollars) to purchase and develop the Edithton Beach tract. Remember that the original plans called for a $226 million project in 2021 dollars.
Not only were the high-end features eliminated, but it appears that the level of construction was also downgraded. The dormitories were now one story, wood framed, unheated and non-fire-resistant with unfinished interior trim and "more or less temporary nature." The guest houses were now described as simple cottages with a combination living room/dining room, a small apartment-style kitchenette, two bedrooms and one bath to cost under $97,000, again in 2021 money. The 3,500-seat auditorium was priced at $4.3 million in 2021 dollars, which seems unrealistically low. In a nod to the existing Depression and with an eye toward lowering labor costs, Krenn & Dato also mentioned "low labor prices due to the location" and the need to build a construction camp for the work force.
Part III
Chiwaukee on the Lake
While land was being assembled for Edithton Beach, a very similar development was underway south of 116th Street and called Chiwaukee on the Lake. Between Edithton Beach and Chiwaukee on the Lake, the two projects extended six miles and covered the entire lakefront from Kenosha to the state line. The J.H. Penny & Sons, a Chicago development company with a different collection of investors, bought 445 acres of land south of 116th Street and north of the Illinois-Wisconsin state line. That land, once owned by a Rebecca Watts of Spring Bluff, Ill., seems to have been sold to a family headed by a John L. Weyhe and subsequently sold to J.H. Penny on Sept. 27, 1921. The land, now known as the Chiwaukee Prairie, was then known as the Weyhe Prairie.
Work seems to have progressed faster on the Chiwaukee on the Lake project. Surveyors divided the acreage into lots. J.H. Penny, a golf course design firm, along with landscape architectural firm C.D. Wagstaff and Company, both from Evanston, drew up plans for a subdivision that included an 18-hole golf course and clubhouse in the southeast portion of the Chiwaukee Prairie. The golf course was to be surrounded by homes, along with a beachside hotel and (presumably) another train station on the Chicago & Northwest Line.
In the early 1930s, both 116th and 122nd Streets were extended east from Sheridan Road past the railroad tracks to service this development. Two ponds were dug, and a stream way was ditched. A bridge over the stream at 122nd Street and 1st Court remains today, along with a road bed that stretches from west from 1st Court to the railroad tracks.
Five luxury summer homes were built on the sand dunes, but rising lake levels and violent wave action submerged many lots, as well as parts of Lake Shore Drive, sometimes referred to as First Avenue. The northernmost lots were just south of 116th Street where the lakefront takes a small turn to the east. Other homes were subsequently built on those lots after protective barriers of stones and concrete were placed on the shore.
The northernmost of the five homes was owned by a Carl P. Salerno. The next one belonged Fred P. Fischer, head of a prosperous Chicago furniture company. Fischer rented his home in 1937, for a reported $1,000 a week, to Joe Louis, while the boxer was training at Kenosha's Lakefront Stadium for his June 22, 1937 fight with James Braddock at Comiskey Park in Chicago. Louis reportedly hiked two miles each way from the Tobin Road station on the Chicago North Shore & Milwaukee Railroad line's Skokie Valley route to the Fischer home on Lake Michigan. Years later, on Dec. 30, 1948, the Fischer mansion, vacant at the time, was ransacked to the tune of $150,000 (about $1.7 million today). The home was then destroyed in a 1954 storm and collapsed into the lake. In the 1920s, when the mansion was built, there was about 50 feet of beach, but the elements eventually took their toll.
The third house was owned by a man named Stuart, and the owner of the fourth home is unknown. The fifth and southernmost house was a huge mansion known as Pompeii Del Lago, which was still standing until 1989 or 1990 when it was razed. The name would surface again in 1965 when developers began work on the Pompeii on the Lake marina and motel.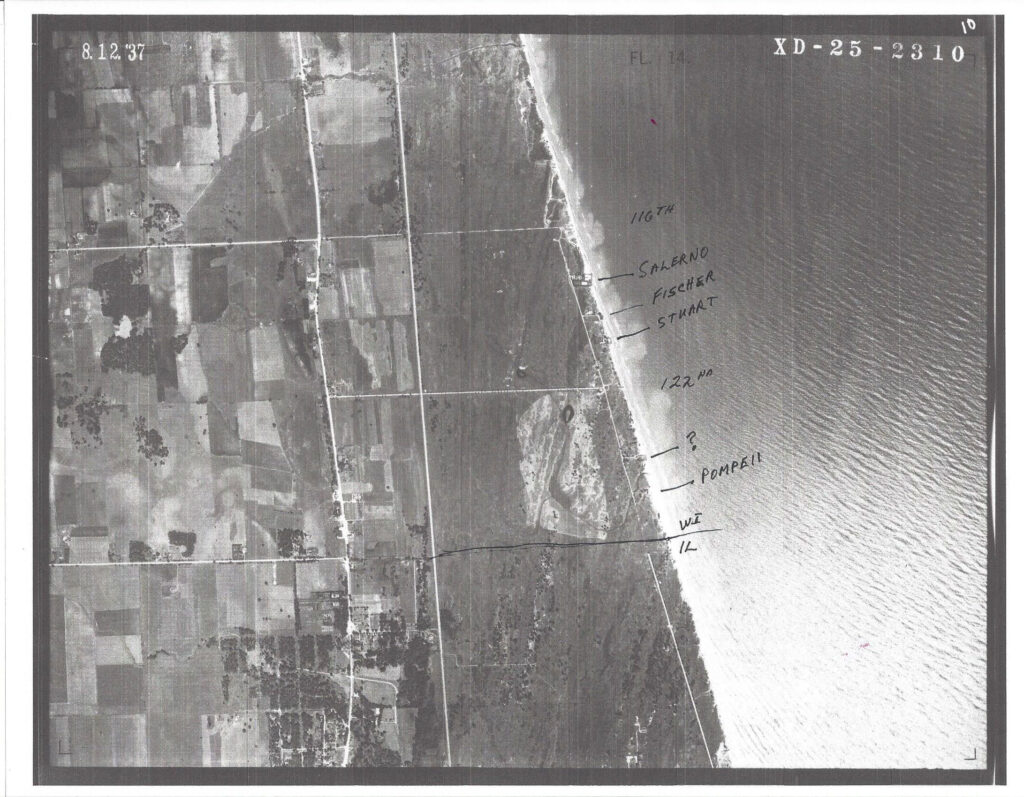 A golf course was partially constructed at Chiwaukee on the Lake. Nine-of-18 holes were built between 122nd Street and the state line, east of the railroad tracks (see 1937 aerial photo). A clubhouse was also constructed (see photo), which may have been located along 122nd, just west of Lakeshore Drive in an area with an abandoned driveway and a large stone now sit. The additional nine holes would have been built to the west and adjacent to the east side of the railroad tracks. The golf course, which was still visible in a 1937 aerial photo, was later abandoned due to wet soil.
Part IV
The end comes for Edithton Beach and Chiwaukee on the Lake, death of Edith Rockefeller, the birth of Carol Beach and the restoration of the Chiwaukee Prairie
Despite the real estate downturn, Krenn & Dato turned a $500,000 profit in 1926 (about $7.5 million in today's dollars), but by 1927, the national real estate market stalled out, perhaps of premonition of things to come. Hundreds of Krenn & Dato homeowners forfeited on mortgages. Edith allowed most of them to stay on their properties and absorbed the financial loss.
Despite Krenn & Dato's incredible growth and success, John D. Rockefeller was not impressed. Thoroughly traditional in his gender expectations, he warned Edith repeatedly to get out of the business. She failed to heed his warnings and pushed on, even when the real estate market began to falter in 1927.
Her financial situation turned perilous with the downturn in the nation's economy. While she had completed her repayment schedule from the divorce, Edith asked both her father and brother for either a loan or a new mortgage on the two homes, but all of her requests for financial assistance were denied. The refusals came at the same time as the family was developing both the Rockefeller Center and the Museum of Modern Art in New York City. She asked her ex-husband to buy out her share of Villa Turicum, but he also refused to help.
Annual profits quickly turned into severe losses, and when the stock market crashed in 1929, Edith was left with a huge portfolio of unsold real estate and enormous debt. In late-June 1929, the trust announced new financing in the amount of an $11 million bond issue ($173 million in 2021 dollars) which was further secured by $18 million worth of securities ($283 million in today's dollars), chiefly in Standard Oil of New Jersey. The securities were sold to pay the bond issue, and the banks called in the loans. While Edith met her obligations, she had to place a $220,000 mortgage on Villa Turicum ($3.4 million today) and a $557,500 mortgage on the mansion at the Bastion ($8.8 million today).
The stock market crash was the death knell for both Edithton Beach and Chiwaukee on the Lake. Edith Rockefeller's world was about to crash, both personally and professionally.
Edith developed breast cancer in 1930 and underwent and both a mastectomy and subsequent radiation treatment. As her health continued to deteriorate, and she was near death, John D. Rockefeller Jr. took her remaining jewelry as collateral and forced her to move into a four-room suite at the Drake Hotel and shutter the Bastion, which she did on July 6, 1932. Her brother put her on a $1,000-per-day allowance ($19,000 per day today), without which she would have been destitute. Edith Rockefeller died at the Drake six weeks later, on Aug. 25, 1932, a few days shy of her 60th birthday. She died with assets of $1.5 million and debts of $3 million ($29 million today in assets and $59 million in debts). The Aug. 27 funeral took place at the Bastion, and Edith was buried in Graceland Cemetery in Chicago. The Bastion was shuttered following the funeral and sat vacant for 21 years before being torn down in 1953.
It took 19 years to settle Edith's estate. Personal property from both of her homes was auctioned off in 1934, and more than 15,000 people trampled through Villa Turicum as prospective buyers. Several days later, the furnishings, most imported from Europe, were sold at auction for two cents on the dollar. Three-million dollars worth of art objects and furnishings garnered about $25,000. Some of the Lake Forest property was sold to pay back taxes.
By the 1940s, Villa Turicum was shuttered and a frequent target of vandals. A syndicate bought the estate in 1947 for $77,000 plus $160,000 in back taxes ($929,000 today for the estate plus $1.9 million in taxes). There was talk of turning it into a private club, and in the early 1950s, the property was offered to the city of Lake Forest, which turned it down.
In 1956, Robert Kendler of Community Builders, Inc., bought the estate for $150,000 plus $600,000 in back taxes ($1.5 million today for the estate plus $5.9 million in taxes). After being mothballed for decades, Kendler razed almost all of Villa Turicum later that year. The teahouse still stands, and today, near the intersection of Rockefeller and McCormick Streets in the Villa Turicum subdivision, the former reflecting pool and portions of the beach staircase remain. New homes were built on the land in the mid-1960s, and Kendler named his real estate development firm Villa Turicum.
In Kenosha County, ownership of Edithton Beach passed to various trustees, with the American National Bank and Trust Company of Chicago holding the bank note. The estate retired a large portion of the $1,137,500 Edithton Beach bond issue ($22.8 million today), but the bondholders got a judgement for $425,000 ($8.2 million today) before the Edithton Beach business organization was dissolved completely. The matter wound up in court with a foreclosure suit, and the case went all the way to the U.S. Supreme Court in 1936. The bank recovered the property on July 6, 1937 after a Kenosha County Sheriff's auction turned up no buyers.
Two years later, on Dec. 11, 1939, a new group of Chicago businessmen called Edithton Beach, Inc., located in Kenosha and headed by Louis M. Mantynband, purchased all 1,503 acres from the bank for $131,527.38 ($2.5 million today) and revealed plans to revive the development of Edithton Beach. The Kenosha Evening News editorialized that it hoped the new venture would mean an "injection of life" into the area. Development of the area was slowed, presumably, by the onset of World War II.
In 1936, the Wisconsin State Planning Commission recommended that 1,277 acres of the sand dunes and land be acquired for a state park with an estimated price tag of $137,000 ($2.6 million today). Lack of funds and lack of local interest killed the project. Some area citizens also felt that the proposed park would mostly benefit Illinois residents. That sounds about right.
On June 2, 1948, Edithton Beach, Inc., sold 130 acres of the sand dune area, east of Seventh Avenue between 80th and 85th Streets, to the Wisconsin Electric Power Company (WEPCO) for a possible power plant. In the early 1970s, the company was considering the property as the site for twin 550-megawatt coal-burning plants to be built in the latter part of the decade or the early-1980s. To that end, WEPCO purchased an additional 25 acres in 1980. The proposed location was one of four sites under consideration in southeastern Wisconsin.
Local opposition to the plant developed, and WEPCO chose an alternate site on Green Bay Road, some five miles west. The company was approached to donate the land, but WEPCO chose to retain it and even built a water-intake facility for the new plant near 86th Street and Lake Michigan. WEPCO sold 27 acres of the property to the city of Kenosha on Sept. 30, 1986 for the city's water treatment plant. In 1993, the WEC Energy Group agreed to donate 62 of the remaining 128 acres to the Nature Conservancy.
World War II began, and in 1943, the U.S. War Department leased 845 acres around Barnes Creek and commissioned the Edithton Beach Anti-Aircraft Artillery Training Center as part of a wartime expansion of Fort Sheridan. Artillery guns and anti-aircraft weapons were positioned on the beach and fired at targets towed by airplanes. Troops also conducted small-unit training in the area.
Jim McEvoy, a graphic artist for the Wisconsin Department of Natural Resources, grew up in Kenosha. As a boy, he played with friends along the dunes south of the city. In an interview published in the June 7, 1962 Milwaukee Journal, McEvoy recalled that "there was a company of soldiers camped out there. We used to watch them practice shooting at targets towed by planes out over the lake."
There was another tent encampment, according to McEvoy, that housed German prisoners of war.
"We were never allowed to see it close up," McEvoy remembered, "but we could see the prisoners when the guards would take them out for exercise sessions or to pick up trash along the roads."
The training center was decommissioned in 1946. Years later in 2017, the U.S. Army Corps of Engineers issued an advisory that small-to-large caliber munitions remain in Lake Michigan, within a firing zone that stretched from Kenosha to Zion.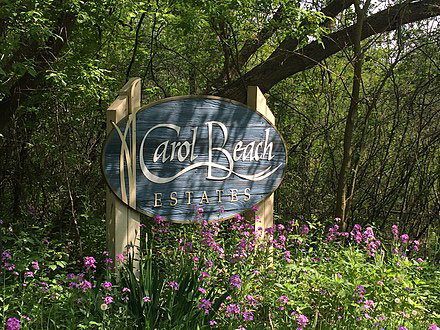 In 1943, the Wisconsin State Planning Commission again recommended the area be acquired for a state park. Efforts were made to purchase the property but no agreement was reached. After the Army left, an investment group headed by realtor Joseph E. Shaffron purchased 1,200 acres from Edithton Beach, Inc., on Aug. 1, 1946, with Kenosha attorney David Phillips representing Edithton Beach, Inc.
What had earlier been dubbed a "second Evanston" was now named Carol Beach Estates by Shaffron, whose daughter Carol was born the day he assumed management of the project.
"The name of Edithton didn't do us any good," said Shaffron, "so I gave Carol $10 for use of her name. The focus was no longer a "millionaire's resort," but on affordable summer homes. Subdivision of the property began in earnest. Most of the homes developed in the late 1940s were sold to Chicago-area residents, often World War II veterans with access to federal loan guarantees at four percent interest.
Kenosha-area residents began purchasing Carol Beach homes in the 1950s, and by the early 1960s, 265 homes had been built, with some limited commercial development along Sheridan Road. A major snag to early development was shore erosion, a problem that Shaffron admitted he had not considered before purchasing.
"It was a major problem," said Shaffron. "We had an average loss of 800 feet along the three and one-half miles of lake frontage. We spent a lot of money and fought with the government to do something about it."
Government help was not forthcoming, however, so Shaffron invested his own money into revetment.
By 1983, the area had 2,746 platted lots, primarily between 85th and 116th Streets. Only 643 of the established lots, about 23 percent, have homes constructed on them, most of them quite modest. The rest are undeveloped and, in some cases, lots have been substantially eroded or even submerged by Lake Michigan.
Actual development has focused on two subdivisions, Carol Beach Estates Unit W and Carol Beach Estates Unit I, plus portions of the shoreline area, although there are developed lots scattered throughout. The street network envisioned in the original platting was never completed. Some streets which were constructed are in disrepair or have been overgrown by vegetation. Residential development was based on the assumption that homes would utilize septic systems, but wet soils have significantly restricted use of such sewage disposal methods. With no access to sewer lines, wholesale development of Carol Beach did not take place.
In 1962, there was a renewed effort for a state park, but the high cost of the land again killed it. Since the mid 1960's, the Carol Beach area has continued to develop in a slow, sporadic manner. In addition to the residential development, some commercial development has occurred. In 1964, approximately 25 acres located between 85th and 90th Streets east of Seventh Avenue was purchased for a tennis and swim club known as the Kenosha Towne Club (the business dissolved in 1984).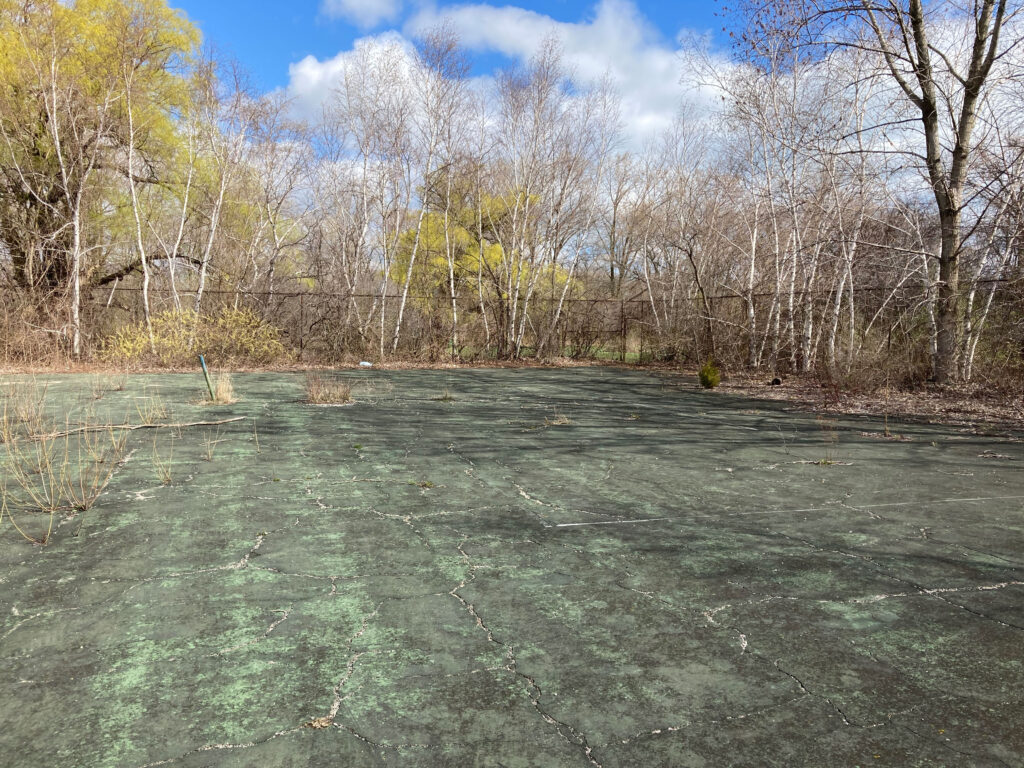 In 1965, developers announced plans for a giant marina named Pompeii on the Lake to be built just north of the state line. The Kenosha County Board of Supervisors approved the zoning change from residential and agriculture to commercial, and the resulting boat channel ate up a large portion of the prairie. The original proposal called for 1,000 boat slips, a large motel and a golf course. A more-modest version of the marina was eventually constructed, minus the major amenities. The business later changed hands to become the Trident Marina and subsequently today's the Prairie Harbor Yacht Club.
The owners of the marina have periodically sought permits to expand the facility, but no expansions have occurred. The marina owns additional undeveloped property in the southwestern portion of the Chiwaukee Prairie acquisition area. Attempts to expand the marina into this area have been examined closely by the Wisconsin Department of Natural Resources, since expansion would encroach on the Chiwaukee Prairie Preserve. The Nature Conservancy continues to acquire that property to insure the integrity of the Chiwaukee Prairie Preserve.
A citizen protest over the 1965 marina project proposal spurred a grass roots effort to save the prairie. Started by "citizen conservationists" Phil Sander and Al Krampert, and with financial backing from the Nature Conservancy, a fund was established. The group bought its first section of prairie in June 1966 with a 15-acre parcel on the western edge of the prairie, stretching from 116th Street to the state line. By July 1967, 80 acres had been acquired and 63 of those acres were named a Wisconsin State Scientific Area by the DNR. As additional acreage was acquired, the state later named it the Chiwaukee Prairie Wisconsin State Natural Area. In 1973, the prairie was named a U.S. National Natural Landmark by the National Park Service.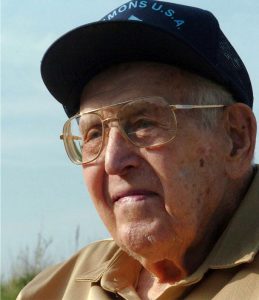 By 1985, the original Chiwaukee Committee had evolved into the Chiwaukee Prairie Preservation Fund, which assists the Nature Conservancy and the Wisconsin Department of Natural Resources. The fund now manages the prairie. Since 2014, the Nature Conservancy has acquired an additional 150 acres east of Sheridan Road and south of 116th Street and has dubbed it the Chiwaukee West Restoration Area. The land is being cleared of invasive species and will be seeded with native plants.
Also in 1985, the Southeast Wisconsin Regional Planning Commissioner completed work on a comprehensive land-use plan for the 1,825 acres that comprise the Chiwaukee Prairie-Carol Beach portion. The study identified 828 acres of prairie land, 747 acres of wetland and 237 acres in residential use. The scientific area and the natural area comprised 504 acres. On Aug. 20, 1985, The Kenosha County Board approved the land-use plan and agreed to protect, via protective zoning, 52 percent of the tract, while allowing 39 percent to become developed. Under terms of this plan, no sewers were allowed south of Barnes Creek on the east side of the railroad tracks. Additionally, an environmental corridor was established from the northernmost sand dunes to the state line.
In the late 1980s, Trident Marina was sold to the U.S. Coastal Development Company. The new marina was named the Prairie Harbor Yacht Club. After making some improvements to the facility, U.S. Coastal sold its remaining 49.2 acres to the Nature Conservancy on June 22, 1990. By the end of 1994, UW-Parkside and the Nature Conservancy co-owned 226 acres south of 116th Street.
Legally, the Carol Beach neighborhood is part of the village of Pleasant Prairie. The town of Pleasant Prairie, located near Green Bay Road and 93rd Street, became a village in 1989. Today, there are 992 dwellings within Carol Beach and an estimated population of 2,259, as of the 2010 census. There are an additional 57 dwellings in the Chiwaukee subdivisions (generally located south of 116th Street and east of the railroad tracks) with an estimated population of 153.
There is a certain dichotomy between the eastern and western portions of Carol Beach. The homes along Lakeshore Drive, where land prices command a premium, are much more high end than the rest of the development. Recent and ongoing home construction along the lake has widened this gap even more. As one moves inland, the homes become much more modest, particularly in the subdivisions along Sheridan Road between 91st and 95th Streets, between 97th and 104th Streets and between 110th and 116th Streets. What's even more remarkable about the interior of Carol Beach are the areas along Third and Fourth Avenues, which are downright rural with dirt roads in some places and stray abandoned tires. West of Lakeshore Drive is certainly not the exclusive area envisioned by Edith Rockefeller.
An interesting aspect of life south of 90th Street is its checkered commercial activity. There is very limited commercial activity within Carol Beach. Along Sheridan Road are the Village Supper Club at 10909 Sheridan Road, Johnny'Z Pour House right across the road, the now-shuttered Ray Radigan's supper club at 11712 Sheridan, a shuttered adult movie business at 12212 Sheridan and an auto repair place just north of the state line.
The Village Supper Club opened in 1927 as the Greek Village. According to Ron Faiola's book, Wisconsin Supper Clubs: Another Round, Krenn & Dato built the restaurant for Pete and George Pantos, whom they knew from Chicago. Greek Village was intended as an amenity for Edithton Beach residents. It was a speakeasy when it first opened, then later a Schlitz tied house after Prohibition ended. Ray Radigan's, which opened in 1933, closed in 2015.
Just north of the state line at 12530 Sheridan, but thankfully no longer there, was a notorious road house that was known, at various times as the Hurry Inn Roadhouse (1933), the Sheridan Road Tavern (1937), Peck's Paradise Tavern (1941) and Covelli's Club 42 (1945). William "Red" Covelli, who owned the establishment in 1945, was murdered in front of his home at 2222 55th Street in Kenosha on June 10 of that year. Covelli had been arrested for the April 24, 1932 murder of real estate agent Robert A. Wilson, but charges were dropped three months later. In 1987, the tavern was known as WW I and was named in federal charges as a partial home to a Lake County and Pleasant Prairie prostitution ring. The business, also known once as Wrights State Line Inn, was demolished around 1995 and is a grassed-over vacant lot today.
In the early-2000s, according to Pleasant Prairie Community Development Director Jean M. Werbie-Harris, the village board identified locations for potential commercial development along Sheridan Road — many of which still exist. These potential commercial areas are at the intersections of: Sheridan Road and 91st Street (southwest corner), Sheridan Road and 104th Street (southwest corner), Sheridan Road and 116th Street (southwest corner-existing tavern/southeast corner) and Sheridan Road and 128th Street (northwest corner-existing gas station). Municipal sanitary sewer and water is available to service commercial development at these intersections; however, to date, no developers have presented plans for any new commercial development at these locations.
In June 2016, the Pleasant Prairie Village Board renamed five areas as village parks, including the northernmost Edithton Beach between 100th and 102nd Streets, Lakeshore Park at 104th Street, Lakeshore Park Prairie Shores Beach between 106th and 108th Streets and both Chiwaukee View and Phil Sander Park at 116th Street. From the 80,000 entries, the tiny Edithton Beach park is the only location that still carries the name submitted by Elmer Huge so many years ago.
Acknowledgments
This article draws upon a lot of previous work and could not have been written without the efforts of author Andrea Friederici Ross. Very special thanks to Ross for her dedicated research on Edith Rockefeller McCormick. Her work includes the 2020 book, Edith: The Rogue Rockefeller McCormick, "6 Real Estate Lessons from the Woman who Developed 1920s Chicago" in the Aug. 3, 2020 issue of Chicago Agent Magazine and "Edith on the North Shore" in the Sept. 1, 2020 issue of Sheridan Road Magazine.
Thanks also to "Heiress, Inc." July 1, 1929 issue of Time Magazine, "Dowager at the Drake," Aug. 1, 1932 issue of Time Magazine, A Natural History of the Chicago Region by Joel Greenberg, to Emily Thayer for "Dream Erodes with Shoreline" in the June 22, 1980 Kenosha News, to Arlene Jensen for "Carol Beach Controversy Nothing New to This Tract of County Land" in the Dec. 16, 1984 Kenosha News, to the Chicago Tribune archives, to Kenosha County Register of Deeds JoEllyn Storz and to Pleasant Prairie History Museum Manager Kate Bennett
Kenosha County plat maps courtesy of the University of Wisconsin-Parkside Archives & Area Research Center
Account of the 1921-26 real estate boom taken from "The Forgotten Real Estate Boom of the 1920s" by the Harvard Business School Historical Collections
1931 Krenn & Dato planning materials courtesy of the Rockefeller Archive Center in Sleepy Hollow, N.Y.