RANDALL — Newlyweds Blake Shelton and Gwen Stefani provided a thunderous closing to Country Thunder Sunday night.
After four days of music and festivities at the event near Highway P west of Twin Lakes, 2305 Lance Drive, Shelton performed for tens of thousands of country music fans. Shelton, 45, said this was his first performance in over a year.
"I came up here for two reasons tonight — to play country music and drink, and not necessarily in that order," Shelton told the crowd at the start of his performance.
"I want you all to know, I'm not going to talk about this anymore tonight — because I'm tired of it," he added. "But this is my first show back in I think a year and four months. This is it! Right now. This is my first. This is it! Yes, I've done a couple little things here and there, but this is my first show back. So, I'm scared. I am nervous as s***. I don't know these songs anymore, and I started drinking early. I am freaking out, okay. So any help that I can get tonight, I would be grateful."
Shelton said it was "extra scary" coming to Wisconsin because he's played here over the years.
"It's intimidating and you know these are hardcore country music fans in Wisconsin," he said. "By the way, side note — right up until I got into high school, I always thought this was called 'Westconsin.' I thought it was 'Westconsin.' There was an 'Eastconsin' and a 'Westconsin.'"
Blake had total control of the crowd and near the front of the stage fans pleaded for autographs and selfies. He signed an inflatable deer while on stage that said "SIGN MY RACK." He said it was something that would only happen in Twin Lakes.
"Thank you guys for being here," he said. "Smiles on everybody's face. Having a good time. It's so exciting. Oh my gosh."
Shelton performed "Minimum Wage," "I'll Name The Dogs" and "Neon Light" among other hits.
When pop icon Stefani, 51, walked on stage near the end of the show the fans erupted with excitement.
"I love her!" a woman screamed.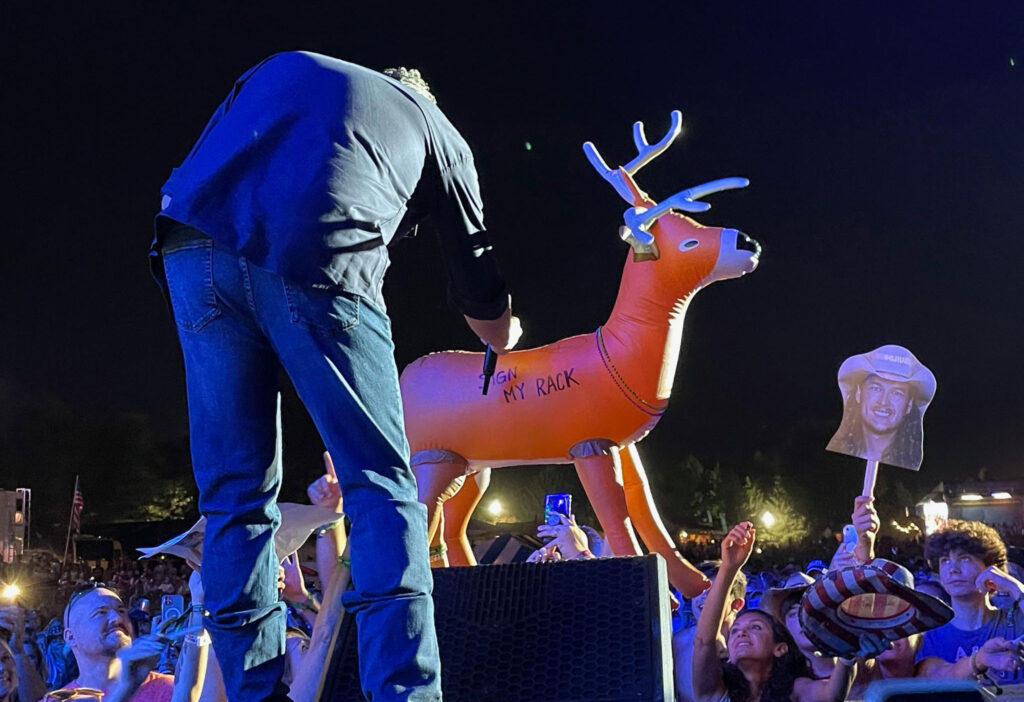 Stefani performed "Don't Speak" with her husband playing guitar. The two officially tied the knot on July 3 in Oklahoma.
"That's the first time I've ever sung that song since I've been married to you, actually," she said.
Shelton called her Gwen Shelton. They performed "Happy Anywhere" together.
They kissed before she exited the stage.
Taylor Rohm, of Naperville, Ill., and boyfriend Josh Snowball, from the U.K., said it was an amazing experience.
"I was so happy (Stefani) came out," she said. "I was hoping she would. They are an absolutely beautiful couple."
Snowball said he "loved" Country Thunder because "everyone is happy and everyone has a beer and is enjoying music. That's what it's about."
Shannon Cahill, of Antioch, Ill., said Stefani "is the most amazing thing in the universe."
"I freaked out," she said. "'Don't Speak' is my favorite song from No Doubt. … It made the whole weekend."