RANDALL — Tens of thousands of country music fans descended upon the Country Thunder grounds Friday evening.
Many in attendance said they were grateful for the opportunity to gather with friends and family and experience live entertainment again at the event near Highway P west of Twin Lakes, 2305 Lance Drive.
Lisa Klindera, of Gurnee, Ill., said the whole experience "is awesome" after months of social isolation because of the COVID-19 pandemic. She was tailgating with her loved ones.
"It's awesome," Klindera said. "We have been coming here for 18 years. It's amazing to be back. We get to be out. It's normal."
Kaylee Luchtman, of Marengo, Ill., brought her girlfriend and friend to the event.
"It kind of feels weird being around this many people, but it's exciting," she said. "We haven't been around this many people for a long time."
'Glamping' returns
Jennifer Breu, of Naperville, Ill., booked a couple "glamping" tents for her loved ones. Those who reserved the air-conditioned tents had access to private bathrooms, showers, free ice and swag.
"We're having such a blast," Breu said, highlighting the comfortable beds in each tent. "This is our first year. The bathrooms are like the bathrooms you'd find in a house. The showers are so nice and clean. They really maintain the property."
Breu said she's most excited to see Blake Shelton and hopes his new wife, pop star Gwen Stefani, makes an appearance.
Her fiance, Chris Mapes, said nothing beats live entertainment.
"It's just fantastic," he said. "It's great. … We have access to the grounds in the morning before everyone else comes. It's pretty."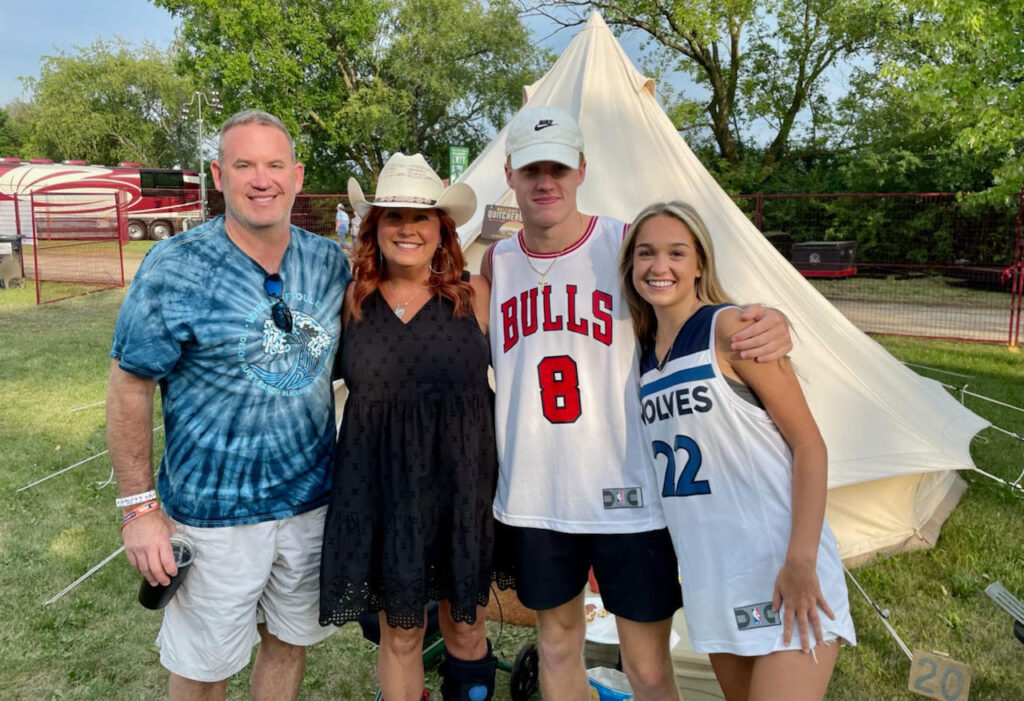 Breu said she got emotional Thursday night when performer Dustin Lynch "ran out on stage carrying a flag that said 'We're back.'"
"I felt that in my soul," she said. "Yes! Concerts. We are back."
Sheila Sargent, of Madison, Wis., made new friends at her 'glamping' campsite. She said she's excited for the chance to make new friends after facing the pandemic.
"Finally! It feels really good," she said. "We get to meet wonderful people. It's amazing."
New friend Anna Kitchens said she's enjoying the people watching from her tent.
"Oh my gosh!" she said, laughing about some of the characters she's seen.
Eric Church draws fans
Katie Carlson, of South Beloit, Ill., said she couldn't wait to see Eric Church perform Friday night. She couldn't think of a favorite song of his.
"There's so many," she said. "I'm going to have a good time."
Luchtman said Church "always puts on a good show."
"I'm excited and I've seen him before," she said. 
Nick Loucas of Twin Lakes loves the event and its proximity.
"I love it here," he said. "I live 10 minutes away. I love the people. I'm excited to see all the performers."
Kenoshan Nancy Gantzer Ledzki added: "This is a great event. Looking (forward) to Church later. It's our second night and crowd is growing. Can't wait for tomorrow!"