On this date (July 14) in 1992, Chuck Knoblauch became the first former Kenosha Twin to play in the Major League Baseball All-Star Game.
Representing the Minnesota Twins, Knoblauch was 0-for-1 with a walk off the bench in the American League's 13-6 win before 59,372 at Jack Murphy Stadium in San Diego.
Knoblauch was not quite three years removed from his brief stay with the Kenosha Twins, which served as Minnesota's affiliate in the Class-A Midwest League from 1984 to 1992.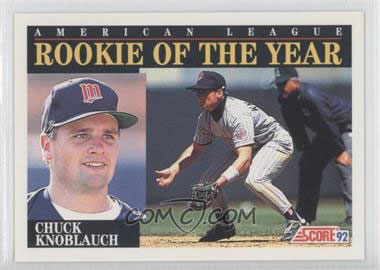 A native of Houston, Knoblauch arrived in Kenosha following a stellar career at Texas A&M and after being selected by Minnesota in the first round (25th overall) of the June 1989 draft.
Playing in 51 games, the Houston native hit .286 with a .387 on-base percentage in Kenosha before being promoted to advanced Class-A Visalia (Calif.) where he finished the season. In 1990, Knoblauch was at Double-A Orlando and a year later he was the American League Rookie of the Year for the World Series champion Minnesota Twins.
In 1992, Knoblauch finished second in All-Star fan voting at second base to Toronto's Roberto Alomar and was named as a reserve to the team headed by his manager Tom Kelly.
Knoblauch entered the game in the seventh and drew a walk pinch-hitting for Mark Langston. He went the rest of the way at second base and popped out to first base in his only other at bat.
This was the first of Knoblauch's four All-Star appearances. He was also the first of four Kenosha Twins' alumni to be named to the Midsummer Classic (pitchers Brad Radke and Eddie Guardado and catcher Damian Miller were the others).
Knoblauch played in the bigs through 2002, winning three more titles with the New York Yankees.
For an update on Knoblauch see https://fanbuzz.com/mlb/chuck-knoblauch-now/
Note: Send comments and suggestions to dmarran359@aol.com