Twilight Jazz makes its long-awaited season debut with one of its most unique acts on Tuesday (July 13) at Anderson Arts Center, 6603 Third Ave.
The night features "happy jazz with a bounce" from Scat Cats, a three-person ensemble with music from the late-1920s and early-1930s.
The grounds open at 6 p.m. The free show runs from 7 to 9 p.m.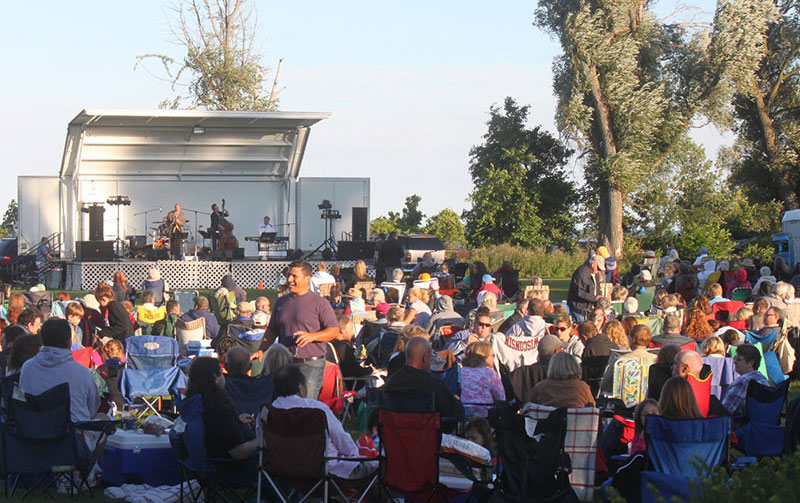 Attendees are encouraged to bring a blanket or lawn chair. Seating is first-come, first-served on the south end of the Anderson Arts Center.
Food and drinks are available for purchase. No carry-ins of alcohol are allowed.
Twilight Jazz was expected to open its 18th season on June 29 with Janet Planet. The act was postponed to Aug. 31 due to inclement weather.
The concerts are sponsored by Berkshire Hathaway, Crawford & Wright Orthodontics, First American Bank, JDR Painting LLC, Jockey, Kenosha.com, Knight Barry Title Group, Lake County Press, Palmen Motors, Prophet Wealth Management, Spectrum Wealth Advisors, Tithof Tile & Marble.
About Scat Cats
A group that covers all the great music of the late '20s and early '30s (sometimes overlooked by the bebop post-war combos) and the great Big Band tradition of the '30s and '40s. Vocalist Carole Crawford and jazz stride pianist Paul Asaro, often joined by reedman John Otto, make up this talented group known as the Scat Cats. Their repertoire features a particular style of American jazz, based on the great 1920s and '30s jazz piano style of Fats Waller. This type of jazz in the 1920s and early-1930s was fertile ground for the great jazz trumpet/cornet genius Bix Beiderbecke and also the early vocals of Bing Crosby and the Paul Whiteman Band and the Rhythm Boys. This is happy jazz with a bounce that isn't heard from most jazz groups today.
2021 schedule
July 13 – Scat Cats, 7-9 p.m.
July 27 – The Kal Bergendahl Project, 7-9 p.m.
Aug. 10 – The John Crawford Jazz Band, 7-9 p.m.
Aug. 24 – Kenosha County Suffrage Celebration: Blues and Twilight Jazz with Elaine Dame and a special opening performance by Ivy Ford. The grounds open at 4 p.m. Ivy Ford takes the stage at 5 p.m. and Elaine Dame performs at 7:30 p.m.
Aug. 31 – Janet Planet, 7-9 p.m.