From a literal walk in the park to conquering a rugged, wooded trail, hiking is a hobby that is growing in popularity. Whether readers are wondering where to start or which trail to blaze next, a recent book contains much more than a summer's worth of trails and advice, all close to home.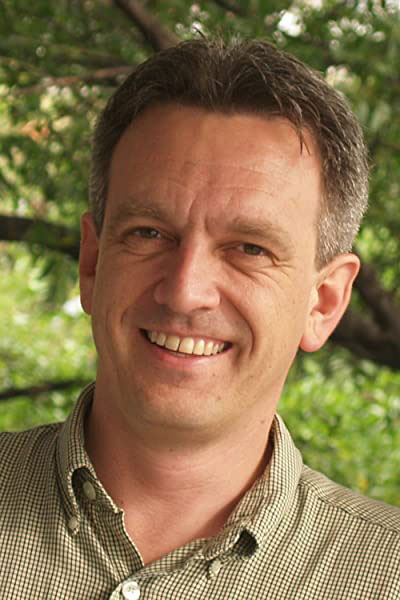 Falcon Guide's "Best Hikes Milwaukee: The Greatest Views, Wildlife and Forest Strolls" by Kevin Revolinski (2019) is loaded with detailed logistical information and practical ideas such as trail etiquette, first aid kit checklist and even a glossary.
At just under 200 pages, the slim volume is perfect for tucking into a backpack, but that's the only thing small about it. No fewer than 40 hikes and six honorable mentions are detailed, all within one hour of Milwaukee.
The book goes deeper than maps and directions. Also included are "Green Tips" for each location, a specific way to preserve the beauty and integrity of SE Wisconsin and Northern Illinois trails. Finally, the author's reverence for history makes this more than just a guidebook.
City hikes
The City of Milwaukee is known for a lot of things, but it's safe to say that hiking probably isn't one of them. Revolinski makes a case for changing that, highlighting urban trails that provide a nature retreat in the middle of the city.
The Milwaukee Rotary Centennial Arboretum Trail has much to see. It begins at the Urban Ecology Center, crosses wildflower fields and prairies, hugs the banks of the Milwaukee River, follows the Beerline Trail and crosses a pedestrian bridge.

"It's hard to imagine you're in the heart of Milwaukee when you stroll through the Arboretum and along the Milwaukee River," Revolinski writes.
The Milwaukee Rotary Centennial Arboretum trailhead is at the Urban Ecology Center at Riverside Park, 1500 E. Park Place, Milwaukee, less than a mile south of the UW-MIlwaukee campus.
Challenging hikes
A considerable portion of the book is devoted to trails in the Kettle Moraine State Forest, which is not surprising considering the forest itself covers 56,000 acres divided into two large and three small units, spread across a hundred miles.
Adventures on these bountiful trails cover the full range from easy to challenging, and offer unique "value added" elements.
One such hike is the Parnell Tower Hiking Trail in the Kettle Moraine Northern Unit, one of the northernmost locations included in the book. While the 3.4-mile loop is shorter than other challenging hikes that made the list, this one is among the toughest due to rough surfaces and steep climbs. One of the climbs is not part of the terrain, but instead the main attraction: the 60-foot wooden Parnell Tower.
"If you want a bird's eye view of the Kettle Moraine, including identifying features of glacial signage along the horizon, Parnell Tower is a must," Revolinski writes.
On a clear day, the 360 degree view from the tower can stretch up to 25 miles. The tower can be accessed directly from the parking lot if you want to skip the hike, but don't!
Parnell Tower Hiking Trail, is about 90 minutes north of Kenosha, 7817 Kettle Moraine Scenic Dr., Plymouth, Wis.
Breathtaking beauty
Lion's Den Gorge Nature Preserve Trails start with an expansive view of Lake Michigan and end on a boardwalk along the US Fish and Wildlife Service Wetlands.
This is a relatively short jaunt at 2.2-mile loop that can be hiked in about an hour, but the 73-acre park includes so many beautiful features such as a beach, fields of wildflowers, a forest path, 100-foot bluffs and its namesake, a gorge carved into rock.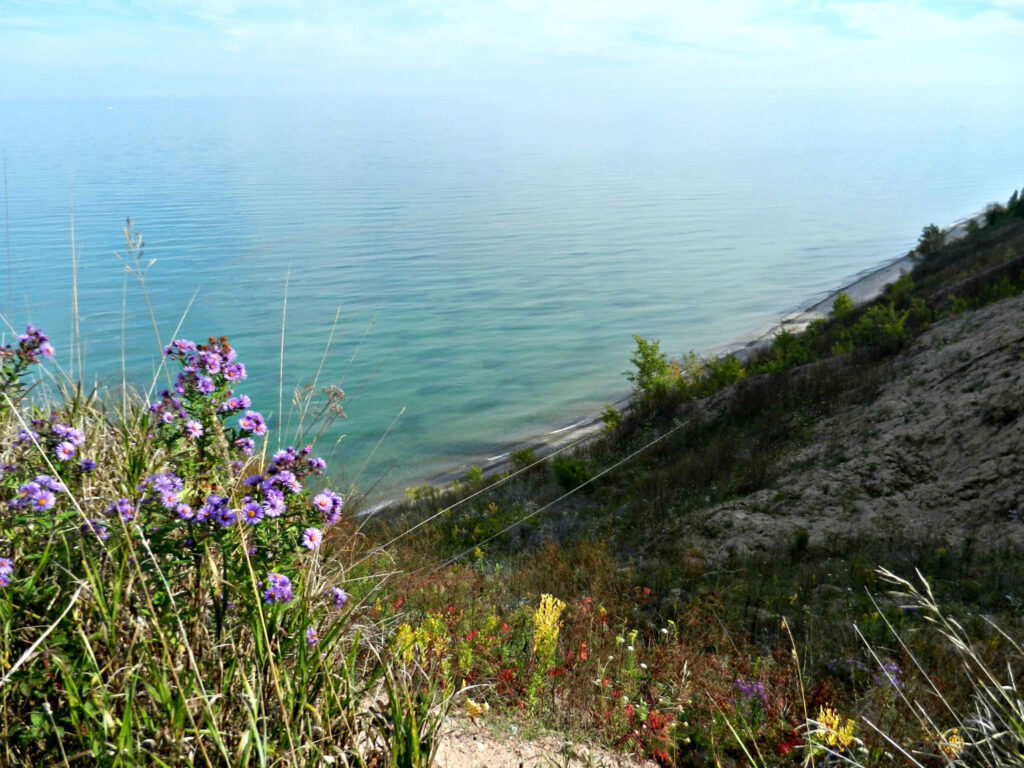 Lion's Den Gorge Nature Preserve is also a great spot for birdwatching. A marsh offers glimpses of turtles and frogs as well.
Augmenting the natural beauty are man-made highlights that make Lion's Den Gorge Nature Preserve a user-friendly gem. Many of the trails in the preserve are wheelchair accessible, and scenic outlook platforms offer spectacular views. For hikers' convenience, bathrooms are available at the trailhead, and a central kiosk features park information and map. Another perk for trail users is access to the beach.
Lion's Den Gorge Nature Preserve is about an hour north of Kenosha 511 High Bluff Dr., Grafton, Wis.
One of a kind
Ever hear of a "quaking bog?"
Not only is that a real thing, there happens to be a quaking bog about 45 minutes from Kenosha. Fortunately, it's not nearly as ominous as it sounds.
"Best Hikes Milwaukee" not only includes a hike around a quaking bog, it also explains exactly what it is:
"A quaking bog occurs when large, thick mats of moss and sedges are actually floating over a layer of water or loose peat, so that they quake when disturbed," Revolinski writes.
Volo Bog State Natural Area is located in Ingleside, Ill., the only bog of this type in our neighboring state. One highlight of the Volo hike is a short boardwalk loop on the 5.1-mile trail offers an up-close look at this unusual phenomenon.
While the rest of the trail is more typical of the landscape with stretches of forest, prairie and wetlands, it is anything but humdrum. The trail features three observation points, including one in a marsh blind and a field for children's unstructured play, dubbed "Chipmunk Woods." There is also an observation tower overlooking the park.
Volo Bog State Natural Area is approximately 45 minutes southwest of Kenosha, 28478 W. Brandenburg. Rd., Ingleside, Ill.
Local flavor
Several of the featured trails are right here in Kenosha County.
Sure, we know Bong Recreation Area, Petrifying Springs and Bristol Woods County Park trails are close to home. But even Kenosha veterans will find something new in this guide. Did you know that "Pets" is the oldest member of the county's park system, and the abundance of hardwoods (oak, maple, birch) are what makes it a prime spot for autumn color viewing?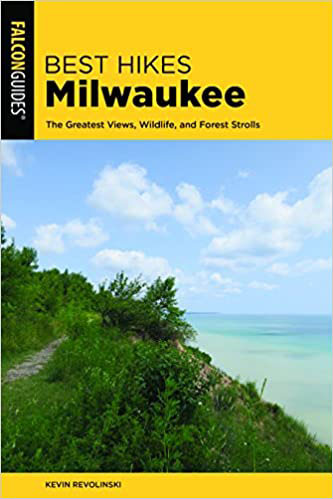 The 2.7-mile trail is classified as easy to moderate due to some steepness. It can be found north of the cross country course, bordered by Hwy 31 on the west and Petrifying Springs Road on the south. Features directly on the trail include footbridges and a playground and the park itself boasts many more attractions such as a golf course and a beer garden. The hike can be shortened based on which of the color-named trails participants choose.
Revlonski's "Green Tip" for Petrifying Springs has an eye on the delicate balance of this beautiful stretch of land: "Stay on the trail. Cutting through from one part of a switchback to another can destroy fragile plant life."
Petrifying Springs Park is 5555 7th St., Kenosha, is open 7 a.m. to 10 p.m. daily.
Thank a glacier
The trails highlighted in this week's Bookmark column represent only a snapshot of the information in "Best Hikes Milwaukee." In addition to the nuts and bolts, what really stands out about this guide is its deference to our area's history, resources, and the glory of nature.
The force beyond all this natural beauty? Thank a glacier — and a Badger — Revolinski says.
The Wisconsin Glacial Episode is the name of the last major advance of ice, from 85,000 years ago up until 11,000 years ago. Massive sheets of ice up to a mile thick "invaded" from Canada, vastly altering the landscape and creating such wonders as the Great Lakes and the Kettle Moraine area.
The second element that created the gifts we now enjoy is the ongoing effort of environmentalists throughout our state's history. Wisconsin has been home to devoted environmentalists including Gaylord Nelson, "Fighting Bob" LaFollette, and a man named Richard Zillmer, a University of Wisconsin alum. Zillmer dreamed of making the beauty of Kettle Moraine accessible to everyone, and his vision resulted in the Ice Age National Scenic Trail which is still underway today.