John Primer & The Real Deal Band will perform at the HarborPark Jazz, Rhythm & Blues Festival on Saturday August 21.
The legendary Primer, a Chicago Blues Hall of Famer, has two Grammy nominations and played guitar on Pinetop Perkins Grammy award-winning CD, "Joined at the Hip." One of the last traditional blues artists with original Mississippi roots, Primer recently received the 2021 "Blues" award at the 42nd annual Blues Foundation ceremony. Primer, the winner of two Lifetime Achievement Awards, received the "Muddy Award" for being a Traditional Blues Icon by the Jus' Blues Foundation in Mississippi.
"John Primer has a very classic Delta, Mississippi, and Chicago-style blend of music which highlights a savvy mixture of soul, rock and blues upbeat originals that will certainly entertain the audience," said festival attendee Broderick James. "He has an interactive kind of show which engages the fans and keep them on their feet wanting more."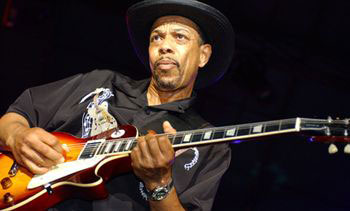 The festival previously announced that two jazz giants, internationally acclaimed pianist Alex Bugnon and saxophonist Marion Meadows, would be performing. Both artists performed individually at the regional festival in prior years. Meadows played in 2010 and Alex Bugnon in 2011.
"The music committee is excited about this year's performance lineup so far," Tim Mahone said. "We will showcase some gritty, soulful, show-stopping Mississippi and Chicago-style blues music with some electrifying, foot tapping, melodic, improvisational jazz tunes. Great music, Great food, great fun, all on a great lake."
Mahone added that another special musical announcement will be revealed in the coming weeks.
"We are thrilled to see the return of the HarborPark Jazz, Rhythm & Blues Festival," said Dennis DuChene, President of Visit Kenosha. "What better way to reconnect with family, friends and neighbors than at this renowned regional music festival on our beautiful lakefront. We are proud to partner with the Mary Lou & Arthur F. Mahone Fund to have events such as this in our area."
The HarborPark Jazz, Rhythm & Blues Festival provides a wonderfully diverse mixture of music in Kenosha. Drawing visitors from Milwaukee, the Chicagoland and beyond, the event showcases the beautiful lakefront and highlights Kenosha's dedication to the arts and cultural activities. The event has welcomed various national and regional jazz artists and attracted thousands of music fans to this scenic park. Previous artists include Ramsey Lewis, Nick Colionne, Len Rainey, and the Midnight Players, Spyro Gyra, Nelson Rangell, Euge Groove, Eric Marienthal, the Rebirth Brass Band and David Benoit.
The festival is scheduled for Saturday August 21 at HarborPark Celebration Place. Gates open at 12:30 p.m. The festival kicks off at 1:15 p.m. with the popular "Cooking Studio," an interactive cooking demonstration. The Cooking Studio provides the gourmet foodies and aspiring cooks a gorgeous lakefront atmosphere to learn the tricks of the trade. Besides listening to quality music throughout the day, patrons will be able to purchase raffle tickets for the 50/50 raffle.
Tickets can be purchased at mahonefund.org or https://www.eventbrite.com/e/harborpark-jazz-rhythm-blues-festival-2021-tickets-161395316737. General admission lawn seats are $25. VIP tickets are $85 (includes concert ticket, food and complementary wine, beer, water & soda).

Volunteers for the festival are needed in the following areas: security, ticket admissions, wine/beer garden, ID verification, VIP area, volunteer tent, hospitality, crowd control, stage crew and ground crew (set-up & clean-up). Shifts will be determined by a volunteer's availability and a four-hour minimum is required.
Benefits include a volunteer T-shirt, refreshments during the time of your shift and admission to the festival. If you are interested in volunteering, please email your request to harborparkjazz@mahonefund.org or mailing address is HPJBF Volunteer Recruitment, c/o Kenosha Community Foundation, 600 52nd Street, Suite 110, Kenosha, WI 53140.
If interested in registering as a food or corporate vendor, contact Michelle Nelson at kkaiser@kenoshafoundation.org. For sponsorship and corporate package information contact Tim Mahone at chairman@mahonefund.org.
The HarborPark Jazz & Blues Festival is a fundraiser produced by the volunteer efforts of the Mary Lou & Arthur F. Mahone Fund. All proceeds benefit the Mahone Fund Career Exploration Organization (CEO) mentoring program. The mission is to provide educational opportunities for economically and academically deserving youth and to support healthy lifestyle initiatives in communities of color.