Kenosha Unified Musical Theater teacher Holly Stanfield is already a local legend, but her national reputation continues to grow as well. Along with two Tony Award nominations, Stanfield now adds the Stephen Schwartz Musical Theater Teacher of the Year to her list of accomplishments.
Stanfield received the award June 24 during the virtual International Thespian Festival presented by the ASCAP Foundation and the Educational Theatre Association (EdTA). She accepted the award from its namesake Stephen Schwartz, along with acclaimed Broadway writers/lyricists Lynn Ahrens and Andrew Lippa.
Now in its second year, the Stephen Schwartz award honors exceptional high- and middle-school musical theatre teachers. The $5,000 cash prize is made possible by a grant funded by the Annenberg Foundation.
In honor of her recognition, Stanfield has been named the Kenosha.com Kenoshan of the Week.
"The support and engagement that I have found in EdTA have meant a lot to me," shared Stanfield in accepting the honor. "The experiences our students have had at festival, in our home troupe, and in our state have changed them in ways they do not fully comprehend yet. What we do is important for our students and our communities. If the pandemic has taught us anything, it is the value of the community that we create with our craft. It is a privilege to be part of this vibrant and giving EdTA community."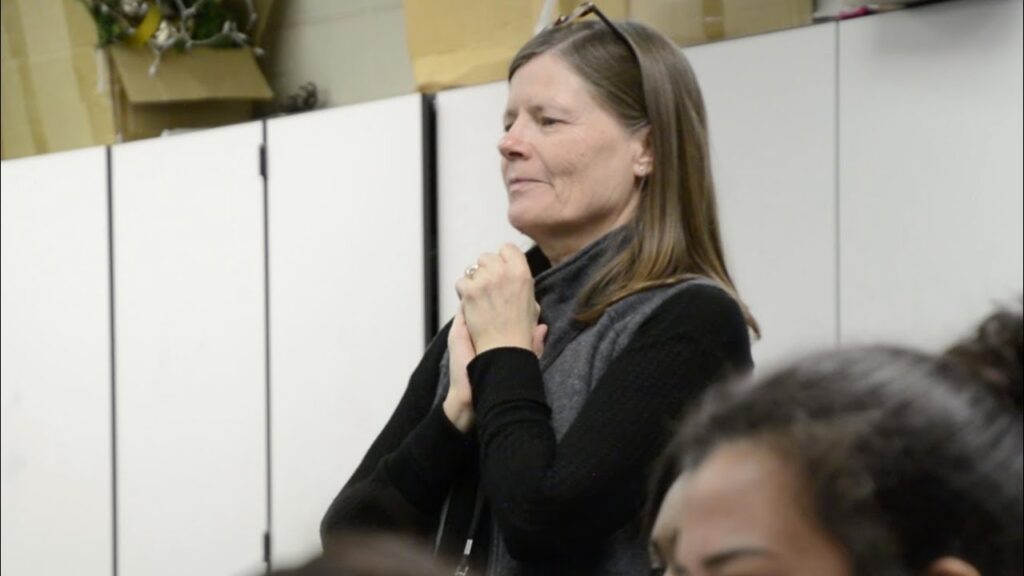 The good news arrived in a phone call from EdTA Executive Director Julie Cohen Theobald. Stanfield has done extensive work for the organization so the two already know each other well, which resulted in a "great fun conversation," Stanfield said.
Arrangements were made for Stanfield and co-recipient Roshunda Jones of G.W. Carver Magnet High School in Houston, Texas, to talk with some very big Broadway names.
"It was wonderful to speak with Mr. Schwartz, Mr. Lippa and Ms. Ahrens and Julie about theater and the community of what we do," Stanfield said. "They are extremely wonderful human beings, brilliant and very giving. It was just a wonderful moment, just a great time."
Schwartz, the composer of Wicked, Pippin and Godspell, created the honor to recognize how theater education impacts lives.
"Theater teachers help to not just bring theater, but bring empathy and the ability to think, to work together as a group, and understand other people," Schwartz shared in an interview published by Playbill. "These are things so desperately needed in our country right now that go way, way beyond theater and musical theater."
Even as Stanfield garners national attention from some of the most influential people in the business, she consistently shares credit with her "cast of thousands." With more than 30 years in the district, the veteran teacher has a gratitude list of colleagues, administrators and community supporters a mile long.
"The thing I just keep telling everybody is that the award recognizes one person, but really the beauty of musical theater is it takes a community to make it happen, especially in educational theater," Stanfield said. "So (the award) is really recognizing the work that has been done at Bradford High School with our team. I could go on forever with so many years of building a great theater program here in town. So that's really what's being recognized is the work that we do as a team with students, and that's the beauty of what we do.
"It takes a team to make great performance art happen, and that's also the process for the kids, they learn to become a team. That's the importance of the award, and also to be recognized on a national level for our work at Bradford is just great for our kids and great for our community."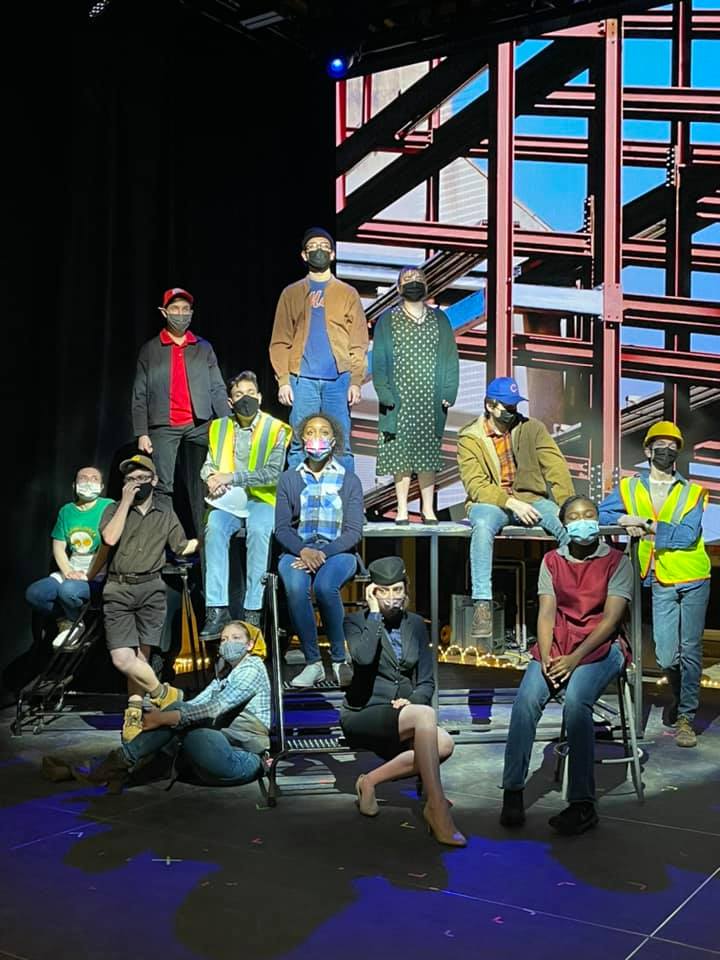 More than a year has passed since the first performances from Bradford to Broadway were first impacted by COVID-19. While no one wants to put the pandemic behind them more than those who should have been on the darkened stages, the creativity and resilience won't be forgotten.
In keeping with her character, Stanfield finds the positivity and teachable moments in everything the past year put on her plate.
"It was extremely meaningful," Stanfield said of last year's experiences. "We learned a lot of new things, we learned a lot of technical things that we weren't familiar with. This year at Bradford we produced seven videotaped productions and two live broadcast radio shows. So it was a big season for us, but just watching the kids together was such a great feeling for all of us."
Also making the 2020-21 school year memorable was the quantity of opportunities, the quality of the productions, and most importantly the quality of the people involved. She cited the respectful attitude of her students toward health requirements and toward each other, and their willingness to do what was asked of them, in order to be together.
"Our team, especially at Bradford this year, has worked extremely hard to make opportunities for kids to create theater together," she said. "They were very respectful of each other, and each other's families, and of each other's health.
"Just to watch them together just know that what we are doing as part of a public school education is to bring kids together to work on projects collectively, and the learning that they are getting from that is immense, just how to work with other people, how to listen, how to trust the people that are around you, and how to be respectful of everyone, especially during a pandemic."
Stanfield said the $5,000 award will come in handy to fill the gaps that teachers take on themselves every year, "As everybody knows, most public school teachers definitely fund a lot of things themselves because that's just the nature of what we do, so the money will definitely be used toward the program ultimately," she said.
The award and prize money provide a sweet transition to a year which holds promise of new productions and a new normal, that is hopefully as close to the old normal as possible.
"I'm looking forward to the idea of going back into a place where students will be able to present to a live audience is exciting for all of us," Stanfield said. "The kids were really excited about being able to be together and produce theater, but by the end of the season the thing that they voiced that they really missed was obviously being present with an audience because that's a whole different chemistry when you're doing live theater performance, and they did miss that a lot, we all did."
At the top of the to-do list is taking the shows on the road again. Being part of a traveling troupe is an invaluable experience and one that has traditionally been an important part of Stanfield's work. 
She said that she hopes to apply for the International Thespian Festival, the state festival in Stevens Point and the national festival in Indiana. 
Stanfield's list of accomplishments is impressive, to say the least. She has been honored as Kenosha Unified School District High School Teacher of the Year, Herb Kohl Fellow, and Walmart Teacher of the Year and has been inducted into the Wisconsin Forensic Association Theatre Hall of Fame. 
She is the 2014 recipient of the Reba Robertson Award and received an honorable mention from the 2016 Tony's Excellence in Theatre Education Award. Her students have appeared numerous times on the Wisconsin High School Theatre Festival Showcase Stage and the International Thespian Festival main stage, including the high school pilots of Aida: School Edition, Rent: School Edition, Avenue Q: School Edition, Tarzan, Shrek, Catch Me If You Can, and The Little Mermaid. Stanfield was also invited to direct the Thespian national cast of Thoroughly Modern Millie: School Edition for EdTA. 
Under her direction, the Kenosha Unified School District students have recorded seven reference CDs for MTI's school edition series. She also enjoys traveling to New York City in the summer and directing staged readings of junior musicals for iTheatrics. Stanfield is currently co-director for the Wisconsin Chapter of the Educational Theatre Association.
Stanfield expressed gratitude for that list of accolades which now includes the prestigious Stephen Schwartz award. Something she cherishes more than any individual recognition.
"My career in Kenosha has really been a gift to me. I think that Kenosha is a vibrant, brilliant, diverse community," Stanfield said. "I've learned so much from my community and from my students, from my colleagues, from the people who have provided support, the administration has been wonderful all these years, I've just had a great place to work and I love the Kenosha community, it's a great place to live and grow."
NOTE: To nominate a Kenoshan of the Week click here or email Andrew@Kenosha.com.