The Restaurant:
The Red Oak, 4410 200th Ave., focuses on highlighting the richness of flavor available locally with menu items and cocktails created with farm-fresh ingredients from our surrounding area.
The Featured Dish:
Beef Tips & Eggs — Six ounces of seared beef tips & two local, cage-free eggs your way, served with grilled Wild Flour Bakery country bread and roasted potatoes with seasonal vegetable.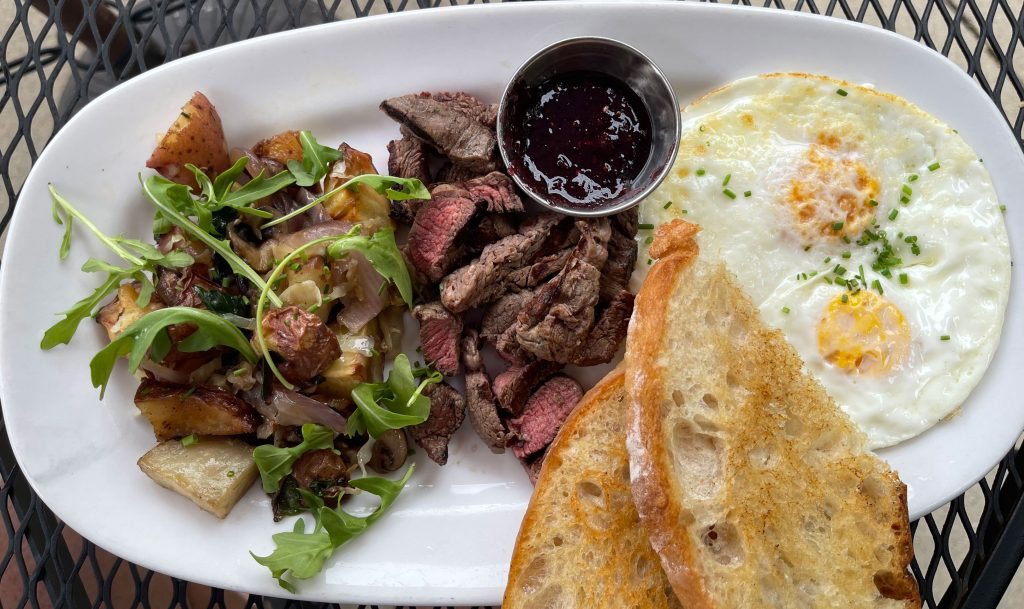 The Flavor and The Story:
The Red Oak is an incredibly charming restaurant, located west of the Interstate on Highway 45 and Highway NN, that has been serving high quality classic food since 2016.
While the farm-to-table concept is far from new, Red Oak was among the first in our area to implement the concept of using local, sustainable ingredients to create the best possible flavors.
The restaurant currently works with over 25 different local producers to source everything from eggs and greens to coffee and meats.
An excellent way to try out several wonderful ingredients prepared well is the Beef Tips & Eggs plate on their current brunch menu.
The dish starts with a generous helping of seared beef tips prepared perfectly to your preferred temperature. To truly experience the quality of the tender, savory beef, I would recommend a medium or below temperature which results in a juicy bite that is both lean and flavorful.
The lightly seasoned beef tips would be a wonderful way to start your day on their own but they are even better paired next to two butter fried, cage-free eggs topped with fresh-cut chives.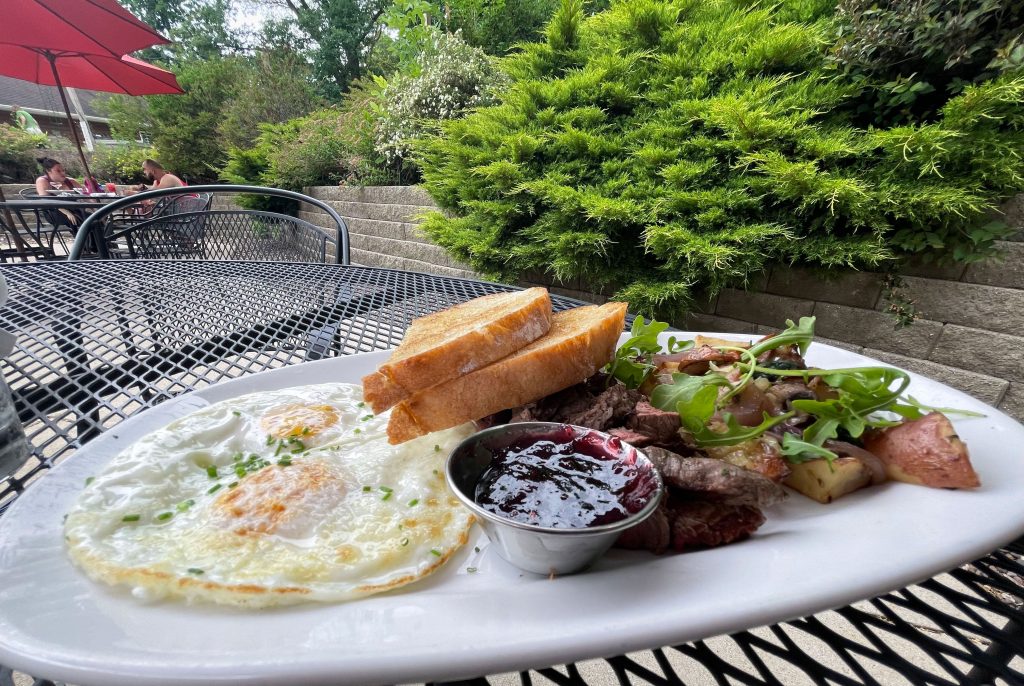 These are the type of eggs that remind you what an egg is supposed to taste like. When broken, the yolks run out as thick custard in a brilliant shade of orange. Dipping a piece of fresh-grilled Wild Flour Bakery bread into one of these culinary gems is absolutely otherworldly.

If that wasn't enough, the opposite side of the plate is piled with roasted potatoes cooked with seasonally available vegetables. On our visit, there were roasted mushrooms, grilled onions and a sprinkling of fresh arugula.
The menu changes seasonally at Red Oak and items change with local ingredient availability, but the Beef Tips & Eggs have been on the menu for quite some time. Should this dish ever disappear, don't fret. That's the fun part about a seasonal menu. There is always something new and exciting to try.

The Beef Tips & Eggs are available Saturday and Sunday from 9 a.m. to 2 p.m. for $19.
The Red Oak is currently open for dine-in and also accepts carryout orders. The full menu, including this breakfast, can be viewed online at TheRedOakRestaurant.com.