A local boy got the surprise of a lifetime Saturday.
Dane Dawson was celebrated by his family, friends, neighbors and first responders during the event organized by Make-A-Wish Wisconsin.
The organization surprised Dawson, 12, with a brand new camper and camping trinkets when he arrived home from a scavenger hunt and visit to an ice cream parlor.
He also received a warm welcome from members of the Kenosha Police Department and Kenosha Fire Department. Festival Foods donated donuts -one of his favorite foods- for those in attendance and NOSH Sweet Tables provided custom decorated cookies. Savaglio Family Vision donated a wagon filled with treats.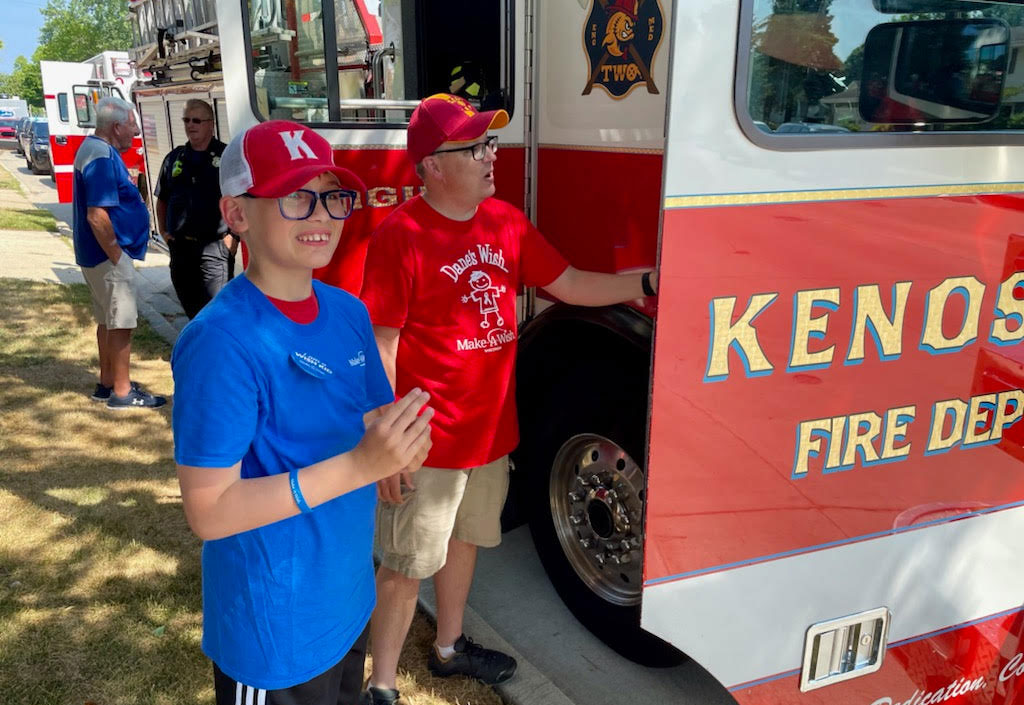 "These families go through things that most of us probably will never ever experience," said organizer Sue Kuryanowicz.
Kuryanowicz runs the local branch with best friend Sue Binninger. 
"We just feel like these kids shouldn't have to be dealing with what they are dealing with. We give them a day where they don't have to worry about doctor appointments, and the parents don't worry about doctor appointments. It's just fun and today is all about Dane and making Dane smile," she said.
Kuryanowicz said Dawson loves camping and talks about it often.
"He wanted a camper, and we knew right away there wasn't anything else he wanted," she said. "Make-A-Wish Wisconsin raises its own funds for its wishes. …. This was over $10,000."
Uncle Scott Singer said he was most excited to see Dane's reaction.
"They went camping last year, got set-up with a rental RV and he just fell in love with it," he said. "He's bubbly, always happy and friendly. … It's really wonderful to see kids who are challenged have opportunities through Make-A-Wish, to be able to go and do and explore things outside of their normal space."
Grandma Sue Singer said the family is humbled by the support. Dane, a Jeffrey Elementary student, has two sisters, Mackenzie and Mia. 
"He's a very happy boy," she said. "He enjoys being with his cousins and hopes to go camping with his family."
First responders join in
A line of emergency vehicles blasting their sirens drove down his street and was followed by the camper. Dawson immediately began to smile and then hugged his mom, Barb Dawson.
"He'll talk about this nonstop," she said. "It just feels fabulous and Dane always gets excited whenever he sees a police car, ambulance or fire truck. It's just wonderful."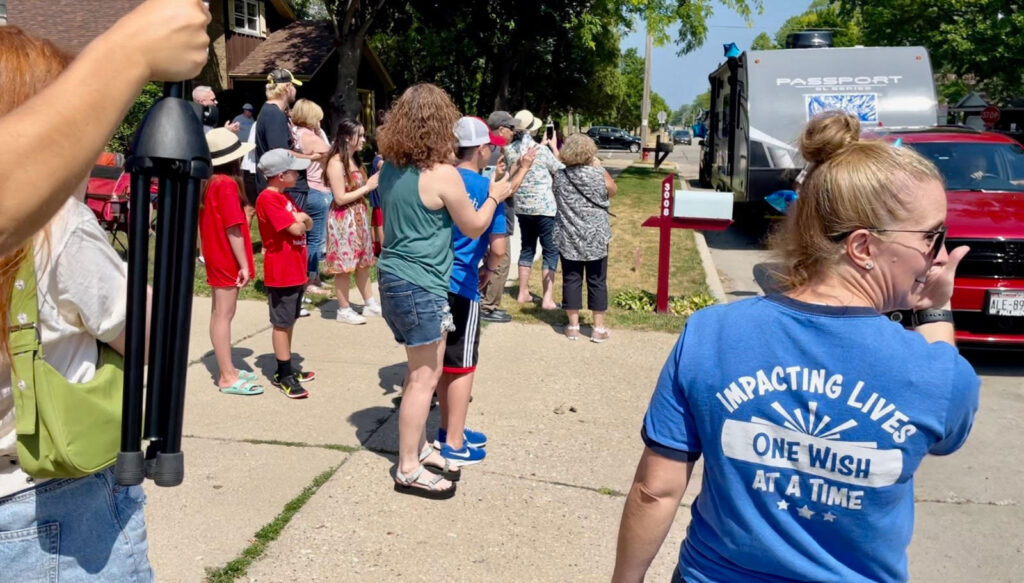 At the end of the event police and firefighters allowed all children present to explore their vehicles and turn the sirens off and on.
Fire Captain Wes Djuplin said he was more than happy to participate in such a positive cause.
"For us to be a part of the presentation is special," he said, adding it allows police and firefighters to interact with children. "It's another chance for us to interact with the public when they don't have to call 911. It's a chance for us to get to talk to them and let them know we're people like everyone else."
Life changing wishes
Make-A-Wish Wisconsin is a nonprofit working to create "life changing wishes" for children and teens facing critical illnesses and challenges. Donations can be submitted at wish.org/wisconsin.
"It brings tears to your eyes to see the joy you're bringing someone," Kuryanowicz said.