As the owner of Regimen Barber Collective, Alvin Owens periodically hosts Men's Health & Wealth events where local men gather at the shop to listen to guest speakers and talk about a variety of issues of importance in the Black community.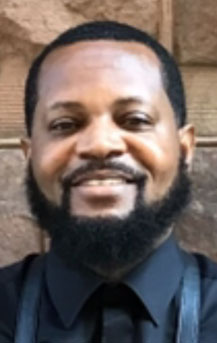 It was at one of these events where the talk turned to the upcoming Juneteenth, which is the oldest nationally celebrated commemoration of the ending of slavery in the United States.
"It happened organically," Owens said. "Right beside the barbershop is a big strip of land that is owned by my building owner. We asked if we could do a block party for Juneteenth. Now it has turned into the official city-wide Juneteenth event."
Owens is the lead organizer for the Kenosha Juneteenth Festival, which will take place from noon to 8 p.m. Saturday (June 19) on the lawn of 13th and 52nd St. and expanding to 54th St.
According to the distributed flyer: "The goal of this year's festivities focuses on increasing awareness and strengthening the family, economic empowerment, education, health and wellness and social justice. This is a public, inclusive, and family friendly event with activities for all ages such as retail, food, kid's corner, networking, raffles, athletic tournaments, music, dance, and more."
The schedule of events are as follows:
Dedication & Welcome—Celebrating family, unity, empowerment and love, Main Stage, 11:45 a.m.
3-on-3 Basketball Tournament—Southeast lot, 11 a.m.-2 p.m.
Kids Corner—Bounce houses, foam pit, games and more (first 100 kids free), noon
Black Wall Street Vendor Market—Food, apparel, arts and crafts, and much more, 13th Court, noon-5:30 p.m.
Community Town Hall—Special guest panel Q&A with podcast experiences and workshops, Main Stage, noon-2 p.m.
Teen Takeover—Talent showcase, TikTok challenges, athletics, games, Teen Mr. & Miss -Juneteenth, Main Stage, 2:30-4:30 p.m.
Main Stage Showdown—Variety Show, Soul Train Challenge, Comedy performances, 4:30 p.m.
Mr. & Miss Teen Juneteenth—Main Stage, 7 p.m.
Community Recognition Ceremony—Main Stage, 7 p.m.
"We have a lot of African American vendors who want to share their goods with the public," said Owens, the recipient of the Living Legend Community Award at the recent Mary Lou and Arthur F. Mahone Fund's "Reaching for Rainbows" Pursuit of Excellence Awards Gala.
Along with the Mahone Fund Gala, other community events have taken place leading up to the festival. They include the Stop the Violence & Summer Kickoff on June 12, Race Amity Day Kenosha on June 13 and the "It Takes a Village" Foster Youth Fundraiser on June 13.
Other upcoming events include Poetry in the Park, 2-6 p.m. Friday (June 18) at Lincoln Park; the Ready to Succeed – College & Career Fair, 5-8 p.m. Friday (June 18) at the Boys & Girls Club of Kenosha; The Fatherhood Franchise's Fourth Annual Daddy-Daughter Dance, 6-10 p.m. Friday (June 18) at The Vault Banquet Hall; and the monthly Community Cleanup, 9 a.m.-noon Saturday (June 19) in the Lincoln/Uptown/Brass neighborhoods.
This all leads up to the main event – Saturday's Juneteenth Festival.
Owens stressed that all are welcome.
"I had a Caucasian female ask me, 'Are we allowed to come?' I said, 'What? Of course! It's open to the public,'" he said. "I just want to make sure that people understand that."